Before getting married, it is a tradition for men to hang out with their groomsmen for a night to celebrate the upcoming nuptials, but also to bid farewell to the life of being a bachelor. Because of this, it is important to make your bachelor party unforgettable by creating memories that you'll remember for a lifetime. The only problem is, creating a night unlike any other can be difficult because you want each moment to be exciting and memorable. Thankfully, Playa del Carmen, Mexico has you covered. This coastal resort town in Mexico not only is beautiful beyond imagination but also has some incredible activities that will make your stay unforgettable. You can stay in beachfront hotels and swim-up suites to make your stay more memorable. Scroll through this list of amazing bachelor party ideas In Playa del Carmen, Mexico to mark out places to visit in your itinerary.
Ever noticed the VIP section in a bar and wondered what it was like to be on the list for it? Well, with the VIP Nightclub Tour in Playa del Carmen, that coveted experience can be yours for a thrilling and fun bachelor party. Never worry about not having a drink in your hand because with this nightclub tour you get unlimited drinks as you move from one bar to another, skipping long lines and being the envy of everyone waiting outside. With a guide by your side, you get five hours of an open bar, the pleasure of dancing to the beats of prominent Mexican DJs and see a fire show like no other.
VIP Nightclub Tour in Playa del Carmen

Duration: 5 hours
By showcasing nature, history, and culture, the Xcaret Park with more than 40 attractions is a must-visit location in Playa del Carmen. Once you reach your destination in Riviera Maya, it's like you've come to a whole new world as you learn about Mexican history with each part of the tour. And not a moment is wasted as there is so much to see at Xcaret Park. Once you're done with gaining knowledge at the Mexican Folk Art Museum and Mayan village, head on over to see the natural wonders of the world at the Jaguar Island and Tropical Jungle Trail. After that, quench your thirst at Vino de Mexico Wine Cellar where you can try samples of local wine. Post that, visit the Butterfly Pavillion, Coral Reef Aquarium and Aquatic Paradise. So spend your day with your brothers-from-other-mothers at this beautiful park for a great bachelor outing.
Playa del Carmen, Xcaret Park Admission Ticket

Duration: 6 to 12 hours
Rowdy bachelor parties aren't for everyone and there's nothing wrong with that. We all want to enjoy our days with our friends in a way that suits us. With the Playa del Carmen Mexican Cooking class and Local Markets Tour, not only do you get a taste of authentic Mexican food at the bustling markets but you also get to learn how to make it using skills that will only help you in the future. Meet the Master Chef at their home, learn their tricks, and shop for ingredients in the local market. At the end of the day, when you're done cooking your meal, you get to eat what you made.
Playa del Carmen Mexican Cooking Experience and Local Markets Tour

Duration: 5 hours
For those adrenaline junkies seeking a thrill, Xplor Park is the perfect place for your bachelor party, where adventure is simply never-ending. Your journey begins as you drive an amphibious vehicle on, above, and below ground trails. In the second half, you switch to a raft and paddle your way through an underground river, heading straight to the tree-tops so you can use the 14-line zipline. As the zipline ends at a water landing, you swim your way through a series of caves, enjoying the natural beauty. When you're in need of a break, the onsite restaurant has you covered with unlimited smoothies and juices. And if you're done for the day, relax in the hammocks until you're ready to go.
Playa del Carmen Xplor Park All-Inclusive Admission Ticket

Duration: 6 hours
5. Don't miss out on Oh Lala fine dining experience
Started in January 2011, Oh Lala aim to give their guests a relaxing atmosphere where they could enjoy their meals in comfort. With this aim in mind, it offers its guests a personalized experience where they can take their time to sample the hors d'oeuvres and wines before ordering from the main menu. Guests can also choose where to eat, whether it be inside the restaurant or opt for the outdoor seating option. If you are planning to come here for your bachelor celebrations, don't forget to take many pictures of the food and interiors!
Oh Lala

Address: Calle 14 North Bis Between 10th Avenue and 15th Avenue #147, Playa del Carmen 77710 Mexico

Website: Oh Lala

Opening hours: Mon - Sat: 6:30 - 10:30pm (closed on Sun)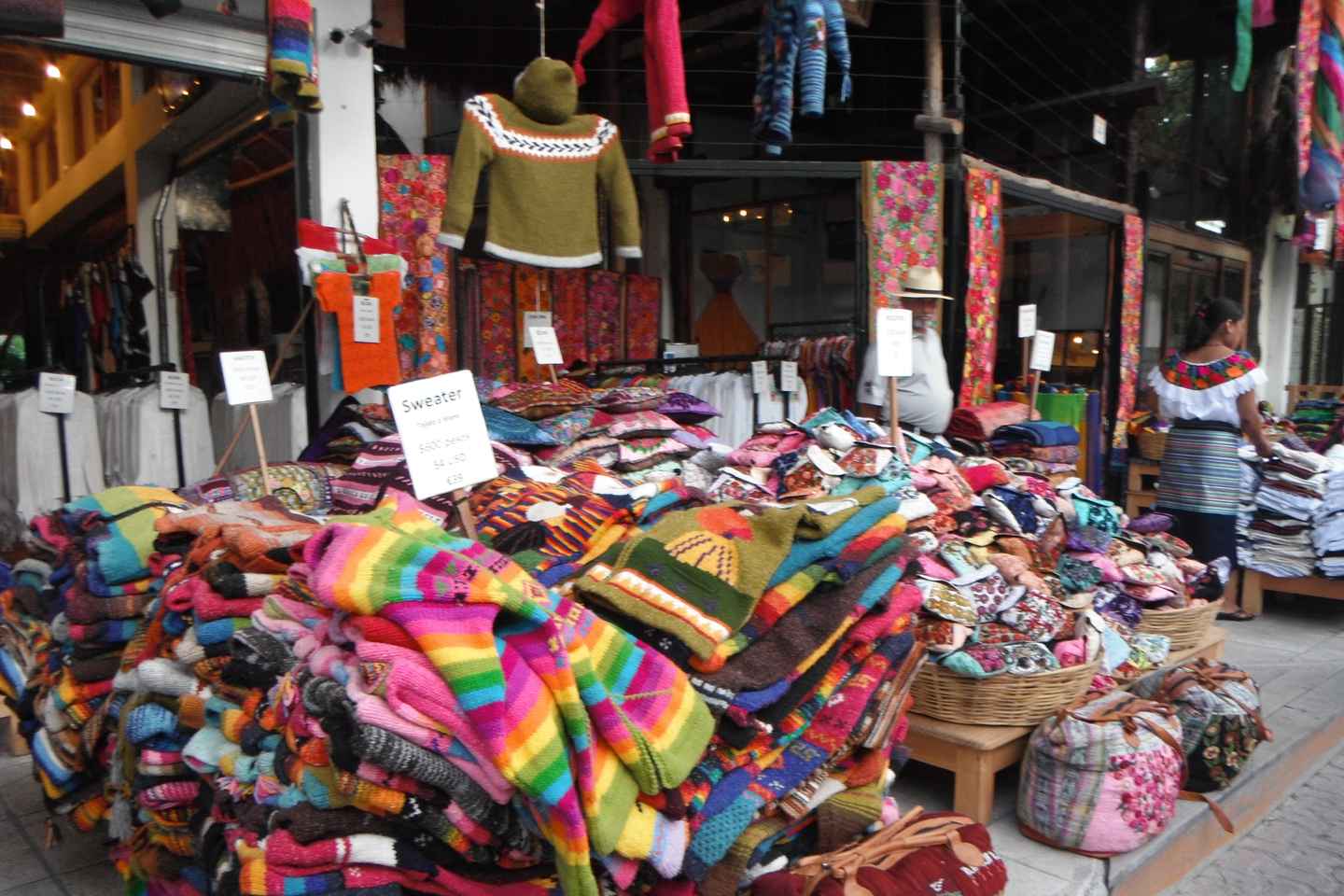 What's the point of visiting a place if you don't get souvenirs that remind you of your trip? With the great shopping tour of Playa del Carmen, you have the chance to discover unique products and the best things to buy in Playa del Carmen as you travel from one shop to another. Not only that, but you also get to visit the biggest jewelry factory in the Caribbean. A bachelor party is all about having fun, something you can do while shopping and tasting unlimited tequila. You will be picked up from and get dropped off at your hotel. The tour comes in different languages, from English to Spanish, Turkish, French, German, Italian, and Russian.
Playa del Carmen Great Shopping Tour

Duration: 5.0 hour
7. Visit the heart of Playa del Carmen, Los Fundadores Park
Los Fundadores Park, also known as the Founding Fathers Park, is the place to visit if you want to experience the beauty of Playa del Carmen. One of the most iconic places in town, Nuestra Senora del Carmen Church can be found in the corner of the park. This is the place where most religious events and weddings take place. In 2011, in celebration of the Mayan calendar, the Portal Maya statue was placed in the park and has been an attraction since then. Designed by Arturo Taravez, the 52 feet high sculpture should not be missed. Lastly, to get a real taste of Playa del Carmen, Papantla Dancers should not be missed. A traditional dance started to appease the gods and end a severe drought, the ritual is now performed during the day at the Los Fundadores Park. With its many sights, this park should be on your must-visit for the bachelor celebration list.
Los Fundadores Park

Address: Av. Benito Juarez Next to the Cozumel Ferry Pier, Playa del Carmen 77710 Mexico

Website: Los Fundadores Park

Opening hours: Open 24 hours
8. Go golfing at Grand Coral Golf in Riviera Maya
The legacy of Nick Price, the Grand Coral Golf is a challenging field with 8 lakes and 71 traps. Equipped with the best technology, and personalized service, the golf course is meant to be a worthy obstacle for all golf lovers. But is also designed in such a way that even beginners can have a good time while playing here. Some of the facilities available are a pro-shop, driving range, equipment rentals, transportation, lockers, and safety boxes. After an exciting game, players can hit the fitness center, relax at the spa or grab a drink at the beach club. For some food, they can hit up the onsite snack bar and restaurant. Now wouldn't this be the perfect way to celebrate your last few days as a bachelor?
Grand Coral Golf

Address: México 307 km 294, Solidaridad, 77710 Playa del Carmen, Q.R., Mexico

Website: Grand Coral Golf

Opening hours: 6:30am - 7pm (daily)

Price: High Season: Prime Time: 175 USD; Middle Time: 150 USD; Twilight: 126 USD; Junior: 85 USD; Low Season: Prime Time: 126 USD; Middle Time: 105 USD; Twilight: 85 USD; Junior: 65 USD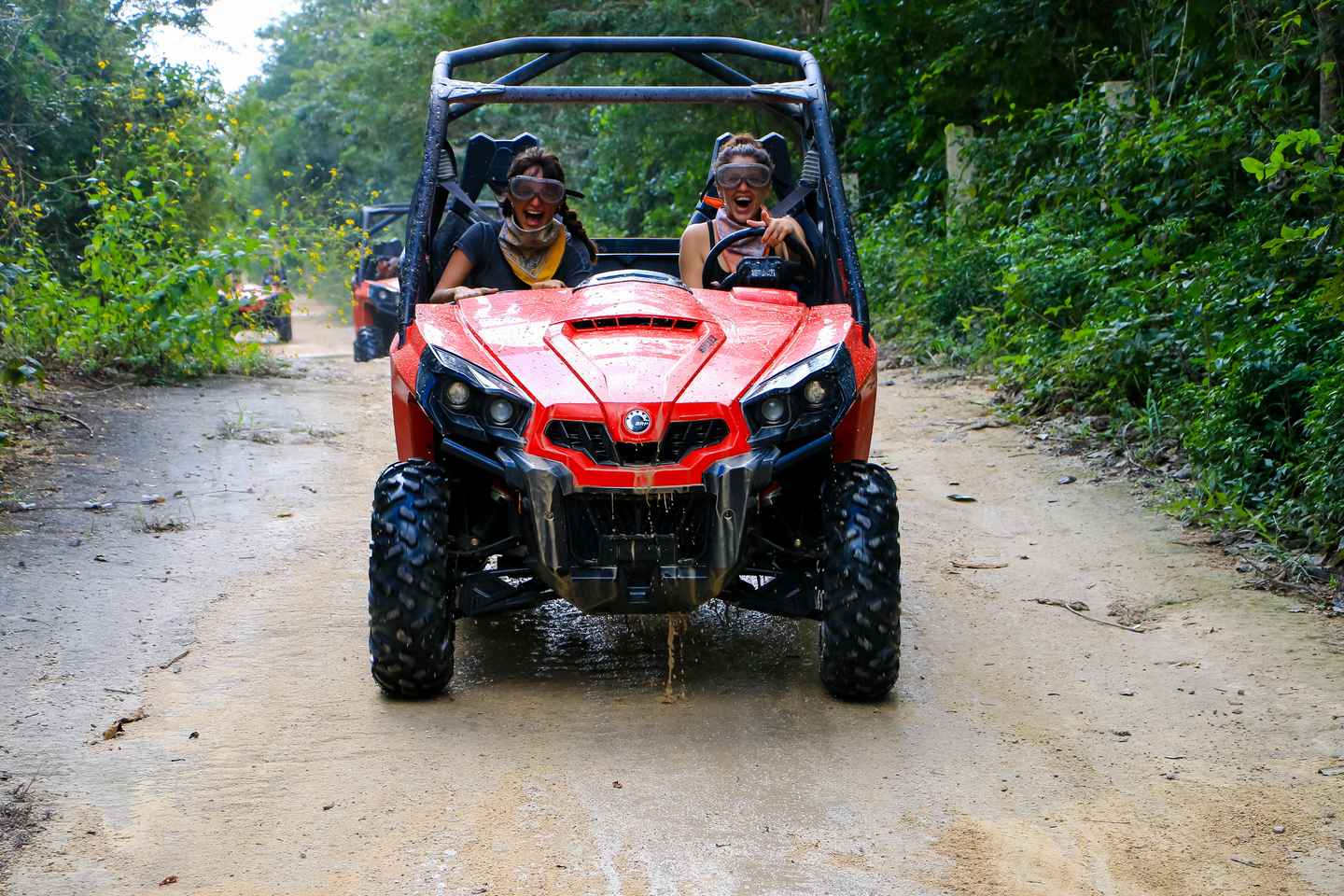 While there are conventional ways to tour a city, just to spice things up a bit, why not use dune buggies for a memorable bachelor party experience? With this three-hour buggy tour of Riviera Maya, go down off beaten paths and jungle trails to see the natural beauty of Playa del Carmen. Drive around and see the tropical jungle before hitting a cenote where you get to snorkel and swim while exploring the underground water body. Keeping your safety in mind, the tour starts with equipping guests with goggles and bandana to protect your face.
Playa del Carmen: Riviera Maya Buggy Tour with Cenote Swim

Duration: 3.0 hour
Enjoy fine dining in the midst of the first permanent Cirque du Soleil show outside of the USA with your group of friends. The show takes place in JOYA's custom-built theatre at the Vidanta Riviera Maya resort. The 70-minute show follows the story of a young girl and her alchemist grandfather, as the girl finds a gem in a mangrove forest and must pass through different trials set out for her. Exploring the secrets of life, the show blends together Mexican history and heritage. Guests need not worry about travel as transport is provided to and from the show.
Cirque du Soleil® JOYA Show Ticket at Vidanta Riviera Maya

Duration: 1 hour 20 minutes
Create unforgettable memories during your bachelor party
Playa del Carmen is a wonderful town with clear waters and natural beauty. This place is full of fun things to do, ones that are absolutely perfect for bachelor parties. As a right of passage, a bachelor party is the last time one gets to enjoy their single life. Why not do that in the midst of everything you love and create unforgettable memories?
Disclosure: Trip101 selects the listings in our articles independently. Some of the listings in this article contain affiliate links.
Get Trip101 in your inbox
Unsubscribe in one click. See our Privacy Policy for more information on how we use your data