Armenia's capital city, Yerevan, is a lovely mishmash of industry, culture, history, as well as sightseeing. While the city, with its uber-luxurious living standards, is progressively moving towards modernity, it also remains wrapped in the pleasing antiquity of the past, making an exploration of the city every bit a fantastic experience. Plus, its central location also allows some great day trips to nearby famous spots. Go on some (or all) of these best day trips from Yerevan, Armenia, and guarantee a fun getaway for yourself that, too, is on a budget! You can even hitch on some of these as group tours.
Visits to Geghard Monastery and Garni Temple are mostly done in tandem because a little farther ahead en route Garni is Geghard. Your first stop heading out of Yerevan would be Garni Temple, which is Armenia's last remaining Greco-Roman colonnaded building. The beautiful Greek-style architecture is quite a history buff's delight. Since the site is not all that big, it won't take you very long to explore everything here. Travel tip: If it's possible, try timing your visit to Garni Temple in the second half of the day. You're likely to miss the crowds on group tours. As for Geghard Monastery, it is one of the country's three UNESCO World Heritage Sites and is a brilliant example of rock-cut temples and tombs. The monastery building juts out of a rock face and is enveloped by Azat Valley's towering cliffs. Do remember that this is one of the area's most popular sightseeing spots, so it's quite difficult to avoid the throng of tourists.
Yerevan to Garni Temple and Geghard Monastery: Private Tour

Duration: 4 to 5 hours
Caucasus region's largest lake, Lake Sevan is a beach baby's dream destination. Surrounded by snow-capped peaks, with beautiful monasteries strewn here and there along the clear coast, Lake Sevan is every bit scenic. Do remember to keep your camera handy—a lot of Instagram-worthy shots here! Plus, not just the lake and beach, you can also explore the monasteries. Sevanavank Monastery, just along the lake's northwest corner, is probably the most exquisite and beautiful of all. Lake Sevan is mostly a summer destination, but heading there in winter can be a pretty amazing experience as well.
Yerevan: Sevan-Sevanavank-Dilijan-Goshavank-Haghartsin Tour

Duration: 9 to 10 hours
3. Tsaghkadzor
Tsaghkadzor lies along the way to Lake Sevan, so you can easily pair the two trips in a single day. Much like Jermuk, Tsaghkadzor is also a spa resort town—where you can go in for one of many amazing spa treatments. Additionally, the town offers some great zip-lining opportunities as well. Hitch on one of these, and you can enjoy some of the most breathtaking views of the Armenian countryside, along with a steady fix of thrill. Riding a skylift is among the most fantastic experiences you can have here too, sans the adrenaline rush. This skylift ride is especially rewarding during winter and spring seasons—when everything around looks like a winter wonderland or a burst of colours!
Offering scintillating views of Mount Aarat—the Armenians' sacred mountain—Khor Virap is another extremely popular destination, about 45 minutes' travel from Yerevan. While the views from here are extraordinary on most days, fog on certain days might mar the experience a bit. However, those aren't the only highlights of Khor Virap. The place is considered to be one of the country's most important pilgrimage sites, since this is where religious leader St Gregory the Illuminator (responsible for leading Armenia's conversion from paganism to Christianity) was imprisoned for about 13 years, by those who disagreed with this ideas. Khor Virap, which literally translates to "deep pit," is where he was kept, and visitors can even visit the spot now.
Half day private tour to Khor Virap

Duration: 3 to 4 hours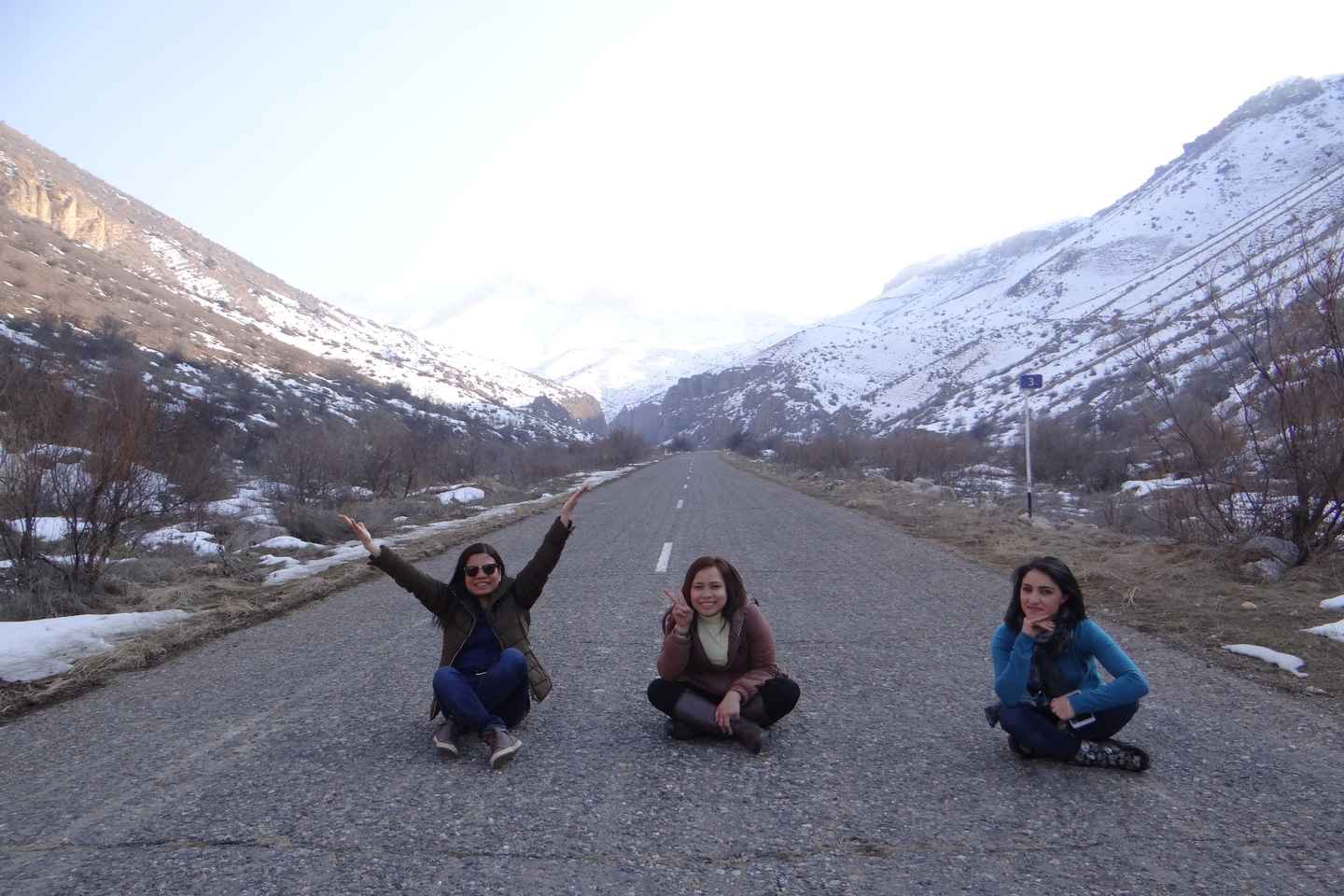 Nearing Armenia and Iran's border, Tatev Monastery perches on a clifftop, overlooking the Vorotan gorge. The monastery was built around the 19th century and together with its architecture and natural surroundings has a rather unearthly atmosphere about it. Visitors have to ride the Wings of Tatev (cablecar) to get to the monastery, making the journey as much an impressive experience as the destination. Harsnadzor Watchtower and Devil's Bridge are also nearby, so you can visit those too. A little ahead on the way to Tatev Monastery is Noravank Monastery, tucked amidst Noravank Canyon's red cliffs. It is an exquisite example of medieval architecture and also houses a museum boasting a collection of medieval artworks and artefacts. The best time to visit here is in the mornings, before it gets crowded, so you can leisurely stroll around the area and soak up the brilliance.
From Yerevan: Full-Day Tatev Monastery Complex Tour

Duration: 14 hour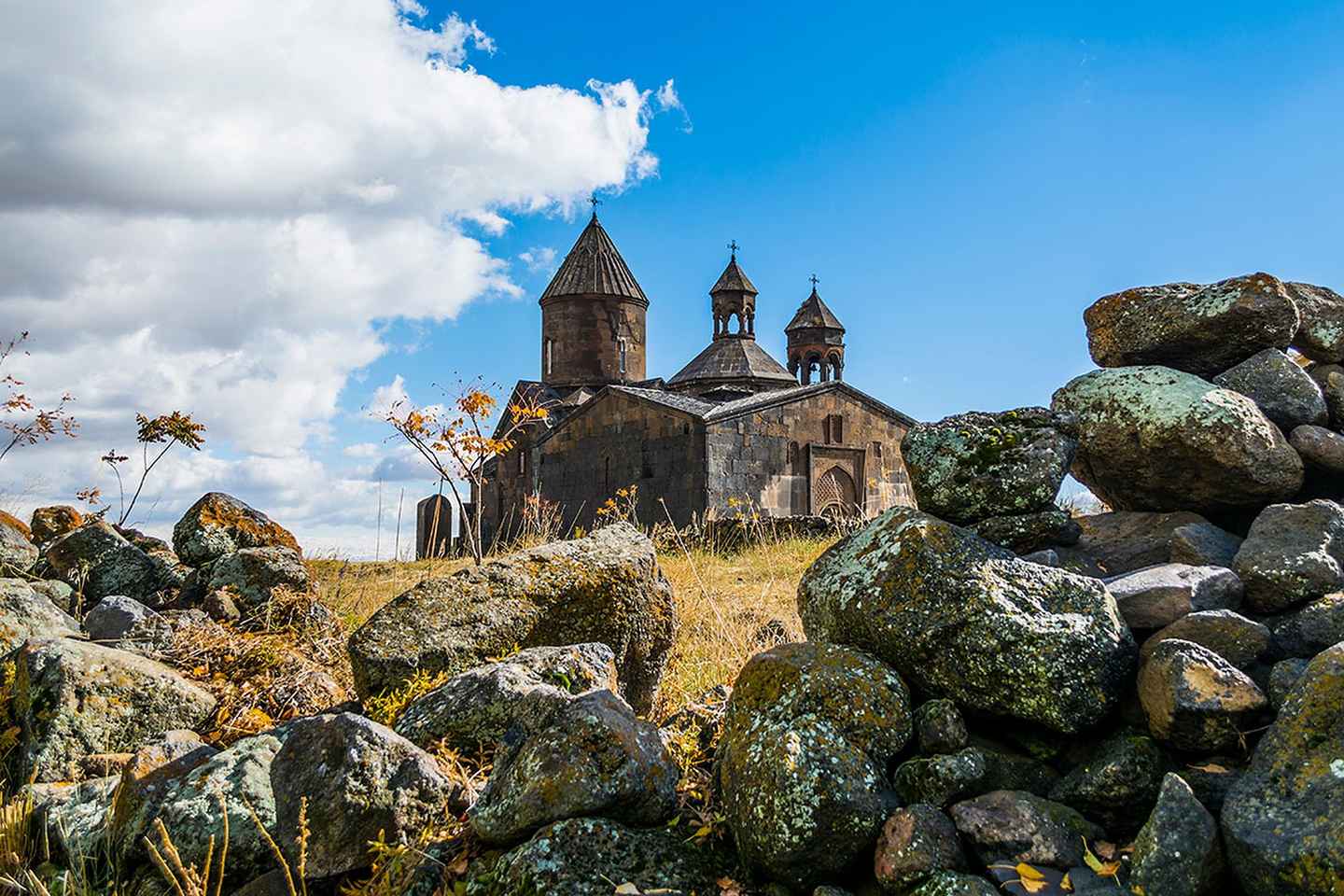 Armenian Alphabet Monument is downright unusual. It was designed by a local architect in 2006 and is a unique ode to the Armenian alphabet. Each of the 39 letters has been made out of carving stone, every piece stands imposingly, strewn across the very same field that is considered to be Mesrop Mashtots's final resting place. Mashtots is the one credited for creating the alphabets.
Armenia: Full-Day Cultural Tour with Alphabet Monument Visit

Duration: 8 hour
7. Karahunge
Due to the stark resemblance, many consider Karahunge as the Armenian counterpart of England's Stonehenge, but it is likely about 3,500 years older than the latter. Karahunge is a prehistoric archeological site where basalt stones, rising to heights of up to 0.5 - 3m (1.6 - 9.8 ft), are strewn across an area of about 70 sq km (44 sq mi). Even though Karahunge is not that famous a day-trip destination, heading there will make you experience the area's almost-surreal beauty.
8. Bjni
Bjni is a short hour drive from Yerevan and is hugely popular for Bjni Fortress. Built in the 9th to 10th centuries, the fortress is a magnificent relic of the past when it was used as a defense quarter. While the historical relevance of the fortress is clear, it is also quite a sight to behold. Hanging from the sides of a rocky plateau, Bjni Fortress overlooks the Bjni village. You can explore the fortress's ruins and some parts, which have suffered damage through the years but still give an idea of the area's former splendour.
9. Gyumri
Even though Gyumri is Armenia's second-largest city, it is not very famous among tourists, mostly because it suffered massive destruction during an earthquake in 1988 and still remains in the process of recovering. However, the restoration process doesn't diminish the charm Gyumri exudes. Stroll along and soak up Central Park's tranquility, or head to one of Pushkin Street's buzzing cafes. For sightseeing, the mammoth Mother Armenia statue and Black Fortress top the list.
Heading to Jermuk and Shaki Waterfall may be slightly trying—about a three hours' drive—but is every bit worth it. Jermuk town is primarily known for medical tourism. Its many hot springs have been touted to contain healing properties and together with the town's enchanting natural landscape are wholly soul-soothing. You can stop by at one of the many health resorts and spas and indulge in some tender loving care. Else, hike through one of the many trails in Jermuk and explore the rich biodiversity around. Shaki Waterfall drops from a height of about 18m (60ft). It is nestled in the deep Vorotan gorge, which is accentuated with rocks and caves, making for a spectacular sight and photogenic frame.
Private Tour from Yerevan: Jermuk, Shaki waterfall

Duration: 11 to 12 hours
Do the to and fro
While there're tons to explore and enjoy in Yerevan, our recommendation would be to not stop there. Put in a wee bit of extra travel and go on one of these best day trips from Yerevan, Armenia. You will not regret doing so but rather have some of the most enriching little side trips—without having to put in too much planning and money!
Disclosure: Trip101 selects the listings in our articles independently. Some of the listings in this article contain affiliate links.
Get Trip101 in your inbox
Unsubscribe in one click. See our privacy policy for more information on how we use your data