From its mouth-watering food to its charming natural sites, Hungary is an amazing country to visit and explore. Relax near Europe's largest lake, Lake Balaton, also known as the Hungarian Sea, immerse in their rich folk cultures and traditions or savour the local delicacies and wine. There are just plenty of reasons to include this beautiful country on your travel bucket list! You can stay in one of the best castle hotels or vacation rentals. Hungary is also well-known for being a combination of diverse cities and peaceful countrysides, making it a perfect place to visit even if you are on a budget - as it will make a relatively affordable trip. Read on to find out the top things Hungary is famous for.
1. Gulyásleves
Gulyasleves belongs to the list of the food you must try when holidaying in Hungary. In Hungarian, gulyas means herdsman, while leves means soup. This hearty soup is made with beef, various vegetables, paprika, and other spices and came from food that the cattlemen of the Great Hungarian Plain had to make. The meal is simple and minimal as these herdsmen are only able to cook whatever ingredients they can carry throughout their days in the field. Gulyasleves are traditionally made in cauldrons, called bogracs in Hungary, over a small fire.
2. Danube River
One of the most iconic places that you'll find in Hungary is the Danube River. Simply called the Danube, this river that runs through Budapest, as well as other European cities, served as a frontier of the Roman Empire and is the second-longest river in the continent. The Danube is an international waterway that starts from the Black Forest in Germany, specifically in the town of Donaueschingen, and then it streams southeast, ending into the Black Sea. It runs through 10 countries, including Romania, Austria, Slovakia, and Croatia.
3. Budapest Spring Festival
Photo is only for illustrative purposes
The largest cultural festival in Budapest also labelled the greatest cultural event in Hungary. Budapest Spring Festival focuses on traditional arts. The festival displays various cultural performances across multiple venues in Budapest and runs for two weeks annually. Budapest Spring Festival usually starts from mid-March to early April, at the beginning of spring. Not only does this festival attract a large number of guests from all over the world, but numerous talented artists, composers, and talents of Hungary also participate in this event. You can also expect various concert performances ranging from classical music to jazz and contemporary dances!
Immerse in Hungary's historical moments and fall in love with their heritage with this day trip to Pannonhalma! Pannonhalma is located in the Western area of Hungary and was founded in the 13th century. Located at the top of a hill, the breathtaking view from this UNESCO World Heritage-listed destination is sure to leave you in awe! Also known as the most beautiful Baroque city in Hungary, this day trip is definitely worth a try!
Day Trip to Pannonhalma - World Heritage Monastery with private guide and entry

Duration: 7 to 9 hours
5. Rubik's cube
The Rubik's cube, a popular 3-D combination puzzle that took the world by storm when it was first released, originated from Hungary - if you don't already know! This simple yet complicated puzzle was invented in 1974 by a Hungarian sculptor and professor of architecture, Ernő Rubik, and was licensed to be sold in 1980! This intriguing cube needs no more introduction as it is famously known around the globe!
6. Ajka Crystal
Ajka Crystal is one of the largest crystal manufacturers in Hungary. It has been making unique and prestigious handmade glass arts since 1878. With such a long history, Ajka Crystal boasts masterfully made and elegant pieces that are not only popular in Hungary, but worldwide! It is said that more than 90 percent of their pieces are for export and are used by brands such as Tiffany's, Polo Ralph Lauren, and Christian Dior. So, if you're someone that is looking for sophisticated pieces for your home, make sure to give this place a visit!
7. Visegrád
There is no doubt that Hungary is a destination with many beautiful and awe-inspiring places! With so many places on the list, it may be a little confusing as to which place to visit first - and if that is your concern, we would definitely ask you to include Visegrád in your list! This castle town is located 30 to 40 km (19 to 25 mi) from Budapest and has one of the most gorgeous views in Hungary. This Hungary attraction is also an amazing place for hiking and at the highest point of this town, you will be greeted with a spectacular natural landscape - making it a famous spot for nature lovers.
8. Sziget Festival, Budapest
Sziget Festival is one of the biggest and most popular music festivals in Hungary. It is often held in the month of August at Northern Budapest. This week-long music festival started from a low-profile student event to today's popular rock festival that attracts people from around the globe to participate! If you are into music and enjoys festivals, this festival must be added into your itinerary list!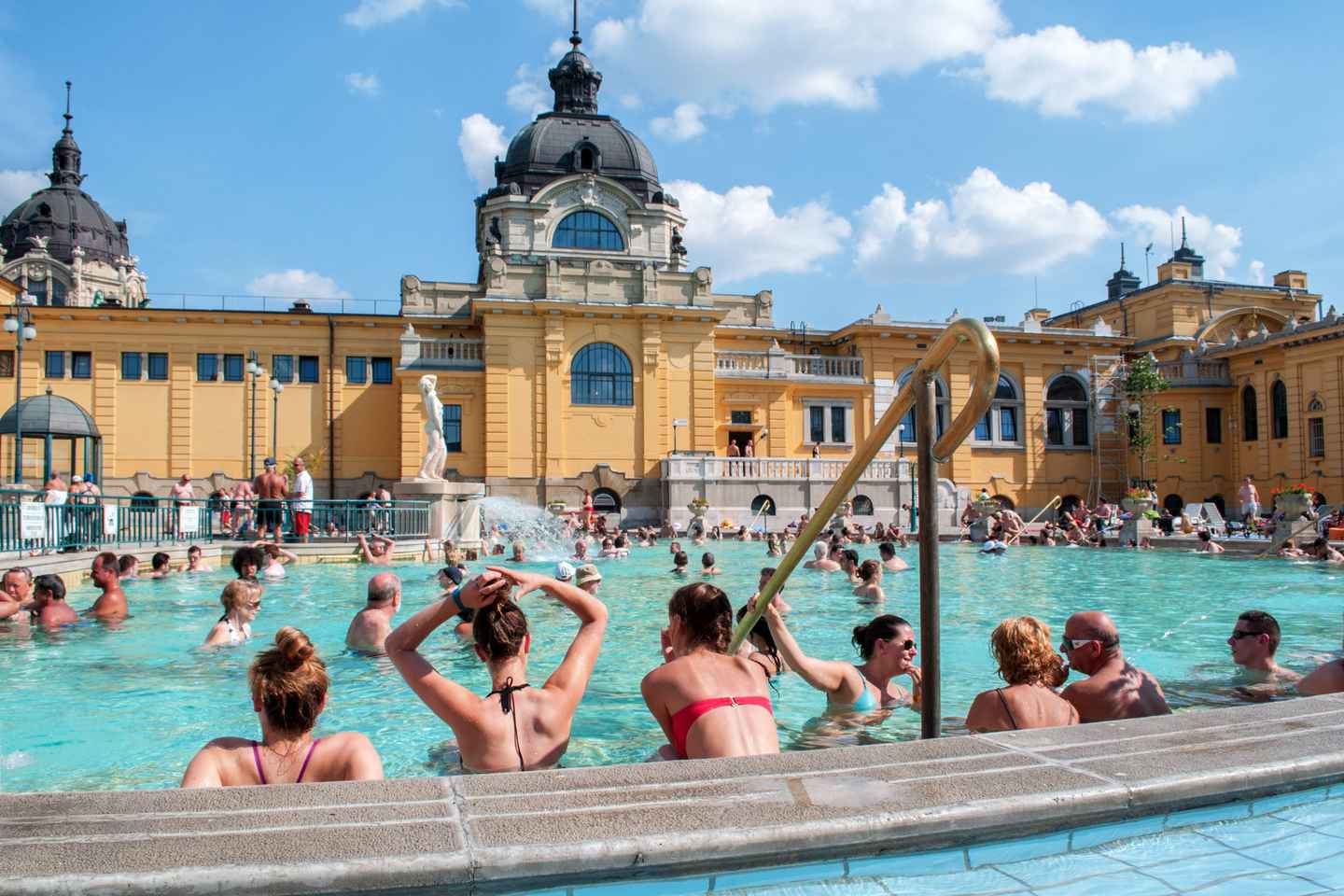 If you don't already know, Hungary is also known as the land of thermal spas, with a large number of these establishments available across the country. Soaking in the warm mineral water is a part of Hungarians' lives! The locals also swear by the medicinal benefits of these hot baths and you can easily find a wide variety of thermal spas around, ranging from traditional baths to modern establishments. Budapest's largest thermal spring bath, Széchenyi Spa, also makes an amazing stop for a hot bath as they have 3 outdoor and 15 indoor pools! Skip the queue to this popular spa by getting your entrance pass in advance - this rejuvenating spa bath will definitely wash off all your fatigue.
Budapest: Széchenyi Spa Full Day with Optional Pálinka Tour
What is Hungary known for when it comes to food, you ask? A trip to this country won't be complete without a taste of its national dish, goulash, which is a rich beef and vegetable stew, seasoned with paprika and other spices. It is also seen as the symbol of the country with a long history that dates back to the ninth century! Rather than just delighting yourself with this flavourful stew, attend a private cooking lesson instead where you will get to experience preparing three traditional Hungarian dishes! The four-hour class will allow you to have a hands-on experience of preparing dishes such as goulash, paprika chicken, and Hungarian crepe. You will also get to have a taste of Hungarian fruit brandy while enjoying the three-course meal that you have prepared! Don't forget to bring these experiences back home and cook them for your loved ones!
Hungarian Goulash Cooking Class in Budapest

Duration: 4 hours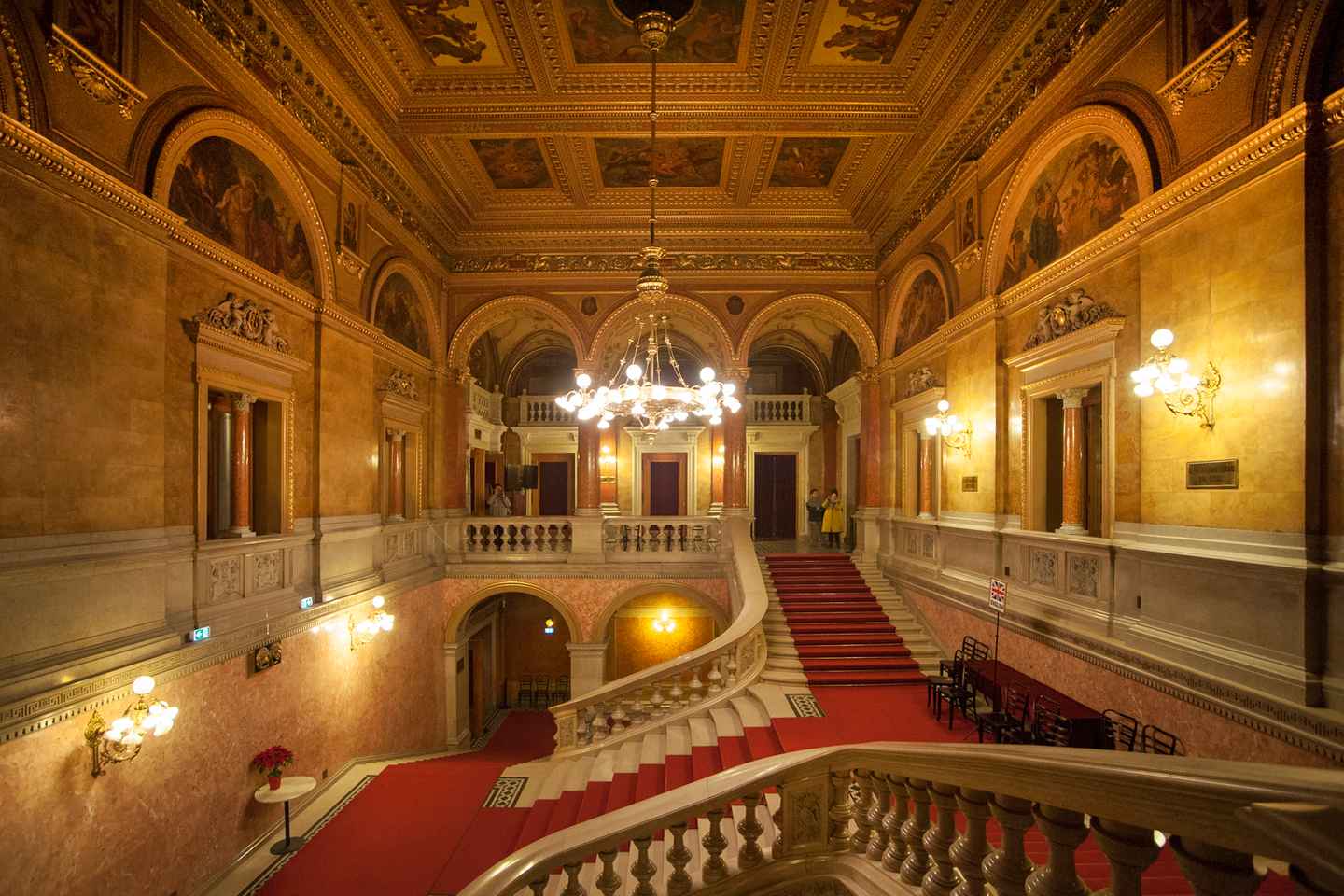 Budapest is one of the most captivating cities in Europe. With its alluring skyline and glamorous landscape, this destination is a popular spot for many tourists and locals! The bustling city has one of the most unique nightlife scenes in the world, allowing you to immerse in a hip and lively ambience while admiring the magnificent buildings. If you are new to the city or are looking to have a better understanding of this lovely place, book yourself a one-and-a-half-hour guided city tour where you get to visit operas, attend mini-concerts, and gain an insight of Hungarian music traditions. This tour is sure to be an eye-opening experience like never before.
Budapest: 1.5 Hour Walking Tour, Opera Visit, Mini Concert

Duration: 1.5 hour
Not only is Tokaji a beautiful city in Hungary to explore, but it is also the most famous wine region in Hungary. Make sure to try Tokaji wine on your visit. This sweet and sophisticated wine was also used as a royal gift in the past and plays an important role in Hungary's history - what more reason do you need to get your hands on this perfect wine? Go on a private tour to have a better understanding of the wine-making process and to have the chance to give this wine a taste!
Private Wine Country Day Trip to Tokaj (from Budapest)

Duration: 10 hours
A destination that is never dull
With a wide variety of things to do and places to visit, Hungary is a popular spot that is filled with its own charm while allowing you to feel at home. Don't forget to explore the malls and stalls for awesome things to buy as well! Hungary has so much to explore that you will end every day with so many new, exciting, and eye-opening experiences! Save this list for your future trip!
Disclosure: Trip101 selects the listings in our articles independently. Some of the listings in this article contain affiliate links.
Get Trip101 in your inbox
Unsubscribe in one click. See our privacy policy for more information on how we use your data