The USA, or America, in general, needs no introduction. It is by far the most famous country in the world. But what makes America so famous? Attractions such as the Grand Canyon and Mount Rushmore naturally come to mind, as are its lasting imprints on global culture, such as Hollywood, music, sports, historical personalities, tech innovation, and more. The best way to experience America is to travel the all-American way - road-tripping! Do some backpacking or spend a night in some of the best glamping spots in the US. Cruise down the Pacific Coast Highway with your windows rolled down or ride with your gang through the heart of America on Route 66. There's always something for everyone, like some of the most popular shopping malls and districts, luxe accommodations, or some of the best themed hotels for those who want to explore the big cities. Natural wonders, man-made marvels, national parks, theme parks, beaches, mountains, cities, and charming small towns are abundant too if you're looking for a more idyllic getaway. You might wonder, "What is America known for around the world?" This country is a melting pot of cultures, cuisines, people, and even geographies - from bustling New York to chilled-out California and from frigid Alaska to tropical Hawaii. Come along with us as we show you the things America is famous for.
It's impossible to talk about the US and not mention New York City. It has made itself an epicenter for any interest and built a reputation that appeals to many over the years. With popularity as high as its skyscrapers, this massive city offers prime attractions that are filled with crowds from every corner of the world.
A visit to this city that never sleeps would not be complete without setting your foot on key spots such as Times Square, Rockefeller Center, and Central Park. Hop on to a horse-drawn carriage for a one-hour sightseeing tour of these iconic landmarks in the Big Apple. You're sure to get a panoramic view of the famous city as there are no windows to block your view during the private excursion. For your convenience, you also get to choose the tour's start time.
Central Park, Rockefeller & Times Square Horse Carriage Ride

Duration: 50 minutes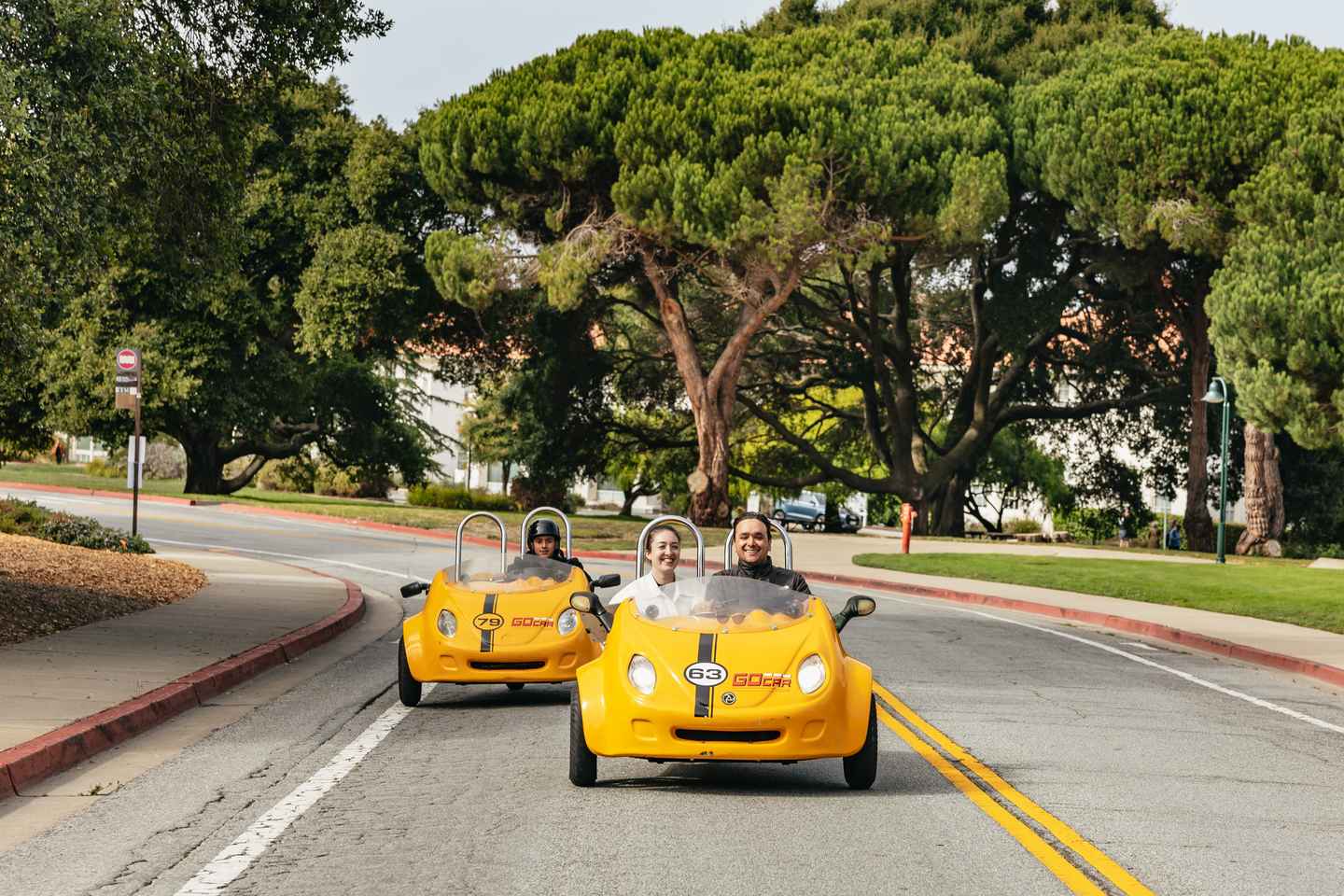 Whether you're a first-timer or a repeat visitor, the vibrant city of San Francisco and its Golden Gate Bridge welcomes all. This commercial and cultural center in Northern California offers lots of trip ideas, from a trip across its bay area to exploring diverse urban communities. Visiting its world-famous attractions is a unique experience for everyone but there is surely another way to make it more special.
Fasten your seatbelt, folks, as there's a new way to explore San Francisco. The GPS-guided, talking GoCar tour is the latest craze in town for its fun way of relaying stories and facts about the city. During the tour, you'll be able to loop around the hotspots in Lombard Street, Fisherman's Wharf, Presidio, and Golden Gate Bridge. You can even park and take a stroll along the span of the iconic bridge.
San Francisco: Golden Gate Bridge and Lombard GoCar Tour

Duration: 2.0 hour
3. Hot dogs
One of the good things about America is that it's home to delicious and popular food. There's no denying the fact that Americans love their hot dogs. According to the National Sausage and Hot Dog Council (yes, there is a national hot dog council in the US!), Americans eat 150 million hot dogs over the 4th of July holiday alone. Why is the hot dog so popular, you may ask? A simple snack of steamed sausage placed between a slit roll topped with mustard and ketchup hits all the right spots. It is also a very affordable snack. New York and Chicago are arguably the best spots to try out hot dogs in America. From street carts to fast-food chains to artisanal hot dogs in upscale restaurants, they're the ubiquitous American food.
Portillo's Hot Dogs

Address: 100 W Ontario St, Chicago, IL 60654-3710

Website: Portillo's Hot Dogs

Opening Hours: 10am–1am

Phone number: +1 (312) 587-8910
Probably every outsider's introduction to America is via Hollywood. So famous and popular is Hollywood that it has even inspired spin-offs all over the world in the form of Bollywood, Ghollywood, Wellywood, and more. Hop on a cab from LAX and try your best not to ask the cabbie to stop every few seconds to take selfies with the Hollywood sign in the background! Stroll down the (literally!) star-studded Hollywood walk-of-fame, get mesmerized by the glitz and glamor of Beverly Hills, or go star-spotting in the famous zip code of 90210. To make the most of your time in Hollywood, take a tour of Universal Studios where you can visit the sets of your favorite movies and TV shows or drop by the world-famous Madame Tussauds wax museum.
Universal Studios Hollywood

Address: 100 Universal City Plaza, Universal City, CA 91608, USA

Website: Universal Studios Hollywood

Opening hours: 10am–5pm

Contact number: +1 (800) 864-8377
Universal Studios Hollywood General Admission Ticket
What would the world's history books be without Abraham Lincoln, John F. Kennedy, Dr. Martin Luther King, Harriet Tubman, or Rosa Parks? And, these are just famous American political figures. The contributions of other American personalities to the fields of art, literature, business, science, and music are legendary too. Americans take pride in honoring their historical personalities. So, be sure to visit the multitude of monuments, and top museums in the US dedicated to these famous historical personalities in towns and cities all across America.
Lincoln Memorial

Address: 2 Lincoln Memorial Cir NW, Washington, DC 20037, USA

Website: Lincoln Memorial

Opening hours: Open 24 hours

Contact number: +1 (202) 426-684
Washington DC: Monuments and Memorials Bike Tour

Duration: 3.0 hour
6. Tech innovations
The entrepreneurship spirit is embedded deep into the psyche of Americans. America is home to the most number of inventions and innovations in the world. IBM made personal computers an affordable reality, Microsoft Windows digitalized the desktop operations of the workspace, Google brought the world's information at our fingertips, Facebook made the world smaller and Apple popularized touch technology. All these are American tech innovations, thanks to which you can now read this article sitting on your couch in the palm of your hands! So, take some time and visit the legendary Silicon Valley in sunny California, the home of the tech innovators of America!
The Tech Museum of Innovation

Address: 201 S Market St, San Jose, CA 95113, USA

Website: The Tech Museum of Innovation

Opening hours: 10am–5pm, daily. Closed on Thanksgiving and Christmas.

Contact number: +1 (408) 294-8324
Baseball is a truly American sport, but it has a huge fan following in several other countries as well. Baseball is so popular that some collectable cards of famous baseball legends are said to be worth hundreds and even thousands of dollars. So, take in some baseball madness at the nearest stadium on your next visit to America and immerse yourself in this national American pastime!
Yankee Stadium

Address: 1 E 161st Street Bronx, NY 10451

Website: Yankee Stadium

Opening hours: 9am–5pm, daily.

Contact number: +1 (718) 293-4300
2020 New York Yankees MLB Home Stadium Game Tickets
The most unique of all American landmarks is Mount Rushmore. No other country can boast of honoring their past leaders in such a majestic manner. The Mount Rushmore National Memorial depicts towering granite faces of former US presidents George Washington, Thomas Jefferson, Theodore Roosevelt, and Abraham Lincoln. The site also features a museum with interactive exhibits.
Mount Rushmore National Memorial

Address: 13000 SD-244, Keystone, SD 57751, USA

Website: Mount Rushmore National Memorial

Opening hours: 5am–9pm, daily.

Contact number: +1 (605) 574-2523
Black Hills, Mt Rushmore, Crazy Horse, Custer State Park Tour

Duration: 9 hours
The Grand Canyon is one of the most beautiful places whose magnificence you can truly behold only when you see it with your own eyes. Carved by the force of the Colorado river and the erosion of the wind, this mighty canyon is layers-upon-layers of sedimentary rock tightly compressed into a breath-taking natural wonder. Situated in Arizona, the Grand Canyon is one of the most-visited national parks in America. The panoramic vistas, innumerable hiking trails, canyoning, mule rides, and a vertiginous glass bridge are just some of the attractions at the Grand Canyon National Park. Open 24/7 all year round, there is simply no excuse for not visiting this marvelous natural wonder of the world!
Grand Canyon National Park

Address: Grand Canyon Village, Arizona 86023, USA

Website: Grand Canyon National Park

Opening hours: Open 24 hours

Contact number: +1 (928) 638-7888
Grand Canyon South Rim Bus Tour From Las Vegas

Duration: 15 to 16 hours
Amongst the many contributions that America has made to the world, it's influence in the field of music is the most impactful. It is quite difficult to imagine the music world without the rock-n-roll rhythms of Elvis Presley, the soulful jazz and blues of Billie Holiday, the foot-stomping tracks of Michael Jackson, the country classics of Johnny Cash, the hard rock music of Guns n Roses, the pop songs of Madonna, Taylor Swift and Beyonce, or the hip-hop tracks of Eminem, Jay-Z or Kanye. Pay homage to the music legends and visit the Rock & Roll Hall of Fame or take a tour of Graceland mansion in Memphis.
Rock & Roll Hall of Fame

Address: 1100 E 9th St, Cleveland, OH 44114, USA

Website: Rock & Roll Hall of Fame

Opening hours: 10am–5:30pm, daily.

Contact number: +1 (216) 781-7625
Rock and Roll Hall of Fame Admission, in Cleveland

Duration: 1 to 4 hours
11. American football
American football, referred to as just 'football' in the United States and Canada, is not the same as 'football' in the rest of the world. It is a unique amalgamation of soccer and rugby-style team sport played by two teams of eleven players on a rectangular field with goalposts at each end. Football is a national obsession in America. The football Super Bowl is reported to be one of the biggest 'shared experiences' in America. As such, the energy, enthusiasm and passion of the players, as well as the spectators, is quite infectious. Do try to catch a football game in one of the many stadiums across the US or visit the Pro Football Hall of Fame for some insights into American football.
Pro Football Hall of Fame

Address: 2121 George Halas Dr NW, Canton, OH 44708, USA

Website: Pro Football Hall of Fame

Opening hours: 9am–5pm

Contact number: +1 (330) 456-8207
12. Classic diners
One of the many things associated with America are burgers and the institution that popularized those very burgers — the classic American diner. Classic diners are an all-American establishment, serving a wide range of American cuisine like burgers, fries, milkshakes, coffee and pies. Most classic diners were situated along highways and in working-class towns, but many of them have now been revamped to serve high-end versions of traditional comfort food. Classic diners are popular tourist attractions for their nostalgia-inducing greasy food served atop formica tables in classic art-deco interiors.
Ruby's Diner

Address: 100 Citadel Drive, #222 Los Angeles, CA 90040

Website: Ruby's Diner

Opening hours: 7:30am–9pm, daily.

Contact number: +1 (323) 382-7829
Let's go to the US of A
If you've ever wondered, "What is America known for?" Well, now you know! We hope that we've convinced you to visit the land of the star-spangled banner. Wherever you choose to go to America, it is bound to enthrall you with its mesmerizing beauty, fascinating culture, and its welcoming people.
Disclosure: Trip101 selects the listings in our articles independently. Some of the listings in this article contain affiliate links.
Get Trip101 in your inbox
Unsubscribe in one click. See our privacy policy for more information on how we use your data