Jama Masjid or Masjid e Jahan Numa is one of the most-visited spots in Delhi, India. Just like its namesake in Agra, this mosque was commissioned by the Mughal Emperor Shah Jahan. This architectural marvel cost Shah Jahan a whopping million rupees to build in the 1650s, and it took nearly 5,000 workers to create this spectacular structure. The 80-meter-long (261 feet) and 27-meter-wide (90 feet) Jama Masjid was completed in 1656 AD. Its porch is made of red sandstone that is elevated 9.1 meters (30 feet) above the ground. The mosque's name literally means "world-reflecting" and it's an iconic landmark in Old Delhi. The mosque's architecture has also taken inspiration from Hindu and Jain architectural styles, which are reflected in the motifs used in the mosque's western section. Jama Masjid is near the Red Fort in Old Delhi and is a popular tourist haunt. Check out this guide to Jama Masjid.
Things to do/Highlights
Commissioned by Mughal Emperor Shah Jahan, the revered Jama Masjid or the world-reflecting mosque is an architectural marvel that draws plenty of devotees and tourists alike. Jama Masjid in Delhi is the world's biggest mosque, and its open courtyard measures 99 meters (325 feet) and can hold 25,000 people. The premises can accommodate a whopping 85,000 people! It is also the best mosque from the Mughal era. It has three gates: North, South, and East. Inside, its floor plan is akin to that of Agra's Jama Masjid. An interesting aspect of this mosque is that the floor has black and white ornamented marble, which gives the illusion of the prayer mats used by Muslims. This mosque faces Mecca in Saudi Arabia. Here are some things to do here:
Marvel at the lofty minarets
The mosque has four towers and two minarets that flank the three domes. The five-story minarets are 40 meters (130 feet) high and are a combination of red sandstone and marble. Each minaret also has balconies on each level, and the first three stories are made with red sandstone. The fourth and fifth are made of marble and sandstone, respectively.
See the relics of Muhammad the Prophet
The cabinet toward the mosque's north gate is home to some treasures such as the prophet's red beard-hair, his footprints on a marble slab, his sandals, and the holy book of Quran, written on deerskin.
What to eat
Foodies will be spoiled for choice when visiting Jama Masjid, as there are plenty of famous eateries in the area that you can head to for some delicious local fare.
Karim's
This is one of the most well-known food joints in Old Delhi. This historic eatery has been around since 1913 and is a few paces from Jama Masjid, opposite Gate 1 in Gali Kababian. This iconic eatery offers lip-smacking Mughlai cuisine. Make sure you try the mutton seekh kebab, mutton korma, chicken tikka, and khameeri roti here! Round up your meal with kheer benazir (rice pudding).
Aslam Chicken Corner
Another popular foodie haven is this eatery, which serves up some of the most delectable chicken dishes. Barely five minutes from Jama Masjid, you must try the chicken tikka with butter curd.
Qureshi
This joint serves up some of the best kebabs in Delhi. Pick from juicy beef or mutton kebabs, which pairs well with soft rumali rotis.
Al-Jawahar
Also a few paces from Jama Masjid, opposite Gate 1, this eatery was inaugurated by India's first Prime Minister, Pt. Jawaharlal Nehru. Try the chicken Jahangiri and chicken biryani here.
Kallan Sweets
If you have a sweet tooth and want food with a twist, then head to this joint - a two-minute walk away from Jama Masjid - to savor some paneer ki jalebi and khoya samosa (Indian sweets).
Travelers tips
Best time to visit
The best time to visit the mosque is before noon so that you can avoid the crowd. Avoid going on a Friday as the mosque will be crowded for Friday prayers.
Be mindful during namaz
If visiting during prayer times, avoid moving in front of someone offering namaz, as it is seen as interrupting the link with the divine or cutting it. It is considered disrespectful and should be avoided.
Photography pre-requisites
Foreigners need to pay an extra 4.22 USD (300 INR) to take pictures from mobile phones or cameras.
Restrictions on attire
Dress conservatively. Both men and women should not wear sleeveless clothing and must cover their legs and head. If you are unsure of your attire, rent a robe from the North Gate.
Protocols
Take off your shoes when you get to the mosque's entrance. You can either carry them with you in a bag or deposit it at the counter for a charge of 0.14 USD (10 INR).
Tourist scams
You might be forced to rent a robe under the guise that you are inappropriately dressed. As long as your shoulders, legs, and head are properly covered, you will be allowed in. Also, some may insist you pay the camera fee. If you are thinking of climbing up the minaret for the views, it is obstructed by a security grill made of metal, prompting interested tourists to pay the fee for the view. Moreover, it is not advisable for solo women to climb up, as the tower is cramped and you may get harassed.
How to get there
Take the Delhi Metro
Getting to Jama Masjid is quite easy by metro - you just need to get off at the Jama Masjid stop. This is an extension of the Violet Line. You can also avail the Heritage Line or the Yellow Line and alight at Chandni Chowk.
Ride the bus
The nearest bus stop to Jama Masjid is Kashmiri Gate Bus Station.
Rent a car
Rent a car and drive down to the mosque, but parking and navigating through the lanes of Chandni Chowk may be an issue.
Take a local taxi or book an Uber
You can also take a local taxi or Uber to reach Jama Masjid. Make sure the driver has switched on the meter.
How to get tickets
Entry to Jama Masjid is free but tourists need to pay a fee of 4.22 USD (INR 300) as the ticket price for photography. This can be done on-site. Going up the five-story minaret will also cost an additional fee of the same.
Jama Masjid information
Jama Masjid

Address:Jama Masjid Rd, Jama Masjid, Chandni Chowk, New Delhi, Delhi 110006

Opening hours: 7am - 12pm; 1.30pm - 6.30pm (daily)

Cost: Photography fee: 4.22 USD (INR 300)

Website: Jama Masjid

Department of tourism: Delhi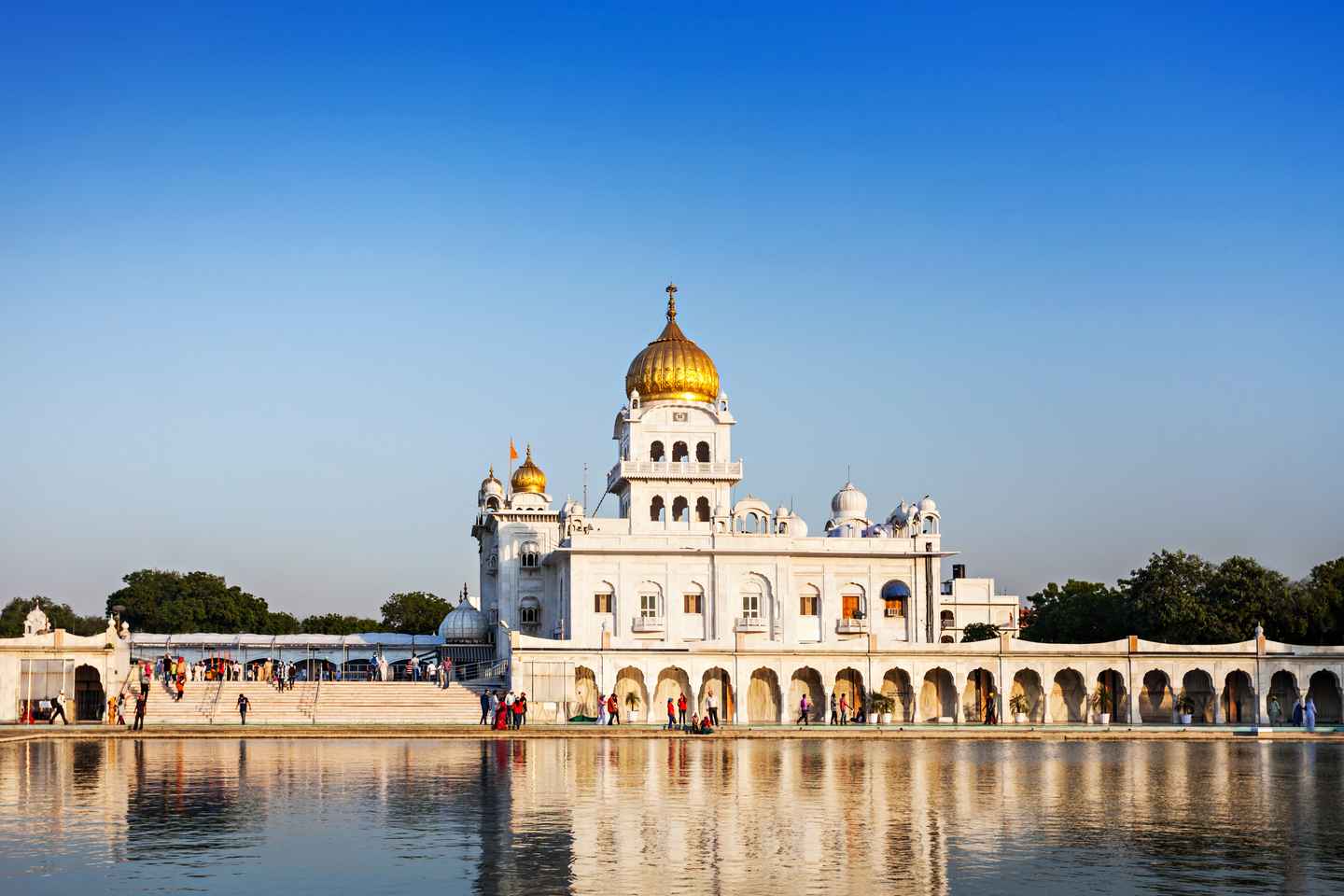 Old Delhi Temples and Spiritual Sites Private 6-Hour Tour

Duration: 5.0 hour
Disclosure: Trip101 selects the listings in our articles independently. Some of the listings in this article contain affiliate links.
Get Trip101 in your inbox
Unsubscribe in one click. See our Privacy Policy for more information on how we use your data