Wondering where to go or maybe it's time to explore new places? Oman, located on the south-eastern coast of the Arabian Peninsula – may pique your interest. Surrounded by a high range of mountains and by the sea, Oman is a place that has a lot to offer. Famous landmarks highlighting the rich Islamic Architecture, as well as the modern buildings, dominate the beautiful skyline. Food and festivals are also much loved in this region. For their accommodation needs, tourists and visitors are offered several luxury hotels and glamping spots in Oman as well. Let us explore some of the things Oman is famous for in this article, to give you an idea of what to do when you visit. Oman offers a wide variety of activities that are suitable for you. Scroll down to learn more.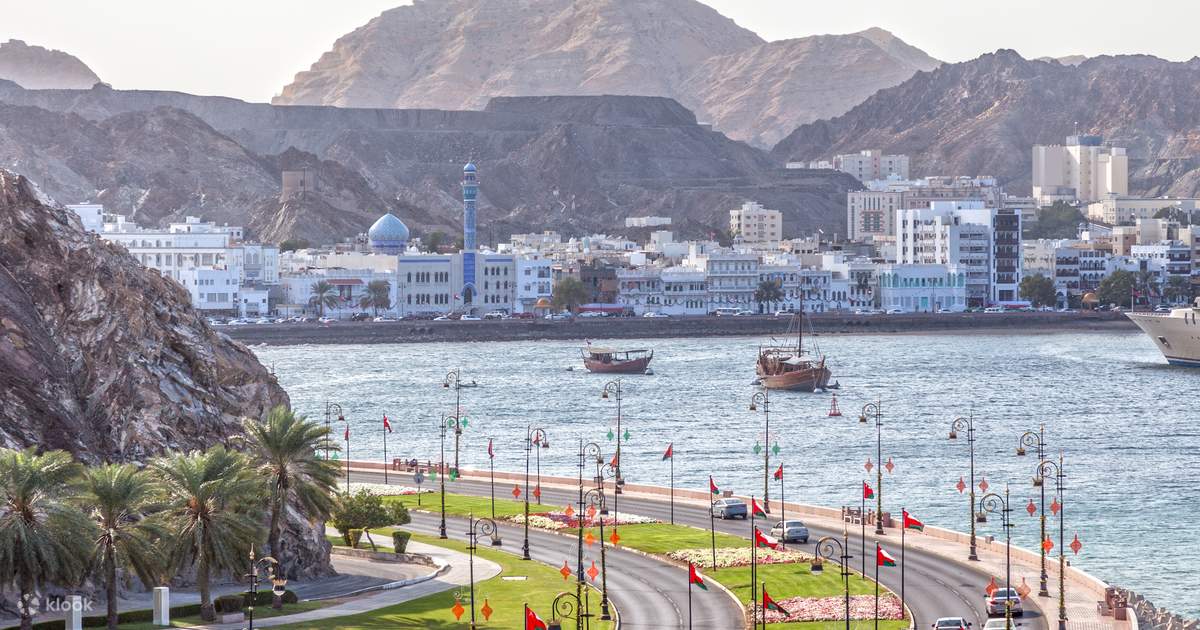 As the capital and largest city of Oman, Muscat has many things to discover, such as the Islamic Architecture. Experience the city's old and new towns showcasing their rich culture and traditions. Muscat is known in trading and fishing – you can explore the Muscat fish market and see the day to day ongoings in the market: freshly caught seafood will be prepared before you. A perfect sample of Islamic Architecture is to visit the Grand Mosque of Sultan Al Qaboos, which is one of the finest sights in Muscat. Take your time to stroll the halls and be in awe of its beautiful mosaic patterns. If you want to buy souvenirs then head to the Souk. There is also the Mutra Souq, where artifacts, antiques, textiles, and other amazing things to buy in Oman are on display.
Duration: 4hrsDuration
Situated at the top of the mountain range, Jebel Akhdar - or Green Mountain - is one of the highest points in Oman and eastern Arabia. It is said to be famous due to its maze and terraced plantations where pomegranates, apricots, and roses grow in lavishness due to its mild Mediterranean climate. Tours offer a private 4 x 4 safari off-road vehicle to explore the rugged landscape outside of Muscat. They guide you to local sites, including Wadi Fanjah and Birkat Al Mawz. Discover these traditional villages nestled in the mountainside.
Duration: 10 hours
3. Wadi Shab
This is a very popular Wadi, located in the Al Sharqiyah region in Oman, situated between the cliffs. Wadi Shab is very accessible as it is not very far from Muscat, easily reachable even by parlor car. As you walk up close to the shell of the cave, you will find out its unique features - a spectacular waterfall that flows from the inside of the cave and runs down onto the rocky land. Wadi Shab is a hike to remember for its remarkable surroundings that you will enjoy: the clear waters around, the relaxing rustling of leaves running down the streams, and the brownness of the soaring and uneven mountains.
Wadi Shab

Address: 50km West of Sur, Sur 411 Oman
4. Omani Halva
A trip to Oman isn't complete until you try their local delicacy – Omani Halva. This has become a symbol of Omani hospitality and it is traditionally paired with coffee. Omani Halwa is popular in every home and is served on special occasions such as weddings or birthday celebrations. It is also consumed during Ramadan and Eid feasts. Cooking Omani Halva requires constant stirring to achieve its sticky, gelatinous sweet appearance. Be warned that it is too sweet, so you definitely need to have a sweet tooth to fully appreciate the sugary hit you get from indulging in this aromatic Middle Eastern delight!
5. Al Bustan Palace
The hotel offers an exceptional palace experience, showcasing the art of Omanis hospitality. It has 250 newly renovated rooms and suites, offers a variety of spa treatment in their very own Six Senses Spa, and the kids have access to Ritz Kids- an engaging program for children of all ages where they take part in various beach outdoor activities. Al Bustan Palace also features three restaurants thatserve a variety of international cuisines.
Al Bustan Palace

Address: OM, Al Bustan St, 114, Oman

Website: Al Bustan Palace
6. Cave of Parliament (Majlis al Jinn)
Majlis al-Jin is notable for its pretty remote and inaccessible location and the only way to get inside is through small openings formed by rainwater erosion above the isolated Selma Plateau. It was discovered by Americans in 1983, and they named the chamber as "Majlis al-Jinn" which means "the meeting place of the genies", derived from Omanis and predominant in Omani mythology and the Quran. The Ministry of Tourism opened the Cave Chamber in 2008, which attracted up to 75,000 visitors up to today. The cave floor is now accessible by four-wheel-drive automobiles. For those who are thrill-seeker individuals, the cave has become a hotspot for popular extreme sports such as Base Jumping and abseiling.
Cave of Parliament (Majlis al Jinn)

Address: Salma plateau, Oman
7. Muscat Festival
These festivals reflect the magical beauty of the Sultanate, the depth of its history and heritage. The yearly Muscat Festival, a month-long celebration that takes place around January or February, is the Sultanate of Oman's largest cultural event that features its history, culture, arts, and traditional food. This festival is a family-friendly event that draws people and tourists from across Oman and the neighboring Gulf countries. This is also a great opportunity for sightseeing and shopping.
Muscat Festival

Address: Muscat, Oman

Website: Muscat Festival

Opening hours: Every January to February
8. Al Qurum Beach
Al Qurum Beach is considered a family-oriented beach and you can reach it within about 10 mins from the city center, by taxi. As the beach is well maintained, it is popular with the locals and tourists who are interested in enjoying the view. Stroll, exercise, or bring your family for a picnic. Visitors of various ages enjoy the beach for it offers many activities you may enjoy. There are hotels, shopping areas, and café restaurants. You can enjoy your time at some popular restaurants and beachfront cafés. The beach gets lively by afternoon, with lots of people playing or simply enjoying the scenery. Consider visiting the beach in the morning or evening to avoid the crowds.
Al Qurum Beach

Address: Muscat, Oman

Opening hours: 24 hours (daily)

Price: Free
9. Burj Al Sahwa
The Burj Al Sahwa, also known as "Awakening Tower", is considered as one of the National Monuments that was built to mark Oman's 25 years of the Renaissance movement. The tower stands tall at 50 meters (164 ft) and it features four massive columns and archways that cover all the way to the top. The clock tower is surrounded by eight beautiful mosaics that signify important scenes from Oman's dynamic and colorful history. Each side has four large clocks placed at the top of the tower. The clock tower is considered a landmark in Muscat City, Seeb, and highway at Nizwa, for you will pass it upon entering or leaving the city.
10. Mosque of Sultan Qaboos
This mosque is located in the capital city of Muscat and it is the main Mosque in the Sultanate of Oman. Its interior's major feature is the prayer carpet, which covers the floor area of the prayer hall and is made in 28 varying shades of colors. Proportional to the height of the mosque, the world's second-largest chandelier hangs from the ceiling, and it is the focus of attraction in the main prayer hall. Many are awestruck by the iconic Islamic Architecture of the Mosque that makes it stand out from the rest due to its grandiose nature. This is the only mosque in Oman that allows non-Muslim visitors.
Mosque of Sultan Qaboos

Address: Sultan Qaboos St, ولاية بوشر، Oman

Website: Mosque of Sultan Qaboos

Opening hours: Sat - Thu: 8:30am - 11am (for non-Muslims)

Price: Free
Have a wonderful Oman experience
Sit back and relax as you slowly enjoy Oman's charming side. Have fun experiencing the old and new towns, the exceptional buildings, and Middle Eastern cuisine. Oman is a place that definitely has a lot to offer.
Any must-sees we missed? Tell us about them in the comments section or write a post
here
to help out fellow travelers!
Disclosure: Trip101 selects the listings in our articles independently. Some of the listings in this article contain affiliate links.
Get Trip101 in your inbox
Unsubscribe in one click. See our Privacy Policy for more information on how we use your data