Are you looking for a perfect vacation package, where you can experience daytime attractions as well as nightlife? Well, you are in the right place, my friend, as Muscat is one of the most happening destinations when it comes to its nightlife. This city offers perfect views of the stunning forts, deserts and also fascinating buildings, as most of them are not very high and white in color! In addition to the popular attractions, Muscat also offers amazing accommodations such as family resorts, the best of hotels, and Vrbo vacation rentals. Muscat is ideal for spending an exquisite vacation with your family and friends. The city never sleeps and it is the hub of entertainment for those who wander the streets at night! If you love to wander around with the night sky above you, scroll down for the top things to do at night in Muscat, Oman.
In Muscat, several families open their homes to visitors, providing an intimate setting for a truly authentic dining experience. You'll be welcomed with open arms and treated to a feast of traditional dishes prepared with love and care. As you gather around a shared table, you'll have the chance to sample an array of Omani delicacies. Each bite is a compelling journey into Omani culinary traditions, from succulent grilled meats and aromatic rice dishes to flavorful curries and fragrant spices.
The hosts will share stories and insights into Omani culture, customs, and traditions throughout the meal, allowing you to better understand this fascinating country. The warm and genuine hospitality of the Omani people will leave a lasting impression, making you feel like part of the family and creating cherished memories of your time in Muscat.
Duration: 3 hours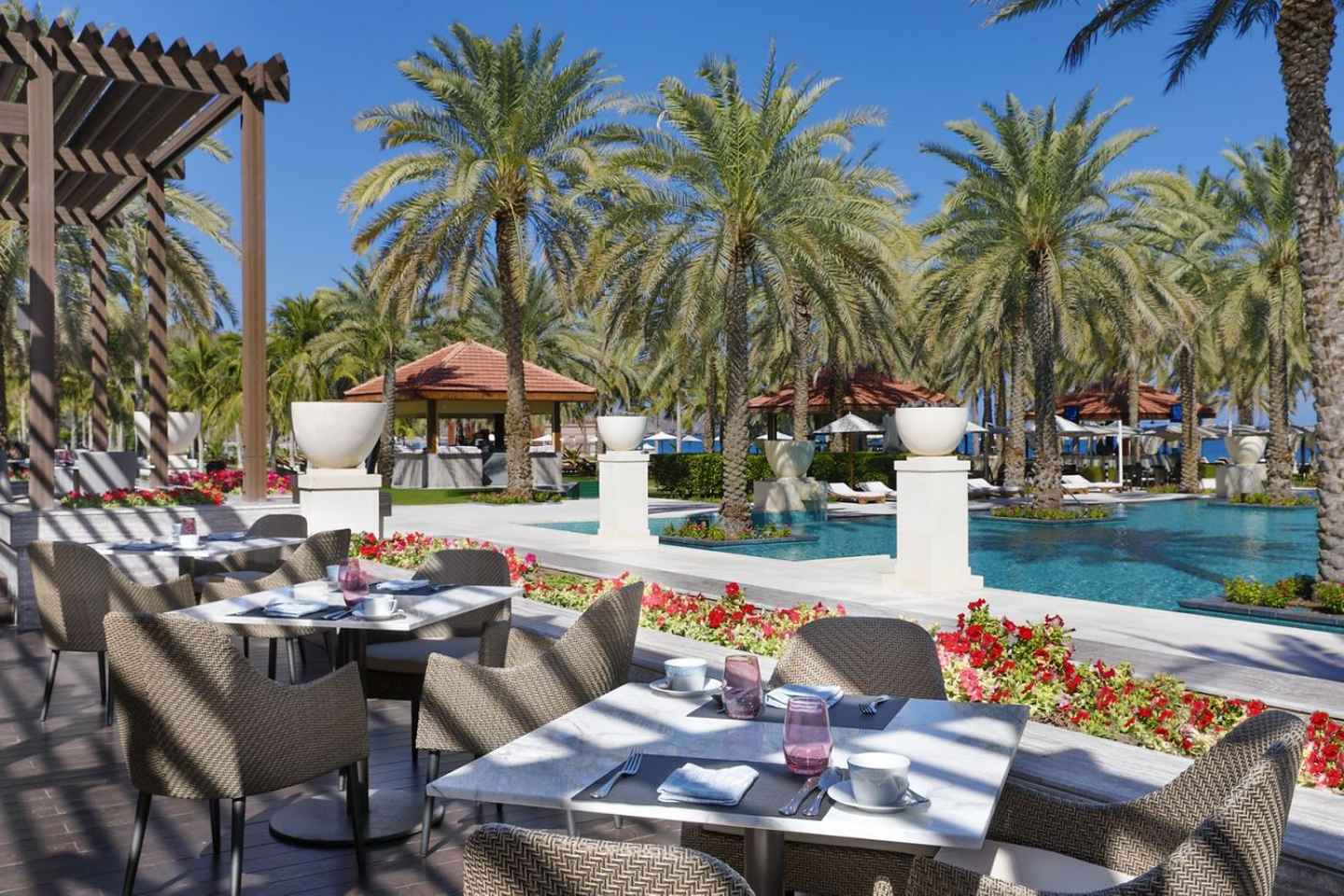 One of the many great night activities in Muscat is to embark on a fascinating night tour at the iconic Bustan Palace and immerse yourself in the luxury and grandeur of this magnificent palace hotel. The night tour offers a unique opportunity to explore the palace grounds' splendor and experience the Arabian nights' enchantment.
As you enter the majestic gates of Bustan Palace, you'll be greeted by the beautifully illuminated façade and stunning architecture that make this palace a true masterpiece. Marvel at the intricate details and luxurious interiors that reflect Omani heritage and hospitality. Admire the grand halls, exquisite chandeliers, and lavish décor that exude elegance and refinement. The night tour also offers the opportunity to indulge in a culinary experience fit for royalty. Enjoy a sumptuous dinner or a traditional Omani buffet, savoring delectable dishes in a nothing short of extraordinary setting.
Duration: 5.0 hour
3. Rockbottom Cafe
Editor's Note: Photo taken from the establishment's official social account
Muscat provides plenty of great places to eat, but if you're looking for a spot that also offers live music, then Rockbottom Cafe is the best. This is one of the favored spots where you can witness the high-octane nightlife in Muscat and spend an amazing time with your friends. The Rockbottom Cafe features live music, every night, as well as DJs and a fabulous dance floor, where you can show off your moves and dance to the rhythm of the music! Along with the live music, you can also enjoy Rockbottom Cafe's cocktails, as well as their mouth-watering dishes to eat! So, grab your friends and head out to this fabulous place.
Rockbottom Cafe

Address: Al Qurm | Ramee Guestline Hotel, Muscat 113, Oman

Website: Rockbottom Cafe
The Royal Opera House is one of a kind! It has some of the most astonishing interior design, which makes this place an appealing place to come and enjoy an opera show. The Royal Opera House is an admirable place and showcases beautifully designed marble, inlaid wood and arabesque design. So, if you're looking for some interesting things to do, you should definitely head down to this place. Here you will be able to see many popular names in opera and ballet performances, so check out the schedule online. Upcoming performances include Aida, Cinderella and Swan Lake, as well as several different shows featuring traditional Arabic music.
Duration: 4 hours
Are in the mood for some shopping? Well, then the Mutrah Souq is the right place for you. Head here if you love doing some street shopping on your holiday or finding that perfect antique! This place is located in the center of the Corniche, in the old town, right on the port side and near the taxi stand. The Mutrah Souq is a typical Arab market, selling Omani and Indian artifacts, some of which are quite fascinating. You will need to bargain at these small shops and they are sure to accept all types of payment, so get ready and happy shopping!
Duration: 5 hours
6. Al-Ghazal Pub
Editor's Note: Photo taken from the establishment's official social account
If you are looking for one of the best places to visit at night in Muscat and spend an amazing night out with your friends, then this is the right place for you! This is one of the most popular pubs in this city and it's enjoyed by everyone in Muscat! The Al-Ghazal Pub features a large bar and offers some of the best private lounges and also has pool tables, which are busy most of the time as well dart boards. On the weekend, there are live band performances, as well, for some great vibes! This place is a must-go!
Al-Ghazal Pub

Address: InterContinental Hotel Al Kharjiya Street, Muscat, Oman

Website: Al-Ghazal Pub
7. Mutrah Corniche
This place is ideal for a nice walk in the evening with your friends. The Mutrah Corniche is the main port area of the city and stretches for about 3 kilometers (1.9 miles). You can see beautiful gardens here, as well as fountains and beautiful mosques. It is also an active fish market and you can come here to catch a glimpse of the daily catch, not to mention the king's dhow, or traditional Arabian ship. Cruise ships and other boats decorate the harbor and you can find plenty of fresh fruit and vegetables here, too. This is where your bargaining skills will come in handy!
Mutrah Corniche

Address: Corniche, Oman

Website: Mutrah Corniche
8. Copacabana
Editor's note: Establishment is permanently closed
This place is now closed. Why not check out Left Bank if you are looking for a drink?
If you are in the mood for some clubbing, then this place will fascinate you! Copacabana is a nightclub, which features themed nights, including Arabic night, disco nights and so on. If you love to hang out with your friends and enjoy great music and drinks, then this is the right place for you! As the sun sets, head to this club as it's a hub for nighttime entertainment!
Copacabana

Address: Muscat Grand Hyatt, Shatti Al Qurm, Muscat, Oman

Website: Copacabana
9. Left Bank
Editor's Note: Photo taken from the establishment's official social account
The name is as fascinating as the place and the Left Bank looks more like an airport lounge than a bar! The cocktails here are the finest and it features a special ladies night on Mondays, which includes excellent drink specials that will be sure to make your night a memorable one. This place should be on your to-do list!
Left Bank

Address: Qurm Heights Rd, Muscat, Oman

Website: Left Bank
10. Piano Lounge at Shangri-La's Barr Al Jissah Resort & Spa
This is one of the most popular cocktail bars in the city! Among its normal drinks, like mojitos and margaritas, there are special Tuesday and Wednesday night cocktail specials and other fun activities to do! This is one of the best places to hang out with your friends in the evening, as you will enjoy drinks as well as some entertainment. A classy establishment, the Piano Lounge is located in the upscale Shangri-La hotel and features a long terrace with a sea view and light snacks as well as a daily happy hour.
Piano Lounge at Shangri-La's Barr Al Jissah Resort & Spa

Address: Barr Al Jissah Bay, Muscat, Oman

Website: Piano Lounge at Shangri-La's Barr Al Jissah Resort & Spa
The Muscat nightlife is incredibly rich. Since the opportunities for excitement are practically endless, you may run into the issue of not knowing where to start. You only have a limited amount of time in the city, so you will want to make the most of your time there. Why not have a local guide you an provide you with tips and information to help you navigate the nightlife/ Take a night tour where you will enjoy dinner and have a knowledgeable guide tell you about the city's landmarks and recommend places for you to visit.
Duration: 4 hours
What better way to usher in nightfall, than a sunset cruise. If you want an original cruise experience, consider taking a cruise on a dhow, which is a traditional Arabian ship. You can leave from Muscat harbor and travel around the Oman coast. Not only will you witness a breathtaking sunset at sea, but also you will be able to enjoy the view of landmarks, such as the iconic Al Bustan Palace hotel, and sparkling waters.
Duration: 2 to 10 minutes
Have a rocking night in Muscat, Oman!
Sightseeing in Muscat promises a lot of fun and Oman is one of the most amazing destinations you can travel to. Apart from the beautiful attractions as well as the ultimate places for biryani, there are many things to do at night, as Muscat is a hub of entertainment! So, don't wait any further, head to Oman to enjoy the nightclubs, and operas, as well as wander through the streets of the city, admiring the beauty. Once you've experienced the best that this place has to offer, you could also take on day trips to make your vacation even more memorable!
Frequently asked questions about things to do at night in Muscat
1. What are some of the best bars and clubs in Muscat?
If you would like to let your hair down with good food, music, and great drinks, you can visit some of the best bars and clubs in Muscat such as Al-Ghazal Pub or Left Bank.
2. What scenic places at night are worthy to visit when in Muscat?
If you would like to explore some of the scenic places in Muscat during nighttime, you can take a sunset cruise or go for a night tour at Bustan Palace.
Any must-sees we missed? Tell us about them in the comments section or write a post
here
to help out fellow travelers!
Disclosure: Trip101 selects the listings in our articles independently. Some of the listings in this article contain affiliate links.
Get Trip101 in your inbox
Unsubscribe in one click. See our Privacy Policy for more information on how we use your data