Welcome to the gastronomical capital of vibrant India, the place that will never disappoint you foodwise. You might get upset in the chaotic streets of Delhi, or frustrated by the neverending traffic and the unavoidable pollution, nevertheless, the divine street food will feel like heaven inside. Either you choose a food tour in the more traditional area of Old Delhi or the more diverse New Delhi, the food satisfaction is exactly the same. From yummy samosas to delicious momos (dumplings) to sweet lassi (yogurt-based shake), the tours have it all while they are filled with history lessons plus wondrous sightseeing. So, if you want to taste as much as possible, book one of the following street food tours in Delhi, India, and remember: you will crave for more after the end of it!
Another excellent food tour in the heart of the vibrant Old Delhi awaits the lovers of the Indian culinary treasures. During this 2-hour long food tour, you will understand why this place is so unique, through its flavors and bits of history. The tour will bring you to one of the oldest market streets, Chawri Bazar, and enjoy six to eight food stalls. Some of the traditional Indian street food you can try here include 'kachori', 'kheer', 'aaloo tikki', 'kulfi', and more.
Delhi Food Walk and Cooking Class With A Chef

Duration: 8 to 9 hours
Wandering when you will get the time to explore the shopping areas in India`s fascinating capital? Well, with this tour you get to kill two birds with one stone; shopping therapy and food tasting in one tour! Perks of this tour include a walk in the shopping paradise of Connaught Place, where you will admire loads of kiosks with colorful fabrics, numerous garments, impressive jewelry, and stunning stones. And after you get hungry enough, local flavors from the nearby restaurants shall quench your hunger, either you are a vegetarian or not. The tour lasts from three to five hours and is not suitable for people on wheelchairs.
Connaught Place Street shopping & food tour in Delhi

Duration: 3 to 5 hours
Explore both Old and New Delhi in this lovely food tour that starts from your own hotel and goes on for about four hours in the yummiest neighborhoods of Delhi. You will move around like a local (aka on foot, by rickshaw and by metro), while your professional guide will tell you everything about Delhi's thrilling food culture. On your way, you will have the chance to try one of the best street foods ever, the momos (Tibetan steamed dumplings) and other popular local dishes. Meanwhile, a visit to a Sikh temple along your way will complete your fabulous tour.
Food Walk tour of Old & New Delhi with a local guide

Duration: 4 hours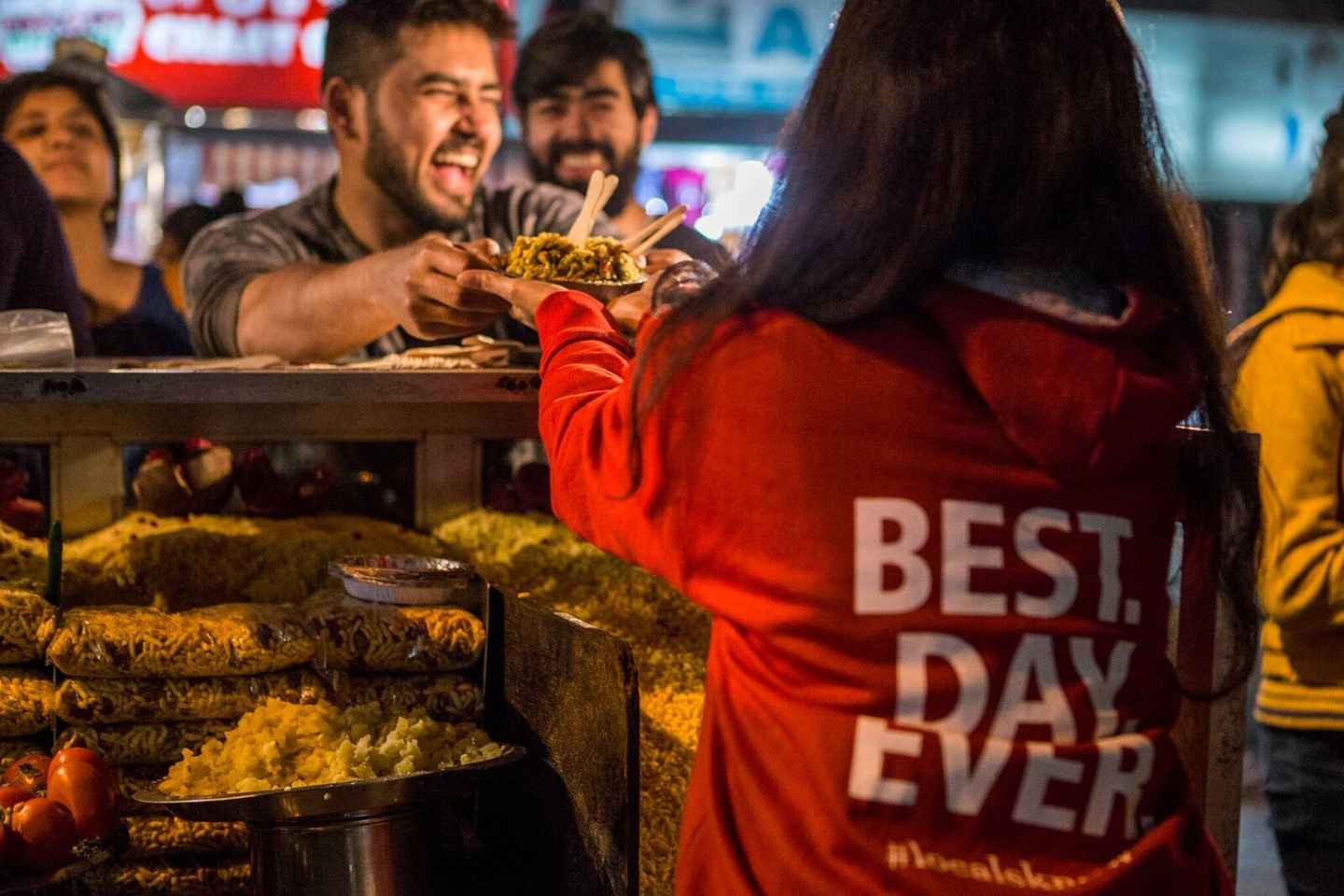 Delve into the magnificent Indian tastes with this three-hour food tour facilitated by a local English-speaking tour guide. Your walking tour starts with a bit of local culture and involves also a ride with the famous rickshaw, a colorful means of transportation, through some lovely spots of the city. During the tour, you will have the chance to try several local snacks in different neighborhoods, like shawarma, or momos, and even fresh fruit beer, as well as other local delicacies that will tantalize your palate. Yummy sweets and a unique homemade ice cream are also included in this lovely tour, along with entrance in Hindu temples.
Lonely Planet Experiences: Delhi Neighborhood and Food Tour

Duration: 3.0 hour
From all the walking tours in bustling Delhi, this one includes almost everything and lasts about three to four hours. A local expert will take you through some beautiful and crazy alleyways and streets of Delhi and will show you the real India. Starting your tour with a hot cup of masala chai, you will continue to wander around colorful markets and bazaars that will wake up all your senses. Experience Indian spirituality by visiting several Hindu temples and get an insight into Hinduism. On your way, you'll get to see great historical sites, and you will also have the chance to taste awesome Indian street food. Children are also welcome, and they join for free if they are under six years old.
Culture Vulture Delhi - Small Group Walking Tour
Another Old Delhi food walking tour, this one, however, is for the early birds since its main concept is to try as many breakfast dishes as possible, which are served only in the morning time. Walk your way through the dizzying alleyways of Old Delhi, and savor a matar kachori (a deep fried dish with peas filling and spices) or paaye (a traditional dish with goat's trotters, considered a royal food and usually consumed for breakfast). The food tour starts at 9:00 am and lasts about four hours, it is rather unsafe for wheelchairs, while vegetarians are also welcome.
Breakfast Trail through Old Delhi

Duration: 4 hours
Get ready for a full foodie experience in Chandni Chowk, an area that has among the best street food in Old Delhi. Your local guide will help you choose the best snacks and will translate the menus for you, but at the same time, you'll be taught a little bit of history and culture of Old Delhi. You will visit approximately fourteen food joints, and no matter how full you feel, you will keep going, thanks to the divine flavors you will come across your way. The tour begins at 4.30 pm and goes on for about four hours, but it's not recommended for people with mobility difficulties or pregnant women.
Old Delhi Street Food Tour in Chandni Chowk

Duration: 4 hours
This all-in-one half day tour is for those who are quite fit and will never get bored of walking in busy Delhi's streets. The tour includes food tasting, rickshaw ride, street bazaars, historical monuments and more, in a five-hour long journey. Starting from Old Delhi's busiest market in Chandni Chowk, you will carry on to visit a marketplace with female ornaments and jewelry, followed by the land of spices to get amazed by the countless types of red chili. The tour ends at the largest mosque in India, the spectacular Jama Masjid, where a dress code is to be applied.
Dellhi Bazaars, Street Food, Rickshaw Ride Half-Day Tour

Duration: 1 hour
Eat like there's no tomorrow
No matter which one of the above delightful food tours you decide to follow, your happiness is guaranteed. The most fascinating Indian dishes or snacks are all in and around the capital of this country, so you can't possibly miss something. If you are ready to take your food experience to another level, then this is your chance.
Disclosure: Trip101 selects the listings in our articles independently. Some of the listings in this article contain affiliate links.
Get Trip101 in your inbox
Unsubscribe in one click. See our Privacy Policy for more information on how we use your data