Moscow is Russia's capital and a fascinating mixture of traditional, colorful domes and modern skyscrapers. The city nestles on the Moskva River and at its heart is the Kremlin, set in fascinating Red Square, housing Lenin's Mausoleum and the State Historical Museum. St. Basil's Cathedral is a fascinating building to view, with its onion-shaped domes of many colors. The city is also full of culture, featuring art, music and ballet. One fascinating place to visit is Tchaikovsky Concert Hall, home to Moscow's philharmonic society which is also famed for a number of annual festivals, with Russian and international musicians attending. Here is a comprehensive guide to Tchaikovsky Concert Hall.
1. Things to do / highlights
Constructed in 1940, Tchaikovsky Concert Hall is one of the largest halls of its kind in Moscow and can comfortably seat 1,505 people for various events. The concert hall has a restored, historical interior and has been provided the latest, state-of-the-art acoustic equipment. Various events that are held in the concert hall, as follows:
Moscow Philharmonic
Tchaikovsky Concert Hall is one of the main venues for Moscow Philharmonic Orchestra. Evening events of classical symphonies can be enjoyed at the venue.
Other musical events
Musical events featuring everything from classical music to folk and jazz music are held in the hall. Show programs are designed to attract young spectators, including interactive concerts for children, themselves. Matinees for children are often held on Saturdays and Sundays starting at around 2pm or 3pm. Examples of children's performances are Big Music for Little People and Fairy Tales with the Orchestra. Popular operatic events are also held here.
Annual festivals
A number of annual festivals are held in Tchaikovsky Concert Hall including local and international musicians, including the likes of Vienna Philharmonic Orchestra. Among the events is the Big Festival of the National Philharmonic Orchestra of Russia, Bolshoy Festival and Nine Centuries of Pipe Organ event. Examples of other types of events at the concert hall include the festival of arts "Russian Winter" with the Symphony Orchestra of Bolshoi Theater, a performance by Svetlanov Symphony Orchestra and a Christmas event, "Christmas Tree".
2. What to eat
Restaurant
Located in the same building as Tchaikovsky Concert Hall, Cafe Tchaikovsky is a spacious cafe and restaurant which is particularly popular with theater and concert-goers, but it is also popular as a standalone eating venue. The restaurant is located underneath the concert hall and has attractive decor, featuring mahogany and leather furnishings and elegantly clad waiters in a wonderfully grand atmosphere. The menu is based on traditional Russian classic dishes, mixed with a variety of other cuisines, including pasta, grilled fish, pizza and other dishes to suit all diners. Favorite traditional local dishes include Beef Stroganoff and rice and Borscht. Vegetarian-friendly and vegan options are also served. Some reviews state that the prices in the restaurant are high, but the food is worth the expense.
Cafe
The cafe side of the restaurant is ideal for those who want a snack prior to the performance, or a coffee afterward. The cafe menu includes excellent coffee, teas and sodas, along with a delicious choice of pastries, cakes and desserts to choose from. Tasty Russian breakfasts and continental breakfasts are also catered for.
Cafe Tchaikovsky

Address: Tverskaya St, 31/4, Moscow, Russia

Website: Cafe Tchaikovsky

Opening hours: Mon - Fri: 8am - 12am; Sat - Sun: 10am - 12am
3. Travelers tips
Seating and acoustics
Visitors should note that wherever you sit in the auditorium, the acoustics in the concert hall are truly remarkable. The sound should not be a problem at all.
Free concert viewing
Should a visitor be unable to purchase a ticket, either due to monetary restrictions or a booked-out performance, seating is provided in the foyer of the concert hall where the performance can be watched and listened to on a screen, at no charge.
Bar
There is a bar within the premises to ensure that you indulge in your favorite drink before or after the concert! You may use the interval for a refill as well.
Wheelchair-friendly
For families who are bringing in special guests who need a wheelchair, we would like to warn that there is only a limited wheel-chair seating in Tchaikovsky Concert Hall. It would be a good idea to book in advance for minimum hassle.
Other
Fortunately, there is also an ATM available in the foyer of the concert hall, for any sudden or last-minute cash withdrawal. Free live concert translations are also available. It is possible to purchase CDs of classical music from the concert hall too.
4. How to get there
Depending on your location in Moscow, Tchaikovsky Concert Hall can be reached by car, bus or on foot. View the map on the following website and click on directions at the top of the map. Type in your current location in Moscow and click on the search button.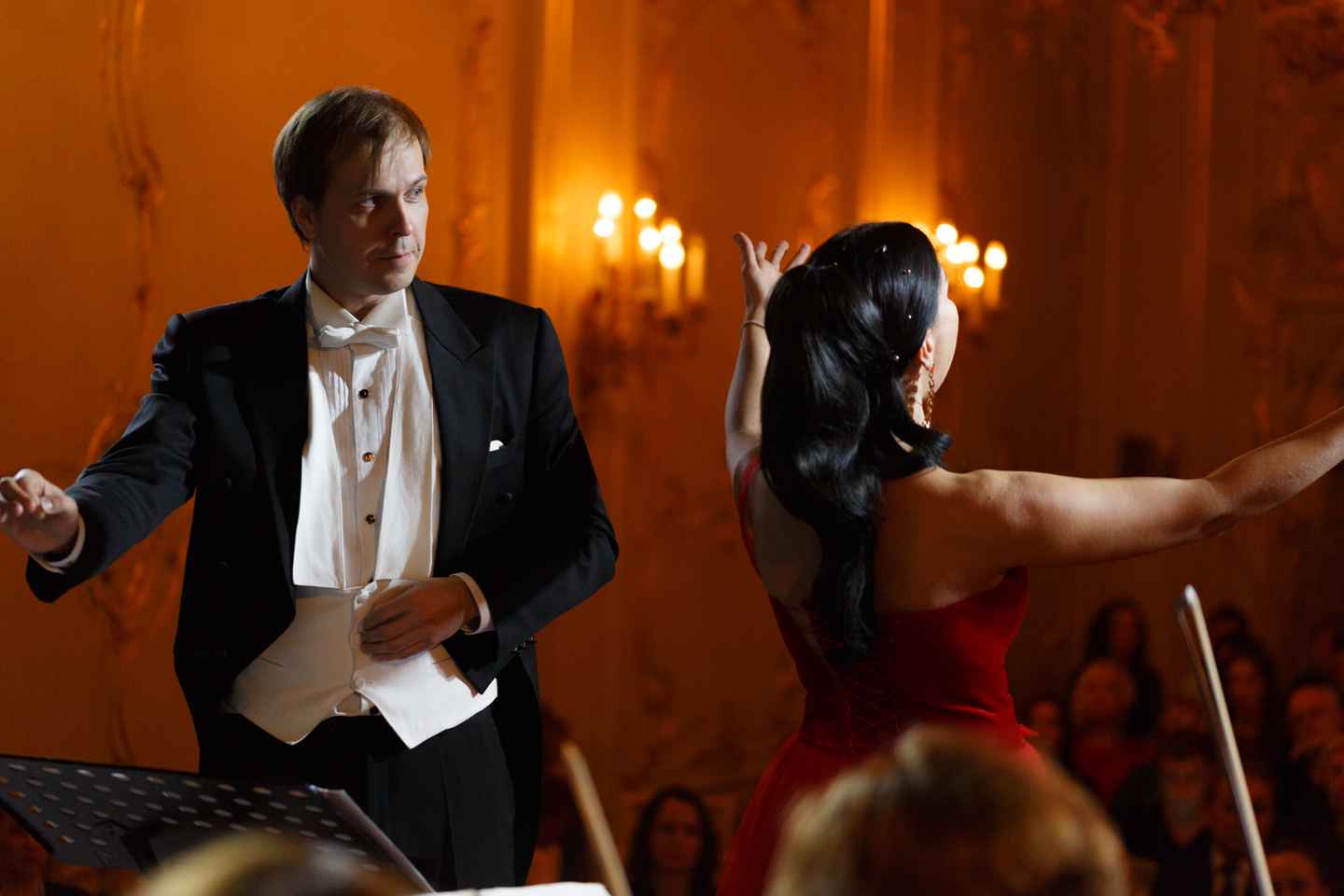 Tickets for the various performances at Tchaikovsky Concert Hall can be purchased directly from the box office a couple of days prior to the event. However, visitors should be warned that the staff at the box office speak little English. SO alternatively, you might find it easy to purchase the tickets online at this website. To purchase a ticket, first select the event on the calendar and then click the button to Buy Tickets. Proceed to the seating chart page to select seats in your preferred position in the concert hall. A mobile pin code is provided when booking tickets on your phone, which means there is no need to print or collect physical tickets.
Saint Petersburg: Tchaikovsky Gala Palace Concert

Duration: 2 hour
Disclosure: Trip101 selects the listings in our articles independently. Some of the listings in this article contain affiliate links.
Get Trip101 in your inbox
Unsubscribe in one click. See our privacy policy for more information on how we use your data