The beautiful and quirky city of Portland–the largest city in the U.S. state of Oregon–is a great place to get lost alone. It is close to both the coast and the mountains. It offers delectable culinary delights, its ubiquitous food cart culture, and its reputation as a hip and hipster-friendly city. You will also find a wide selection for places to stay according to your needs, from luxurious Hilton hotels to Airbnb vacation rentals. So whether you're a tourist or a local, there are plenty of activities and tours that you can enjoy alone or in small groups. Some of the most popular tours and walks are listed out here! Check out this amazing list of the top things to do alone in Portland, Oregon.
1. Enjoy the tranquility of the Portland Japanese Garden
Editor's Note: Photo taken from the establishment's official social account
Nestled in the scenic hills of Portland's iconic Washington Park, Portland Japanese Garden is your gateway to inner peace and tranquility. It features 12 acres (4 hectares) of beautifully designed land with 8 Japanese-style Zen gardens. As you walk through the intimate pathways that inspire harmony and peace, you also get to enjoy an awe-inspiring view of Mt. Hood.
Portland Japanese Garden also features a tea house called Umami Café, the perfect spot to cap off your visit with some authentic Japanese tea and light snacks. If you want to take home some souvenirs to remember the place by, check out the gift shop.
Portland Japanese Garden

Address: 611 SW Kingston Ave, Portland, OR 97205, United States

Website: Portland Japanese Garden

Opening hours: Wed - Mon: 10am - 3:30pm (closed on Tue)
2. Learn more about Oregon's railway history at Oregon Rail Heritage Center
Editor's Note: Photo taken from the establishment's official social account
Are you a train buff and you're going on a solo trip to Portland? Here's a place that will surely interest you. Oregon Rail Heritage Center is definitely a rail enthusiast's heaven as it's where one can find all sorts of locomotives, equipment, artifacts, and other items relating to the history of railroads and trains.
Some of the interesting displays here include three authentic steam engines built in the early 1900s, 1930s, and 1940s. The place also features a machine shop with an amazing array of historic machining equipment.
Oregon Rail Heritage Center

Address: 2250 SE Water Ave, Portland, OR 97214, United States

Website: Oregon Rail Heritage Center

Opening hours: Thu - Sun: 1pm - 5pm (closed on Mon - Wed)
This full-day sightseeing tour touches upon the highlights of the Portland area. It includes a visit to the beautiful and unspoiled Columbia River Gorge with its gorgeous waterfalls and stunning views, the Pioneer Courthouse Square, the vibrant and eclectic neighborhoods of Nob Hill and Pearl District, and a lot more! Tour participants also get to experience the delight that the food cart culture of Portland packs all the while learning about Portland's history and modern-day culture from the tour guide.
Portland Sightseeing Tour Including Columbia Gorge Waterfalls

Duration: 8 hours 30 minutes
This winery tour is for a small group of wine lovers and spans over a total of five-and-a-half hours. It includes a visit to three handpicked wineries and many local vintners while taking in the beauty of Oregon's stunning countryside. The tour includes an afternoon pick up in a minivan from downtown hotels and the scenic drive from the cityscape to the countryside in the Willamette Valley, which is home to more than 250 vineyards. The hand-selected wines served to you are cherry-picked to suit all tastes from red varietals like Syrah, Tempranillo, and Cabernet-Sauvignon to prized Chardonnay and Pinot Gris.
Willamette Valley Wine-Tasting Tour from Portland

Duration: 6 hours
This is a nine-hour tour of Oregon's northern coast exploring the beautiful towns and stunning beaches. The tour takes you along the beautiful coast and the charming coastal towns of Manzanita and Cannon Beach with its dramatic cliffs, beaches, lighthouses, and forests on a relaxing drive. The tour kicks off with an early morning hotel pickup in downtown Portland followed by a two-hour drive to Neahkahnie Point, which offers some truly breathtaking views and the opportunity to spot whales. Tour takers then disembark in Manzanita to spend time on the beach or checking out the quaint boutiques and art galleries. This is followed by a short forest walk to Short Sand Beach and then Cannon Beach before continuing on to Haystack Rock. On the return trip, the tour stops at Camp 18, a historical museum that gives insight into Oregon's timber industry, following which the guests are dropped off at their hotels in the evening.
Oregon Coast Day Trip: Cannon Beach and Haystack Rock

Duration: 8 hours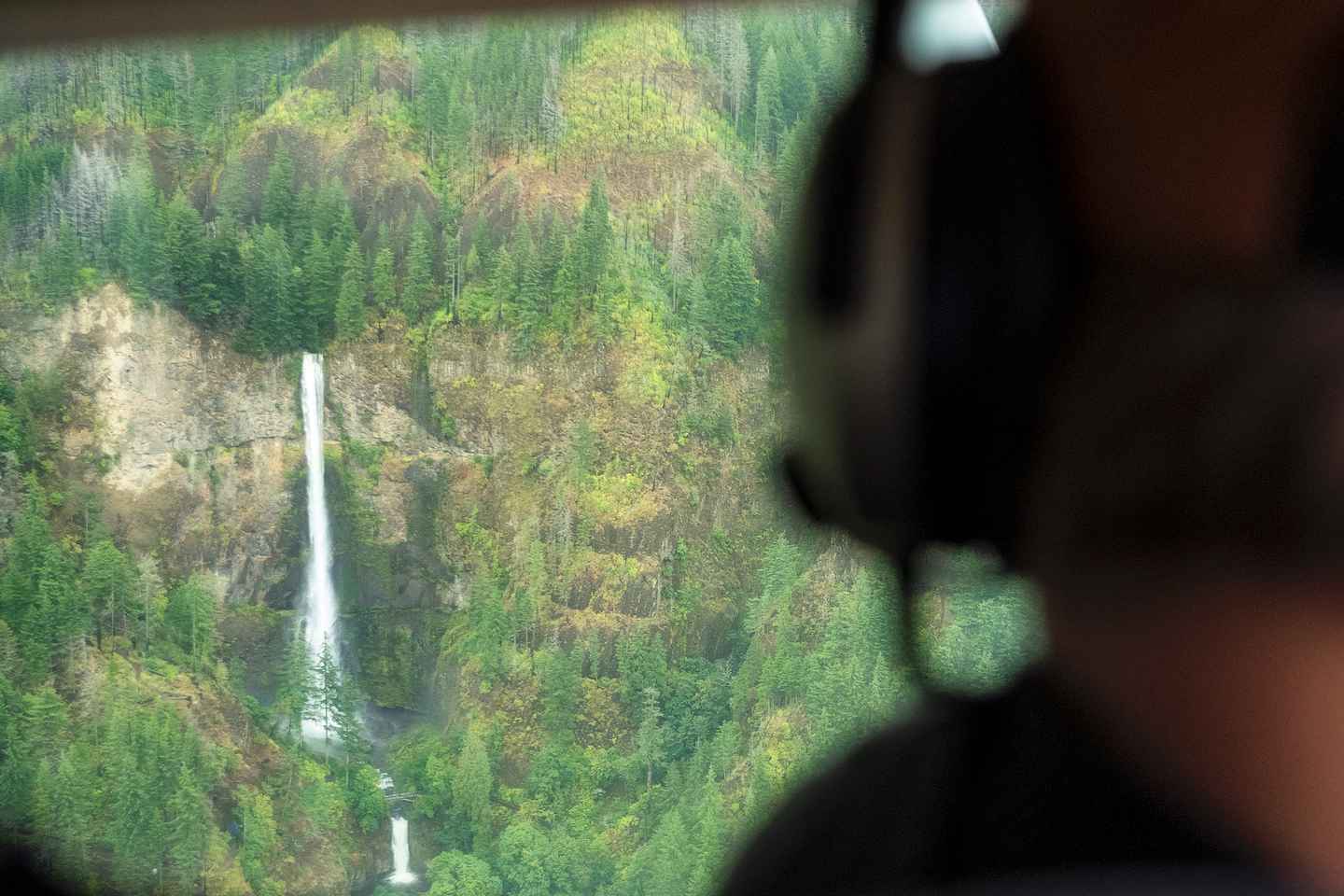 Take your Portland solo travel to a whole new level–literally! This private tour lets you enjoy a birds-eye view of Oregon's marvelous Columbia River Gorge with all its natural features. You fly past the Multnomah Falls, Crown Point, Beacon Rock, Bonneville Dam, and the Bridge of Gods and explore the breathtaking views in all their glory with your own close group, away from the rush from other tourists.
The tour lasts for over 45 minutes and can accommodate three people on one plane ride.
Portland: Private Columbia Gorge Waterfalls Scenic Air Tour

Duration: 40.0 minute
This guided tour allows you to experience Portland's best landmarks on an electric Segway. Guests have the option of choosing between a one-and-a-half-hour waterfront tour or a two-hour historical downtown tour. The tour kicks off in the Downtown area following a quick training on the basics of Segway. The waterfront tour includes gliding along the Willamette's west bank, the Waterfront Park, and winding through cherry-lined paths to the beloved Steel Bridge. It also includes exploring Chinatown and cruising past two museums and the CBD before heading back. The alternative historical tour includes the same sightseeing tour along the Willamette but extends the journey to the Portland Marina, then to the Convention Center and the Moda Center. Following that, tour participants head to northwest Portland to experience the Pearl District, a neighborhood that beautifully juxtaposes new high-rises and turn-of-the-century warehouses, and has a number of art galleries, boutiques, and fun points.
Portland Segway Tour

Duration: 2 hours
Take a bike tour around central Portland and sample some iconic brews from around the city in the afternoon. The tour is a leisurely bike ride to several classic microbreweries including Lucky Lab, Rogue, Bridgeport, and Deschutes. The tour extends over three hours and the bike ride is easy and suitable for all riding levels. Upon meeting downtown, the tour takers take off on an easy 5-mile (8-km) bike tour of the historic west side of the city, stopping for refreshment by sampling some unique beers and catching brewmasters in action behind the scene.
Portland Brewery Bike Tour

Duration: 3 hours
This food tour includes a small-group walking tour to explore a wide variety of delectable delights from well-established and upscale restaurants to the city's ubiquitous food carts. The exact itineraries vary slightly each day and are also tweaked to accommodate seasonal options. Over the total walking distance of 1.5 miles (2.4 km), guests would be sampling an array of food including but not limited to, bahn mi sandwiches, freshly made pasta ragu, single-origin chocolate, smoked fish, and handmade dumplings along with the local craft beer and wine. Tour participants also learn about Portland's culinary history and culture from the expert guide.
Downtown Portland Food Tour

Duration: 2 hours 30 minutes
This three-hour food tour of the North Mississippi Avenue in North Portland takes you through a number of trendy eateries, brewpubs and boutique cocktail joints in one of Portland's trendiest neighborhoods. The food includes fusion food, Thai food, artisan cheese and cured meats, exotic salts, chocolates, and bitters. The last stop is the home of decadent homemade ice cream sandwiches following which the tour wraps up just in time for happy hour.
Mississippi Avenue Food Tour

Duration: 2 hours 30 minutes
This evening walking tour gives you an opportunity to try some scrumptious food and drinks at five choicest restaurants, learn about Portland's history and food scene from the born-Portlander guide, and round up the tour with a visit to a craft brewery and a pint of beer towards the end. The culinary tour starts at a local wine-tasting room. This is followed by a visit to a cozy neighborhood spot that is famous for its homemade pasta, then a trendy Asian fusion spot where you also get to sample a unique cocktail infused with lemongrass and kaffir lime followed by some authentic French crepes and the craft beer. The tour ends with a pint of beer at one of the city's hippest brewpubs (on the house).
Portland Neighborhood Food and Drink Tour

Duration: 3 hours
The experience will leave you wanting more!
The easy-to-navigate city of Portland, the friendly people, the backdrop of Mount Hood, the turning colors of the trees and the soft mist of the rain coupled with the artisanship that goes into the food, beer, and crafts make this city an endearing visit altogether.
Frequently asked questions about things to do alone in Portland, Oregon
1. Which are the best attractions to visit in Portland?
Solo trips to Portland, Oregon, will never be dull as there are so many attractions for one to visit and enjoy, including Portland Japanese Garden, Oregon Rail Heritage Center, Willamette Valley, Slabtown, and Alphabet District, just to name a few.
2. Which are the best activities in Portland?
In a beautiful city blessed with so many natural attractions and historical landmarks, looking for activities to suit you will not be a problem. Some activities we highly recommend include this private plane tour over Columbia River Gorge, this winery tour in the beautiful Willamette Valley, and this full-day tour exploring the northern coast of Oregon.
Disclosure: Trip101 selects the listings in our articles independently. Some of the listings in this article contain affiliate links.
Get Trip101 in your inbox
Unsubscribe in one click. See our Privacy Policy for more information on how we use your data