Rovaniemi is the capital of Lapland in Finland and is also known as the home of Santa Claus. With its breathtaking scenery and white snow, Rovaniemi makes for a beautiful winter wonderland, especially during the Christmas season. Some of the must-do outdoor activities include skiing, ice fishing, as well as making a trip down to Auttiköngäs Waterfalls. Rovaniemi is also one of the top destinations for viewing the northern lights as tourists from neighbouring cities go on tours to Lapland specially to witness it. If you're heading to this gorgeous winter destination soon, read on to find out the best things to do in Rovaniemi, Finland.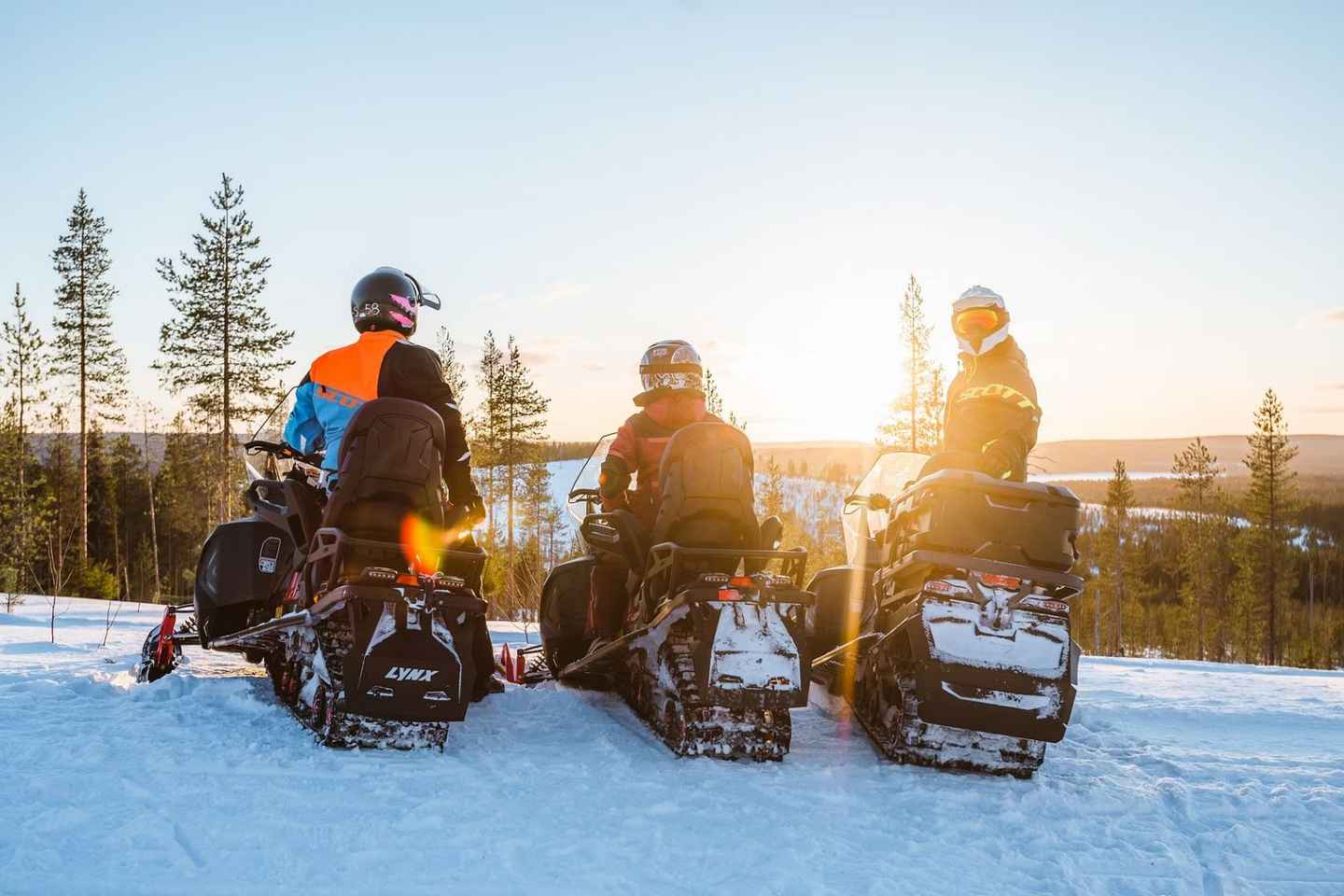 Looking for an adventure that will get your heart racing? Look no further than a thrilling snowmobile ride through the snowy forests and vast lake areas surrounding Rovaniemi city in Finnish Lapland. During this 2.5-hour tour, you will feel a rush of excitement and adrenaline as you race through the snow in stunning scenery. This small-group activity is limited to eight participants, ensuring that you will have a personalized experience and plenty of opportunities for interaction with your expert guides.
Duration: 2.5 hour
Immerse yourself in the magic of the Northern Lights with this unforgettable ice floating tour. Donned in a warm and cozy dry suit, you will float among the icebergs of a secluded Finnish lake, gazing up in awe at the stunning Aurora Borealis. Your expert guide will lead you to a secret location deep in the Finnish wilderness, free from any light pollution, providing the perfect viewing conditions for this breathtaking phenomenon.
After your ice floating adventure, you can warm up with a hot drink and relive your unforgettable experience.
Duration: 3 hours
Being able to catch the northern lights is probably something that is on most of our bucket lists. In Rovaniemi, you're in luck because chances of catching the northern lights can be pretty high! Tourists from the region even set aside a few days to visit Lapland in order to catch the northern lights. What's best about this tour is that you'll get to travel in an air-conditioned minivan with a professional photographer where you get brought to the best spots for a guided session. Equipment like headlamps, thermals, refreshments, and Rovaniemi hotel pick-up and drop-off are included as well. If you intend to go on this tour, you are advised to bring a DSLR camera in order to capture this beautiful phenomenon.
Duration: 4 to 5 hours
4. Go on a scenic hike to Auttiköngäs Waterfalls
Auttiköngäs Waterfalls is known to be a national attraction and is a must-visit if you are a nature lover. There are hiking trails where you get to be one with nature and enjoy the luscious forests all around you. You can even pack some food and have a picnic here! If not, you can always refuel and recharge at the rustic cafe that is open during summer. If you're there in winter, you'll be able to witness the beautiful snow-covered trees that make for an amazing photo opportunity! There is also a small forestry museum on site.
Auttiköngäs Waterfalls

Address: Kuusamontie 7724, 97655 Rovaniemi, Finland

Website: Auttiköngäs Waterfalls

Opening hours: 24 hours (daily)
5. Delve into the history of Finland at Arktikum Museum
Arktikum Museum is a must-visit if you love going to museums. It has amazing architecture and it also has interactive exhibitions which are great for families with young children. In this museum, you'll be able to learn more about the nature, culture, and history of Northern Finland. Other permanent exhibitions include life and stories of the Arctic, the history of Pechenga, and more. Do check out their website for more information on upcoming exhibitions.
Arktikum Museum

Address: Pohjoisranta 4, 96200 Rovaniemi, Finland

Website: Arktikum Museum

Opening hours: Tue - Sun: 10am - 6pm (closed on Mon)

Price: 17 USD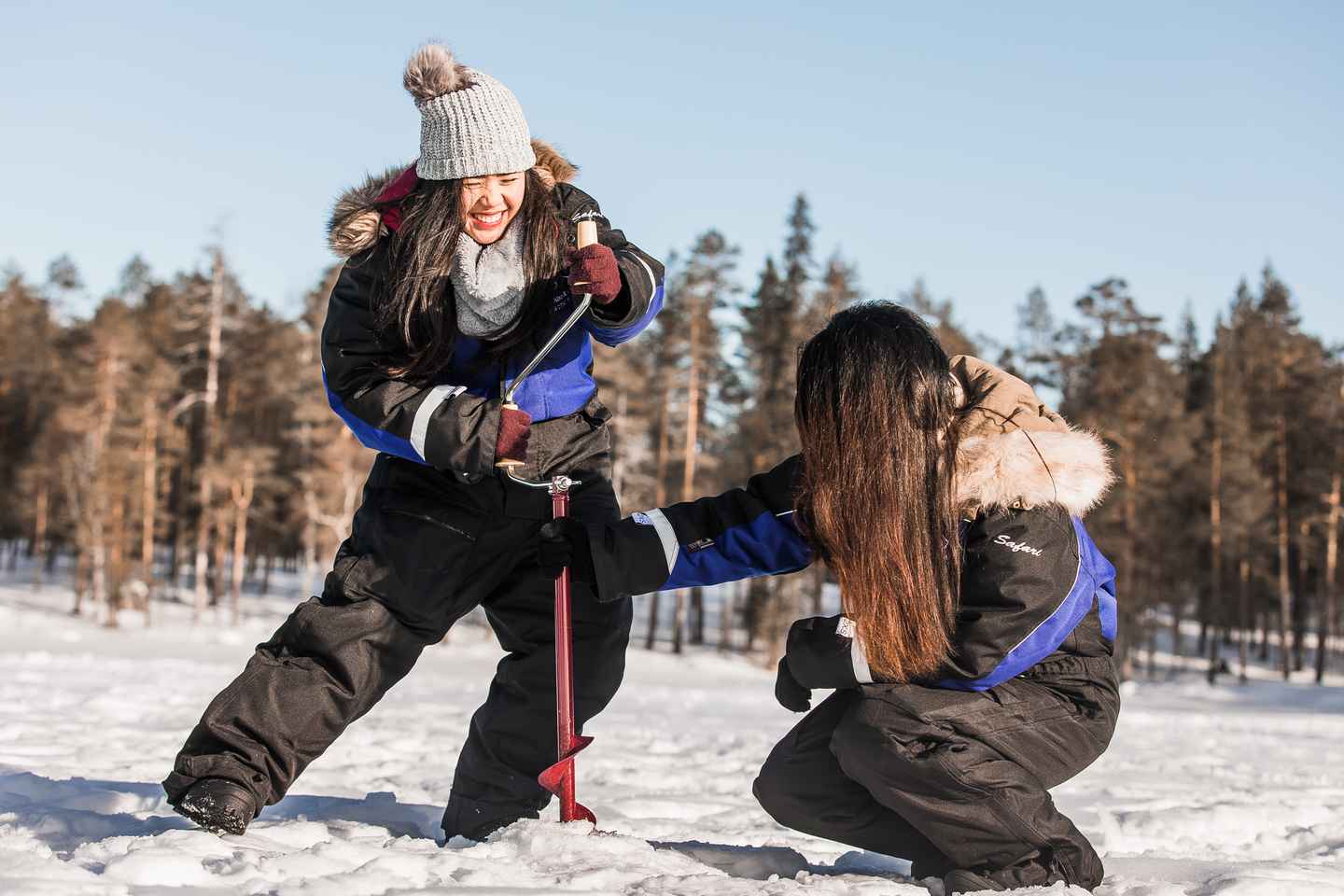 If you wish to live like a local for a day, ice fishing is one of the activities you need to try your hand at. In this package, you'll be able to learn the art of ice fishing with a small tour group. This includes drilling your own hole and catching and cooking your fish. You'll also be able to have a short 5- to 10-minute walk through an old forest before reaching the area full of ice and snow. The entire activity lasts for about three hours. Pick-up from your accommodation is included as well.
Duration: 3.0 hour
7. Spend an afternoon of learning at Pilke Science Center
Pilke Science Center is known for its commitment to sustainability where it strives to keep its carbon footprint low. They also use sustainable wood products in its building's design. This is a great place for families with kids as it is enriching and interacting at the same time. In the exhibitions, you'll be able to learn more about woods and forests through fun and interactive games.
Pilke Science Center

Address: Ounasjoentie 6, 96200 Rovaniemi, Finland

Website: Pilke Science Center

Opening hours: Tue - Fri: 9am - 6pm; Sat - Sun: 9am - 4pm (closed on Mon)

Price: 8 USD
8. Immerse yourself in modern art at Korundi House of Culture
Korundi House of Culture is a modern art museum located in the city center. The building dates back to 1933 and was a former post bus depot. There are interesting art installations like paintings, sculptures, and videos centred on Finnish and Northern art. There is also a small gift shop selling small local crafts where you can get your souvenirs at. This is a great place for you if you're interested in modern and contemporary art.
Korundi House of Culture

Address: Lapinkävijäntie 4, 96100 Rovaniemi, Finland

Website: Korundi House of Culture

Opening hours: Tue - Wed, Fri - Sun: 11am - 6pm; Thu: 11am - 8pm

Price: 11 USD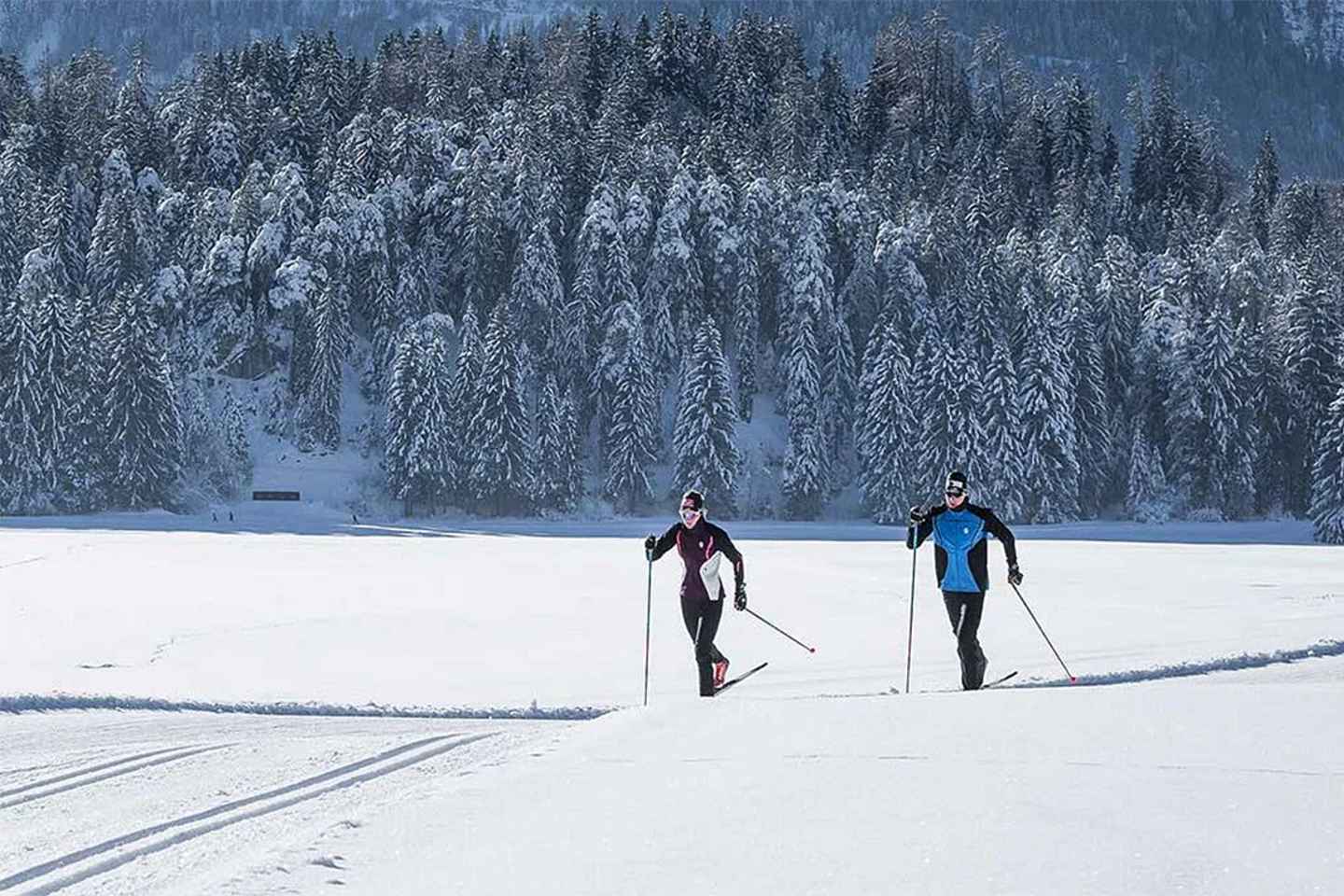 Cross-country skiing is a must-do activity if you love nature and are up for trying your hand at skiing. You'll be led by a guide on your skiing adventure where you'll get to see the enchanting scenery at the beautiful Ounasvaara winter forests and even encounter deer and moose if you're lucky. The activity should last for four hours and pick-up can be provided if your accommodation is further than a 1 kilometer (0.6 miles) radius from the office in Rovaniemi. This package also includes ski equipment as well as refreshments along the way. If you're undecided, there is no harm booking now as this package offers free cancellation up to 24 hours before the activity starts.
Duration: 3.0 hour
10. Catch a show at Theatre of Rovaniemi
The Theatre of Rovaniemi is the city's performing arts theatre. Annually, there are five to six premiers from dramas to dance to musicals for audiences of various ages. Most of them are based on arctic subjects. Occasionally, it is also used to hold weddings, conferences or seminars. Do check out their website for more information on upcoming shows as well as ticket purchase.
Theatre of Rovaniemi

Address: Jorma Eton tie 8a, 96100 Rovaniemi, Finland

Website: Theatre of Rovaniemi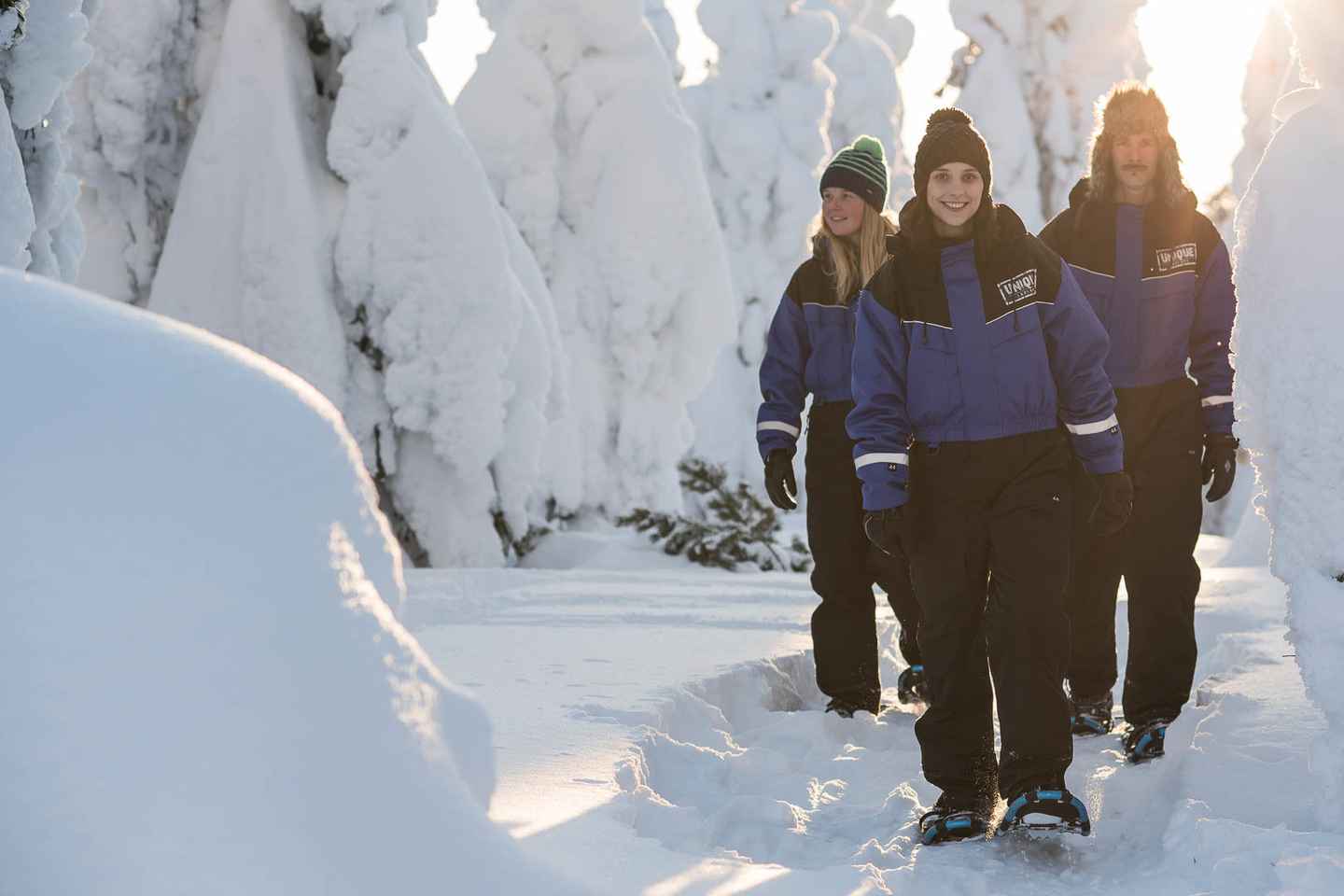 If you're looking for an outdoor adventure, go on a hike or snowshoe at the Arctic Circle. This is one of the best ways to experience Lapland's wildernesses, enjoy the fresh air, and clock in some exercise at the same time. This activity lasts for two hours and includes hotel pick up from all Rovaniemi city center hotels. Some of the highlights include admiring the frozen rapids, touring the wilderness in snowshoes, and enjoying a cup of hot chocolate at the open fire. Thermal equipment like thermal overalls, boots, gloves, socks, and scarves are also provided.
Duration: 4.0 hour
Santa Park is one of the highlights at Rovaniemi Finland, as it is known to be the hometown of Santa. This is an especially popular attraction during the Christmas period so do get your tickets early. This two-day admission to Santa Park allows you to meet Santa, try your hand at elf school, and stand a chance to graduate with an elf certificate. Go on a sleigh ride and take your shot at the Angry Birds activity park. This is a great place for families with kids as they get to hand their wish list to Santa!
Duration: 3 to 6 hours
Touring Rovaniemi, Finland
If you have the chance to visit Finland, do plan your itinerary in advance as there are so many different activities you can sign up for! For those that require online bookings, do book your slot early in advance to avoid disappointments as well. Finland is definitely a great place for couples, friends, as well as families with young children as there are just so many wonderful activities you can take part in!
Any must-sees we missed? Tell us about them in the comments section or write a post
here
to help out fellow travelers!
Disclosure: Trip101 selects the listings in our articles independently. Some of the listings in this article contain affiliate links.
Get Trip101 in your inbox
Unsubscribe in one click. See our Privacy Policy for more information on how we use your data