Prague is full of magical adventures and attractions and it provides endless excitement to every visitor of this beautiful, heritage city. Some say that Prague is even more beautiful at night when it has fewer crowds, unique evening tours and stunning monuments and buildings, lit in different colors. The illuminated statues and pillars add an element of romance to an already fairytale-like city, making it more breathtaking against the dark night sky. Wandering the streets, a yellow glow settles like a welcoming halo, softening the sharp edges of centuries-old architectural monuments, and polishing the cobblestones, embedded in old neighborhood back alleys. To start an unforgettable night trip, take note of these top nine amazing activities, to make the most of this Czech capital city.
1. Eat sausage in Wenceslas Square at midnight
Eat a Wenceslas Square sausage like a local, by trying it around at 1 am and with a beer in hand. Some people say that there is something about the midnight hour that makes the atmosphere really special and unique. Try this culinary delicacy served with a glob of mustard and a heap of sauerkraut at least once, during your visit to Prague.
Wenceslas Square

Address: New Town, 110 00 Prague 1, Czechia

Website: Wenceslas Square
2. Quench your thirst at Letná Beer Garden
Photo is only for illustrative purposes
One of the top local things to do is head to one of Prague's beer gardens and the crowd favorite is none other than the Letná Beer Garden. With an amazing panorama, perched on Letná Hill, the city unfolds before your eyes and you can see as far as Žižkov and Vyšehrad. You can buy a takeaway beer from a small food stand and grab a picnic table, or sit on a terrace after you order a liquid bread (local way of saying beer) and other snacks, such as grilled kielbasa.
Letná Beer Garden

Address: Letenské sady, 170 00 Praha 7, Czechia

Website: Letná Beer Garden
3. Swing and dance at the Jam Café
Photo is only for illustrative purposes
For non-stop Latin action, Jam Café is the best hangout for you. With pleasant staff and well-made cocktails, this exciting bar is a recommended place for anyone looking for a slice of South American flavor. Jam Café claims to be the first "casting café" in Europe, where you can daydream about your forthcoming show-biz success, while enjoying a cup of tea or a wide selection of spirits.
To experience the most out of this bar, go on a Monday night for swing lessons, followed by a mini-party, or try to visit on Tuesday night for a free Salsa dance lesson. But if you feel like dancing the Tango, go every Thursday night.
Jam Café

Address: Národní 961/25, 110 00 Staré Město, Czechia

Website: Jam Café
4. Try a private tour of Krizik's Music Fountain
Often referred to as the Dancing Fountain or the Musical Fountain, this spectacular show of water, light, music, and dance is a truly magical experience for all travelers to Prague. The fountain is equipped with 3,000 incredible sprayers, managed by 50 water pumps, and 1,200 underwater, multicolored floodlights. One hundred years ago, it became a unique and popular sensation of the World Expo and even today, it is considered one of the most notable structures of Prague´s Exhibition grounds and remains one of the greatest tourist attractions of Prague.
Krizik's Fountain

Address: Výstaviště Praha, U Výstaviště 1/20, 170 05 Praha 7-Holešovice, Czechia

Website: Krizik Fountain
5. Climb up Petrin Tower
Inspired by the Eiffel Tower in Paris, Petrin Tower is one of the things you shouldn't miss when you are in Prague. Climb the 299 steps to reach the top and a magnificent view will open out for you, offering a panorama of the city, with its abundance of spires, chimneys and spectacular facades of Baroque palaces. A great attraction on a clear day and a real enchantment during the evening, this observation tower is popular for lovers, with its blue and red colors at night, making it more romantic and more challenging for anyone who dares to conquer its peak.
Petrin Tower

Address: Petřínské Sady, 118 00 Praha 1, Czechia

Website: Petrin Tower
6. Watch an intense black light performance at the Image Theatre
Combining mystification, high-end performance, black light theatre, pantomime and dance, this venue gives people the opportunity to see a creative and artistic performance, with stunning imagery. With more than 7000 staged performances, the Black Light Theatre has been around Prague, since 1959. As one of the most successful black light theatres in the Czech Republic, the Image Theatre continues to fulfill the credo of the organization: to perform living theatre for a live audience.
Image Theatre

Address: Národní 961/25, 110 00 Staré Město, Czechia

Website: Image Theatre
7. Satisfy your appetite at Medieval Tavern
Beneath the cobbled streets, just off the Old Town Square, you'll find a fun-packed evening of food, drink and non-stop entertainment, prepared to transport you back to the middle ages to the finest medieval banquet in the city. The evening dinner starts with a full medieval show and ends with a fantastic grand finale of entertainment, period music, and spectacular fire dancers. The Medieval Tavern is a large historic restaurant that will satisfy both your appetite and senses.
Prague Medieval Tavern

Address: Thunovská 184/20, 118 00 Malá Strana, Czechia

Website: Prague Medieval Tavern
8. Relax and listen to live jazz music at the Jazz Dock
This riverside club is a definite musical retreat, emphasizing the diversity of genres, both classical and new music streams of jazz and blues. Though relatively new, it is already a well-established jazz club, which floats right on the banks of the Vltava, below the Janáčkovo Nábřeží Waterfront area. Amazing views at night, coupled with the minimalist, modern decor of the interior, Jazz Dock is truly a haven for jazz lovers who want to feel at ease, after a long active day.
Jazz Dock

Address: Janáčkovo nábř. 2, 150 00 Praha 5, Czechia

Website: Jazz Dock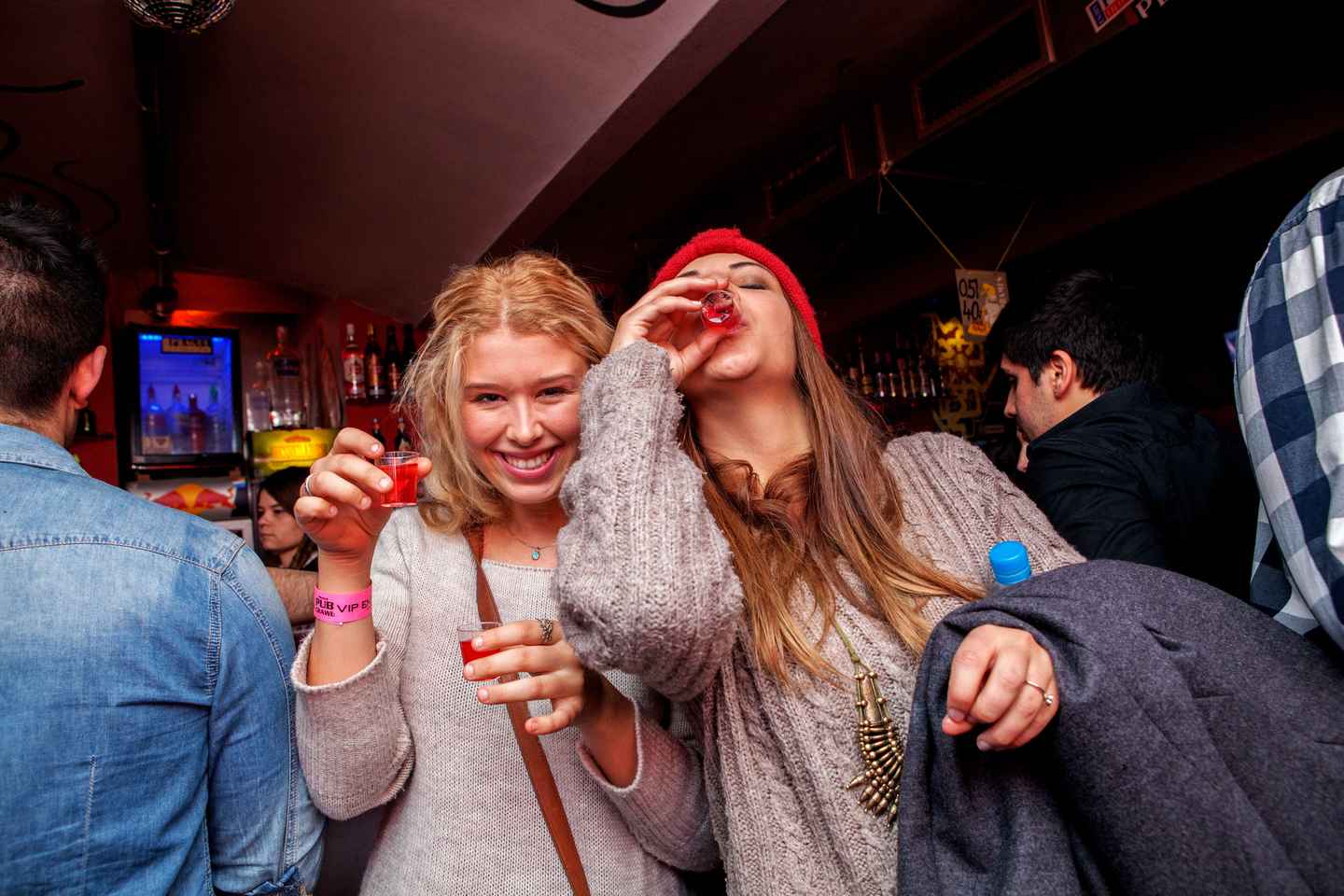 Indulge in a party of booze-imbibing culture on this exciting pub crawl, through the city's most dynamic pubs and bars. The Prague Pub Crawl introduces you the best night life in the city, where you'll meet new people, have some drinks and party till dawn. The evening starts off with a welcome shot of absinthe at the Crawl's very own bar in Old Town then proceeds to other bars nearby and finishes the night in a multi-floor music club, close to Charles Bridge.
Prague Pub Crawl

Address: Celetná 558/12, 110 00 Staré Město, Czechia

Website: Prague Pub Crawl
Prague: Pub Crawl and International Party

Duration: 4.0 hour
Stay active and enjoy the nightlife
Never think that the fun ends just because the day does. You can still prolong your excitement by trying the activities mentioned above and start your trip when darkness falls. Complete your Prague experience with these evening adventures and enjoy the fun!
Disclosure: Trip101 selects the listings in our articles independently. Some of the listings in this article contain affiliate links.
Get Trip101 in your inbox
Unsubscribe in one click. See our Privacy Policy for more information on how we use your data