Crowned as a jewel city in the European Union and a charm to all travelers from all corners of the world, Prague serves as a true-to-life fairy tale experience to its visitors. From its cliche assets such as cobbled alleyways and ancient establishments to its opulent historical background, this medieval city is indeed a treasure. "The City of a Hundred Spires" proved its complimentary name for obvious reasons – it is literally a forest of towers and spires.
The panorama of numerous religious buildings and towers conveys the city's rich cultural heritage making it a perfect destination to an old soul adventurer. But in spite of the prehistoric atmosphere, Prague is also a modern and dynamic city full of vigor, music, arts, fine dining and activities that attract tourists. It has become a popular traveler's spot and in-demand backdrop for photos. And if you're wondering where to stay in Prague, then plenty of options are available - from family-friendly hotels to the best Airbnb vacation rentals in Prague 1. So, go out and explore this amazing city! Check out these 15 best things to do in Prague, the city of a hundred spires.
1. Be a royal in Prague Castle
This fairytale castle is one of the top Prague attractions. Feel that royal blood rushing through your veins while walking along the Royal Garden and Royal Gazebo to the Alley of Gold where houses are amazingly glued to the walls of the castle. Considered as the largest ancient castle in the world, Prague Castle is a complex building which includes churches, gardens, alleyways and royal residences that would take days for you to appreciate in entirety. Without a doubt, Prague Castle is the most important National Cultural Monument of the Czech Republic, with a number of priceless art relics and historical documents.
Prague Castle

Address: 119 08 Prague 1, Czechia

Website: Prague Castle
2. Reminisce the history of Old Town Square
If you're wondering what to see in Prague, then make your way to Old Town Square. Be ready to travel back in time as you step right into the center of this city square and stare in awe at the marvelous Jan Hus statue. The Old Town Square is the most significant ancient square of the historical Prague with its notable sights such as St. Nicholas Church, Old Town Hall Tower, Astronomical Clock and Tyn Church. To fully absorb the ancient feel of the Old Market, try to sit back and sip a coffee among the pavement cafés or climb the Old Town Hall Tower for a stunning view of the square.
Old Town Square

Address: Staroměstské nám., 110 00 Staré Město, Czechia

Website: Old Town Square
3. Take a canoe trip on Sázava River
Never miss this adventure trip of canoeing through Stvořidla rapids which is the primary attraction in Sázava River and possibly the most difficult rapids in the Czech Republic. Known as a right tributary of the Vltava, the river is very popular for two reasons: the said Stvořidla rapids and second is for being selected as the most romantic river in the country. To experience the true local custom, depart from Prague by Sázava Pacific train and enjoy the first stage of adventure through scenic river garden and summer valley. Then head over to Týnec and Sázavou for a starting point and be sure to consult your local tourist guide for a better and safer canoe trip along the river.
Sázava River

Address: Sázava, 591 02 Polnička, Czechia

Website: Sázava River
4. Walk along Charles Bridge before breakfast
It is said that the best time to take a stroll on Charles Bridge is either early in the morning or at night. It is simply because you might end up feeling claustrophobic in the middle of a large crowd and your adrenaline rush may just eventually dissipate. So according to travelers' reviews, for you to get the most out of this majestic Gothic bridge, try walking along with 30 Baroque religious statues at dawn and enjoy the sunrise. Even if you can't get up early, do not miss out on visiting Charles Bridge since it is one of the top things to see in Prague.
Charles Bridge

Address: Karlův most, 110 00 Praha 1, Czechia

Website: Charles Bridge
5. Munch an open-faced sandwich in Sisters Bistro
Photo is only for illustrative purposes
Let your hungry eyes feast on the chiller cabinet at the counter with a splendor of chlebíček– open-faced sandwich– varieties. Sisters Bistro is a tourists' favorite spot in Prague that offers a higher level of specialties and a wide range of much tastier Czech style sandwiches. You can choose from herring with wasabi cream to beetroot spread with bit of goat cheese (if you are more into a vegetarian variation) and also try their little potato salad with chives, a delightfully cute mini-gherkin and lashings of butter. The good thing about their chlebíček is it can easily satisfy your taste buds with just one or two servings.
Sisters Bistro

Address: Dlouhá 727/39, 110 00 Staré Město, Czechia

Website: Sisters Bistro
6. Taste some chocolates in any form at Choco Café
Photo is only for illustrative purposes
Melt with pleasure in this family-owned chocolate café right in the heart of old Prague. This café is absolutely the perfect place for chocolate aficionados who love to spend their dimes with these 1001 choco treats and delicious cakes. If tasty desserts are listed on your list when you go to Prague, this heavenly spot is a must-stop for you.
Choco Café

Address: Liliová 250/4, 110 00 Staré Město, Czechia

Website: Choco Café
7. Watch a performance at Estates Theatre
One of the most beautiful historic theatre buildings in Europe, the Estates Theatre is part of the National Theatre, and is the scene for drama, opera and ballet performances. The opera of Don Giovanni by Wolfgang Amadeus Mozart, which was a world premiere, is an integral part of the theatre's history. This activity should really be included on your travel plan to experience that classical atmosphere.
The Estates Theatre

Address: Železná, 110 00 Staré Město, Czechia

Website: The Estates Theatre
8. View the cultural items in Prague's National Museum
Those wondering what to do in Prague can consider visiting National Museum. The Neo-Renaissance National Museum is a structure that was designed by Josef Schultz as an architectural symbol of the Czech National Revival. It is currently closed for reconstruction and planned to reopen for 2018. The museum features exhibits on the prehistory of Moravia, Bohemia and Slovakia, collections of petrol and minerals, and vast zoology, paleontology and anthropology displays.
National Museum

Address: Václavské nám. 68, 115 79 Praha 1, Czechia

Website: National Museum
9. Catch the comic show of Don Giovanni in National Marionette Theatre
Immerse yourself in a world of puppets by catching this comic production of Mozart's opera, Don Giovanni, performed in National Marionette Theatre. This theatre presents the finest puppet shows in Prague and around the Czech Republic introducing a long tradition of artistic craftsmanship. It is a must-see for opera and puppet lovers and recommended for children and adults as well.
National Marionette Theatre

Address: Žatecká 98/1, 110 00 Staré Město, Czechia

Website: National Marionette Theatre
10. Stroll at the Wallenstein Palace Gardens
Wallenstein Palace Gardens, which are currently the seat of the Czech Senate, are the perfect place to unwind and loosen up for someone who's uptight and restless. With the bubbling water, squealing peacocks and echoing music, you will find yourself captivated with the stories told by the epic frescoes on the wall.
Wallenstein Palace Gardens

Address: Valdštejnské nám. 17/4, 118 01 Malá Strana, Czechia

Website: Wallenstein Palace Gardens
11. Admire the street art at Lennon Wall
Another unique attraction in Prague is Lennon Wall. Named after the famous singer, John Lennon of 'The Beatles' fame, this was once an ordinary wall and in the 1980s, it started getting covered in Lennon graffiti. Over time, creative images and portrait-like graffiti art of Lennon along with lyrics from The Beatles' songs sprung up on this wall. Now, there are plenty of messages pertaining to social and cultural causes on Lennon Wall. It is a great place to pose for pictures against the vividly coloured background.
Lennon Wall

Address: Velkopřevorské náměstí, 100 00 Praha 1, Czechia

Opening hours: open 24 hours

Price: free
The magnificent Vltava River passes through the main tourist areas of Prague and a lovely way of seeing many of Prague's famous attractions is by embarking on a leisurely dinner cruise. See the city's iconic landmarks like Charles Bridge, Prague Castle, National Theater, and more light up, providing scenic views throughout your journey. Enjoy a scrumptious buffet dinner, a glass of wine and live music aboard a glass-roofed boat. This is surely one of the most romantic activities to enjoy at night in Prague.
Prague Boats 3-hours Crystal Dinner Cruise

Duration: 3 hours
Prague has a reputation of being one of the most vibrant party capitals of Europe, perfect for bachelor parties and stag dos. And the best way to bring out the party animal in you is by going on this Prague Beer and Czech Tapas Evening Walking Tour. Enjoy a fun-filled evening of downing beer at the most popular Prague bars, clubs and microbreweries. Accompanied by a local guide, you can indulge in beer tastings paired with awesome Czech tapas like sausages and pork chili.
Prague Beer and Czech Tapas Evening Walking Tour

Duration: 3 to 4 hours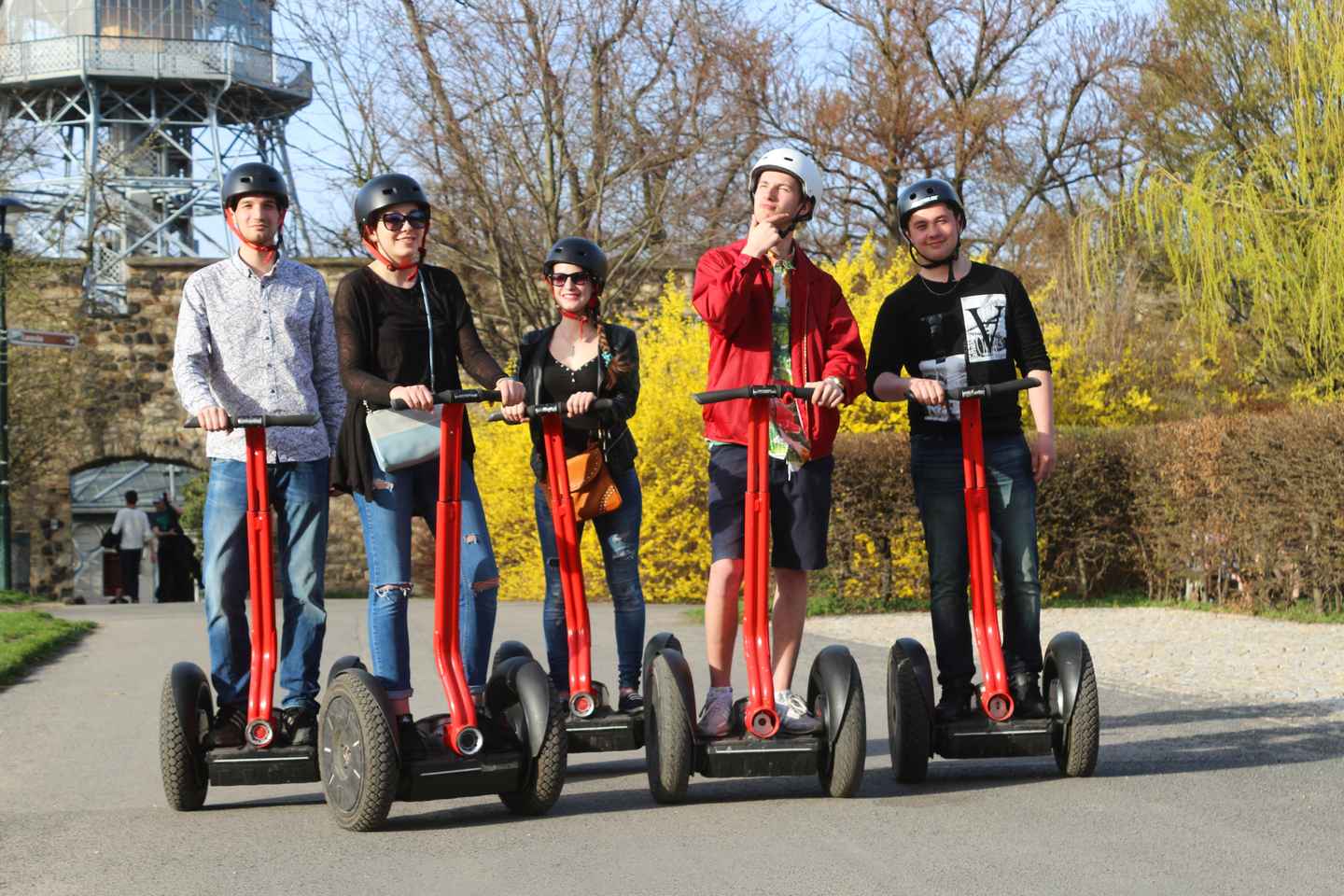 For a different kind of tour in Prague, try a Segway tour to the famous Petrin Tower. Located atop Petrin Hill is the Petrin Lookout Tower that offers panoramic views of Prague. After receiving instructions from your guide, hop on your Segway and ride directly up to a massive stadium. Thereafter, make your way on foot through the gardens of Petrin Hill up to the tower. Enjoy the views and click as many pictures as you like. The tour concludes with a visit to the beautiful Sacre Coeur park.
Prague E-Scooter Tour to Petřín Lookout Tower & Free Tickets

Duration: 2.0 hour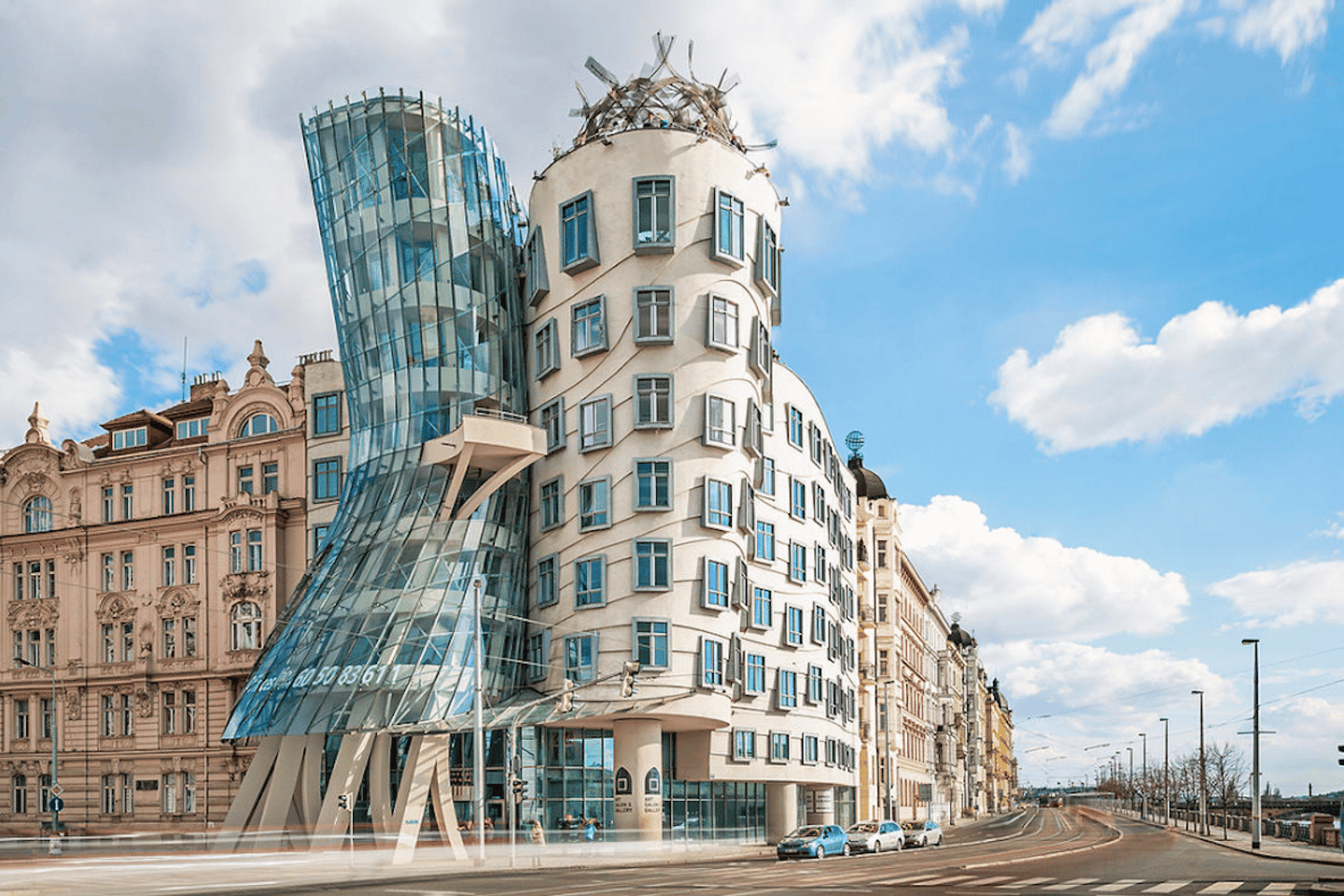 Dancing House is one of the most unique and quirky buildings in Prague. This whimsical-looking building houses a lovely art gallery that showcases artworks from Czech as well as global artists. In keeping with the modern design of the building, the gallery promotes contemporary art. Visitors can also check out the rooftop of this building for gorgeous views of the city below.
Prague: Dancing House Gallery and Rooftop Entrance
Start your travel adventures now!
Stop thinking and lose yourself in this paradise where you can aimlessly wander around the city of spires. Explore, have some fun and drench in love while you're in the heart of this ancient and historic European hot spot. Feed your soul, gypsy!
Disclosure: Trip101 selects the listings in our articles independently. Some of the listings in this article contain affiliate links.
Get Trip101 in your inbox
Unsubscribe in one click. See our Privacy Policy for more information on how we use your data