Like most capital cities, Bucharest is unique in Romania. Not necessarily representative for the entire country, yet it is a stop you should take while in Romania. Moreover, if you don't have time to organize your own trip in the country, Bucharest is a good starting point, as you will be able to find here many tour offers taking you to Transylvania, castles and old medieval citadels. This is a list of some of the best tours you can book while in Bucharest, giving you the opportunity to learn more about this beautiful country in the east of Europe.
If you've seen enough of Romania and want to discover more about its neighbors, this tour will take you south of Romania where you can have a quick glimpse of Bulgaria. You will go to the base of the Balkan Mountains and the old capital of Bulgaria, Veliko Tarnovo. This tour is perfect if you don't have a lot of time, but want to see as much as possible. It will also give you the chance to compare the two neighboring countries. But since it's just a one day trip, don't expect to go too deep into Bulgaria and its traditions.
Day Trip to Bulgaria from Bucharest

Duration: 10 hours
When you live in Bucharest and feel like taking a break from the city, you have two main options: you either head to the seaside or to Prahova valley, depending on the season, on how much time you have and on your preference between mountains and seaside. Prahova valley is a place of mountains, forests and medieval castles and fortresses. This day tour will take you to the main sights of the area: Bran Castle (also known as Dracula's Castle), Peleș Castle and Râșnov Citadel. It's a good opportunity to learn more about Romania's history. You will also get to admire the wonderful landscapes.
Full-Day Dracula Castle, Peles Castle & Rasnov Citadel Tour

Duration: 12 hour
This day tour is also heading to Prahova valley and the famous castles in the area, including Peleș Castle And Dracula's Castle. You will also get a short tour of Sinaia - the mountain resort where Peleș Castle is based. One of the largest cities in Transylvania, Brașov, is also included in the tour. The village life, mountainous landscapes and city life are well combined during this short tour of Transylvania.
Castles of Transylvania: Private Day Trip from Bucharest

Duration: 12 hours
Getting to really know Bucharest as an individual traveller can be a challenge. It's not impossible, but it does require more time. This 3 hour city tour will provide you with enough information in order to understand the architecture of the city. It will explain to you how the city developed during different times in history, focusing on the Ottoman Empire's occupation and the communist times. You will also get to visit city summer gardens and old houses, dating back hundreds of years.
Hidden Gems of Bucharest Tour

Duration: 3 hours
If you have more time, it's a good idea to allocate more days to Prahova valley. This 3 days tour will take you to Poiana Brașov - the most famous ski resort in the area due to its long ski slopes. Although you won't be able to ski during summer, you will for sure appreciate the scenery of the area. Of course, Bran Castle (the famous Dracula's Castle) must also be a part of this adventure. The tour won't ignore city life either, as they will take you on a tour of both Brașov and Bucharest.
Dracula's Castle and a taste of Transylvania

Price: from 409.99 USD

Duration: 3 days (approx.)

Website:
Don't join this tour if you don't like walking, as you will be suffering for about 6 hours. The tour takes you to the National Village Museum where you can admire old style village houses from different parts of Romania. They are mostly wooden constructions, located in an open air museum that is part of Herăstrău Park. You will also get to see the huge imposing building of the Palace of Parliament (People's House) that was built during communism town and is nowadays used by Romania's Parliament.
Extended Walking Tour of Bucharest

Duration: 5 to 8 hours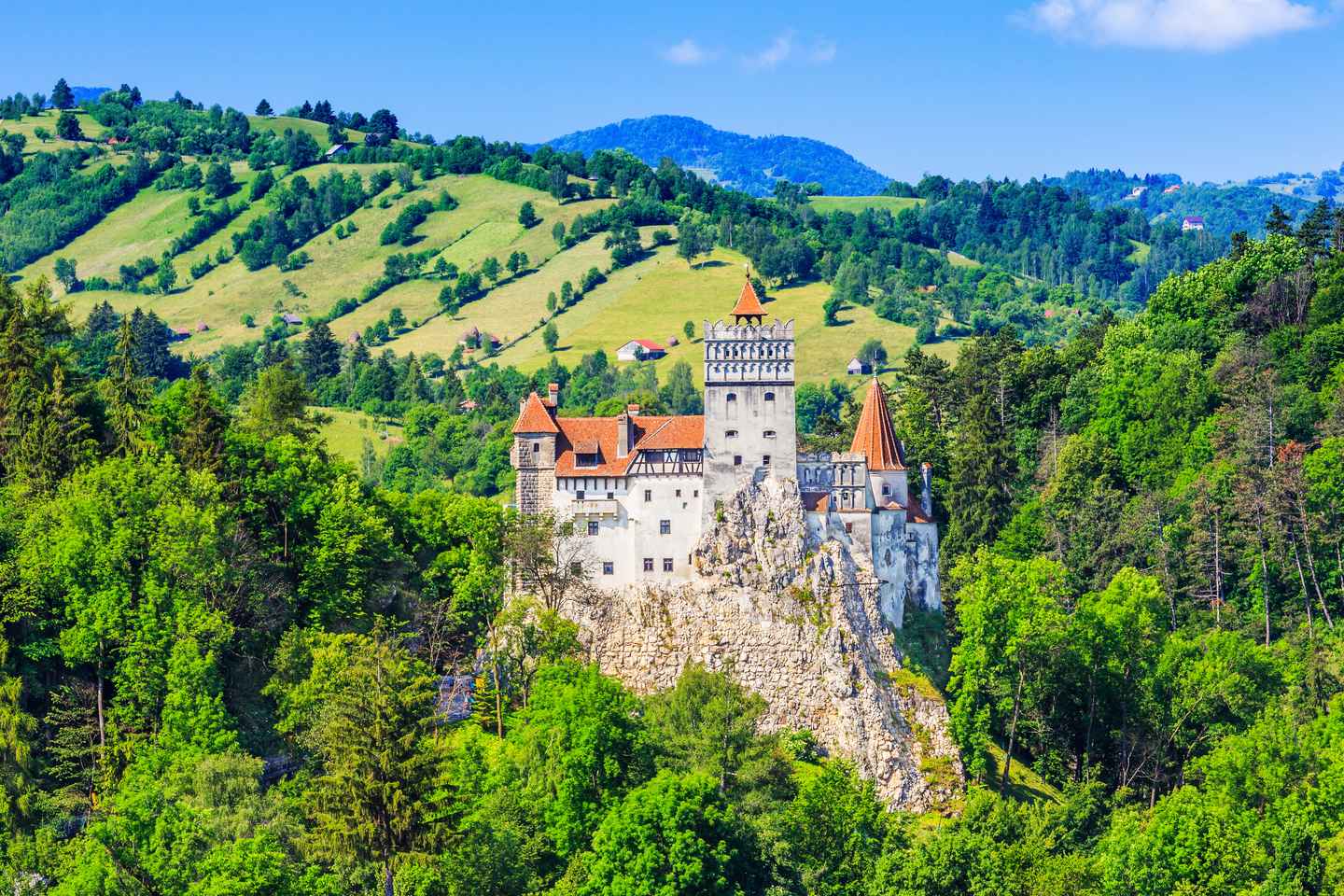 One of the most famous sights in Romania, Dracula's Castle is just a few hours drive away from Bucharest. If you're short on time, this tour will take you to see Dracula's Castle in a 12 hour trip. It also include a short tour of one of the largest cities in Transylvania - Brașo. You will also have the opportunity to learn more about Romania's history and royal family while visiting the incredible Peleș Castle.
Dracula's Castle Full-Day Tour from Bucharest

Duration: 12 hour
Apart from the historic buildings, the museums and old architecture, Bucharest hides a lot of modern city culture. These locations are off the beaten touristic paths and are difficult to find without prior knowledge. The two and a half hour tour will show you the best of Bucharest's street art and introduce you to alternative locations. You will also find out more on social realities of today's capital city. The tour ends in a former squat house that has been transformed into the center for city artists.
Bucharest: Alternative Sightseeing 3-Hour Guided Tour

Duration: 3 hour
Explore the paradoxes and contrasts of Bucharest
Old and new, history and modern, medieval paintings and graffiti, rural and urban, underground and classical; you can find a large number of contrasts and paradoxes in Bucharest. The nightlife is also rather lively and Romanians are always eager to share their culture and traditions with foreigners.
Disclosure: Trip101 selects the listings in our articles independently. Some of the listings in this article contain affiliate links.
Get Trip101 in your inbox
Unsubscribe in one click. See our privacy policy for more information on how we use your data