Known all over the world as one of the most popular vacation destinations, New Zealand packs a punch in terms of attractions and adventures for every tourist. Whether you enjoy exploring city life with skyscrapers and shopping malls galore, to stick to the beautiful natural wonderland here, or to engage with the culture of the Kiwis, you are bound to find your itinerary overflowing with a plethora of interesting activities and attractions. However, sightseeing and adventuring often tends to be a drawn-out and exhausting affair, as you sometimes have to pop in and out of crowded public transport or walk for miles from destination to destination. This is where biking tours come in. No matter your fitness level, biking tours allow you to engage with the city and nature on your own terms, while providing a very economical method of transportation. Plus, the options for fun are endless, from wine and bike tours to those with electric bikes. So, read on as we explore a fun new way to engage with Kiwi culture with our list of the best bike tours in New Zealand.
The coastal city of Wellington, New Zealand, has grown from a small port village into a beautiful and happening city, waiting to be explored. This electric bike tour allows you to check out the most popular attractions here, including the Wellington Waterfront, beaches, Oriental Bay, Miramar Island, and more, accompanied by a friendly and professional tour guide.
No matter your fitness level, e-biking is a sport that can be enjoyed by people from all demographics. This tour also includes a complimentary cup of tea or coffee, as well as the bicycle, helmet, and other equipment.
Duration: 3 to 4 hours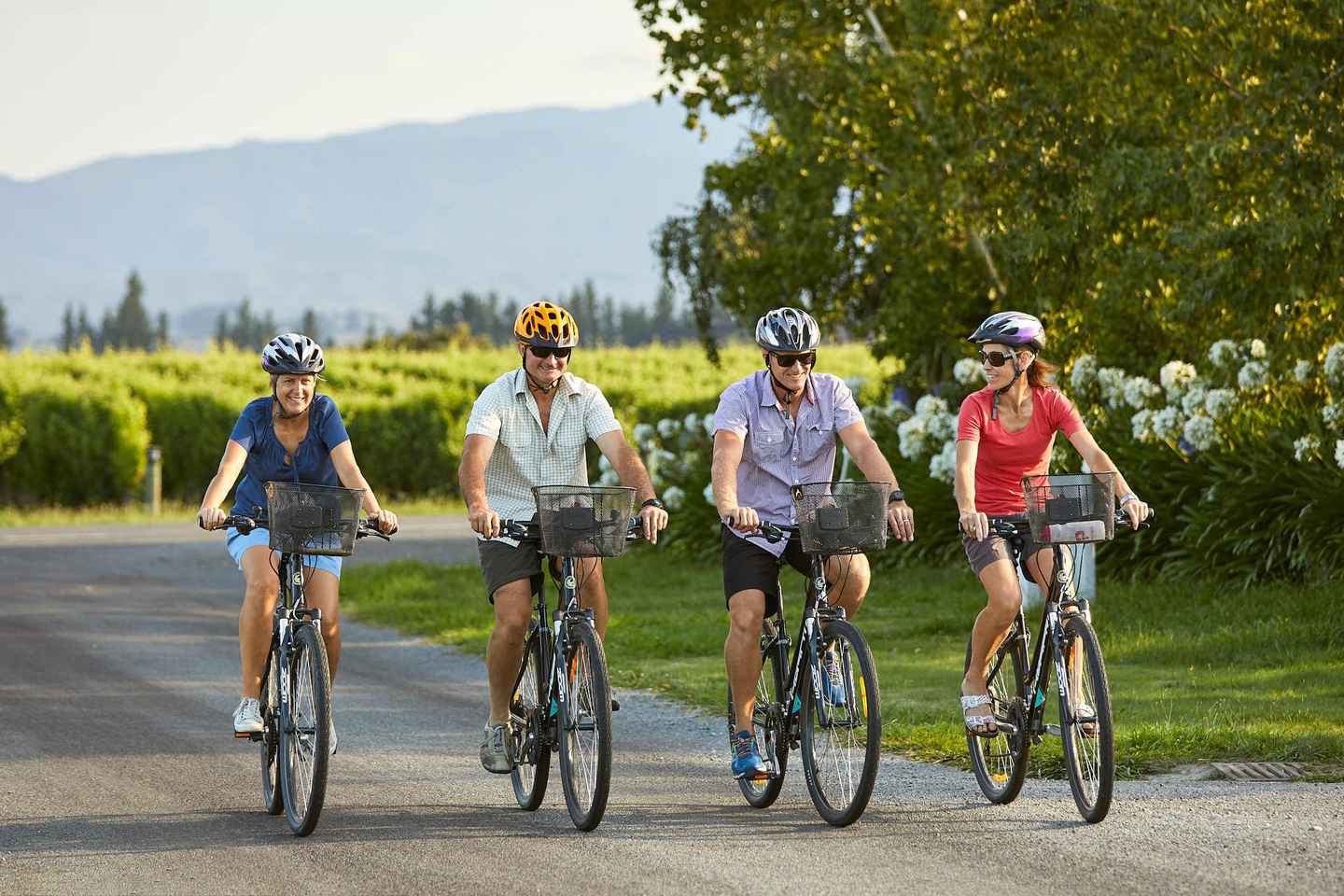 Presenting a unique and fun twist on a biking tour, this one allows you to indulge in some of the finest wineries in all of New Zealand, where you can sample some fantastic wines. Each of the wineries is at a short distance away from your starting point and you can customise the tour to your preference.
The tour comes with a wine map, so you can tick off the wineries as you visit them. The best part is that the route is so scenic and beautiful, it will be the most memorable part of the tour!
Duration: 1.0 day
The Hawke's Bay region is popular across New Zealand for its wineries and breweries and this tour aims to introduce you to the delicious wine of Hawke's Bay. Covering about 12 miles (20 kilometres) and including tourist destinations such as Gimblett Gravels' wine district and the Bridge Pa Triangle, this tour is ideal for those with a moderate fitness level.
You will be accompanied by a local tour guide, as well as vehicular assistance to carry home all the wine you buy!
Duration: 6 hours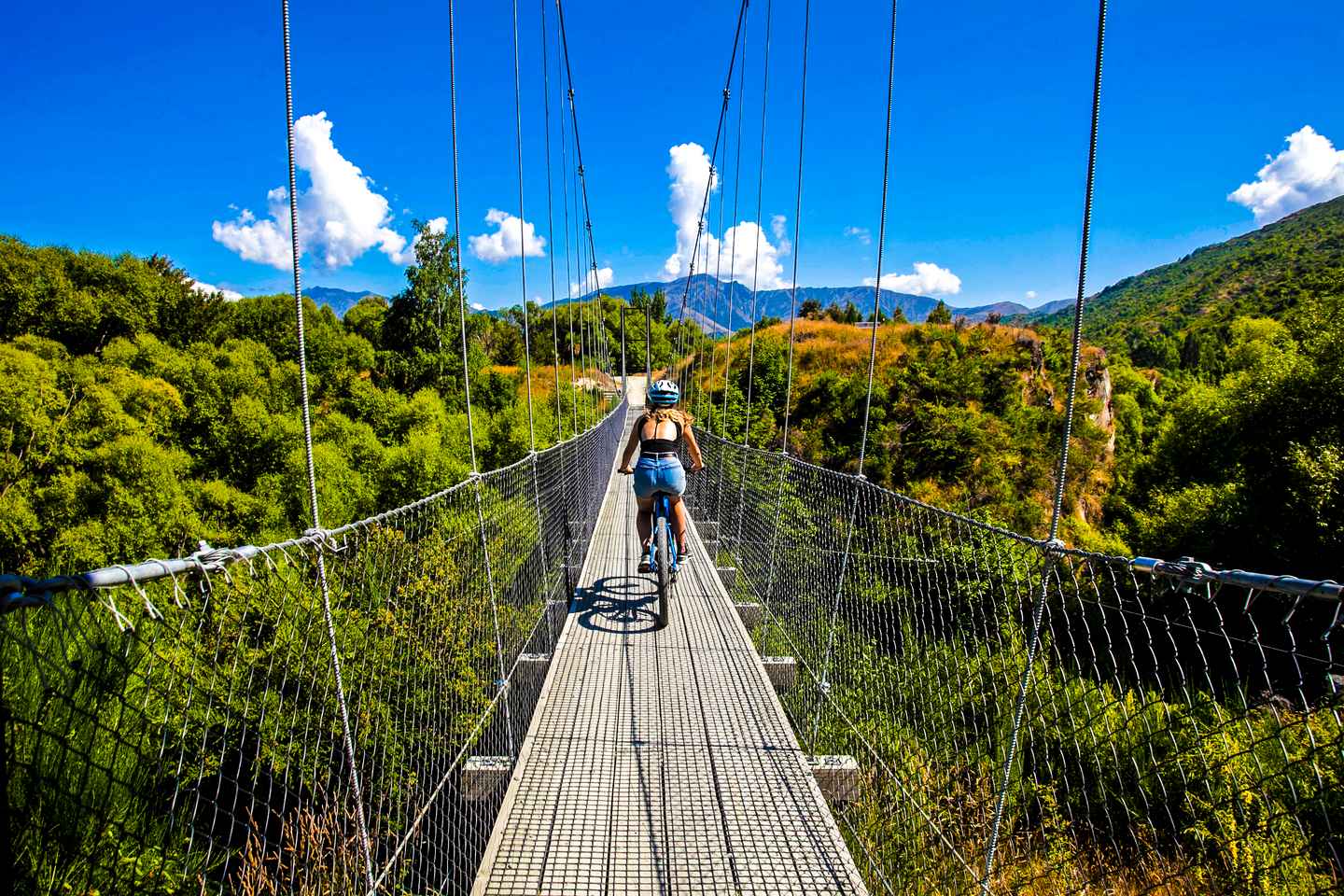 For the independent spirit who wishes to customise their e-biking tour, this self-guided tour is ideal, as it provides a map with all the information you need to decide what spots you wish to check out. This tour has hotel pick-up and drop-off and you'll be able to explore the finest wineries of Chard Farm, Peregrine, Gibbston Tavern, and more.
This tour also includes a scenic ride out to the Gibbston Valley and Arrowtown area, your own e-bike and helmet for hire, and a team of professionals waiting to help you with anything you may need.
Duration: 7.0 hour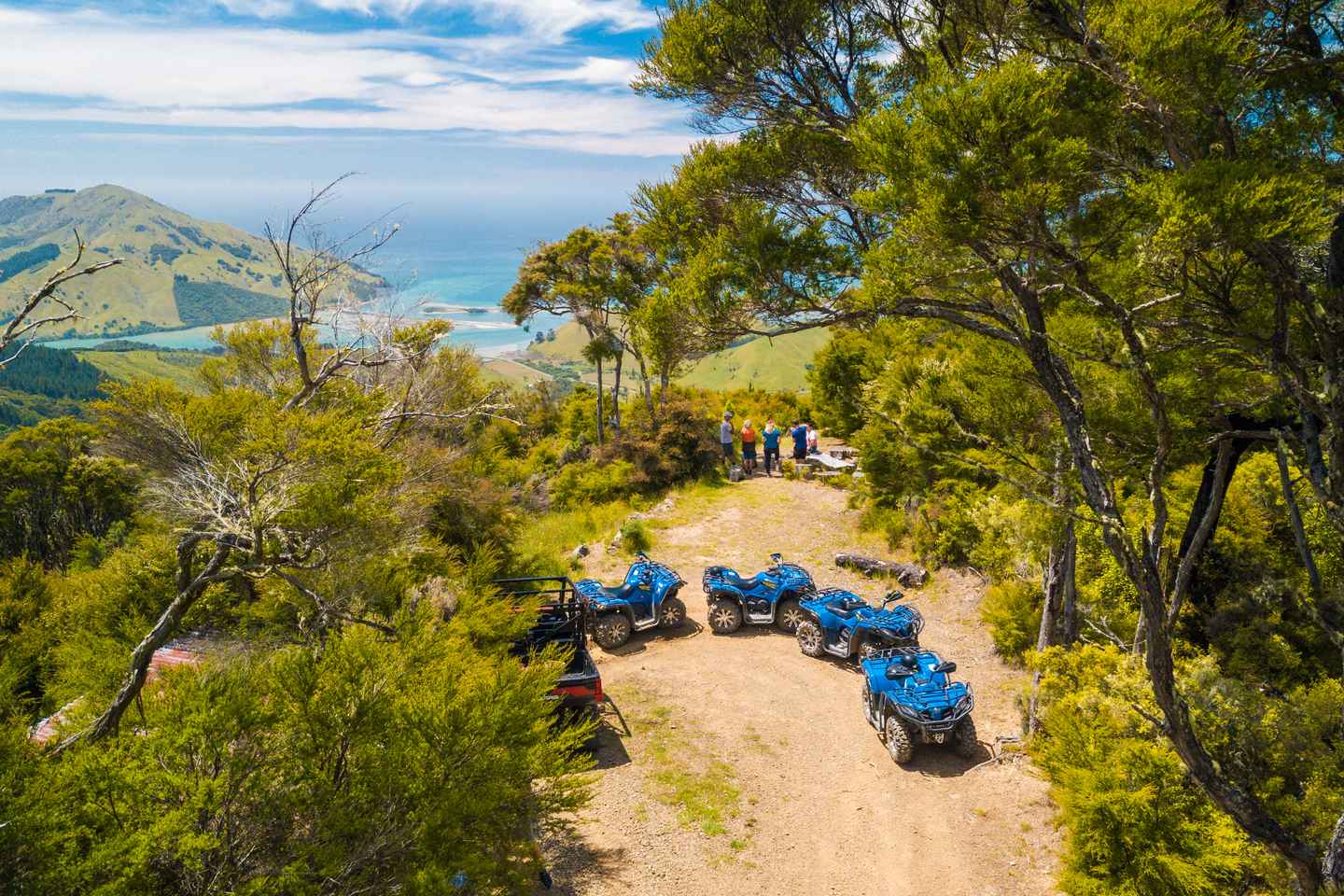 Who needs normal bicycles when there are powerful and thrilling quad bikes to enjoy? This quad bike tour is for excitement-seekers and it's where you will surely have the time of your life exploring the lush green terrain of New Zealand farms, bay areas, forests, hills, and more.
You will be given a riding lesson so you can hone your motorcycle skills and there will be a tour guide accompanying you who will show you around. You are bound to have a truly thrilling and unforgettable experience on this amazing tour!
Duration: 1.5 hour
For the more adventurous spirit, this electric bike tour takes you through the breathtakingly lovely mountains of Akaroa and the scenic waterfront roads overlooking quaint little villages and farms. This tour lasts for 2.5 hours and is brimming with incredible Insta-worthy snaps!
Duration: 2.5 hour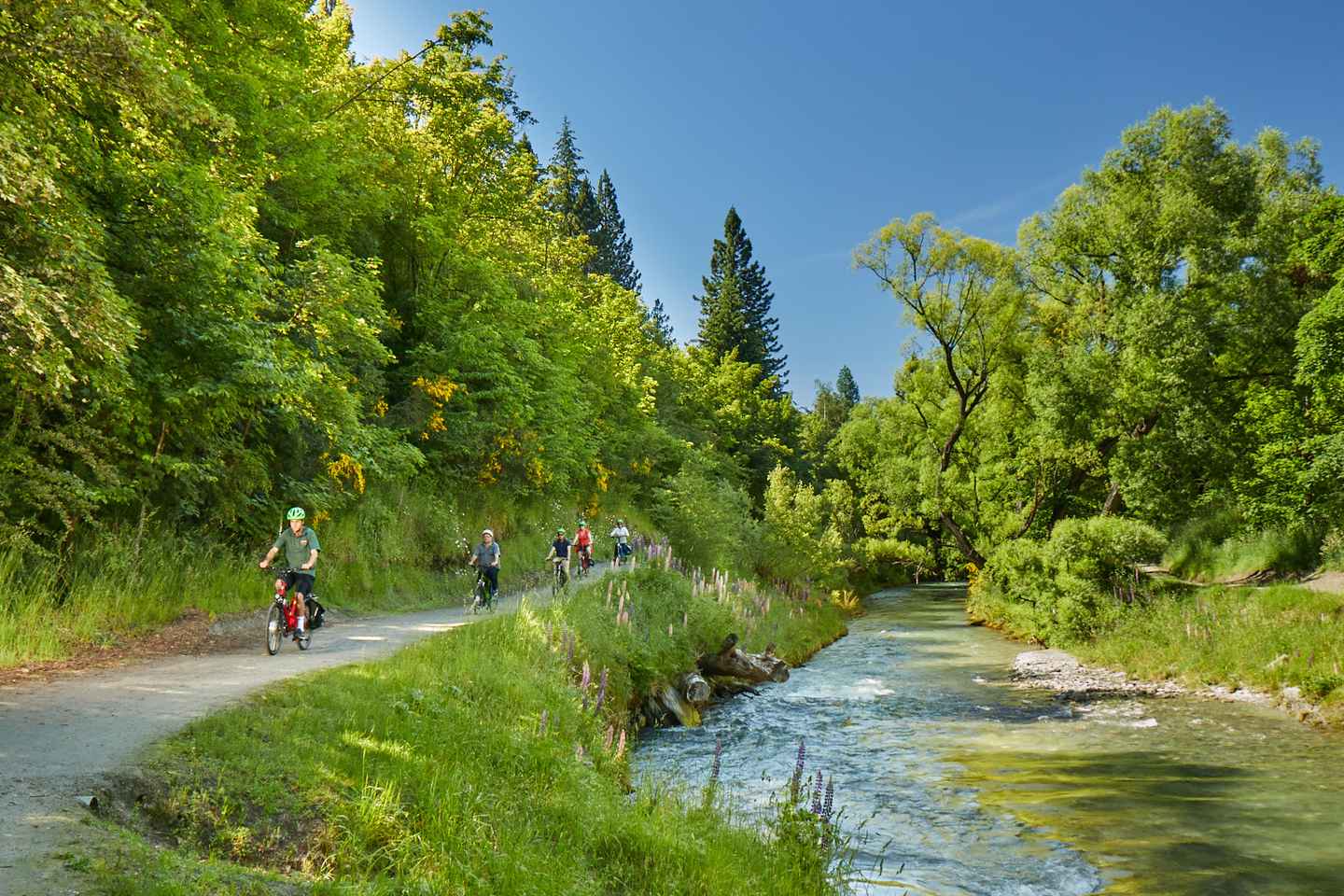 Wondering how to spend half a day with your spouse or friends on a New Zealand adventure? This electric biking tour is perfect for tourists who may require a fully guided tour. You will be accompanied by a tour guide who will take you down picturesque and interesting routes to a variety of different wineries and attractions in the Arrowtown area, including Kawarau Bridge, Kinross Cellar, and Gibbston Tavern.
Sample some of the finest wines prepared in the area and enjoy the perks of this e-bike tour, such as complimentary snacks, water, and vehicle support to carry all the wine you bought back to the starting point!
Duration: 4.5 hour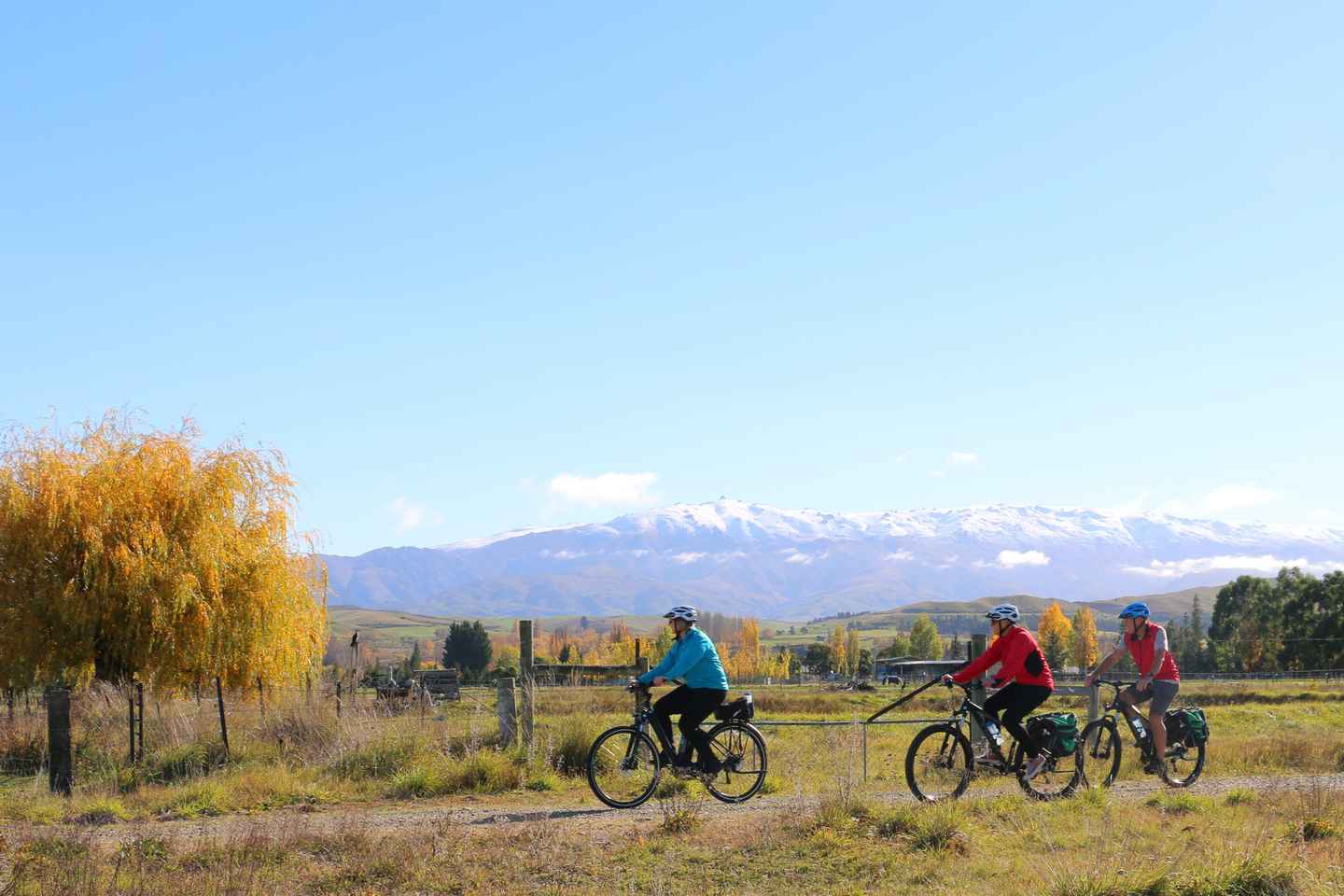 Explore the beautiful district of Otago independently, without anyone telling you where to go and what to do, with this awesome self-guided biking tour. Starting from Auripo, you can check out the most popular and scenic attractions Otago has to offer, including Ophir, Poolburn Gorge, and the lovely little village of Lauder. You will be given a water bottle and highlighted maps, as well as the bike itself.
Duration: 1 day
Another popular waterfront city, Auckland is a beautiful place to explore, especially on this bicycle tour, accompanied by a knowledgeable tour guide who will show you around and explain the significance and history of each monument or attraction. This tour takes you through places like Mission Bay, Queen's Wharf, the Rainbow Warrior monument, Judges Bay, and Okahu Landing.
The tour includes a bicycle and helmet and requires you to book a minimum of two people, so you can go along with your spouse, family, or friends.
Duration: 3 hours
This three-hour bike tour takes you through the scenic and picturesque streets of Wellington's waterfront, as you explore fascinating attractions, such as Te Papa museum and Oriental Bay. Cruise at an easy speed past beautiful colonial-style bungalows and houses and stop for some truly awesome Instagram-worthy photos.
This tour requires a moderate level of fitness, so get ready to push yourself a little! You will also be accompanied by a knowledgeable local guide who will show you around.
Duration: 3 hours
Explore New Zealand by bike!
New Zealand is a popular tourist destination for people from all over the world because of its beautiful mountains and rivers, bustling city life, and wide variety of attractions that appeal to a wide demographic. Whether you enjoy exploring the wilderness, checking out monuments and urban attractions, are into fitness, or wish to not exert yourself at all while on vacation, we are sure that our list will help you find the ideal biking tour that suits your needs and preferences. So, book your spot today!
Disclosure: Trip101 selects the listings in our articles independently. Some of the listings in this article contain affiliate links.
Get Trip101 in your inbox
Unsubscribe in one click. See our Privacy Policy for more information on how we use your data