Located on top of a sandbar known as a tombolo, which connects Mauao to the mainland, Mount Maunganui is home to Pilot Bay, a harbor beach and an ocean beach. A coastal resort town in Tauranga, this area is the starting point of a large number of surfing and diving activities and contests. It also acts as the center of other summertime activities, such as sandcastle-building and beach volleyball, which draws visitors to the main beach that stretches as far as the eye can see. The extinct volcano above the town is also a dominant feature of Mount Maunganui and climbing to the summit offers spectacular views. But what's a holiday without accommodation? This list contains the top Bookabach In Mount Maunganui, Tauranga, so you can find the one best suited to your needs.
This cozy rental may not be very fancy, but it's certainly secluded and quiet. It features a kitchen that offers the appliances you need for a comfortable stay, such as refrigerator, a combination microwave and an induction hot plate, making it easy for you to whip up a quick meal. The rental has central heating and the place is an easy 5 minutes walk to places such as the playground, coffee shops, a supermarket, a dairy and the beach.
The main beach, on the other hand, is a 20-minute walk away. This is a good place if you prefer peace and quiet, as the neighbors are considerate and keep their noise level low.
Mount Maunganui Little Blue Bach

Accommodates: 4
Minimum Nights: 1
Refund Policy : 100% refund if you cancel at least 14 days before check-in.

Centrally located to multiple local attractions, this three-bedroom house is a welcoming and homely rental, kept warm, clean and inviting by the owner. This place is also great for kids and comes with board games, books, toys, DVDs and plenty of space on the lawn to ride bikes.
You will find plenty of good activities when you are here, such as shopping at Fashion Island or the Bayfair Shopping Complex, swimming, surfing or tanning at Mount Maunganui beach. There's also fishing, boating and ship-watching at the harbor.
Great little get away

Mt Maunganui, BAY OF PLENTY, NZ

Top guest reviews

just surprised it didn't have wifi but we enjoyed the dvd s instead

a very clean neat and tidy unit

this little place is clean tidy warm welcoming comfortable

home is clean modern and so well organised

warm clean and inviting this was the perfect spot for us this long weekend

was spotless and well looked after and felt like it was ours to settle into

close to bayfair and easy access to motorway

great spot close to bayfair and quiet

great location this property had everything we needed and more

perfect for our family stay in tauranga - close to everything

would highly recommend it as close to everything and was amazing

Read more reviews
This three-bedroom property sits in a safe cul-de-sac on the Waitui reserve and offers stunning views of the iconic Mount. It's just a five-minute walk to Omanu Beach and the cafe. The beautiful architectural design of the home, with its modern furnishings, gives it a chic atmosphere. Major beaches and an abundance of restaurants, bars, golf courses, a movie theater and boutique shopping are all a short drive away, but if you want to stay in and relax, there is entertainment, such as games and toys for children.
There's also a luxury 6-seat spa, barbecue grill and takeaways and bottle stores within walking distance. For an extra touch, services, such as a tailor-made breakfast and dinner hampers, are also obtainable upon request.
Stunning NEW property close to beach, views to Mount, spa and all the mod cons.

Mount Maunganui, Bay Of Plenty, NZ
This spacious holiday accommodation with six bedrooms has a fully-furnished kitchen, which allows you to store food in the fridge-freezer if you wish to do some light cooking. Other amenities include a dining area, two lounge areas, a patio and a balcony.
The rental is within walking distance to the beach, to the Bayfair Shopping Center and Baywave Aquatic Center. Safety is taken seriously here, which means there are extra measures, such as smoke detector, fire extinguisher, exterior lighting, as well as security cameras everywhere except the bedrooms and bathrooms and the bedrooms have combination door locks.
Large Holiday Home close to Beach

Mt Maunganui, Tauranga, NZ
Set on a street across from Omanu Beach, this lovely beach house has four bedrooms and one bathroom. It is an easy-care rental that is furnished for a family's comfort. This house has a patio on one side with facilities for outdoor dining and a balcony on the other side. It's also a short walk to town and there's the Bay Hopper bus service to access further areas, which picks up and drops off directly outside the door.
Laundry facilities are available, along with a double car garage with an automatic door opener. It has extra space available for another vehicle if needed, such as a car or a boat.
Beachfront Holiday Haven

Mount Maunganui, Tauranga, NZ

Top guest reviews

great kitchen and open plan living space

lots of room and a very comfortable stay

clean and tidy and extremely well presented

house was awesome extremely clean and tidy

very clean and so close to the beach we had a great time

nice big house clean across the road from the beach

great location and quality property

location was amazing and would definitely recommend to anyone staying in the mount

great house in amazing location across from the beach

awesome location and has everything you need for a good holiday :)

the location is so handy to pop over to the beautiful beach whenever the mood takes you

Read more reviews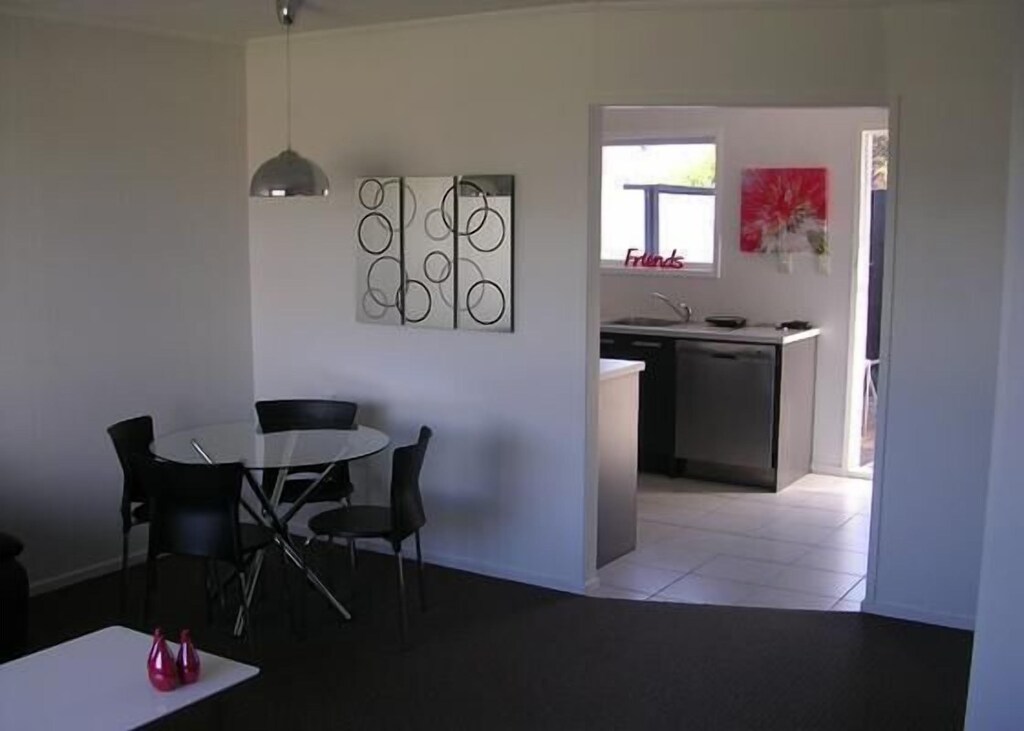 This two-bedroom, one-bath property sits tucked in the center of Mt. Maunganui's attractions, with the Golf Club and the Omanu shops just five minutes away. The stylishly designed apartment comes with a stainless steel barbecue, a private deck area, an outdoor living and entertainment area and pantry items to help you make the most out of your holiday.
Take advantage of the selection of DVDs supplied in the apartment or, if you wish to explore, make use of the nearby bus stops to access other attractions. You could also take a look around town or Omanu Beach, which has its own surf club.
Cute holiday retreat close to Omanu Beach

Top guest reviews

very clean and well equipped

clean neat well equipped wee unit

unit was clean and tidy with everything in good working order - thanks

very comfortable quiet and clean

this was a great wee place to stay it was clean & tidy & had all the necessities

great location to golf club

great location for our purpose

great location easy to find close to bus stops beach very hand location

nice place great location for getting to places around the mount

it was in a great location for getting places too

Read more reviews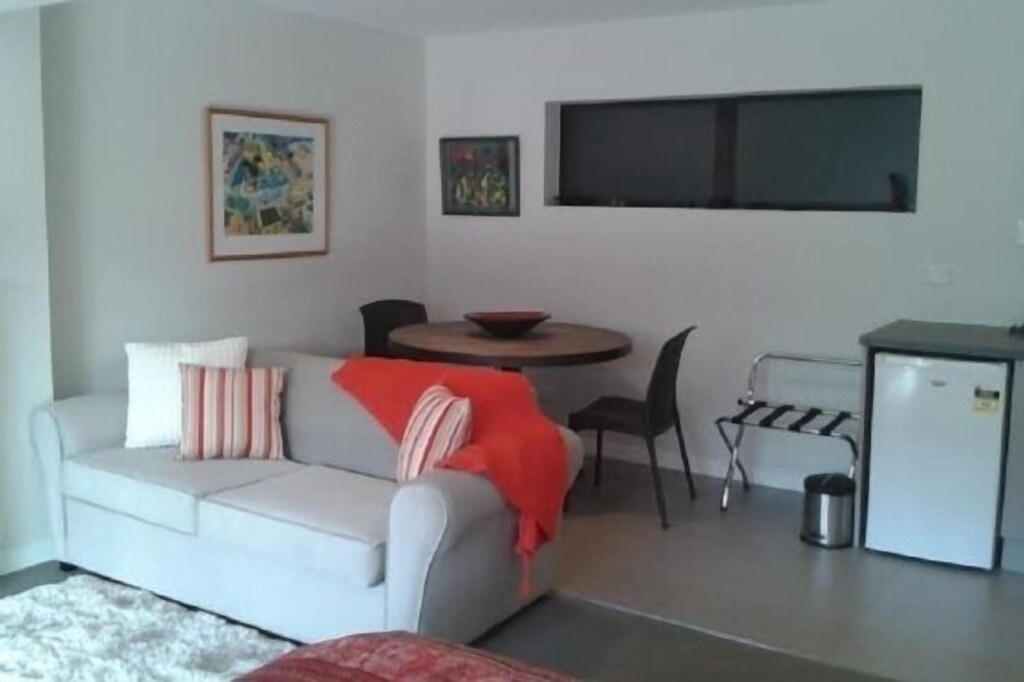 Located near the Mount, which is what the locals call Mount Maunganui's main beach, this unit comes with a single bedroom and sleeps two people, making it suitable for couples. The property is clean, comfortable and well maintained by the owners themselves.
The location of the property is such that you can either walk to the beach or to Blake Park to enjoy some sports. There are also marvelous eateries and mainly small, independently-owned retail stores downtown, within walking distance, which will be a nice change from the large chain stores you may be used to seeing back home.
Fully self contained studio unit ideal for couples

Mt Maunganui, Tauranga, NZ

Top guest reviews

self contained spotlessly clean accommodation

unit was spotlessly clean and had everything we needed

the unit was so comfortable and clean and had everything you would need

the downstairs studio apartment was of a very high standard - clean comfortable and well laid out

the property was lovely and clean and close to everything

immaculate property with owners who communicate very effectively

tidy unit helpful owner and good value for the money

a great location

excellent location so close to the beach

beautiful spot and great location

short drive to supermarket and a very pleasant walk to downtown mount maunganui

nice room close to the beach will come stay again

Read more reviews
This lovely two-bedroom unit is just a few minutes' walk from Mount Maunganui Beach. The home comes with its own huge ground-level deck, garden and lawn, which makes for great outdoor spaces and there is even a private outdoor shaded seating area and a swing seat. Furthermore, it has its own hot springs spa pool at the back of the property.
This place is recommended if you want to enjoy everything Mount Maunganui has to offer, such as the restaurants, shops and bars, without the need to drive anywhere, as it's central to everything. It gets bonus points for being reasonably quiet, which is perfect for those who prefer peace.
Mount Magic - Location, Spa, Wifi, Sky TV and More
Right nearby the white-sand beach of Mount Maunganui and Pilot Bay, the beauty of this two-bedroom property is its proximity, allowing you to enjoy activities like beachside dining, playgrounds, nightlife, cafes, galleries, boutique shops and weekend markets that make up the main streets.
The plush balcony allows you to have a drink and enjoy the view of the mountain and the home is furnished to match the locale, with designer furniture, artwork and modern entertainment, such as a 65-inch TV. The decor even extends to the bed linen, embroidered by hand. Other onsite amenities to enjoy include the large spa, lap pool, and the gym equipment.
Ocean Eleven at Magical Mount Maunganui
Tucked away in a quiet cul de sac, this four-bedroom property is just a short walk from downtown Mt. Maunganui, making it an easy stroll to restaurants, shops, bars and beaches. The home comes with a fully-equipped kitchen, a deck, laundry, and Wi-Fi access. The north-facing deck is a perfect area to have an evening barbecue in the summer. The rental is also ideal for young children, due to the toys and even a highchair is provided to accommodate them. For those wishing to stay in, the home provides Netflix and Apple TV.
Taatahi - By The Beach

Top guest reviews

excellent space warm house clean and modern

the house was excellent clean spacious nicely decorated and we loved the huge patio doors that opened up

great location and very close to beach and shops

amazing location easy walk to the beach or the main strip

perfect location between the town center and the beach

easy to walk everywhere

it was a perfect location

Read more reviews
Spoilt for choice
With plenty to do and see, this coastal resort town is definitely a recommended destination for couples, families, or even a large tour group. Not only this, it also has an abundance of accommodation options. Make your choice from this list of the best and most suitable Bookabach rentals, so you can add the final touch to an unforgettable vacation.
Disclosure: Trip101 selects the listings in our articles independently. Some of the listings in this article contain affiliate links.
Get Trip101 in your inbox
Unsubscribe in one click. See our privacy policy for more information on how we use your data