From cute and cuddly pandas in Adelaide Zoo, bustling markets like Adele Central market, to beautiful hiking and walking trails in Cleland Conservational Park, Adelaide always has something special if you know where to look. This South Australia city plays host to several renowned museums such as the Australia Museum and the Art Gallery of South Australia, both of which showcase an outstanding collection of indigenous art and artifacts. The city is equally known for throwing enchanting festivals and riveting events, including the annual Adeline Festival. To share the spotlight, the city's outskirts also offer ideal locations for bold spirits to venture out for a quick preview of what makes Australia an outstanding Country. Looking to undertake a whistle-stop tour of Australia? Check out this list of the best day trips from Adelaide, Australia.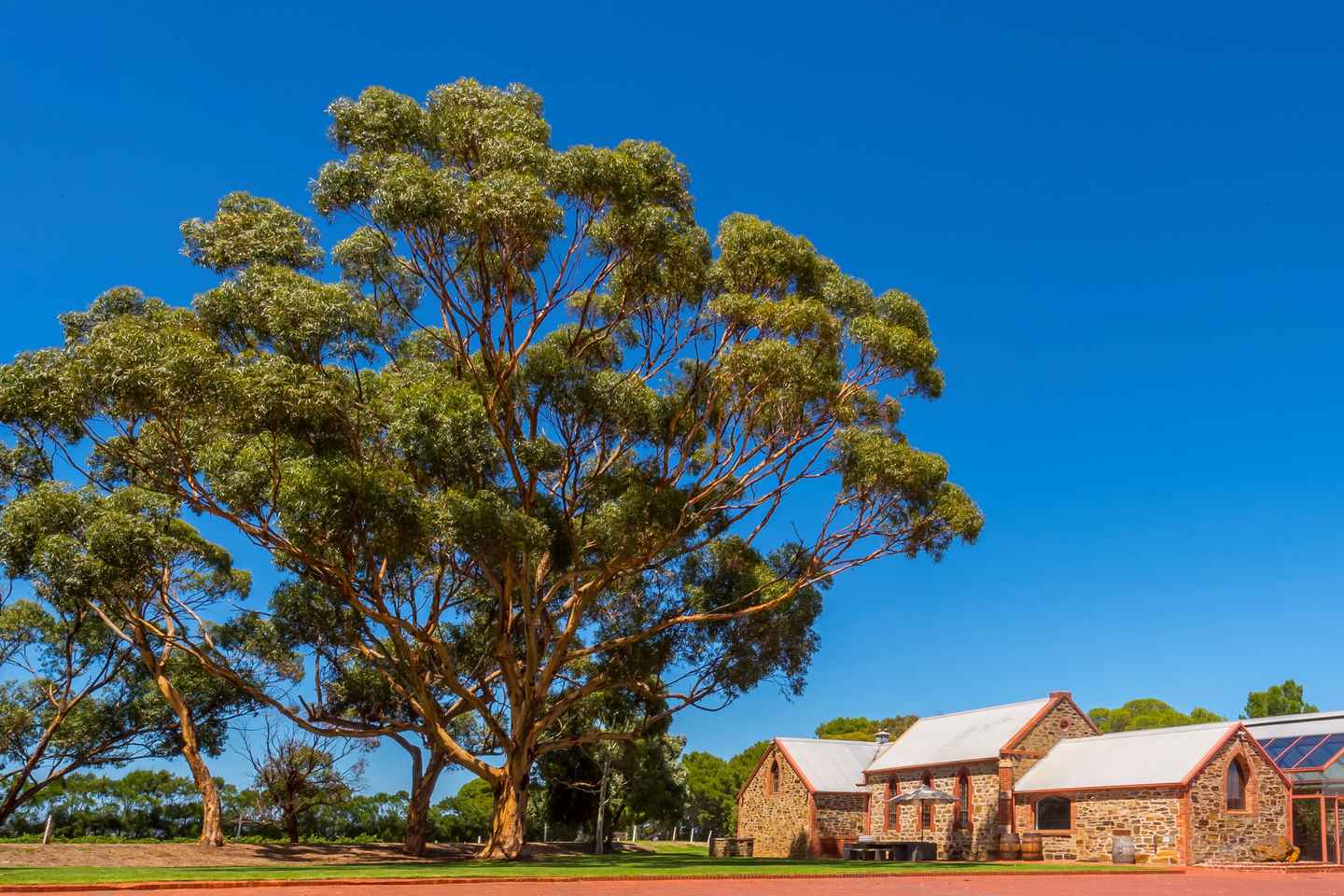 If you enjoy the thrill of road trips and would love a wine tasting experience while you're at it, then a trip to McLaren Vale is an amusing escapade you should try. Located only 40 minutes away, about 24.9 miles (40 kilometers) from Adelaide, you'll find the coastal suburbs of Glenelg and McLaren Vale, which offer idyllic spots where you can enjoy some of the best wines in this coastal region. For the next five hours, explore three scenic cellars as you explore McLaren Vale township. Treat yourself to the palatable almonds while onboard the Almond train and while you marvel at the spectacular sight of the Glenelg sunset.
Adelaide: McLaren Vale and Glenelg Wine Tasting Tour

Duration: 5 hour
If you are looking for a private escape from the buzzing city of Adelaide, take a moment and bond with nature at Cleland Wildlife Park. This beautiful animal sanctuary is located only 30 minutes away from the heart of Adelaide and is home to over 130 iconic inhabitants. Your drive to Cleland Wildlife Park won't be a boring one ether; you will be treated to a breathtaking view of Mount Lofty and Adelaide Hills. Although this adventure will consume about five hours of your time, it will feel like you've only spent minutes petting and feeding the magnificent animals residing in this impressive park.
Cleland Wildlife Park Self Guided Tour from Adelaide

Duration: 5hrs30 Min Duration
If you find yourself yearning for a stirring adventure make a point of touring the Kangaroo Island. This amazing paradise is located 210 kilometers (130.5 miles) completely cut-off from the mainland, offering a pristine venue for an adventure. To get to the island, you will have to travel by air or by ferry. The island plays host to scenic venues including Admirals Arch, Seal Bay Conservation Park, Flinders Chase National Park, and Vinonne Bay, all home to an extraordinary collection of animal and plant species. Your escape will additionally include a two-course lunch, photos at Remarkable Rocks, sculpture-like formations, and a tour of the Hanson Bay Wildlife Sanctuary.
Kangaroo Island in a Day Tour from Adelaide

Duration: 16 hours
Adelaide is South Australia's wine region thus known for its amazing varieties of wine cellars and vineyards in the region. With that in mind, Adelaide Hills sits on top of many lists talking about South Australia's wine regions. You will have to travel for less than an hour, just 41 kilometers (24 miles) from downtown Adelaide to get to this area. You can also opt to go on an eight-hour tour of the area, go visit the world-renowned Penfolds Winery as well as a number of the region's best cheese-makers, where you get to have a taste of the most splendid buffalo and cow cheese varieties.
Adelaide Hills Day Tour. Winery Cellar Doors

Duration: 8 hours
Exchange your usual city life routine with a marvelous adventure to Clare Valley for an intimate and private winery tour of Adelaide. You will have to devote two hours on the road as you journey 143 kilometers (89 Miles) from Adelaide to this serene venue that's oozing peace and tranquility. A private limousine tour of Clare Valley's wineries and the microbreweries will offer a relaxed yet exciting eight-hour experience, where you can taste some of the most excellent beers and wine selections in the region. With the capacity of accommodating a maximum of six guests, your tour can either be intimate with a loved one or exciting with friends on vacation.
Adelaide to Clare Valley Wineries Tour by Private Limousine

Duration: 8 hours
Last on our list is an exciting tour of the Langhorne Creek Wine Region. Located only 64 kilometers (40 miles) away from Adelaide, the Langhorne Creek Wine Region offers a suitable venue for wine lovers and anyone looking to escape the city. At this place, amazing lunch dishes enjoyed against a scenic back-drop at Lake Breeze Wines is an expected delight. Langhorne Creek Wine Region offers an amazing location to seek out a vast variety of wines from various wineries in the area. This round trip offers pickups and drop-offs at designated areas and hotels.
Adelaide or Glenelg to Langhorne Creek Small-Group Wine Tour

Duration: 8 hours
The Murray River is set 541 kilometers (336 miles) from Adelaide, an excellent venue for a full day tour out of the city's core. Traverse the Murray river on-board the Proud Mary cruise, taking in the scenic natural beauty of the region. While the rugged beauty displays its charm and glamor, the cruise offers a delightful lunch alongside some of the tastiest locally made chocolates and cheeses. Murray rivers offer a delightful insight into the city's outskirts and the ultimate way to spend eight hours of your time enjoying South Australia's delights.
Murray River Day Trip from Adelaide Including Lunch Cruise

Duration: 8 hours
Embark on an adventurous journey 52 miles (84 kilometers) from Adelaide by heading to Fleurieu Peninsula South Australia. This mystical peninsula is best known for the McLaren Vale and beautiful wine vineyards. To get the best out of this bewildering coastal paradise, enjoy a small group excursion of the rugged scenery of Willunga Hills, McLaren Vale, and the Gulf St Vincent. Sample several wines at an exclusive location, and for lunch, a three-course seasonal cuisine at a McLaren restaurant will be waiting for you.
Fleurieu Peninsula Small-Group Food and Wine Experience, Lunch

Duration: 8 hours
Explore the scenic regions of Australia by embarking on an exploration mission of the Barossa Valley. Your journey will direct you away from the breathtaking coastline, 74.8 kilometers (46.5 miles) inland. The Hahndorf and Barossa Valley tour is one of the most alluring tourist activities you can try here, offering to take you to sites with picturesque views and to outstanding venues for all who love wine tasting. Enjoy a glass of the finest wines at Seppeltsfield Winery before exploring the historic German settlement of Hahndorf.
Barossa Valley with Hahndorf Tour from Adelaide

Duration: 8 hours
For all who love nature walks and hiking, a trip to Sinclair's Gully Winery will be an adventure like no other. What makes this venue attractive is that it's just 30 minutes away from the heart of the city. Begin your day by embarking on a rejuvenating bushwalk on a mission to soak up the impressive scenery offered by the jagged cliffs, dramatic gorges and of course, the majestic waterfalls of the Morialta Conservation Park. After enjoying a quick preview of South Australia's flora and fauna, barbeques and a tasty lunch menu will re-fill your energy for your tour of Sinclair's Gully Winery, where you can taste some of the region's finest wines.
Adelaide to Sinclair's Gully Winery, Bush Walk Tour with Lunch

Duration: 6 hours
Full-day escapades of Adelaide's outskirts
An escape from the city is inevitably a welcomed idea for all, whether you are merely seeking something to do to pass time or you are looking for that one place you can retire to and enjoy your time. A road trip to one or all of these destinations will be a mission to complete when you're in the area. You do not have to visit museums and theaters to enjoy the country. Nature itself and the surrounding regions will consistently have something unique for you to explore.
Disclosure: Trip101 selects the listings in our articles independently. Some of the listings in this article contain affiliate links.
Get Trip101 in your inbox
Unsubscribe in one click. See our privacy policy for more information on how we use your data