Ireland may not be as large as other countries in the North Atlantic, but its attractions are way more fascinating. To experience its recreational value, choose a convenient location like Killarney to start your day trip. Killarney gives tourists easy access to countless natural wonders, ancient monuments, and state-of-the-art museums that have successfully managed to preserve the rich Irish heritage for generations. Clearly, it is virtually impossible to explore everything in Killarney and its vicinity within a day. Nonetheless, we have compiled a list of the most enchanting destinations from Killarney to help tourists prioritize their likings in a day's tour of the region. Read through this article to discover the top day trips from Killarney, Ireland.
Situated southwest of Ireland is Cork City, a beautiful town with plenty of things to see and do. Cork City is an hour's drive from Killarney, so you need to factor in the time when planning for your trip to this little gem. Otherwise, when you visit Cork City, the following areas should be at the top of your itinerary. First is Blarney Castle, a prominent landmark built with the famous Blarney Stone, which was believed to bestow anybody who kisses it with the gift of gab. Another place worth visiting is Titanic's last stop in Cobh. This harbor holds great sentimental value for many who were affected by the 1912 tragedy.
Cork Hop on Hop Off Sightseeing Tour (Hopper Bus)

Duration: 2 to 9 hours
2. Bandon
From Killarney, you can also take a day trip to Bandon, another scenic town situated just 76.1 km (47.3 miles) away. Bandon is a great place for anyone who loves and appreciates nature and the beauty of coastal features. To catch a glimpse of what Bandon has to offer, take a scenic tour of Bandon River. Here, you will enjoy beautiful views of the river, aquatics, and the surrounding mountain ranges. In addition to that, the river is a rich source of brown trouts, sea trouts, and salmon species, so pack your fishing gear to catch some white meat for dinner.
3. Innisfallen Island
Many people visiting Killarney often skip Innisfallen Island, a little gem hidden in one of the area's lakes—Lough Leane. Innisfallen Island is a magical place that takes only a few hours of your time to explore its beautiful sceneries and rich heritage. For centuries, Ireland has played an important role in educating people on different social aspects and religious devotion. Currently, the remains of monasteries, an Augustinian priory, and a Romanesque church are still present on Innisfallen Island. These buildings are a rich source of history that would be pivotal if explored by architects, religious adherents, and historians.
4. Listowel
Slightly different from other cities near Killarney is Listowel, a market town situated at the center of North Kerry—with plenty of items to browse through. Listowel is also a writers' paradise with museums still displaying an array of literary works from world-renowned authors and playwrights who lived here, such as John B. Keane and Bryan MacMahon. An example of these museums is Kerry Literary and Cultural Centre, which features impressive audio-visual displays of different works by famous writers. If you love racing, Listowel also holds several festivals every year. So watch out for such events, especially during summer—they present a lot of day fun for families.
5. Macroom
Macroom is another major market town in Ireland with great historical sites to explore, fascinating cultural attractions, and many fun things to do for groups and lone travelers. First, kids love toys, so for those visiting with the whole family, an excellent place to start your tour would be at Toy Soldier Factory. The factory is one of its kind in Europe, and besides offering a vast collection of toys, the establishment also allows visitors to practice hand-casting and hand-painting. From the factory, you can head to Farran Forest Park for picnicking, sightseeing, and hiking. The park also has a playground where you can enjoy outdoor family games.
6. Waterford
The saying that "old is gold" is evident in Waterford, the oldest city in Ireland. Despite its advanced age, Waterford has an enchanting mix of history and culture that continues to attract visitors from all over the world. A favorite destination for many is Waterford Crystal, a factory still carrying on with the Viking tradition of utilizing different properties of crystals to make elegant creations. From here, make another stop at Reginald's Tower. The monument is a great place to learn about the history of the Vikings and admire some of their finest creations, including the famous Waterford Kite Brooch.
7. Tralee
The capital of County Kerry, Tralee has several attractions to fill up your day with fun, excitement, and utmost relaxation. For starters, there is Kerry County Museum, which, besides having a range of displays and special exhibitions, also allows visitors to relive the medieval times. To achieve the medieval experience, visitors are dressed up and led through fascinating streets and houses that have been reconstructed to reflect the era. After the fun activities in the museum and area parks, you will be exhausted and hungry. Make a final stop at one of Tralee's restaurants. For instance, you can try the goodies at John Doughs family restaurant—where the doughnuts are excellent.
8. Dingle
Despite being small in size, Dingle has a big reputation. In this light, the city was once recognized by National Geographic as the world's most beautiful place, mainly because of the Dingle Peninsula. This scenic route features spectacular beaches, rolling hills, mountain cliffs, and sparkling waters that are worth exploring. Start your tour in Dingle with a bit of sunbathing, swimming, and strolling along the long stretches of sand at the picturesque Inch Beach. From here, you can spend a few hours scaling the heights of Mt. Brandon. That way, you will have an opportunity to relax in nature's lap and enjoy the beautiful sceneries of the vast countryside.
9. Kenmare
Kenmare, which translates to "the head of the sea," is a jewel nestling at the beautiful southern bay of County Kerry. Every year, Kenmare attracts an increasing number of tourists, most of them looking to indulge in delicious gourmet food and explore its rich history. The mornings here are heavenly, with mouthwatering omelets, chocolate pancakes, and a range of pastries at Mick & Jimmy's cafe. From the cafe, head to Molly Gallivan's Cottage in Raleigh Bonane to learn more about the lives led by the Irish before civilization. Lastly, check out antiques and exhibits at Kenmare Heritage Centre to have an in-depth understanding of the area's history.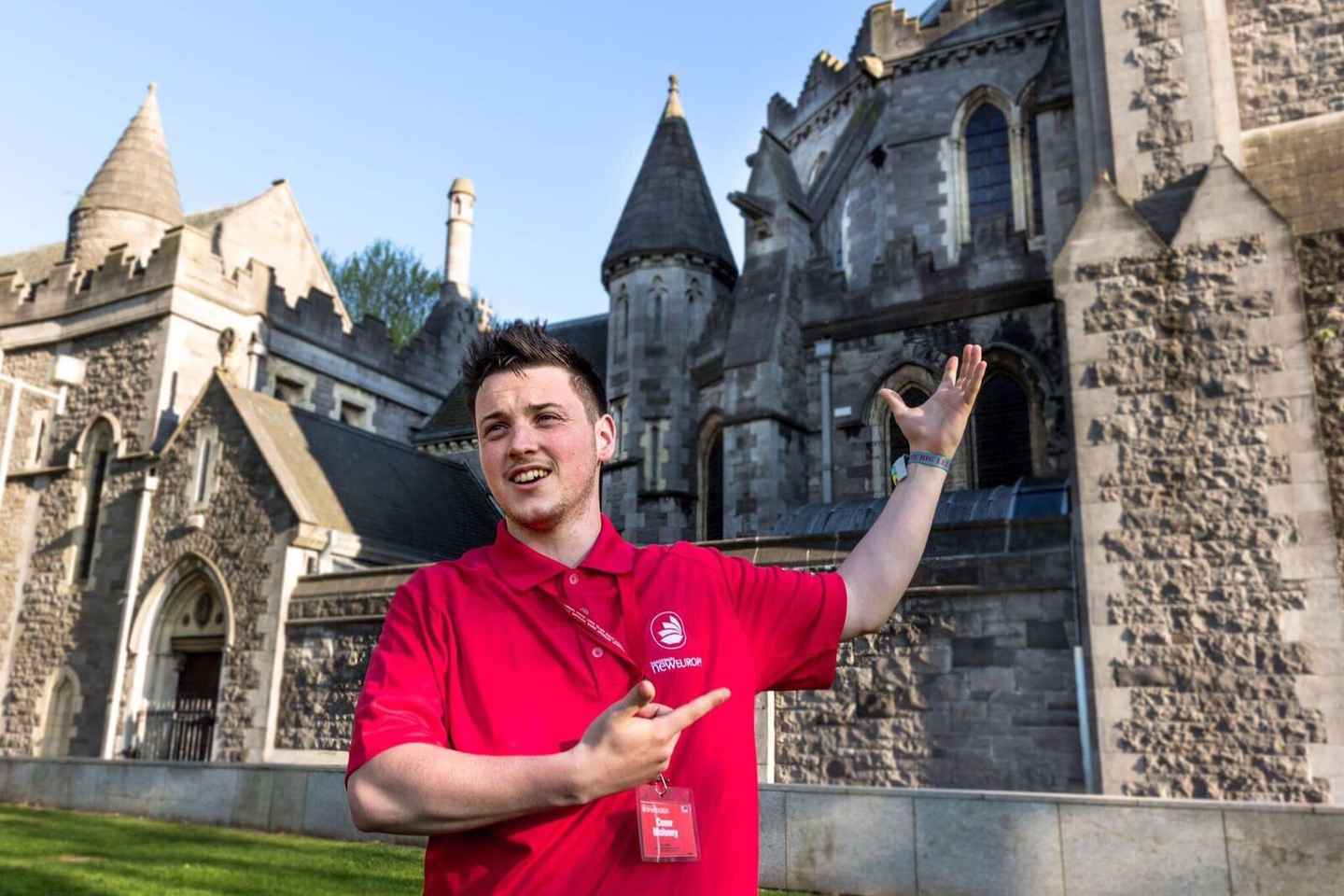 The country's capital, Dublin has a lot of strange yet fascinating stories and facts shielded from the public eye. For instance, as you walk through the streets, you will discover church graveyards and ancient alleys that are rumored to have been common spots for cannibals, serial killers, and other strange beings. Besides the dark corners, Dublin also has magnificent architectures worth exploring. An example of such buildings is Dublin Castle off Dame Street. The castle offers guided tours through several areas of interest, including the Viking excavation site, the Gothic Chapel Royal, and State Apartments—which were once occupied by the viceregal throne.
Dublin Walking Tour: The Dark Side

Duration: 2.5 hour
Exhilarating day trips from Killarney
Evidently, Killarney is the way to go if you are looking to have fun, interact with nature, and gain historical enlightenment about Ireland and Europe at large. On your next vacation, consider these top day trips from Killarney, Ireland, which offer great deals—and guarantee exhilarating experiences.
Disclosure: Trip101 selects the listings in our articles independently. Some of the listings in this article contain affiliate links.
Get Trip101 in your inbox
Unsubscribe in one click. See our privacy policy for more information on how we use your data