There is more to do in the charming town of Siem Reap than visiting the ruins of the famous temples at Angkor Wat. The city has also created a niche for itself as the unofficial tourist capital of the country. It boasts innumerable man-made and natural tourist attractions such as beautiful temples, unique museums, huge lakes, cultural theme parks, majestic mountains, and well-maintained colonial buildings. If you are a history buff, you will love the stone carvings present at Hindu and Buddhist temples in this city. Meanwhile, nature lovers can indulge in various activities such as swimming, picnicking, bird-watching, and hiking. However, there are many exciting day trips that you can embark upon from Siem Reap. Check out these best day trips from Siem Reap, Cambodia, for maximum thrill and fun with your dear ones.
This full-day tour includes a visit to the holy peak of Phnom Kulen or "Kulen Mountain." It also entails exploring the lush natural landscapes in the vicinity of Phnom Kulen National Park. Your trip will start from the city of Siem Reap. Then, you will get to see a reclining Buddha statue, which dates all the way back to the 16th century, on the mountaintop. Outdoorsy tourists will instantly fall in love with the hiking trail to Kulen Waterfall. The package is inclusive of pickup from hotels and round-trip transport.
Full-Day Phnom Kulen National Park Tour from Siem Reap

Duration: 8 hours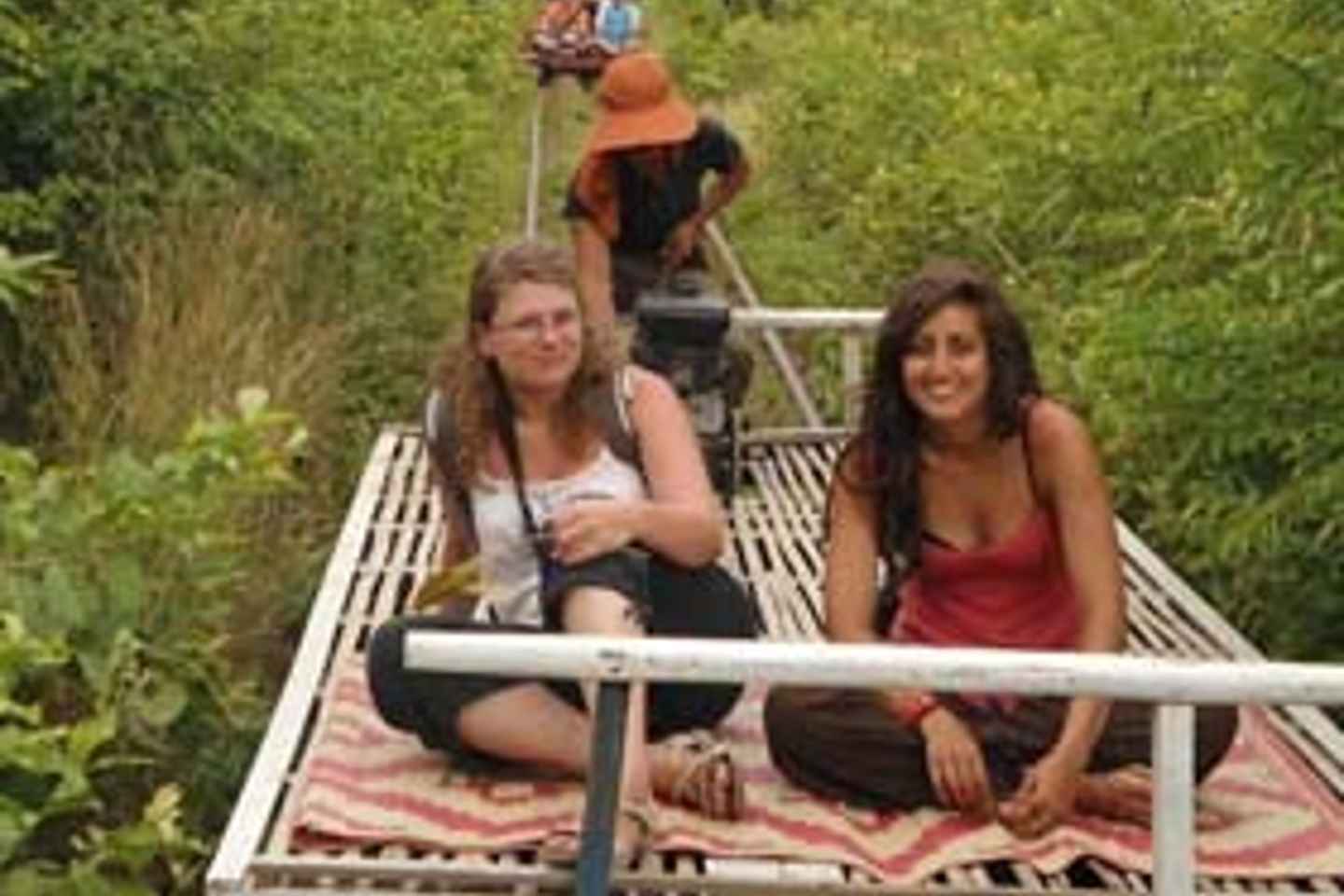 You cannot afford to miss this wonderful full-day trip from Siam Reap to Battambang province. The package includes exploring the fabulous French Colonial architecture of Battambang. There will be other highlights including a visit to peaceful temples, a chance to travel on a bamboo train through Cambodia's rice paddies, and a trip to pretty villages such as Wat Kor and Odam Bang. Additionally, you will explore the hidden limestone caves of the city where the remains of the terrible Khmer Rouge rests. When you get famished after a busy day, it is time to enjoy a delicious South-East Asian lunch to titillate your taste buds.
Battambang Private Full-Day Tour from Siem Reap

Duration: 1.0 day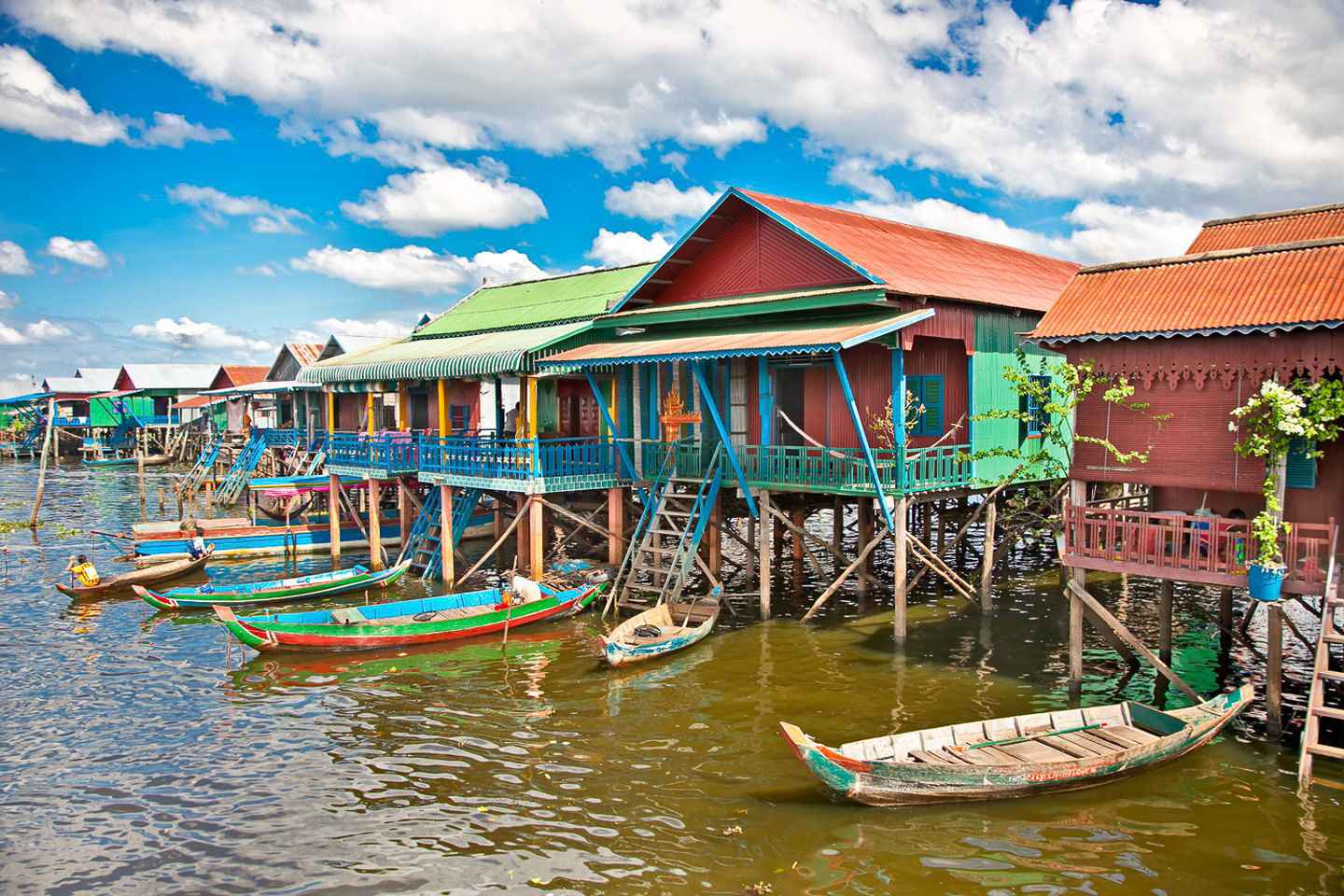 This full-day guided tour will take you to a remote fishing village called Kompong Khleang. However, your morning drive will first bring you to the beautiful Tonle Sap Lake. Then, you will be then taken to Kleng River in a private river craft. Your guide can speak English and will meet you at the hotel in Siem Reap. Then, you will go to the unique floating school of the village. Enjoy complimentary lunch and drinks at one of the local restaurants. Have a relaxing time while appreciating the tranquil natural environment. You will be dropped off at your hotel in Siem Reap after the tour ends.
Kompong Khleang Floating Village: Full-Day from Siem Reap

Duration: 6.5 hour
Your visit to Siem Reap in Cambodia will be incomplete if you do not visit the famous Angkor temples. As it is a small group tour, you will enjoy a personalized experience. It will be a divine adventure as you stand inside the iconic Angkor Wat Temple. Appreciate the architectural brilliance of Bayon Temple and explore a jungle temple called Ta Prohm. An expert guide will accompany the group to make the trip even more enjoyable. The tour also includes pickup and drop-off to your hotel.
Full-day Small-Group Angkor Wat Tour from Siem Reap

Duration: 6 to 7 hours
Do not miss this golden opportunity of getting close to Cambodia's fabulous wildlife. This full-day cruise will start from Siem Reap, and you will be sailing around the lovely Tonle Sap Lake. As the cruise continues, you will be crossing quaint stilted houses, markets, and villages. You will soon make an entry into the protected Toal Bird Sanctuary which is a haven for bird-watching. More than 150 bird species have made this sanctuary their home. The tour will also include a lunch and pickup from your hotels.
Prek Toal Bird Sanctuary Day Trip from Siem Reap

Duration: 9 hours
Some ancient temples in Siem Reap are often ignored while planning a travel itinerary. This one-day tour will make sure that you explore them in the company of a local expert guide. The guide will also accompany you while you are picked up and dropped off at your respective hotels. You will be taken to Banteay Srei Temple, which when translated signifies "The Citadel of Women." Additionally, you will get to explore other unique temples such as Preah Khan, Ta Som, and East Mebon. Don't forget to admire the intricate carvings of these fantastic buildings during your visit.
Banteay Srei Backcountry Tour in Siem Reap Philippines

Duration: 9hrsDuration
If you have not enjoyed a tuk-tuk ride before, here is a tour that will offer you this unique experience. This famous vehicle from Cambodia can accommodate up to a maximum of four people. You will travel in this iconic vehicle for around 40 km (24.9 mi) to reach Beng Mealea Temple. The temple dates back to the 12th century and is surrounded by a lush forest. Beng Mealea Temple is famous for its intriguing and charming layout and is often called the "Indiana Jones Temple."
Beng Mealea Private Tour by Tuk-Tuk in Siem Reap, Cambodia Philippines

Duration: 8hrsDuration
Welcome to this offbeat day tour where you can get close to the rich culture of Cambodia. Get introduced to the rural lifestyle during this trip, which also comprises three meals. You will also get a chance to spend some time with a few local families so that you are aware of how they live in this rural village. An expert guide will accompany you throughout the tour and explain the local customs in detail. The tour also comprises pickup and drop-off to ensure a hassle-free trip.
NhumBai, The Village Experience

Duration: 1 day
9. West Baray
Built during the Khmer rule, this huge, man-made reservoir is a must-visit when you are in the city of Siem Reap. It spans across 8 km (5 mi) and has an island in the center with a temple called West Mebon. The reservoir is an excellent spot to enjoy a boat ride or go for long walks. You may also rent a hammock and have a great picnic on the island as fresh and delicious food items are sold in multiple stalls. Alternatively, you may try swimming here. Some historians opine that it could have been a mooring site for the barges belonging to the rulers in the past.
10. Koh Ker
Koh Ker is an ancient capital of Cambodia and sits in the village of Srayong Cheung. King Jayavarman IV constructed the Koh Ker complex in the 10th century. The design of Koh Ker Temple is similar to a seven-stepped stupa. It is interesting to note that the ancient temple faces Angkor city. There are 96 temples, which have been discovered in Koh Ker, to date. However, all these temples were not in proximity to each other. Also, several of them are not standing any longer. Visit the site to get immersed in the ancient history of this beautiful country. You can arrange a private cab to reach Koh Ker. The drive from Siem Rep is pleasant and is around two and a half hours. You will ride across nice roads and can enjoy views of banana and cashew plantations along the way.
Enjoy day trips from Siem Reap
If you still have a few days left even after visiting major temples at Angkor, exploring the town, and having fun on Pub Street, there are still many things to do in this charming town as there are lots of places in proximity that can be explored. Just take your pick from these best day trips from Siem Reap, Cambodia, and enjoy a memorable getaway with your dear ones.
Disclosure: Trip101 selects the listings in our articles independently. Some of the listings in this article contain affiliate links.
Get Trip101 in your inbox
Unsubscribe in one click. See our Privacy Policy for more information on how we use your data