Cape Town is the second-most populated area in South Africa. Located along the shores of Table Bay, Cape Town has well-known landmarks such as Table Mountain and Cape Point. However, there is much more going on in this vibrant city. In 2014, the New York Times and the British Daily Telegraph ranked Cape Town as the best place in the world to visit.
In this article, there is something for everyone to explore. Be it the adrenaline junkie, the foodie, the cultural enthusiast, the nature lover or the animal seeker, there is something for you!
Take heart and go forth to explore Cape Town, the magical coastal city!
Cape Point Ostrich Farm
Established in 1996, Cape Point Ostrich Farm invites visitors to not only ride an ostrich but also to take a step into their farmland and watch professionals breed and herd these furry animals.
A mere 50 kilometers (31 miles) from Cape Town, Cape Point Ostrich Farm lies on the most scenic part of the Cape Peninsula. If you arrive early in the morning, you can partake in the breakfast and lunch options available in their very own farm style restaurant, The Hatchery.
Cape Point Ostrich Farm

Address: Plateau Rd, Cape Point. Cape Town, South Africa

Opening Hours: Mon - Sun 09:30 am - 5:30 pm, Restaurant 09:30 am - 4.30 pm. Closed on Thursdays

Duration: around 3 hours required

Access: Take route M65 south, 400 meters (1,312 feet) north of the entrance to the Cape Of Good Hope Nature Reserve (Cape Point National Park)

Contact: +27 (0) 21 7809294

Nearby Food: The Hatchery

Website: Cape Point Ostrich Farm
While there are other coastline beaches around Cape Town, none are as animal friendly and interesting as Boulders Beach in Simon's Town. With its wind-sheltered bays and shallow sandy shores, it is no wonder over 2,000 endangered African penguins have made their home here.
Although an entrance fee is required to enter the area, these little tuxedoed birds make it worth it. Feel free to experience the gentle warm ocean with a once-in-a-lifetime swimming experience. You could even be lucky to catch these black and white birds swimming with you!
Visit Boulders Beach with Viator.com, tours available
Boulders Beach

Address: 1 Kleintuin Rd, Cape Town, 7995, South Africa

Price: from 4 USD / pax

Opening Hours: December - January: 7 am to 7.30 pm, February - March: 8 am to 6.30 pm, April - September: 8 am to 5 pm, October - November: 8 am to 6.30 pm

Duration: around 2 hours required

Contact: +27 21 786 2329

Website: Boulders Beach
The Aquila Safari Lodge is a 4-star establishment in the Southern Karoo. With a 10,000-hectare (24,710-acre) conservancy, it is home to the big 5 legends of the wilderness (elephant, lion, buffalo, leopard and rhino).
At the Aquila Game Reserve, guests can complete the Big-5 experience along with seeing the additional wildlife and flora available during the game drives. Guided tours on a Land Rover bring guests into the animal kingdom, where these majestic animals roam free in their natural habitat.
With accommodation on-site, visitors can roam the reserve during the day and enjoy the magic of the resort in the evening without the need to rush back into town.
This experience is definitely not to be missed.
Visit the Aquila Game Reserve with viator.com, tours available
Aquila Game Reserve

Address: R46,, South St, Touws River, 6880, South Africa

Price: from 110 USD

Opening Hours: daily, 5 am - 11.30 pm

Duration: An entire day

Contact: 08617373783

Website: Aquila Game Reserve
Aquila Game Reserve Wildlife Safari from Cape Town

Duration: 9 hours
Pump it up, adrenaline junkies!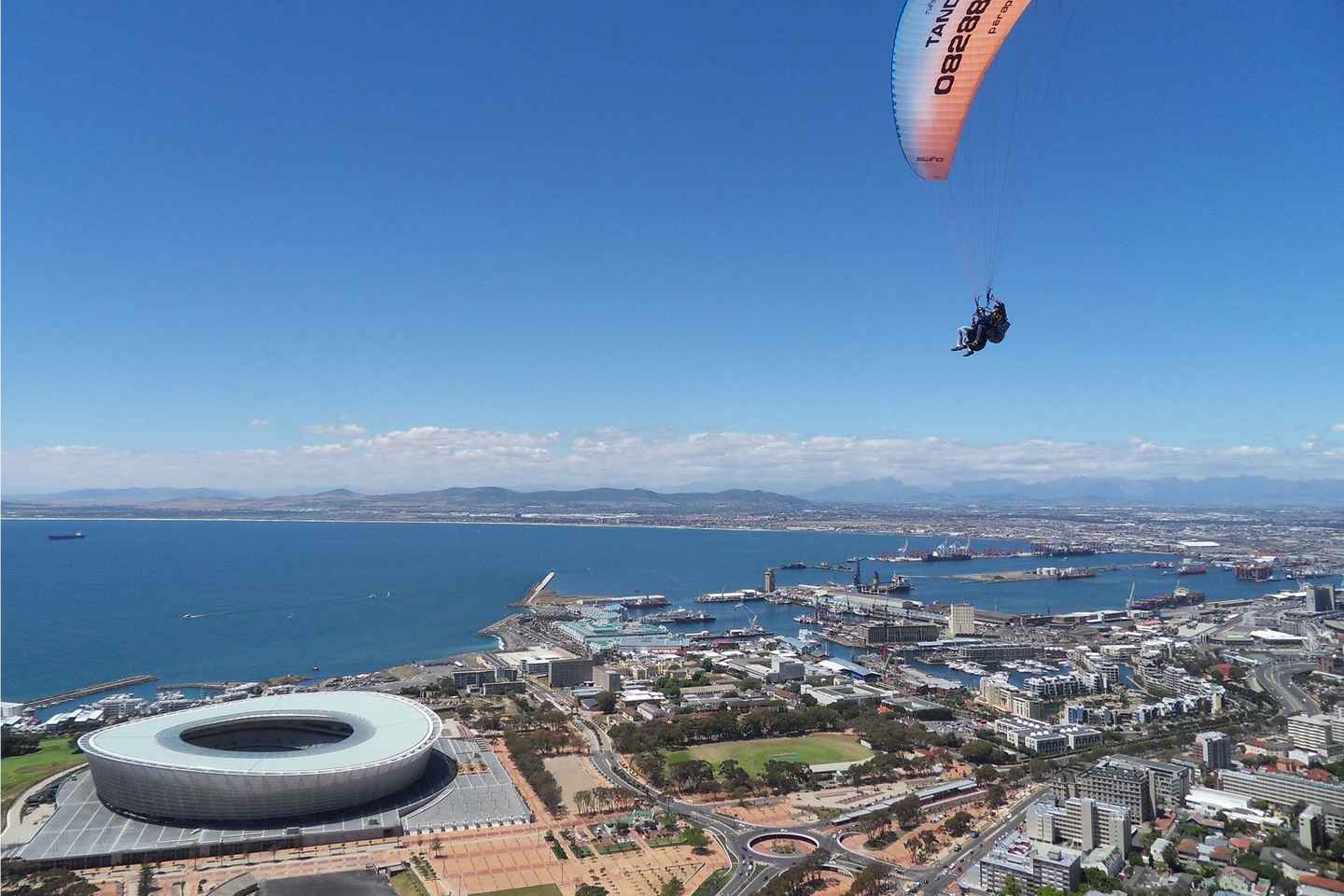 Paragliding is something you adrenaline-junkies need to do here in Cape Town. With one of the most spectacular views from either Lion's Head or Signal Hill, the stunning landscapes are just one of the few reasons you should give this a go!
Tandem Paragliding requires no experience as take-offs are guided by the instructor and landing on the large grassy fields poses little to no problem for first-timers.
So go forth travelers and tick this heart-stopping experience off your must-do list!
Hi Manu, just want to say thanks again. The whole experience was great and I believe its something that everybody needs to do at least once! All the best with your business, pray for good weather and safe flights! Matthys, Passenger
Cape Town Tandem Paragliding

Address: Signal Hill Rd, Signal Hill, Cape Town, 7925, South Africa

Price: from 76 USD

Opening Hours: daily, 7 am to 8 pm

Duration: around 2 hours

Contact: +27768922283

Website: Paraglide
Cape Town: Tandem Paragliding Experience

Duration: 1 hour
Muizenberg Beach: Surfer's Paradise
A surfer's paradise, Muizenberg is a beach-side suburb of Cape Town and is considered to be the birthplace of surfing in South Africa.
For all you surfers out there, or even beginners who wish to ride the waves for the first time, check out Muizenberg Beach and not only be wowed by the crisp waves, but also look out for the colorful bathing houses along the seafront.
Abseil off Table Mountain
A flat-topped mountain overlooking the city of Cape Town is exactly what thrill-seekers looking to abseil in a foreign country would go and head for.
As a significant tourist attraction, make this one of your to-do items when you head to Cape Town. If you are not game for such a high adventure, give the cableway a go or enjoy a hiking experience because the view is a definite thumbs up!
Take a hike: Lion's Head
This free attraction is great for locals and visitors alike. Take a hike up Lion's Head to catch the breathtaking views of the open ocean and the beaches surrounding Cape Town city.
The upper portion of the peak is covered in fynbos (indigenous cape vegetation) and rich biodiversity, nature-lovers look out for them!
If you decide to take it easy and do a slow hike, one and a half hours would be just right to reach the top. So time your visit and hopefully you can catch the sunset in the distance.
Cape of Good Hope
The Cape of Good Hope has played an important role in South African history by acting as a beacon for trading ships traveling between Europe and the colonies in the east.
Located just outside the city of Cape Town, it is a rocky promontory at the tip of the peninsula. If you're lucky you could even spot some of the penguins sunbathing along Boulders Rock, viewable from the platform of the Cape of Good Hope.
Cape Town Planetarium
Located in the same building as the South African Museum, the Planetarium is the perfect platform for cosmological adventure. Showcasing different themes, content suitable for children includes "Discovery of our solar system" and "learning about star constellations".
Look out for the permanent exhibition that displays three iron meteorites! For the hidden science-fanatic in you, this destination will bring you knowledge about nature like you've never known before.
It is definitely worth a visit!
Cape Town Planetarium

Address: 25 Queen Victoria St, Cape Town City Center, Cape Town, 8001, South Africa

Opening Hours: daily, 10 am - 5 pm

Duration: around 2 hours required

Contact: +27 21 481 3800

Website: Cape Town Planetarium
A trip to Cape Town is not complete until you sip some afternoon tea at the lush Mount Nelson Hotel. The colonial-style terrace is situated within a garden providing guests one of the most instagrammable food destinations in Cape Town.
The restaurant serves up afternoon tea inspired by the British high tea, but with a local twist to it. A seemingly never-ending buffet of cakes, tarts, scones, sandwiches, and other sweet treats is set up for customers.
Enjoy the sweets with a fruit infused beverage, or Mount Nelson's signature tea consisting of 6 different tea types and rose petals.
It's time to live the high life at Mount Nelson Hotel.
Tea at Belmond Mount Nelson Hotel

Address: 76 Orange Street, Cape Town, 8001 South Africa

Price: from 20 USD

Opening Hours: Morning Tea (9.30 am - 12 noon), Afternoon Tea (1.30 pm - 3.30 pm or 3.30 pm - 5.30 pm), Evening Tea (daily from 6.30 pm onwards)

Duration: around 1 hour required

Contact: +27 21 483 1000

Website: Belmond Mount Nelson



Mount Nelson, A Belmond Hotel, Cape Town

Address: 76 Orange Street
Accommodates: 3


Parking Restaurant Room service Meeting/banquet facilities Bar 24-hour front desk Tennis court Sauna
Vineyards in Constantia
Located at the top of the Constantia Valley, the farm falls within the Table Mountain Park. Influenced by the breeze brought by the ocean during the summer period, the grapes are slowly ripened, making them better for wine production.
Foodies can not only enjoy a variety of wine tasting sessions here but can also take in the amazing landscape of the Twelve Apostles in the distance, making it the perfect destination to sip some wine and relax.
Silvermist Vineyards

Address: Main Road, Constantia Nek, Cape Town

Opening Hours: Mon - Sun, 10.30 am to 6 pm for wine tasting and sales

Duration: approximately half a day

Contact: +27 21 794 7601

Website: Silvermist Vineyards
Fish & chips at Kalk Bay
A local delight at Kalk Bay includes the famous fish and chips from Kalky's. Situated along the beach front this outfit is renowned for its fresh fish and chips that are made from fish caught locally and in a sustainable manner.
If trying out dishes like a local is your kind of thing, give this joint a go! It gets crowded around meal times so don't forget to make a reservation to avoid disappointment.
Kalky's Fish & Chips

Address: Kalk Bay, Peninsula, South Africa

Contact: +27 21 788 1726

Website: Kalky's Fish & Chips
For the cultural enthusiasts
St. George's Cathedral, Cape Town
Famous for its role in the resistance against apartheid, St. George's is the oldest cathedral in the entire country of South Africa and also the mother church of the Anglican Diocese of Cape Town.
Known to locals as 'the people's cathedral', this heritage site is open to all.
This architectural gem, tucked in the heart of metropolitan Cape Town, has an active congregation that contributes to the broader Cape Town community. Visit this site to experience the breathtaking Victorian-era design complete with stained glass windows and a crypt that has been converted to an underground jazz bar.
Nearby, visit the Slave Lodge and learn about the introduction of human rights in South Africa.
St. Georges Cathedral

Address: 5 Wale Street, Cape Town, 8001, South Africa

Price: Admission is free

Opening Hours: Monday - Friday (8 am - 5 pm), Saturday (8 am - 12 noon)

Duration: 1 hour (recommended time to explore this site)

Contact: +27 21 424 7360

Website: St. Georges Cathedral
Take a trip back in history through South Africa's tough past with a visit to central Cape Town and Robben Island, where Nelson Mandela spent 18 of his 27 years in prison.
The District Six Museum is a memory of the troubling history of apartheid in South Africa and is a symbol of the system that still, to this day, impacts the modern life in towns like Khayelitsha, Langa, and Gugulethu.
Tours with Viator.com are available
Cape Malay Cultural Tour
Cape Malay is a town in South Africa and it is also representative of an ethnic group or community.
With its rich culture and religious traditions, the people and environment are symbolic of the modern Cape Town. Visit the colorful Bo-Kaap neighborhood, an Instagram paradise as well as a symbolic sign of cultural blending between the colonial and immigrant cultures.
Finish off your day here with a traditional South African meal in a private home, one of the best ways to truly say you've explored and experienced Cape Town. Now that you have read through the entire list of things you can do in Cape Town, give this amazing city a go because you know the list does not end here!
Disclosure: Trip101 selects the listings in our articles independently. Some of the listings in this article contain affiliate links.
Get Trip101 in your inbox
Unsubscribe in one click. See our privacy policy for more information on how we use your data