Be introduced to the various stunning Canadian landscapes from coast to coast with an exhilarating virtual flight during a visit to Vancouver's Canada Place. Try out CN's Tour's adrenaline-pumping Edgewalk experience created for thrillseekers to indulge in the most daring climbing adventure for spectacular city views of Toronto. Learn about Canadian history during a visit to Ottawa's Parliament buildings and perhaps have a chance encounter with Canadian Prime Minister Justin Trudeau while taking selfies in front of Peace Tower. Please check out the following list of the top famous buildings in Canada to visit or capture during your vacation to any of Canada's beautifully, unique provinces. Don't forget to check out the top green hotels and Airbnb vacation rentals for your accommodation needs.
1. Gooderham Building
Hop on the subway while visiting Toronto to catch a glimpse of the historic red-brick Gooderham Building or Flatiron Building. After strolling through the nearby St. Lawrence Market district, where you'll find many things to buy, wander over to admire Toronto's most photographed historic structure designed by David Roberts, Jr. The stunning red-brick Gothic masterpiece constructed in 1891 once housed the offices of the Gooderham family and was known for its famous distillery. Drop by to admire its rear mural, mint green conical tower accent, and narrow wedge-shape jutting out from surrounding modern skyscrapers.
Gooderham Building

Address: 49 Wellington Street E, Toronto, ON M5E 1C9

Website: Gooderham Building

Opening hours: 24 hours (daily)

Price: Free
Experience Quebec City's famous landmark, Fairmont Le Château Frontenac, through a guided tour which showcases the beautiful interior of the iconic castle. Learn about the historical figures who once called the stunning castle home through a guide dressed in period costume. Admire the luxurious decor of rooms accented in brocade walls, dark wood furnishings, and glittering chandeliers. Get a glimpse of daily life in this beautiful historic castle which has undergone renovations in recent years.
Quebec City: Guided Visit of Fairmont Le Château Frontenac

Duration: 1 hour
3. CN Tower
Take a speedy ride up the elevator of Toronto's 553.3 mile-high (890 kilometres) concrete observation and communications tower one of the things Canada is famous for. Enjoy sweeping panoramic views of downtown Toronto and pristine Lake Ontario. For the daring at heart, wander over to walk across the plexiglass floor before ascending to the top of the tower by a means of the skypod. Thrillseekers can experience the ultimate adrenaline-pumping adventure by being tethered with safety ropes as they climb along the tower's exterior.
CN Tower

Address: 290 Bremner Boulevard, Toronto, ON M5V 3L9

Website: CN Tower

Opening hours: 9am - 10:30pm (daily)

Price: From 53 USD (includes Edgewalk Experience)
4. The Bow
While in Calgary, make certain to visit its stunning 236 metres (774 foot) modern glass architectural gem, The Bow. The steel atria feature stretches the full height of the tower to provide the building with an innovative way of heating and cooling. The Bow provides office workers of Encana Corporation and Cenovus Energy with unobstructed panoramic views of Calgary's downtown skyline and the snowcapped Rocky Mountains. There is no need to turn on the heat or air conditioning with Calgary's well-known sudden weather changes as the building's bow-shaped features create a comfortable climate for all to enjoy.
The Bow

Address: 500 Centre Street S, Calgary, AB T2G 0E3

Website: The Bow

Opening hours: Sun: 5am - 8pm, Mon - Fri: 6am - 9pm, Sat: 8am - 4:30pm

Price: Free
5. Habitat 67
Sign up for a guided tour of Montreal's architectural gem to admire its unique design concept. This residential property seems futuristic with its 354 grey-beige modules stacked on top of one another. Be sure to be on time as no latecomers will be allowed to join the group once the tour has commenced. Sadly those with mobility issues won't be able to see the suspended terraces, skylights, and interiors up close since there are stairs to ascend.
Habitat 67

Address: 2600 Avenue Pierre-Dupuy, Montréal, QC H3C 3R6

Website: Habitat 67

Opening hours: English tours: May 1 - Oct 31, 2020: 10:30am, 2pm, French tours: May 1- October 31, 2020: 9:30am, 1pm

Price: 23 USD
6. Peace Tower
The Peace Tower is the crowning jewel of Ottawa's Parliament buildings and doesn't require admission to visit. During the evenings the focal bell and clock tower are illuminated during an amazing light show featuring pivotal Canadian figures. If you'd like to sign up for a tour at the information centre to wander the halls of the Parliament buildings, guides can provide an in-depth history lesson about the Peace Tower. Make certain to check Parliament's website to ensure that the day you visit, the buildings are open to the public since they close throughout the year.
Peace Tower

Address: 111 Wellington Street, Ottawa, ON K1A 0A6

Website: Peace Tower

Price: Free
While visiting beautiful Banff National Park, take time to wander through the stunning coffee marble lobby accented with bedazzling chandeliers and an exposed rock wall at Fairmont Banff Springs. Indulge in rejuvenating spa treatments or head out onto the green for a relaxing game of golf. Enjoy world-class dining while taking in panoramic views of the pristine lakes, dense coniferous forest, and the breathtaking Rocky Mountains. Take a soothing shower in the Carrera marble shower before tucking into your fluffy feather duvet for the night.



Fairmont Banff Springs

Address: 405 Spray Avenue
Accommodates: 4


Parking Restaurant Pets allowed Room service Meeting/banquet facilities Bar 24-hour front desk Tennis court
8. Science World at TELUS World of Science
Let your little scientists loose to experiment and innovate at the many interesting exhibits located in this Expo '86 historical landmark. Enjoy coming together to view one of the spectacular Imax movies featured on the massive big screen. Hop aboard the skytrain's Expoline to learn about faraway galaxies, lush jungle rainforests, and amazing wildlife. Join one of the many interesting workshops alongside other creative minds during your visit to Vancouver's intriguing Science World.
Science World at TELUS World of Science

Address: 1455 Quebec Street, Vancouver, BC V6A 3Z7

Website: Science World at TELUS World of Science

Opening hours: Mon - Fri: 10 am - 5pm; Sat - Sun: 10am - 6pm

Price: 13 - 19 USD
9. Canada Place
Take the Canada Line to Waterfront Station or wander over to Canada Place on foot while exploring Vancouver's vibrant downtown. Watch as the seaplanes take off over False Creek while taking enjoying stunning views of the coastal mountains. Take a selfie with the breaching killer whale monument before heading over to Cactus Club for Happy Hour on the waterfront. Soar over Canada's prestigious landmarks during your FlyOver Canada virtual flight which will introduce you to Canada's maritime, prairie, and mountainous landscapes.
Canada Place

Address: 999 Canada Place, Vancouver, BC V6C 3T4

Website: Canada Place

Opening hours: 7:30am - 10pm (daily)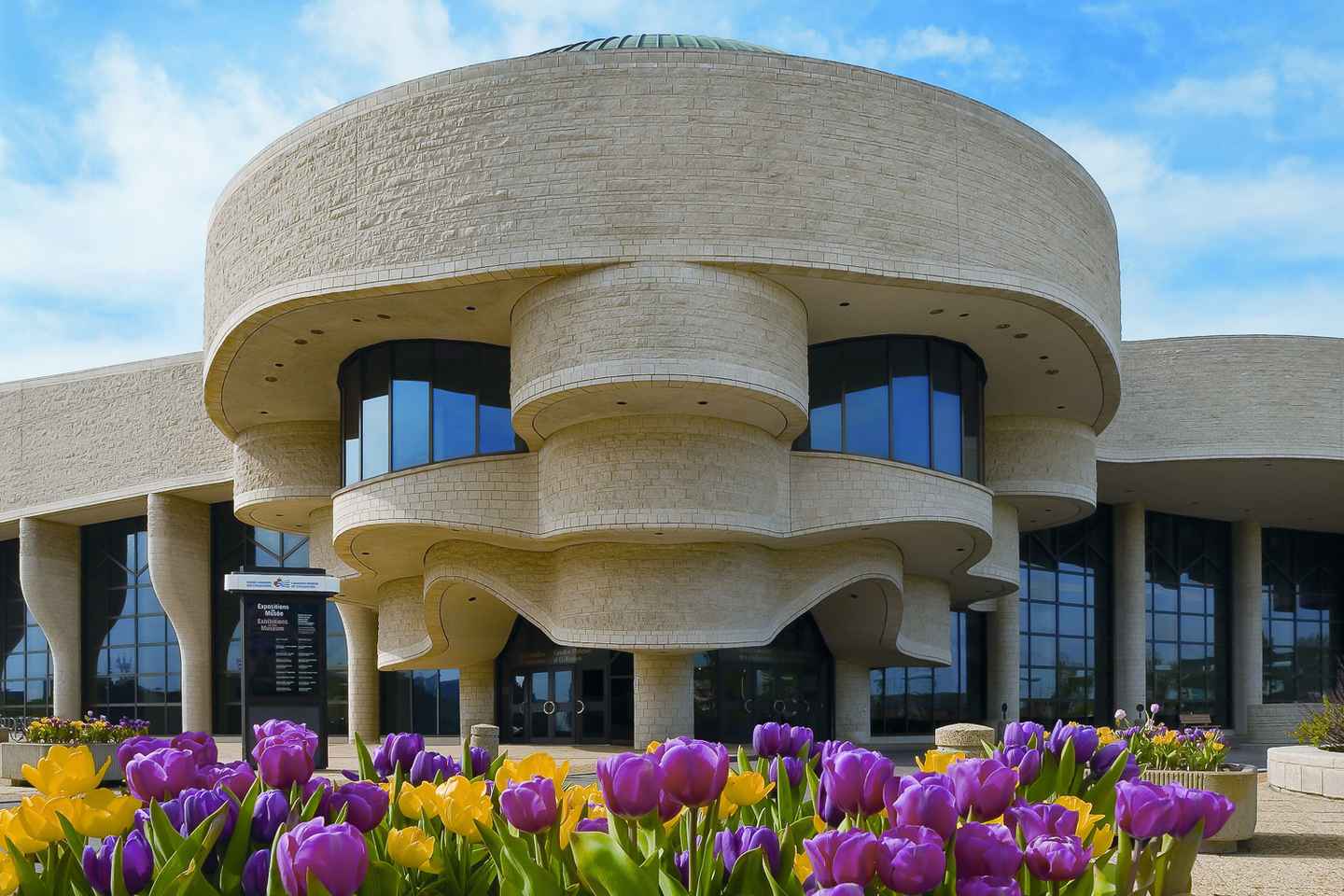 Why don't you skip the theme parks just this time and take your kids to the Canadian Museum of History instead? Here you can learn about Canadian history by exploring the permanent exhibitions, housing such curiosities as cedar totem poles and canoes created by western Canada's Haida people. Enjoy an exciting educational experience with a film at CINE before checking out the Canadian History Hall to learn about pivotal figures in Canadian history. Be educated about Canada's First Peoples through special exhibits showcasing daily life and cultural items. Delight in travelling the world through arts, culture, and history by participating in immersive activities at the Children's Museum.
Gatineau: Canadian Museum of History Admission
Visit Canada's innovative landmarks
During a visit to the Great North, make certain to schedule in time to visit noteworthy buildings. Upon admiring some of the most innovative architecture spread throughout Canada's provinces, make plans to return to see more captivating architectural gems along with Canada's famous great outdoors.
To make the most of your vacation, consider staying in one of the camper rentals or themed hotels in Canada.
Disclosure: Trip101 selects the listings in our articles independently. Some of the listings in this article contain affiliate links.
Get Trip101 in your inbox
Unsubscribe in one click. See our privacy policy for more information on how we use your data