If you've ever visited the beautiful country of Canada, then it will come as little surprise that this magnificent country delights and amazes in equal measure. What is Canada known for, you ask? Canada is famed for its stunning vistas, friendly people, and vibrant culture - bringing flocks of visitors time and again. But how much do you really know about this stunningly vast country? The Canadian Rockies and its "must-see" cities are on all any seasoned traveler's "to-do" list, but there's so much more besides that. Read on to discover some of the best things Canada is famous for. You might just want to pack your bags, book one of the best Airbnbs in Canada, or stay in one of the best glamping spots in the area and take that much-needed vacation in The Great White North.
1. Craft beer
Aside from maple syrup, another Canadian product that's been making noise around the world is the country's craft beer industry. Especially in the past few years, craft beer making in Canada has seen a huge leap as there are literally thousands of small to medium breweries popping up from across the country with local consumption continually going up in percentages. Because of the country's constantly growing craft beer brewing popularity, well-known brands like Labatt, Sleeman, and Molson were even acquired by huge multinational companies.
So if ever you find yourself vacationing in Canada one of these days, we highly recommend trying out the best craft beers in the Great White North!
2. Lakes
As the second largest country in the world, Canada is blessed with so many beautiful natural sceneries that attract millions of visitors from all over the world. One of the country's top tourist draws is, of course, its magnificent lakes, which Canada is in abundance of. In fact, the country has the world's largest amount of freshwater lakes with more than 2 million!
Some of the most popular Canadian lakes that you should check out include Lake Louise in Alberta, Garibaldi Lake in British Columbia, Lake Superior in Ontario, and Lake Memphremagog in Quebec.
3. Famous entertainers
From Hollywood A-listers like Ryan Reynolds, Ryan Gosling, Rachel McAdams and Jim Carrey to world-class vocalists like Celine Dion and pop royalty like Justin Bieber, Canada has produced some of the planet's biggest names in entertainment. Even the captain of the Starship Enterprise, none other than William Shatner himself, is a Canadian. For a country whose population is only one-ninth the size of its next-door neighbor to the south, it certainly punches well above its weight when it comes to 'boldly-going' forth and conquering popular culture.
World famous, and for very good reason, the stunning Niagara Falls are a true must-see for anyone visiting the Lake Ontario area during their Canadian stay. These impressive walls of water that is, in reality, three separate waterfalls, the American, the Bridal Veil, and the Horseshoe - straddle the Canadian-US border. And, while they can be viewed from the US side as well, it is from Canada that the best vantage point can be obtained - as it offers an unbroken vista of all three falls. The Canadian side is also home to the Skylon Tower, which lets you tuck into some tasty food from its revolving restaurant while enjoying a majestic elevated view of these ribbons of water. But, for arguably the most impressive view of all, head aboard one of the Maids of the Mist boat tours which ply the turbulent waters at the Falls' base. There's no finer way to experience the sheer power of this force of nature than getting up close to the curtains of water.
Rainbow Tour of Niagara Falls from Canada

Duration: 4 hours
5. Politeness
What is Canada known for internationally? Well, it may be something of a cliche, but the Canadians' reputation for politeness has a lot of truth to it. Of course, Canada isn't the only nation known for its strong sense of social etiquette, but the character of its people for sheer 'niceness' is world-famous for a good reason. News stories, where one Canadian has carried out a random act of kindness for a total stranger, are not uncommon in the press. There are even tales where thieves have returned their ill-gotten goods complete with a note explaining just how sorry they are. Thieves with a conscience, now that's polite!
If you're not sure about what to buy in Canda, then let me give you a hint: If there's one product Canada is perhaps most famous for producing, it's maple syrup. It's so Canadian a maple leaf even adorns the country's flag (more on that later). And there's a good reason for its fame. What breakfast isn't improved by a liberal coating of this devilishly tempting treat? When pancakes first met maple syrup it was a breakfast marriage made in heaven. And that's not forgetting its delightful use on everything from traditional foods to waffles and French toast to porridge. And, oh boy, has it proven profitable. Canada is today responsible for producing more than two-thirds of the global supply, generating nearly half a billion Canadian dollars each year. That's a LOT of maple syrup!
Sugar Shack (Feb to May) Maple Syrup Private Day Tour with lunch from Montreal

Duration: 4 to 5 hours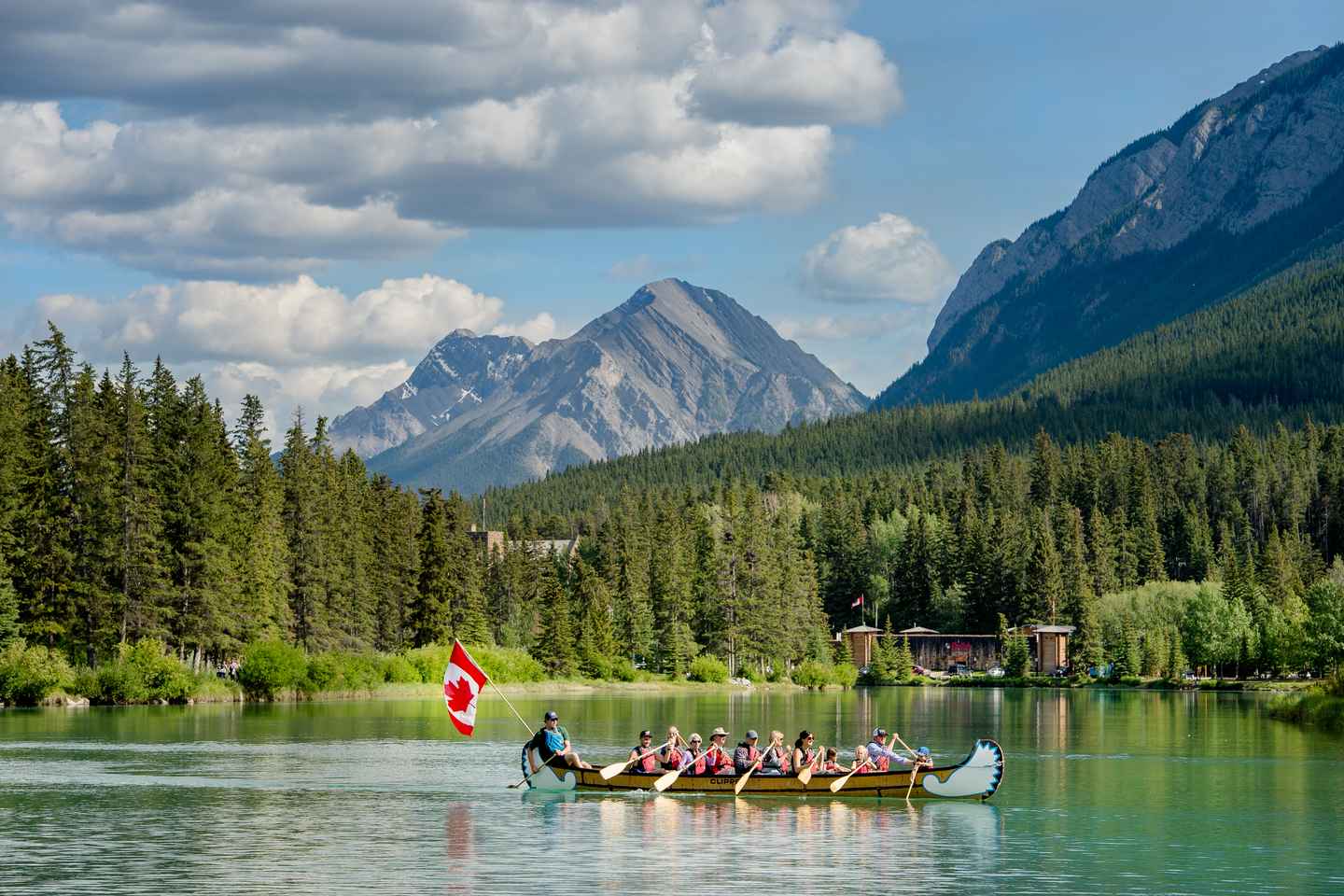 From the jaw-dropping peaks of the Rockies to the stunning coastlines of Vancouver and Nova Scotia, there are so many beautiful landscapes and nature attractions in Canada. There's a reason it is home to many UNESCO sites. You could spend a lifetime exploring this vast country and still barely scratch the surface. There are so many wonderful ways in which to experience its picture postcard vistas - from orca watching boat tours on the west coast, to trans-continental rail journeys that will generate memories to last a lifetime. And let's not forget the landscapes of the Great Lakes and the aforementioned Niagara Falls.
Banff: Wildlife on the Bow River Big Canoe Tour

Duration: 1.5 hour
Ice hockey is one of the most famous things in Canada, and this national sport isn't so much a pastime as it is a way of life. Indeed it runs so deeply through the veins of every Canuck that the sport and Canadian identity are intimately entwined - and the national team's fortunes at major international competitions really fire the collective imagination. Indeed, it is so popular that it is played year round and enjoys high participation levels across the generations and among all corners of society. But whatever you do, DON'T call it 'ice' hockey - it's simply hockey as far as Canadians are concerned.
Hockey Hall of Fame Admission Ticket

Duration: 2 hours
This stunning tower - which was once the tallest freestanding structure in the world - rises a dizzying 553.3 meters (1,815.3 feet) above Toronto, and is the highlight of this must-see city's already impressive skyline. It welcomes more than two million visitors each year, who are ferried up to the lofty heights of its observation decks by an elevator that can travel at speeds of up to 15 miles per hour (22 kph). Once there, the brave can walk across specially toughened glass to really experience the vertigo-inducing drop below - complete with memento photo keepsake. And, for the truly intrepid there's the EdgeWalk, which sees people don safety harnesses and then walk on the roof of the main observation deck. Dare you follow the guide's urging and lean back for the ultimate thrill-seeking selfie? Of course, there are those who prefer to look towards the horizon, rather than gaze at the ground below. The views across the city to the other skyscrapers and out across Lake Ontario towards the beautiful Toronto Islands are also memorable highlights of any visit.
The CN Tower
10. The national flag
The maple leaf silhouette and red and white vertical stripes of Canada's national flag are an instantly recognizable symbol of this impressive country. But would you be surprised to learn that it's a relatively recent creation? Canada's national flag used to be the 'red ensign' - a predominately red banner, with the Canadian coat of arms in the lower right corner and the British Union Flag (or Union Jack) in the top left. Indeed, the country continued to use the ensign even after it gained its independence in 1931. The current flag was not adopted until 1965, making it little more than 50 years old. And despite the fierce political debate which accompanied its birth, the flag swiftly won the hearts of the Canadian people - so much so that, when its 50th birthday was marked, the then Governor General, David Johnston, said Canadians "simply cannot imagine our country without it".
11. Marijuana
While this may, at first glance, seem an unusual entry - there can be little doubt about the impact of Canada's recent decision to legalize marijuana for recreational use. Although the first legal sales were only conducted as recently as October 2018, the roots of this decision stem back as far as 2001 when Canada first allowed the medicinal use of the drug. And it has generated considerable publicity around the world - with reams of column inches dedicated to this news story, and pro and anti-marijuana advocates alike all sitting up and taking notice. 'Back home' it has so far proven a very popular move among Canadians themselves. Indeed, one in every eight Canadians were thought to have partaken this drug within the first month of its legalization - and widespread shortages were reported as producers struggled to keep up with the demand.
12. Northern Lights
The famous Northern Lights, also known as Aurora Borealis, is an amazingly natural sky display of bright lights. It can be seen in many places, and Canada is one of them. Usually seen between October to March, tourists come all the way from across the globe to be able to witness this magnificent wonder at least once in their lifetime. If you are ever in the area or are planning to visit, this is definitely a sight you should witness. These lights will surely make you appreciate Earth's natural beauty.
13. Snow and ice
While people love visiting Canada during the summer holidays, it's no surprise that Canada is more popular for its cold weather. More than half of Canada is typically covered with snow for more than half a year. Tourists who come from hotter parts of the world love to visit Canada to witness snow and ice accumulate on the streets and atop the mountainous regions of the country. If you intend to visit during the winter, do bring your favorite coat and enjoy the very cold weather in Canada.
14. Moose
Living mostly in forests near the lakes and streams, moose can be found in nearly all parts of Canada. These magnificent creatures are known for their large size and amazingly unique antlers. Famous as well for their wild nature, some people like to go hunting for moose when the place permits it. Beware though, as they are known to be one of the most dangerous animals in Canada, especially when provoked and threatened.
15. Royal Canadian Mounted Police
The members of Royal Canadian Mounted Police, or Mounties as they call it, are responsible for several duties that concern Canada's national security. However, they are not only known for that. To promote the force, an event known as Musical Ride takes place annually, wherein RCMP members show their skills in horse handling. The event is typically held from May to October, so if you are planning a visit, try not to miss this entertaining show.
For a dish as famous as Poutine, it may surprise you to find out that its origin was as recent as the mid-20th century. It first emerged in Quebec and is the result of combining fries with cheese curds and gravy. Poutine is a specialty of Canada and is their national dish. It has even enjoyed wide popularity around the world, and it can now be found in a number of countries. Indeed, the love that people feel towards this dish has resulted in special annual celebrations in a number of Canadian cities - notably Montreal, Quebec City, Ottawa, and Toronto. Its influence just across the border has also seen similar events pop up in Chicago and New Hampshire. Will you be the next to give it a go?
Poutine & Smoked Meat Tour in Montreal

Duration: 2 hours 30 minutes
What are you waiting for?
Canada is utterly chock-full of amazing sights, sounds, and people. Discover what Canadians are known for. The Great White North is waitng, when will you pay it a visit?
Disclosure: Trip101 selects the listings in our articles independently. Some of the listings in this article contain affiliate links.
Get Trip101 in your inbox
Unsubscribe in one click. See our privacy policy for more information on how we use your data