What comes to your mind when you think about some of the most iconic structures in the world? Taj Mahal, Leaning Tower of Pisa, Empire State Building; pretty much everyone would think of these. But not many would really think or even hear about the modern architectures in Malaysia. Although Malaysia is jammed between other touristy countries like Indonesia, Thailand, and Singapore, this country is much quieter, serene and less touristy, with its own enthralling sites to offer. From the mesmerizing Petronas Twin Towers to the New Sarawak State Legislative Building, here are just some of the famous buildings in Kuala Lumpur, Malaysia. If you also don't know where to stay in Kuala Lumpur just yet, check out the hotels with rooftop pools!
1. Petronas Twin Towers
The sky is the limit for this Kuala Lumpur famous building. Petronas Twin Towers is one of the most reputable and must-see landmarks of Malaysia. And, it holds itself a spot as the world's tallest twin buildings, with its height towering to 452 meters (1482 feet). Standing tall as a beacon to one of the marvelous structures in the world, the architectural design of the Petronas Twin Towers is inspired by the Islamic culture. The 88-story twin-scrapers are connected by the legendary sky bridge that acts as a support system, which keeps the twins from swaying side to side during ghastly winds.
There are some notable tourist attractions like Petronas concert hall and the Science Museum that draws in global travelers. Other than acting like a tendon between the twin towers, the sky bridge also offers amazing views that overlook the entire city and the adrenalin that pumps up while walking from one twin to another.
Petronas Twin Towers

Address: Concourse Level, Petronas Twin Tower, Lower Ground, 50088, Wilayah Persekutuan Kuala Lumpur, Malaysia

Website: Petronas Twin Towers

Opening hours: 9 am to 7 pm, daily. Fridays, closed from 1 pm to 2.30 pm.

Price: MYR 84.40 (20 USD) for adults and MYR 31.80 (7 USD) for children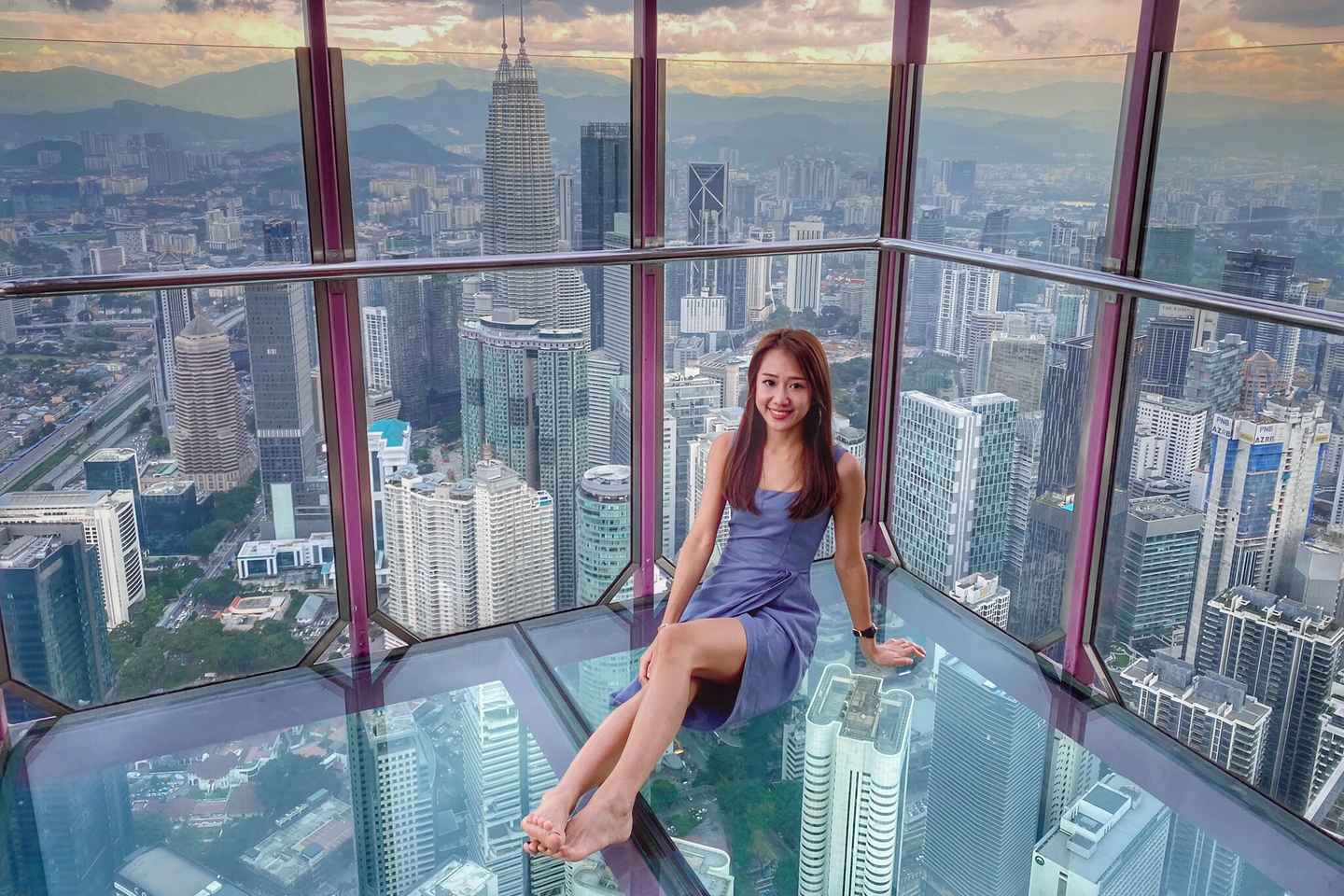 Not to be confused with the Twin Towers, Menara Kuala Lumpur has its own reputation as the seventh tallest free-standing structure and also the seventh tallest communication minaret in the world. Being the second tallest structure in Asia, the famous dome is inspired by Iranian culture and it is also home to the Atmosphere 360 – an elevated restaurant that rotates above the observatory deck, which is open to the public. Menara, one of the tallest buildings in Kuala Lumpur, is also known as pit-stop and marker in Amazing Race Asia, season 1.
Menara Kuala Lumpur Tower

Address: No. 2 Jalan Punchak, Off, Jalan P Ramlee, Kuala Lumpur, 50250 Kuala Lumpur, Malaysia

Website: Menara Kuala Lumpur Tower

Opening hours:9 am – 10 pm daily.

Price:MYR 99 (24 USD) for adults and MYR 52 (12 USD) for a child
Kuala Lumpur: KL Tower Admission Ticket
3. New Sarawak State Legislative Assembly Building
It might not be the place to visit but, it's definitely a place where you must get a really good look at. The umbrella-shaped architecture and roof on the outside will surely leave you mesmerized.
New Sarawak State Legislative Assembly Building

Address: New Sarawak State Legislative Assembly Building, Petra Jaya, 93050 Kuching, Sarawak, Malaysia
4. Istana Budaya
Istana Budaya is famously known for its cultural arts and theatre in Malaysia. The look-alike of Sydney Opera House, this cultural palace forms a feature of an origami, bound to the Malaysian tradition; it is segmented like a village house of Kampung. Numerous philharmonic and theatrical acts have been hosted to this day due to the royal furnishings of a world-class opera stage.
Istana Budaya

Address: Jalan Tun Razak, Titiwangsa, 50694 Kuala Lumpur, Wilayah Persekutuan Kuala Lumpur, Malaysia

Website: Istana Budaya
5. Crystal Mosque
Crystal Mosque holds its pride for being one of the most unique mosques in the world. Located at the Islamic Heritage Park in Kuala Terengganu, the mosque is completely made of steel and glass and it is notable for its views early in the morning or while the sun is setting to create a perfect ambiance. The mosque is easily accessible by boat or taxi.
Crystal Mosque

Address: Pulau Wan Man, 21000 Kuala Terengganu, Terengganu, Malaysia

Website: Crystal Mosque
6. Khoo Kongsi
One of the all-time famous historic attractions, Khoo Kongsi of Penang stands as a testament to the reigning presence of the Chinese clan house in Malaysia. Keeping most of its original form of the architecture, Khoo Kongsi temple is an embellished structure that will leave everyone awe-struck. There are many other structures still on the grounds of Khoo Kongsi such as traditional theatre and 19th-century houses. This Kuala Lumpur architecture still has an old-worldly charm attached to it as it is surrounded by houses associated with the pre-war era, near the old town of Canon Square. The Khoo clan rebuilt this current building when they were known for their wealth in Penang society after it was burnt down in the 1890s.
Leong San Tong Khoo Kongsi

Address: 18, Cannon Square, George Town, 10450 George Town, Pulau Pinang, Malaysia

Website: Leong San Tong Khoo Kongsi
7. St. George's Church
The East India Company built the oldest and the most renowned church in Southeast Asia, during the 19th-century. The architecture of the church is an epitome of three characteristics: Neo-classical, Georgian and English Palladian. Being declared as one of the 50 national treasures of Malaysia, this church displays alluring oil paintings hanging on the walls and it also has Doric columns.  
St. George's Anglican Church

Address: 1, Lebuh Farquhar, George Town, 10200 George Town, Pulau Pinang, Malaysia

Website: St. George's Anglican Church
8. Cheng Hoon Teng
The oldest functioning Chinese temple, Cheng Hoon Teng still follows the Feng Shui system and follows Taoism, Confucianism, and Buddhism: the three major Doctrinal Systems. Offering several rooms to pray to different gods, the temple boasts of the craftsmanship of Guangdong and Fujian. Unlike other temples, they use dragons to depict gods, instead of placing images or idols of gods. Representing the beauty of Chinese architecture, it showcases curved roofs and gable design.
Cheng Hoon Teng

Address: 25, Jalan Tokong, Kampung Dua, 75200 Melaka, Malaysia

Website: Cheng Hoon Teng
Architecturally renowned buildings
The list of the most architecturally renowned buildings doesn't end here. There are many other famous landmarks and historical sites in Malaysia like the Leaning Tower of Teluk Intan, Kuan Yin Temple, Snake Temple, Malacca Sultanate Palace, Kellie's Castle, Baba and Nyonya Heritage, and many more. Malaysia is known for its rich heritage and culture and it has plenty of grounds to explore, giving you a chance to find delightful things to do in every corner.
While you're here, do check out the best homestays and other vacation rentals as well for your accommodation needs.
Disclosure: Trip101 selects the listings in our articles independently. Some of the listings in this article contain affiliate links.
Get Trip101 in your inbox
Unsubscribe in one click. See our privacy policy for more information on how we use your data