Layovers are truly a blessing in disguise. After all, you get to top up your tour with another excursion and when that is going to be the popular city of freedom, surely no one would complain. Just make sure you have your itinerary in hand. Amsterdam is a 'layover paradise' with Schiphol Airport being just 15 minutes away from the city center, so all you need is some decent rest before you land. You can do a dazzling DIY layover in Amsterdam with the following handy information:
Sort your luggage before going for a day out
Once you arrive at Amsterdam Schiphol Airport, you should first get your luggage sorted. Normally the luggage is checked through to your next destination in case of layovers but you need to factor in spare time if you are to collect, store, and re-check bags. There are numerous luggage lockers available at the airport, with some being at -1 Basement level between arrival 1 and 2. It costs 6 to 11 EUR (6.70 to 12.30 USD) for 24 hours.
Airport Guide

Website: Amsterdam Schiphol Airport
The train ride to Amsterdam Central Station takes 15 minutes from the airport, but the time to get done with the airport depends on the runaway you land at. In case of the Polderbaan, which is the farthest runway among the five the airport has, the estimated time to reach the gate can be between ten to fifteen minutes. Following passport control, luggage, and customs, you are all set to explore the incredible city with nearly 7,000 monuments. The public transit options to the city include bus and train, whereas private transit choices are taxi and car rentals. Trains are known to be the quickest and most reliable mode of transportation, as taxis and cars take much longer due to traffic on the roads. They are also a more expensive option. There is the option by train of a day-return ticket for 8.40 EUR (9.40 USD) (according to 2016 pricing) plus 1 EUR (1.10 USD) surcharge for a one-use ticket. For more details on buses and trains, check links on Bus 197 Airport Express Website and Netherlands Railways.
Information on trains

Website: Train Travel

Information on buses

Website: Bus Services

Taxi2Airport

Taxi2Airport is the easiest and most reliable way to get to and from the airport. Through secure online payments, you can book your airport transfers in advance, saving up to 35% on your journey.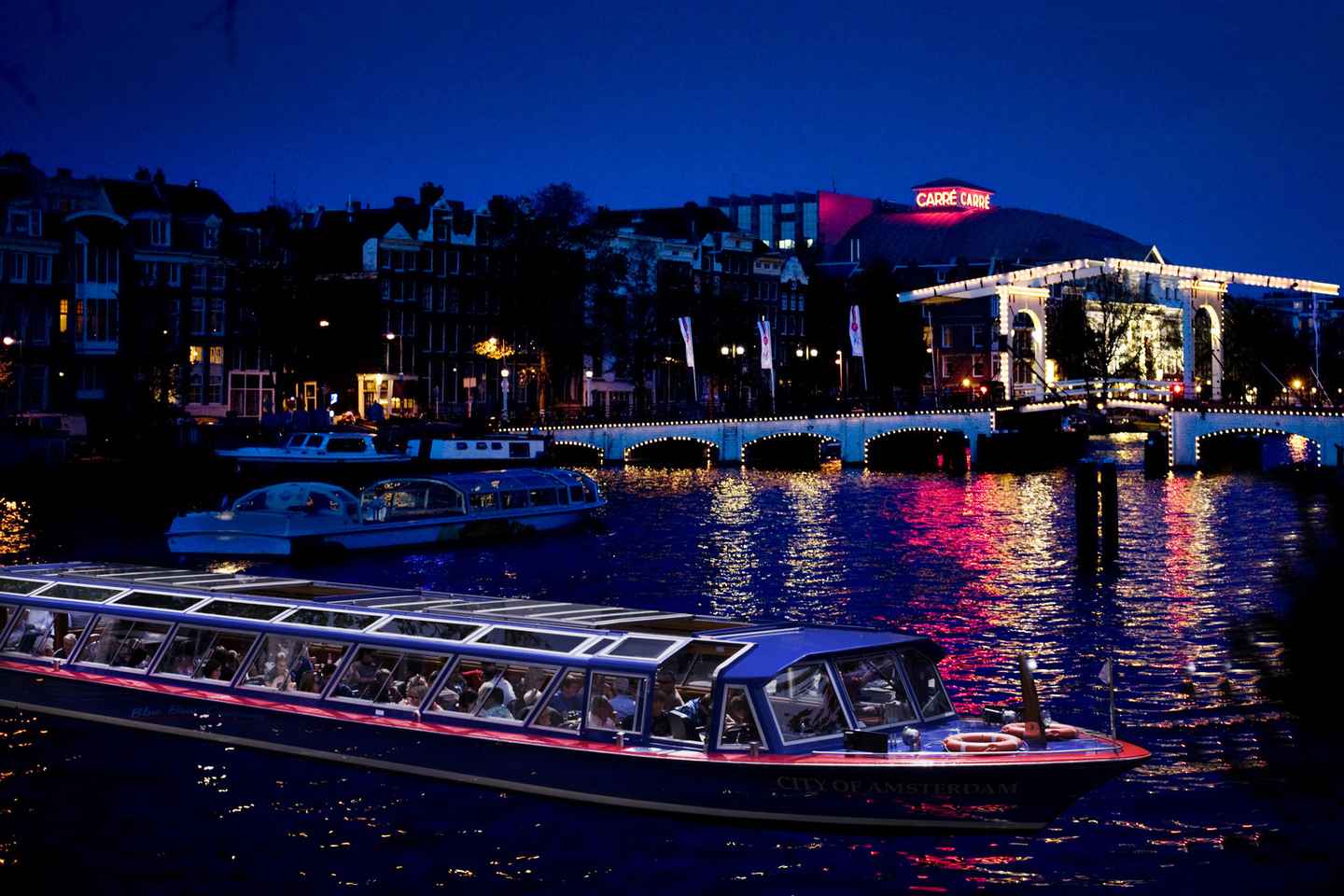 Once you reach the city center, begin with the most suitable option of a canal cruise for your first glimpse into this idiosyncratic city of over 2,000 canals. Bookings for the cruise can be done across the street at the tourist office just in front of the train station. Said to be built in 1275, this city sits below sea level and was once just a fishing village. The canal cruises last for one hour if you don't hop off when it docks for different sights. There are a several companies that run these tours from the central station and they cost between 10 and 13 EUR (11.20 to 14.60 USD). For those on a very short layover, this is the simplest way to get from place to place and have a look at all the famed sites like the Rijksmuseum, the Van Gough Museum, Rembrandt House, and Anne Frank House.
Amsterdam: 1.5-Hour Evening Canal Cruise

Duration: 1.5 hour
Amsterdam is a city that is supposed to have a million bicycles in comparison to 700,000 Amster-damers, which apparently makes the bike tours a popular medium to explore. Both guided and self-guided options for bike tours are available for different time durations. Pick the one that fits your schedule and swing by the canals, cafes, tulip fields, and the quaint nooks and corners of the city. It is always lovely to ride a bike but if you have less than an hour, it is preferable to skip this option as you won't be able to totally revel in the joys of biking.
Amsterdam City Bike Tour

Price: from 28.39 USD

Duration: around 3 hours required
Amsterdam City Bike Tour

Duration: 3 hours
Coffee? Drinks? Once you finish your wonderful canal cruise, bike tour, or both, take a break! And leaving the town without trying the delicious cheese, pancakes, Dutch coffee, or traditional snacks like plus fried bitterballen or raw herring is not a mistake you want to make. Small appetizers can be found in any of the brown cafes that can easily be spotted along the path to Westerkerk. Leidseplein is another place you can opt to visit if it is the evening as this place is popular for Amsterdam's nightlife. It's also, however, fantastic during the daytime as it houses some great restaurants and cafes. There is the option of trams in that area if you want to experiment with another form of public transport.
Cuisine of Amsterdam Tours

Price: From 12.54 USD

Shopping Shuttle to Batavia Stad Fashion Outlet from Amsterdam

Price: from 17.05 USD
Yes, this is where the prostitutes flirt with passersby in their red-lit windows, but it's also the oldest and most historic neighborhood in Amsterdam. The canals in this area are particularly gorgeous and there are a couple of famous churches and frequent outdoor markets here. It's also a residential neighborhood so there is no reason to feel embarrassed passing through. Many types of tours are offered, with different time durations and a varying number of people, about the history of the neighborhood.
Amsterdam Old Town and Red Light District Walking Tour with Optional Dutch Dinner

Price: from 26.69 USD

Duration: around 2 hours required
In case you are resolute on visiting museums, be aware that these are generally not quick and simple to visit within a few hours. That said, you can still check them off your bucket list if you are in city for five hours, not counting the hours that would be required to go back to the city center station and then to the airport. Rijksmuseum, Van Gogh Museum, and the Anne Frank House are some of the most eminent museums among the many fabulous ones that Amsterdam is proud to have. However, the queues at the Van Gogh Museum and Anne Frank House start to form early so, when visiting museums, make it a point to be there right at the time they open, or purchase tickets online before your layover. Also, there may not be enough time to enjoy all three so be sure to prioritize.
I amsterdam Card - City Pass for Amsterdam

Price: from 62.46 USD

Amsterdam Museum Entrance Ticket

Price: from 14.20 USD
I amsterdam Card - City Pass for Amsterdam

Duration: 1 to 4 days
Once your watch shows that it is time to head back, take a train to Amsterdam Central. You can find a list of the next departing trains to Schipho Airport. These run approximately 10 times per hour from platforms 10, 13, 14, or 15. There is an hourly night train service and the daytime trains operate between 6 am and 12.30 am.
Amsterdam Airport Private Departure Transfer

Duration: 30 to 45 minutes
Revel in the glory that is Amsterdam
"Some tourists think Amsterdam is a city of sin, but in truth it is a city of freedom. And in freedom, most people find sin."
Amsterdam is known as an infamous city that offers unique experiences. It is a place that makes us ponder our prejudices because it is beyond stereotypes. And that makes it special. Enjoy your time in this captivating wonderland. Have a happy layover!

Disclosure: Trip101 selects the listings in our articles independently. Some of the listings in this article contain affiliate links.
Get Trip101 in your inbox
Unsubscribe in one click. See our privacy policy for more information on how we use your data