Amsterdam, the capital of the Netherlands, was named after the river Amstel wherein the city was built. Da Wallen is one of the oldest and most-visited neighborhoods in the city because of the famous Red Light District. This is said to be the place for all the fun and a happening nightlife. You can expect live sex shows, head shops, night clubs, and so much more. Since prostitution is legal in the Netherlands, there are quite a number of one-room cabins rented by prostitutes who advertise themselves through red-lit windows, thus, the place is called Red Light District. However, the city might be famous for prostitution you should know that there is so much more you can see and enjoy here such as the restaurants, coffee shops, houses, museums, churches, so on and so forth. There are plenty of places to stay as well, including hotels and Airbnb houseboats. We've prepared the things to do, places to eat, travel tips, and more in this guide to Red Light District, Amsterdam.
Things to do
Check out the museums
The Red Light District, one of the things Amsterdam is famous for, has a number of museums most often visited by tourists. If you're curious about anything on the history of cannabis, one must visit Hash Marihuana & Hemp Museum where you'll learn more about it there. To know more about how prostitution is done at the Red Light District you could visit Red Light Secrets, it is known to be the only museum of prostitution in the world. In the Red Light Secrets museum, you'll understand the history of prostitution and understand what it's like for the window workers. Last but not the least, another must-visit museum is Erotic Museum wherein you'll see a number of exhibits solely about the Red Light District.
Visit the Catholic Church Amstelkring
Amstelkring was preserved since the 1700s and you'll notice how people took care of the church because of the beautiful furniture and breathtaking art collection it still has. Amidst the Protestantism in 1578, Catholics would hide here since it's located inside multiple canal houses where people can't find them. The rich history and its architectural structure is one that will definitely capture your interest.
Tour all church-turned-museums
Oude Kerk is the oldest building in Amsterdam which was built in 1305. Inside, you'll get to know more about the history of the church, admire a contemporary art display, or even listen to a classical music concert.
Another church to visit is Onze Lieve Heer op Zolder also known as the Our Lord in the Attic which was built in 1663 in a canal house that belonged to a rich man. Previously, a space wherein mass was celebrated privately in the 17th century - this church turned into a museum of religious freedom.
What to eat
Omelegg
Home for perfectly cooked eggs, Omelegg is the best go-to place for an all-day breakfast of your choice. They cook eggs in almost every way possible - just say how you want your eggs cooked and they'll make it possible. People often get the Greek Wedding omelette that consists of feta cheese, onion, tomato, olives, chives, and oregano. It's overwhelming and exciting to see the number of variations you can bring to your omelette.
Van Kerkwijk
This cafe and restaurant is a tourist favorite that serves a variety of cuisine depending on the season. The nice thing about this cafe and restaurant is you'll always get a different dish every day because the menu changes depending on the availability of the fresh ingredients. When you're here at Van Kerkwijk, it would be nice to always try something new.
What to buy
It's always nice to get your family and friends a souvenir to remember the place you visited and Hempstory is where you can buy cool gifts to give away. There are a lot of unique and creative souvenirs that use hemp in jewelry, clothing, bags, coffee, and snacks. The aesthetic of the place is also hip and bright wherein you can take nice photographs. You'll find plenty of cool things to buy in Amsterdam.
Travelers tips
Do not drink in public
If you choose to drink alcohol please do drink in designated areas such as indoors and in bars to avoid getting into trouble. Drinking in public is restricted by the government and can cost you about 95 EUR (108 USD) if caught by the police. You can have fun but have fun responsibly.
Do not take photographs of women
Taking pictures of women is not allowed here. This is also to pay respect to the women who can be identified on your photographs. Don't worry, the best memories are in your head as they say.
Keep an eye for pickpockets
Due to the number of people who visit the Red Light District, it is important that you keep your belongings and valuables close to you to avoid any pickpockets.
Do not buy illegal drugs
Drugs such as cannabis are illegal in Amsterdam, so do not engage in buying any here. You are only allowed to buy 0.18 ounces, and any amount more than this could get you in trouble. Be safe and don't buy drugs.
How to get there
Take the bus
From Station Baarn, walk to Baarn Roosterbos. Afterward, wait for bus 70, ride to Hilversum Arenapark, then take bus 320 to Amsterdam Hugo De Vrieslaan, ride bus 65 to Amsterdam C. Van Eesterenlaan, and lastly take bus 48 to Amsterdam Prins Hendrikkade and start walking towards the Red Light District.
Ride the metro
Start at Amstelveen and walk to Amsterdam, Amstelveenseweg, from there wait for metro 51 at the Centraal Station and ride to Amsterdam Nieuwmarkt and alight at Nieuwmarkt. Then start walking towards the district.
Catch a train
If you choose to ride the train, wait at Station Baarn, ride to Amsterdam Centraal Station and alight at City Center/Metro/Trams. Afterward, start walking towards the district.
Red Light District information
Red Light District, Amsterdam

Address: De Wallen, Amsterdam, Netherlands

Department of tourism: Visit Amsterdam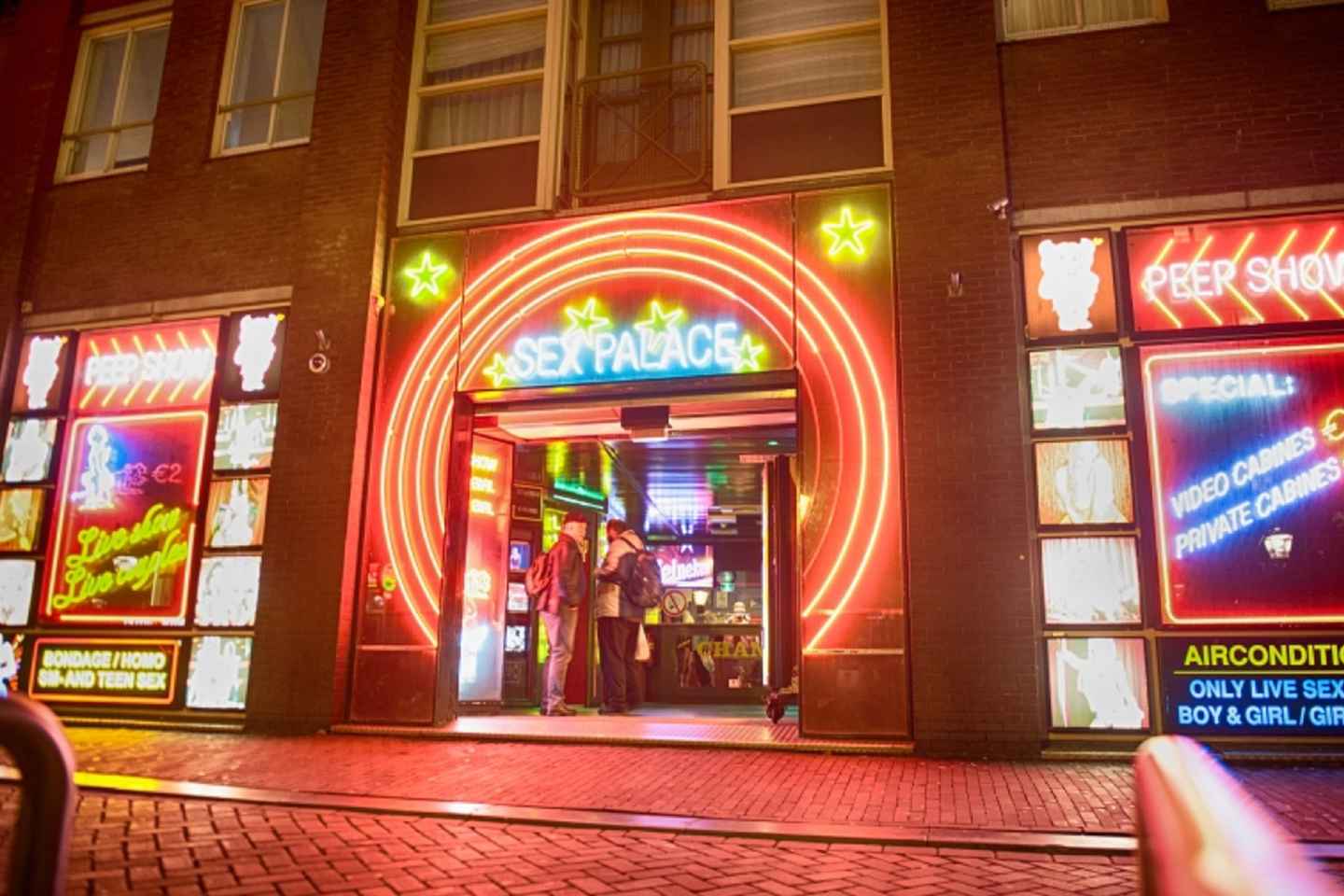 Amsterdam Red Light District & Coffee Shop Tour

Duration: 2 hour
Disclosure: Trip101 selects the listings in our articles independently. Some of the listings in this article contain affiliate links.
Get Trip101 in your inbox
Unsubscribe in one click. See our privacy policy for more information on how we use your data