Perched on the magnificent shores of the Baie des Anges and being the fifth-largest city in France, Nice, is a romantic and vibrant city that serves as the capital of the loveable Alpes-Maritimes department on the French Riviera. This gracious city is not only renowned for its enchanting streets and all-year-round beautiful sunshine, but it's also famed for amazing cultures, eye-popping coastal features, stunning art, and above all, a romantic vibe. Whether you prefer hotels with rooftop pools or hotels with private beaches, Nice has a number of options to choose from. Adventure-seekers, honeymooners, and vacationers come here to embrace the gifts of nature as they explore a variety of stunning attractions. For an epic getaway, check out the list of best romantic things to do in Nice, France.
1. Enjoy a romantic afternoon at Promenade Des Anglais
Found on the southeast coast of France, on the turquoise Mediterranean Sea, is a breathtaking promenade sprawling about 7 km (4.35 miles) – the Promenade des Anglais. Apart from being one of the main attractions in the city, it's also one of the most popular and revered boulevards in the country and a romantic place to visit in Nice. Water sports enthusiasts, thrill seekers, and honeymooners come here to enjoy the warm romantic coastal vibe as they admire the breathtaking views of the Alps, right from its foot. You'll find beautiful restaurants, vibrant bars, and ice cream stalls, where you can treat your loved one with some French delicacies.
Promenade Des Anglais

Address: Nice, France
2. Have a splendid time at Castle Hill
Travel back in time to the 11th century with you better half as you uncover beautiful history about the charming city of Nice at the Castle Hill. Perched on top of a hill, about 92 meters (301.84 ft) high, this beautiful landmark was first built as a military fortress, but today it serves as a tourist attraction. If you're an adventure seeker or a new couple looking for a lovely, enchanting place to enjoy a quiet romantic getaway, this is the place. With a splendid waterfall and panoramic views of the city and its surroundings, you get to enjoy some beautiful moments.
Castle of Nice

Address: 06300 Nice, France
3. Take a romantic tour of Nice Old Port
Discover one of the hidden gems in Nice that serve as one of the major attraction of tourists in the country – the Old Port of Nice. Also referred to as Port Lympia, this is one of the places in Nice where you can enjoy romantic moments as you enjoy the vibrant, romantic vibe of the city. With beautifully decorated walkways, you'll be able to catch some splendid views. Step back in history as you tour the Napoleon Bonaparte Street, which once used to be his tenement house. The port is a hub for fishermen and is paraded with boats, ferries and cruise ships.
Old Port of Nice

Address: 06300 Nice, France
4. Enjoy romantic lunch at Castel Plage
Located at the furthest point of Promenade des Anglais, on the Quai des Etats Unis, is the enchanting Castel Plage – a romantic beachfront restaurant popular with vacationers and honeymooners. This restaurant boasts a vast pristine beach, where you can relax and enjoy the fresh breeze from the sea as you sip on a glass of wine. Preserve a table for two and enjoy a treat of mouthwatering French delicacies in a relaxed, romantic atmosphere. Their menu comprises of several colorful finger-licking options and a variety of refreshing drinks that will leave your taste glands tingling. The catering staff is very courteous.
Castel Plage

Address: 8 Quai des États-Unis, 06300 Nice, France

Website: Castel Plage

Opening hours: 9am - 7pm (daily)
5. Enjoy dinner and drinks accompanied by sea views at La Reserve
Looking for cute and romantic things to do with your loved one for your date around the city of Nice? The lovely La Reserve would be the best option for you to enjoy unforgettable memories with your better half. Located on Boulevard Franck Pilatte, this is one of the most popular and luxurious hotels anchored on the seafront and boasting eye-catching views of the port of Nice. The restaurant has a wonderful ambiance, and a nice charming décor. Enjoy splendid Mediterranean cuisine while being soothed by the sound of the waves. There's a rooftop bar that comes with nice drinks and musical evenings.
La Réserve

Address: 60 Boulevard Franck Pilatte, 06300 Nice, France

Website: La Réserve

Opening hours: 12:25pm - 2pm, 7:15pm - 10pm (daily)
Are you a perfume person or a vendor who runs a boutique that sells perfumes? While still enjoying your romantic getaway in Nice, you may want to make a stop at Molinard Nice, a popular perfume store/workshop locates on Rue Saint-Francois de Paule. Enjoy a first-hand experience of why French perfumes are adored so much. This tour will give you the opportunity to learn the process of perfume crafting. By interacting with expert mixologist at the workshop, you'll be able to identify what different fragrances, bases, and oils are needed to produce high-quality, sweet-scented perfumes. Surprise your loved one with a gift of perfume and try out this unique date night idea in Nice.
Molinard Perfume Workshop in Nice

Duration: 1 hour
Enjoy a romantic time with your better half away from the chaos and pollution of the city as you explore the eye-popping scenery along the charming Mediterranean coast on a lovely cruise boat. Begin your adventure at the Port of Nice and continue your sightseeing around Cap de Nice, where you'll get a glimpse of the breathtaking and mind-bending Citadelle. See how beautifully the small villages are perched on the hill, providing a splendid view of the magnificent Promenade des Anglais. While still enjoying your calm, romantic cruise, you'll get to learn about the rich French Riviera's history and astonishing culture.
French Riviera Sightseeing Cruise from Nice

Duration: 1 hour
8. Explore the Roman remains at Cimiez
Located in an ancient lovely neighborhood known as Cimiez in Nice, you'll find ruins of the ancient Roman town, Cemenelum. This is one of the iconic landmarks and main tourist attraction sites in Nice that is popular for its smart tree-lined streets. It also features the 16th-century Cimiez Monastry, the Matisse Museum, and the Cimiez cemetery, where some of the most famous French artists have been laid to rest. There's a lovely amphitheater that is worth checking, Roman baths and an arena. Apart from sightseeing, this is also a nice place to come with your loved one for a romantic picnic.
Cimiez

Address: Nice, France
Enjoy an exciting dining experience when you take your spouse for a romantic dinner right on top of the magnificent Nice hills. Hosted by the lively and courteous Marie-Christine, guests get to dine in a charming environment surrounded by gorgeous olive trees and features spectacular views of the mighty Mediterranean. The dinner is prepared using homegrown ingredients and spices for the freshest and tastiest flavors. You'll be treated to a three-course, finger-licking meal and three glasses of the best French wine for each person. Their exciting menu comprises of Farcis Nicois, special French cake, toast with socca or French goat cheese.
Garden-Fresh Dinner with a View of Nice

Duration: 4 hours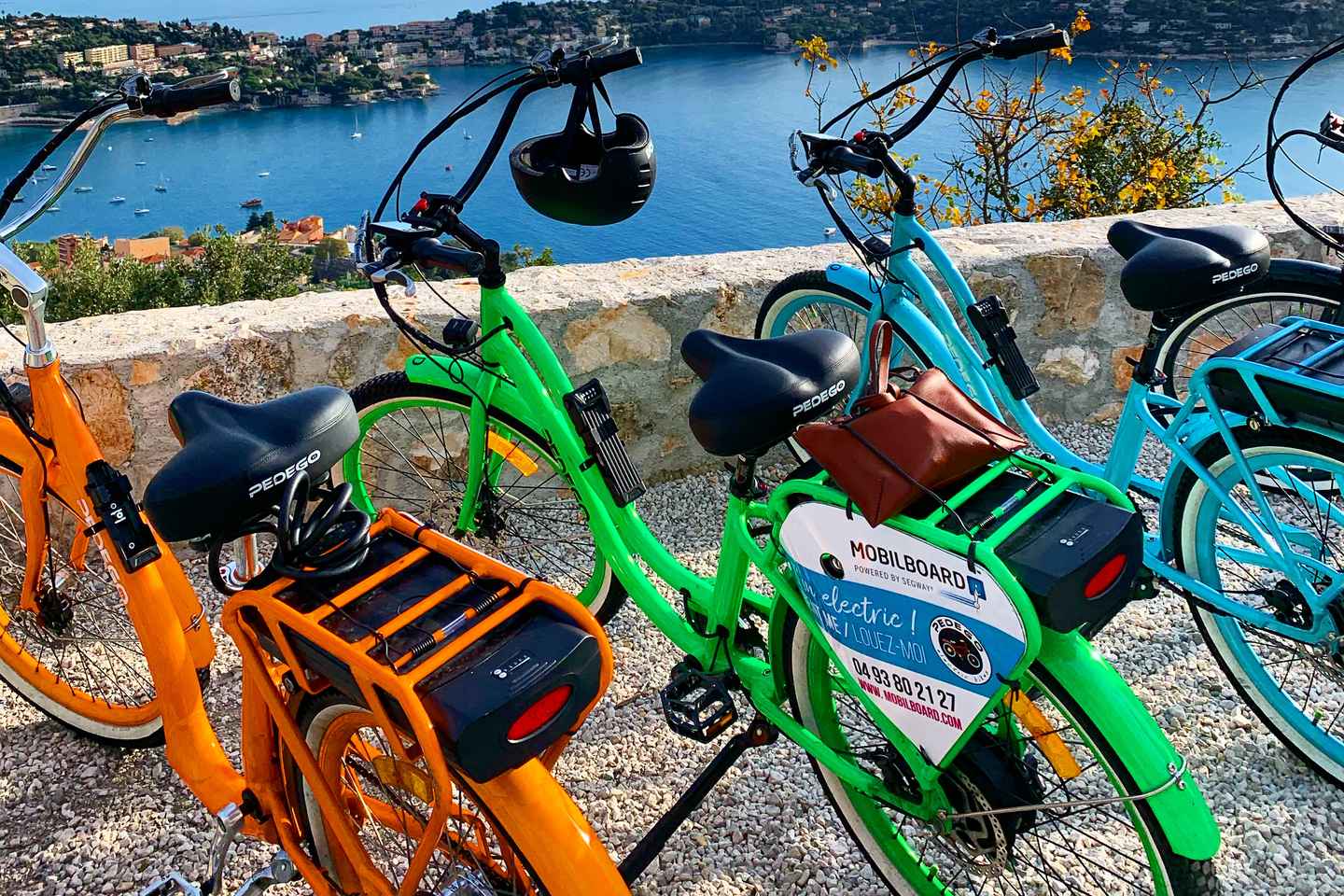 Explore the scenic Promenade des Anglais on a guided bike tour. This activity includes stops at Quai de Rauba Capeu and Villefranche-sur-Mer, where you'll find plenty of photo opportunities. E-bikes and helmets are included, of course, and in case the weather turns, you'll also be provided with raincoats. Bring some water and a fully charged camera, and be prepared for the 3.5-hour-long tour! Nothing says romantic like a commemorative photo with your significant other and the French Riviera in the background.
Nice: Panoramic French Riviera E-Bike Tour

Duration: 3.5 hour
Want a unique and handmade souvenir from your romantic getaway in Nice? Join an art class and paint each other's portraits! This Airbnb Experience is hosted by Maija, a former art teacher in Paris. This activity is only two hours long, and you'll learn techniques in painting and drawing. If you're already an artist, this is a chance to practice your craft on vacation and maybe get your partner hooked on it too. Just bring a sketchpad and an old shirt you don't mind getting dirty or paint-splattered.
Draw and Paint in an Artist's Studio

Duration: 2 hours
12. See a piece of Russia in Nice
Situated on Avenue Nicolas II, the historic St Nicholas Russian Orthodox Cathedral may be a French national monument, but it's a piece of Russia in France. The cathedral was funded by Nicholas II to commemorate the heir apparent Nicholas Alexandrovich, who died in Nice. Built in the Russian Revival style, this is a structure worth visiting, especially for those who've never been to Russia or seen this architectural style in person before. Don't forget to snap a photo together with your loved one in front of its impressive facade.
St Nicholas Russian Orthodox Cathedral

Address: Avenue Nicolas II, 06000 Nice, France

Website: St Nicholas Russian Orthodox Cathedral

Opening hours: Mon - Fri: 10am - 6pm; Sat: 10am - 5pm; Sun: 12pm - 6pm
13. View Belle Époque artifacts at Villa Masséna Musée
Step back in time and witness the accomplishments of the Belle Époque period, a time in history when France flourished economically and artistically. From the 1800s up to the beginning of World War I, this was considered the country's "Golden Age", especially since the years that followed were so bleak and full of strife. Villa Masséna Musée's exterior is as striking as its contents, built in Neoclassical and Italianate styles. Inside, you'll find period furniture, a beautiful garden, old photographs, various artifacts, and paintings, among others. If you and your partner are fans of history and art, add this to your itinierary.
Villa Masséna Musée

Address: 65, rue de France 06000 Nice

Website: Villa Masséna Musée

Opening hours: Wed - Mon: 11am - 6pm (closed on Tue)

Price: 2.43 - 7.29 USD (2 - 6 EUR)
If you're in Nice for just a few days, this tour is a great way to discover as many of the best restaurants and shops as possible. This 3.5-hour-long Airbnb Experience is hosted by a team of food enthusiasts, including chefs and food bloggers so you're in good hands. Couples eager to taste and drink the best that Nice has to offer should definitely sign up. Expect a bevy of delicious cheeses, chocolates, and wines. If you've never tried Niçoise cuisine, now's your chance!
Evening Food and Wine Tour in Nice

Duration: 3.5 hours
Found in the attractive city of Nice, Le Vieux Nice or the Old Nice, is an enchanting ancient village that acts as a hub for both tourists and locals, to experience the different exciting cultures. Named "the Old Man" by the local community, this beautiful village is known for its eye-popping architecture and the romantically spellbinding facades that bring out the undeniable charm of this village. As you enjoy a romantic stroll along the tranquil streets, you'll be mesmerized by the exquisite use of brick and stone in the architecture of most buildings. You can take pictures to preserve these beautiful memories.
Vieux Nice (Old Town Nice)

Duration: 3 hours
Enjoy the romantic vibe of the Mediterranean
For couples looking to enjoy a special romantic getaway in a secluded place, with amazing weather and a plethora of mind-blowing and breathtaking attractions, there's no better place than Nice, France. Boasting a spectacular Mediterranean coastline with pristine beaches and charming views of Nice hills, you'll definitely enjoy the best romantic experience.
Disclosure: Trip101 selects the listings in our articles independently. Some of the listings in this article contain affiliate links.
Get Trip101 in your inbox
Unsubscribe in one click. See our privacy policy for more information on how we use your data