Bali is an ideal destination for family holidays, in fact, it can easily be referred to as a paradise for holidaying with kids. Not only are the hotels kid friendly with a host of facilities and offers, but almost all the attractions on the island are also children "friendly", which is a big plus with parents as well. Every favorite activity, from surfing to other activities at the beach, adventure sports like trekking and rafting, elephant rides and animal feeding at the Bali Zoo and Marine Park, the various theme parks, and cultural performances, everything makes a family's day out in Bali fun and entertaining.
Waterbom Park Bali is a one-stop leisure capital of Bali and has been built to perfection with lush landscapes and a vast selection of rides. There are plenty of options for anyone looking for that action packed special getaway.
There are 12 slides from mellow to extreme thrill factors to suit all ages and tastes. Few popular ones include:
• The Flow Rider Double, the first on the island. It's a five-foot stationary wave where 2 riders can surf at the same time either on a lay-down board or a stand-up board.
• The Water Blaster where you can aim and fire the water balloons using catapults at the challenger.
• Euro Bungy - Kids are strapped onto elastic ropes and catapulted up to 9 meters into the sky.
• You can drift along in a tube raft in the Lazy River through lush tropical foliage and cascade waterfalls.
Other amenities include locker rooms to store your valuables, towel rentals choice of dining outlets, a swim-up bar and Gazebos on hire for you to relax and unwind after a hectic session of rides. They also have a cashless payment system, using a wristband called "SPLASH BAND." It stores credit information, and whenever a guest wishes to make any transaction, they just need to get it scanned. Even lockers can be operated with the splash bands.
All the slides and rides are built and maintained according to international safety standards. Besides, the staff too is well-trained staff to watch over guests especially kids.
Waterbom Park Bali has adapted eco-friendly practices using advanced salt chlorination water sanitizing technique which is soft on the skin too. It is also an Earth Check Silver Benchmarked company for the environmentally sustainable operational it practices.
For that one-stop destination for which gives you 100% fun and complete peace of mind concerning safety, Waterbom is the place to be.
Waterbom Bali Admission Ticket

Duration: 1 Day(s) Duration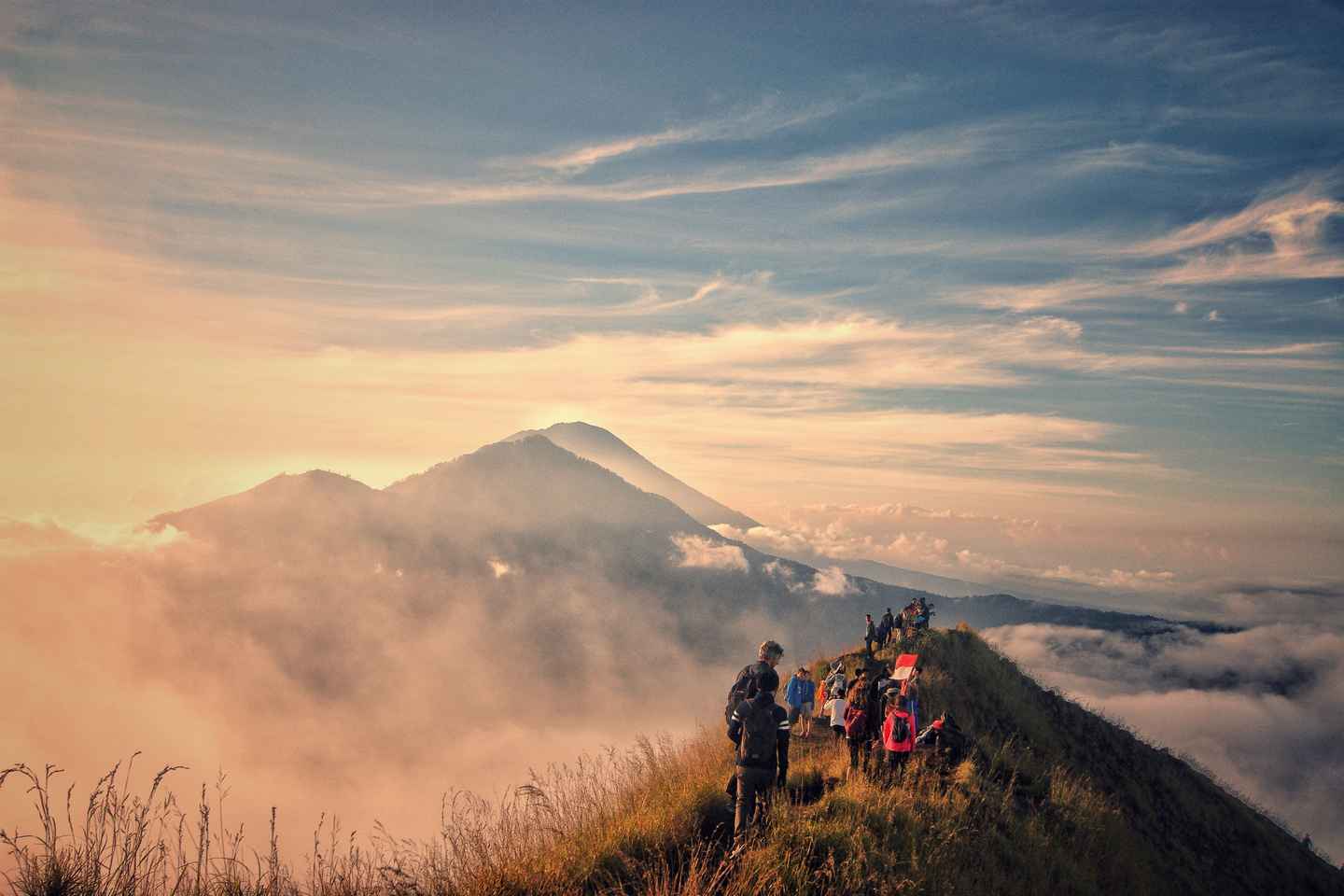 Mount Batur is an active volcano located in Batur village, in Indonesia. Popular among tourists both as a point to view a glorious sunrise from the top of an active volcano as well as for the fantastic trek on the volcano. Located at a height of 1717 metres above sea level, Mount Batur is also considered as a sacred mountain according to Hindu beliefs.
The trek begins at the starting point of Toyabungkah village. It 's nice to start the trek early if you wish to view the sunrise from the top of the mountain. It takes about 2 to 2.5 hours of trekking in the cool, early morning darkness to reach the summit of Mount Batur. Enjoy the sight of the rising sun and the stunning morning views of the surrounding crater and lake. Continue with your trek around the entire crater and then start the trek downhill towards Toyabungkah village.
There are 2 different kinds of treks offered depending on the level of fitness of trekkers. The Trek to Sunrise Point is a relatively easy trek while the Long Trek is for experienced mountaineers and has some vertiginous sections.
On the way home from the trek you may stop at a Traditional Bali Coffee Processing to see how Balinese coffee is made using very traditional processes, one of them being the unusually processed Coffee Luwak, the most expensive coffee in the world.
Bali: Sunrise Mount Batur Hike with Breakfast

Duration: 10 hour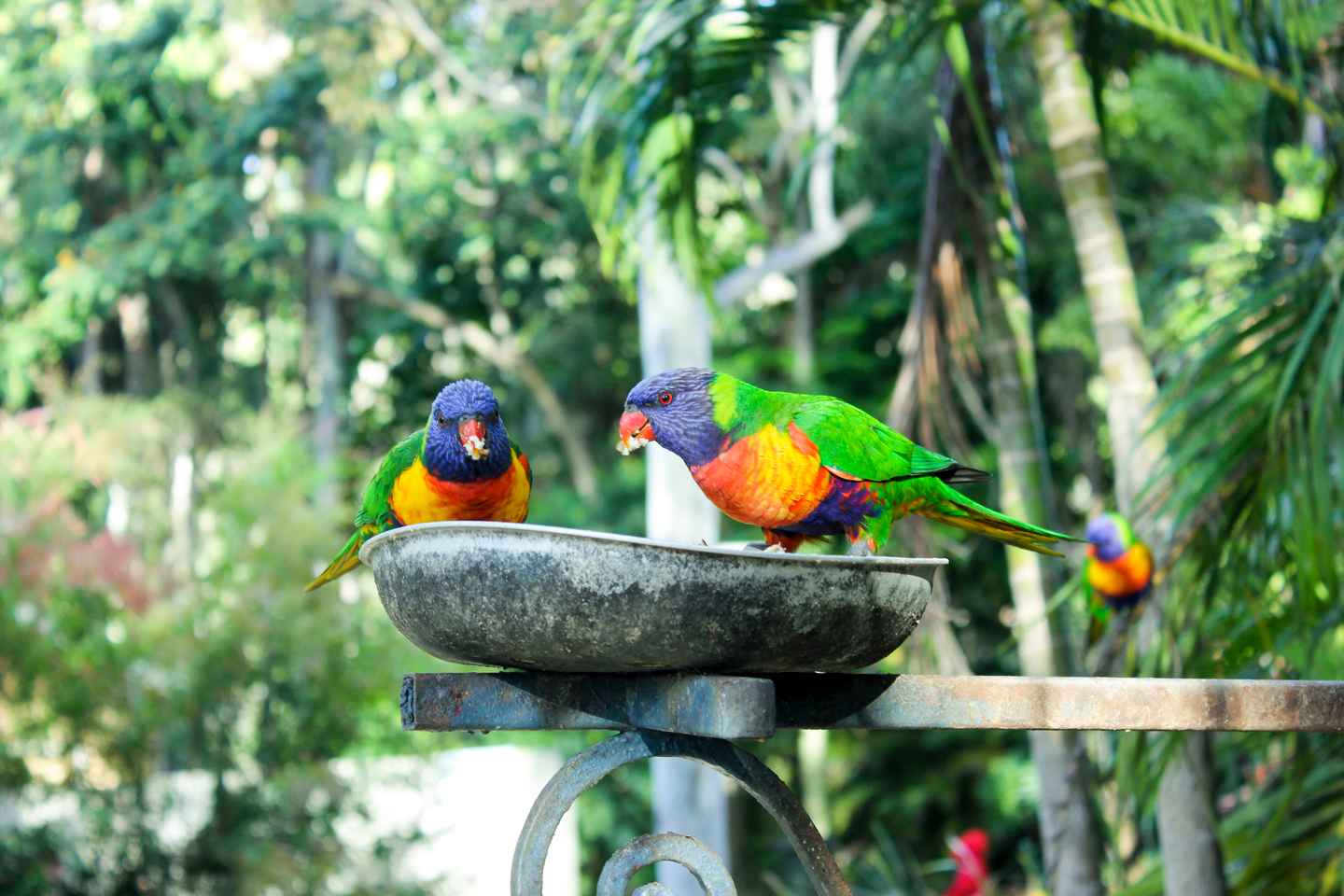 Bali Bird Park is like a paradise for bird lovers. Home to more than 5000 birds belonging to over 200 species, it has one of the best bird collections in the world. Spread over an area of an area of 20,000 square metres; the park also plays a major role in the conservation of Indonesia's endangered wildlife. You can view some of the world's rarest and most exotic of birds like the Indonesian parrots, Cassowaries, Black Palm Cockatoos, Hornbills, etc.
All these different bird species can be found all throughout the park housed in aviaries and even individual enclosures. You do not need to have extensive knowledge about birds to identify them. There is an information panel that mentions the common and scientific names of the bird, their species, and descriptions on each enclosure and aviary.
There is a Free Flight Bird Show for visitors which showcases the antics and acrobatics of different birds. You can see macaws, eagles, and owls dive down from the skies and snatch food from their handlers with exact precision.
Also included in the ticket to the park is the entry to the Reptile Park, which is home to a wide variety of reptiles and amphibians. Apart from the lizards, geckos, pythons, toads, frogs, turtles, tortoises and crocodiles, you can also see the giant Komodo dragon. Don't miss the owl house and the raptor show while in the Reptile Park.
A '4D Avian Theatre' animation experience is a new feature especially for kids at the bird park. , 'Rilly's Sky Adventure' is an animation film which narrates a story of a group of migrating ducks and that of young Rilly the Duck as he prepares to migrate with his family.
Bali Bird Park 1-Day Admission Ticket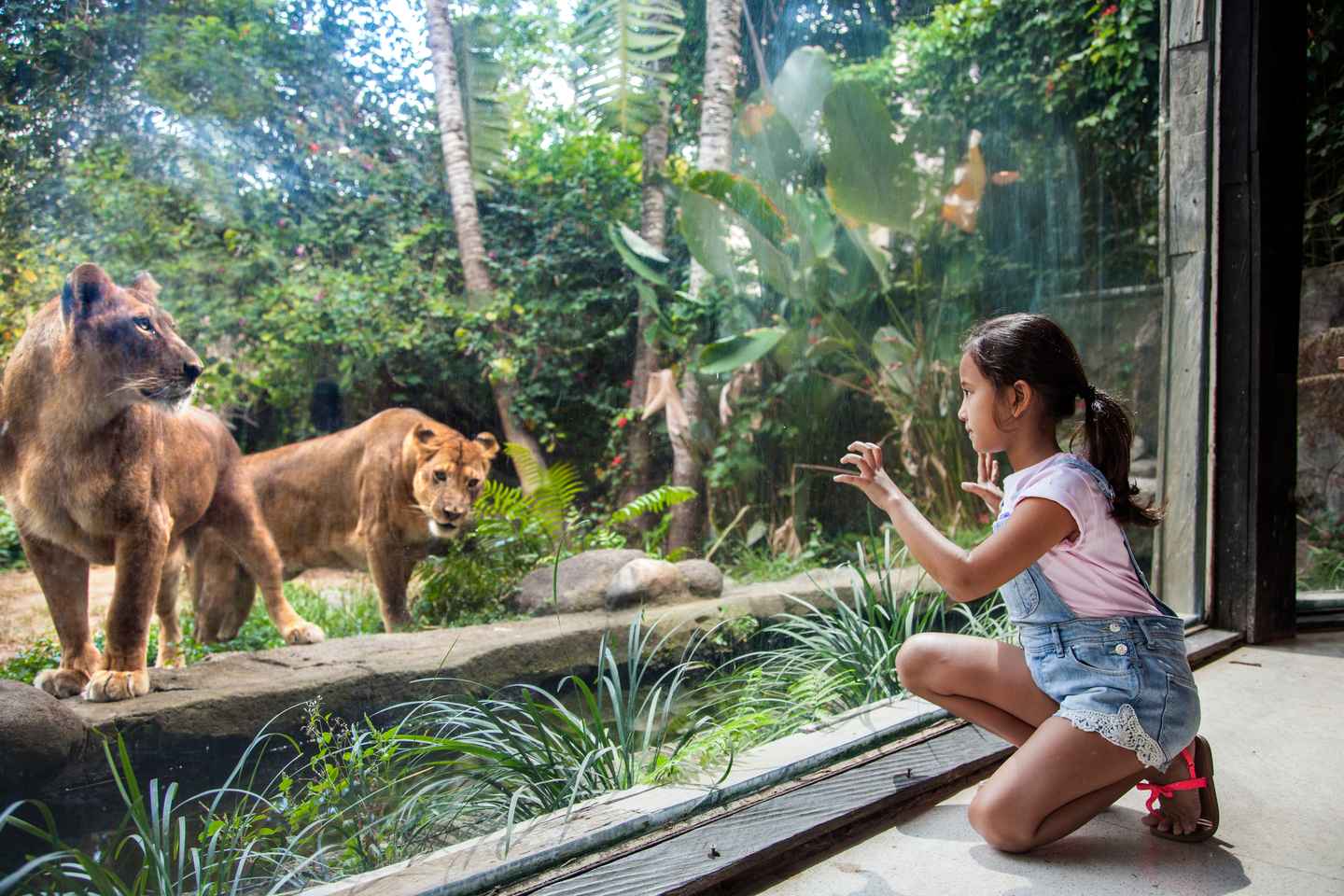 Bali Zoo is a great place for family outings after you are done with the beach. Home to more than 450 rare and exotic animals, it is more than just a ordinary zoo where people go to see animals. Here at Bali zoo, visitors can take part in various animal adventure activities, few of which are unique to Indonesia only.
Experience a feeding encounter with a Royal Bengal tiger, with meat on a rope or feed bananas to monkeys. Take part in being the trademark Mahout in Bali Zoo for a day. You have an option to dine sitting just a few meters away from the king of the jungle or enjoy an elephant safari riding atop one of the friendly Sumatran pachyderm.
Elephant rides are quite popular and offers great fun moments for visitors especially families. You are seated on a comfortable bench seat perched atop one of the Sumatran elephants and driven around by one of the several experienced and professional mahouts in the zoo. You ride through lush tropical environment on scenic pathway that passes through different parts of the zoo to outside the park where you can watch other elephants bathe.
There are 2 types of rides - short elephant rides are for 15 minutes and for longer experience you opt for the 30-45 minutes ride. You can also feed the elephants after the ride is over and even hug them if you want to. You can even get photos clicked with the elephant, at the end of the elephant trek, for that instagram upload. The mahouts and the helpers are quite knowledgeable and friendly.
Post the ride; you can also opt to dine at the Elephant view restaurant, where you can watch the elephants taking a stroll while you enjoy your food. Elephant Back Ride at Bali Zoo is a unique and fun experience especially for kids, try it for sure when you are in Bali.
Bali Zoo Entrance Ticket
5. BBQ Seafood Dinner at Jimbaran Bay
The Seafood dinner experience at Jimbaran Bay is the perfect way to end the day when you are in Bali. White sandy beach, dramatic sunset, and candle lit tables coupled with some great seafood barbecues and cold beer. Few of them also boasts of fancy table setups and other gimmicks to attracts guests.
The locally known 'Pantai Muaya Jimbaran' is lined with several seafood cafes which open afternoon afterwards until late and each of them serves a wide spread of fresh-grilled seafood. Choose the type of seafood you would prefer from the seafood counter along with your choice of flavor. Then sit back with your drink while your food gets prepared to be served.
The seafood spread includes Red Snapper, White Snapper, King River Prawn, Barracuda, King Fish, Squid/ Calamary, Lobster, Sea Prawn, Standard Crab, Super Crab and the usual Fish & Chips as well.
Jimbaran Bay is one of Bali's best places for viewing memorable sunsets, and as the sun starts going down, the lights on the horizon from traditional fishing boat lanterns at sea and the Ngurah Rai airport nearby adds to the effect.
Whatever it is that you are looking to pamper yourself with - a quick rub-down or a royal treatment, there are plenty of options to enjoy a Balinese Style Spa experience. Rather the choices are seemingly infinite; you can draw up a full day itinerary around spas itself starting with a body scrub followed by a spice bath or milk bath, then a round of traditional herbal treatment, manicure, pedicure and finally a massage of your choice. From flower petal baths to oiled-up acupressure massage, hot stone treatment to the famous Balinese massage, you have plenty to choose from.
Bali is home to not just high-end spas but also some amazing budget spas that promise a blissful experience without the hefty price tag. A visit to a spa in Bali leaves you feeling relaxed, refreshed and rejuvenated. However, if you are looking to indulge yourself in a high-end spa, it makes sense to plan early as many of the best spas are booked well in advance.
Bali's reputation as a spa destination is built on high standards of delivery and customer satisfaction and unique and relaxing traditional Indonesian healing techniques that make guests come back to Bali year after year. It's no surprise that Bali was awarded the Asia Spa Award for Asian Spa Capital of the Year in 2011.
Traditional Balinese Spa Package in Seminyak

Duration: 2 hours
Bali Safari & Marine Park is one of Bali's animal theme parks and is home to over 80 species and around 400 specimens of animals, all of which roam round freely in vast enclosures which have been built similar to their natural habitats. Here you can find animals which are commonly found in India, Africa, and Indonesia. The legendary Indian white tigers take the pride of the place and are quite popular with visitors. They roam about in an enclosure built as a replica of an ancient Indian fort, the Ranthambore Fort in Rajasthan, India.
There are some close-up photo opportunities options available with some of the animals such as tiger, python, and lion cubs, and there is a petting zoo as well with plenty of cute animals. The entertainment shows are varied; you can watch an elephant show or even feed them. You can even feed the tigers. There is an educational animal show you can watch or even a traditional Indonesian theatrical show "Bali Agung show" that runs at the new Bali Theatre at the park itself.
There is also a water park and fun zone with amusement rides next door, so you have plenty to keep the kids occupied the whole day.
Visitors travel in an air-conditioned modified safari tram which goes through the manmade habitats of these wildlife creatures. A personal guide is present on the trams, and buses are also available.
The Fresh Water Aquarium is home to thousands of fish including the white tip shark and the super red Arowana and the deadly Piranha Feeding time is when you should try and visit the Aquarium to see the deadly fishes being fed by their keepers.
The night safari includes a walking tour of the park, a cage tram tour where you can feed the animals and have a close encounter with them, a fire dance accompanied by a barbeque dinner.
A perfect end to a funfilled day.
Bali Safari and Marine Park

Price: 35 USD
Bali Safari Park

Duration: 1 Day(s) Duration
8. Fun Diving at Nusa Dua
For adventure junkies, a beach destination with an array of water sports is like a dream come true. Nusa Dua in Bali is one such place where you can indulge in sea diving, ocean kayaking, scuba diving, sea walking, jet-skiing, parasailing, banana boats, glass bottom boats to Turtle Island and lots more.
Nusa Dua is one of the best spots for water sports but those not looking for adventure, it is also a great place just to relax on the beach.
Nusa Dua offers opportunities for divers of all levels. The best dive sites for beginners are around Padang Bay, Amed and Pulau Menjangan, which have less or no current at all while places like Nusa Lembongan, Nusa Penida, and Candidasa offers more options to advanced divers. Critter hunters love to dive in Secret Bay and Seraya Secret. These diving spots are known as heaven for underwater macro photography. The East Coast from Padang Bay to Amed are also considered good especially for snorkeling.
There are plenty of operators offering different packages depending on your interest and time. Some even offer overnight packages as well. There are trained instructors to help and guide you as well. There are options for kids and people who do not know how to swim as well.
But before you zero in on your dive operator, it is advisable to visit a few of them, read some reviews and ask questions before choosing. Do not opt for the most economical option always as it is always better to feel safe and comfortable with your Divemaster than with few extra dollars saved but with a not so happy experience later.
The currents in and around several sites at Nusa Dua can sometimes be strong, and it makes sense to listen to your instructors always.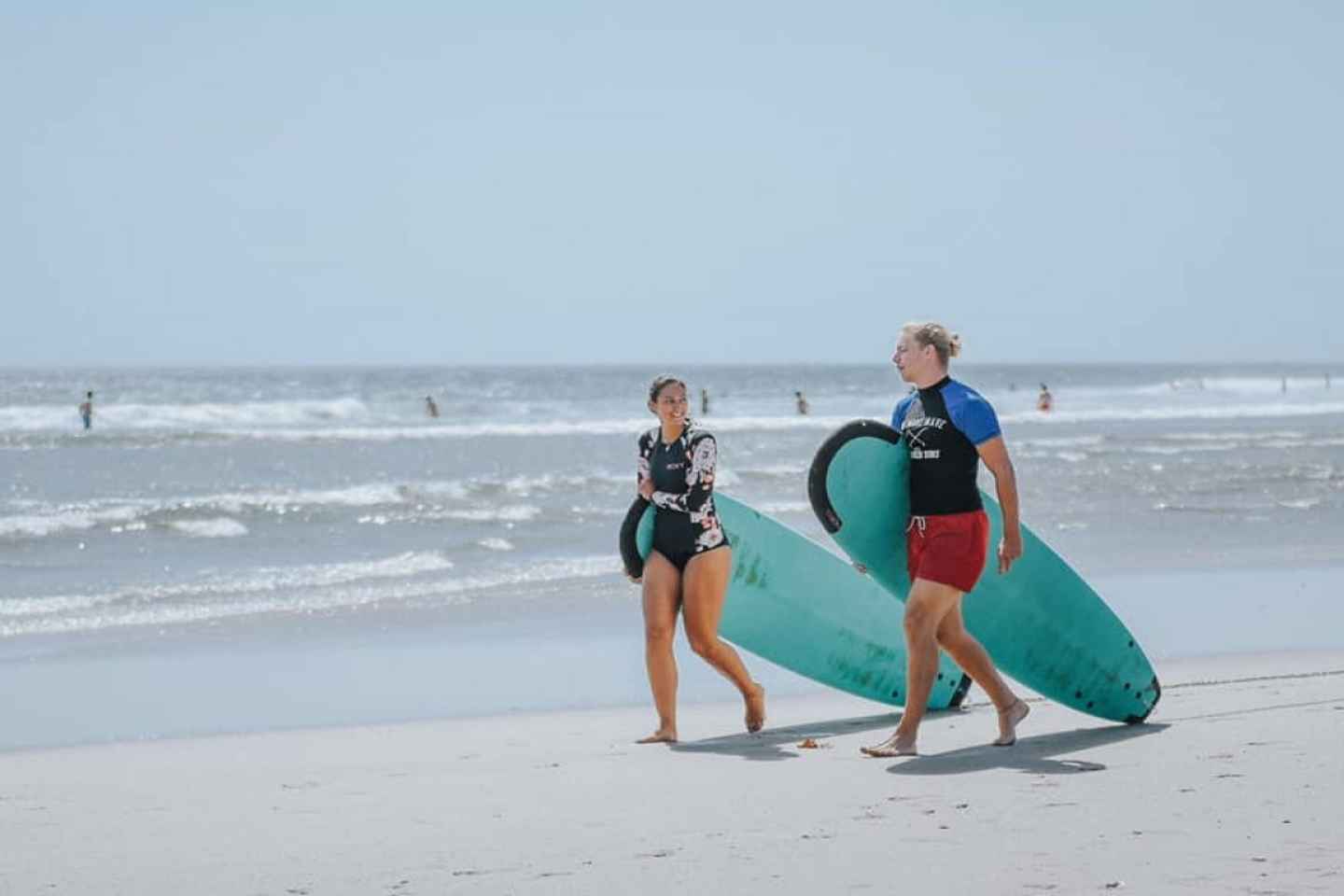 Kuta Beach Bali, with its long rolling waves, is the "mecca" of surfing for surfers the world over. Whether you are a beginner, an intermediate or an advanced surfer, you have plenty of options to learn, hone your skill or simply enjoy the ride.
For beginners, there are plenty of surfing schools to learn the ropes. You begin with the basic art of paddling and mounting your board followed by surf etiquette and board handling. You also learn about another important aspect, safety in the water.
Few of the highly rated schools have instructors who have been accredited by the ASI Academy of Surfing Instructors, Bondi Beach Australia. They have the largest selection of boards – length wise as well as material wise (Soft training boards equipped with rubber fins for beginners and fiber glass and epoxy boards for advance learners). Most of them offer lessons covered by an insurance policy as well.
Many schools are offering short and long term courses for beginners. Choose wisely depending upon your skills and its good to read up on reviews. Safety track record is one criterion to be kept in mind before opting for one.
Bali: 2.5-Hour Surfing Lessons

Duration: 2.5 hour
Devdan is a 90-minute magical stage show which depicts the uniqueness of the different culture and traditions found in the Indonesian archipelago consisting of namely Bali, Java, Sumatra, Borneo and Papua. The show includes: the Wayang puppet show in the Java Act, the Lesung dance in the Bali act, the body paintings of the Papua Act, aerial skills in the Borneo Act and the Saman dance in the Sumatra act, and involves hundreds of talented dancers and aerial acrobats who undergo several rounds of costume changes through the show.
It is staged in the Bali Nusa Dua Theatre, a fully air-conditioned auditorium with a state-of-the-art stage, sound, and lighting systems and located in the heart of the Nusa Dua Complex. The theatre is completely handicap accessible, including seating and restroom facilities.
There are different categories of seats; you can choose from the Standard, Premium, and VIP tickets. Two-way hotel transfers are included in the ticket price.
Bali Nusa Dua Theatre: Devdan Show Tickets

Duration: 1.5 hour
This tour takes you to visit 2 of Bali's must-see attractions. It's a full day tour ( approx 10 hours tour ) covering Ubud's art villages and the mystical elephant cave followed by a spectacular sunset at one of Bali's iconic and sacred sea temples, Tanah Lot. There surely can't be a better way to end the day.
The tour begins with Barong and Keris Dance at Batubulan Village, which represents an eternal fight between good and evil spirit. The next stop is at Celuk Village, also known as the gold and silversmith village. After that, you stop at the Woodcarving Village, Mas, and Kemenuh Village. Indonesia produces some superb quality of wood carved products. The last stop is at Batuan Village or the painter village. You can shop for souvenirs or gifts to take back home from these villages.
Next on the day's itinerary is the Monkey Forest Ubud, to see the Balinese long-tailed monkeys. After that, you visit the Ubud Market. This market is divided into 2 parts - the traditional part which sells regular food items and the art market which sell handicrafts and textiles. Next to the market lies the Ubud Palace, the residence of the Royal Family.
Near by, you can visit the Elephant Cave with an intricately carved 'Demon's Mouth' entrance. This cave is listed under the UNESCO World Heritage site.
The last stop is at the Tanah Lot Temple, is a Balinese Hindu temple perched on a little rocky formation located at a short distance inside the sea. You arrive here by evening when the sun is about to set. Explore the temple and then get ready to see the sun disappearing in the shimmering blue ocean. Keep a camera handy to capture the moments forever.
Private Tour: Ubud and Tanah Lot Day Tour

Duration: 10 hours
End of your day on a high note!
I am sure, by now you would have realized Bali is a lot more than just a romantic destination or a surfer's paradise. Rather, Bali with kids is purely magical. Try it to believe it!
The perfect way to end the day after checking out all these activities in Bali will be to check back into one of Bali's luxury resorts. Resorts offer up the most decadent amenities, from infinity pools overlooking the jungle to allowing guests their own slice of heaven, all paired with impeccable service.
One of the best options out there is Viceroy Bali. Do check them out for your next visit to Bali.
Disclosure: Trip101 selects the listings in our articles independently. Some of the listings in this article contain affiliate links.
This article has been endorsed by Bali local expert Arakita Rimbayana (curator)
Get Trip101 in your inbox
Unsubscribe in one click. See our privacy policy for more information on how we use your data
Still Need Travel Insurance?
You can buy and claim online, even after you've left home. Travel insurance from WorldNomads.com is available to people from 140 countries. It's designed for adventurous travellers with cover for overseas medical, evacuation, baggage and a range of adventure sports and activities.
*5% off when you book with our promo code: TRIP101
*For our Canadian and US travellers, unfortunately due to financial services laws, we cannot provide a discount. This promotional code cannot be used with any other discount offer, including World Nomads Members' discount for travel insurance policy holders.