Booking a week or even just a couple of nights at Charlotte, North Carolina, usually is traced to one thing - football. So the misconception then is that the only draw of this city is the Panthers Stadium. Little do people know about the various attractions found in this city that made Charlotte known for something other than sports-related events. This caused vacation attractions to rake in the guest bookings even outside the month of July. Skating rinks found by Kate's at Gastonia and Indian Trail made them memorable date places. Or if you're into touring breweries, Charlotte is the best place to try that activity out. Who knows if you stumble upon a "beer fitness" program in the city? (It's an actual thing here.) Scroll down to check out which vacation rentals in Charlotte, North Carolina, suit your needs.
A luxurious weekend is possible the moment you see the option handed out to you here at this one-bedroom apartment at Dilworth. Convenience and luxury need not be options where you have to forego one in favor of the other. Why not both? Enjoy nearby amenities like parks, restaurants and medical centers without having to stay at a hotel further away from this side of Charlotte. And since the host, Kyle, anticipates some last-minute changes like a "plus one" an extra air mattress is ready at your disposal for the extra bed in this unit. Just a heads up though - bringing over the kids would be fine as long as they are not infants as this unit is not baby-proof.
FRONTDESK | Luxe Dilworth Apt on Greenway

Charlotte, North Carolina, United States

Accommodates: 2

This is one unit that vacationers go for when they particularly want to be within walking distance to the EpiCentre and the Bank of America Stadium at the same time. This unit has one bedroom with a queen-size bed. It is perfect for couples out on their second honeymoon when trying out the casual dining areas found by the BB&T Ballpark and other high-end shopping destinations. You can check-in yourself since there is a lockbox. You may bring over your kids, granted that they are not infants as this unit is labeled "not baby-proof". Book as early as possible since this place goes on a first-come, first-serve basis.
FRONTDESK | Stunning Uptown 1br | Next to Stadium

Charlotte, North Carolina, United States

Accommodates: 2

One of the top-rated Airbnb units in Charlotte, much of the memorable experience is attributed to its excellent host, Liz. She keeps this place clean, giving it a competitive edge among units out for rent in this city. It is one of those units near Panther Stadium constantly in demand for being close to everything memorable in the Southend. Some previous occupants admitted that the main reason they went for this unit is that it's practically just a short walk away from that stadium. Parking space is for free, good for one vehicle in case you're driving to Charlotte. And an extra air mattress is in store for last minute companions. Booking is highly recommended for at least two nights depending on dates available for you.
Elegant 1 bedroom near Panthers Stadium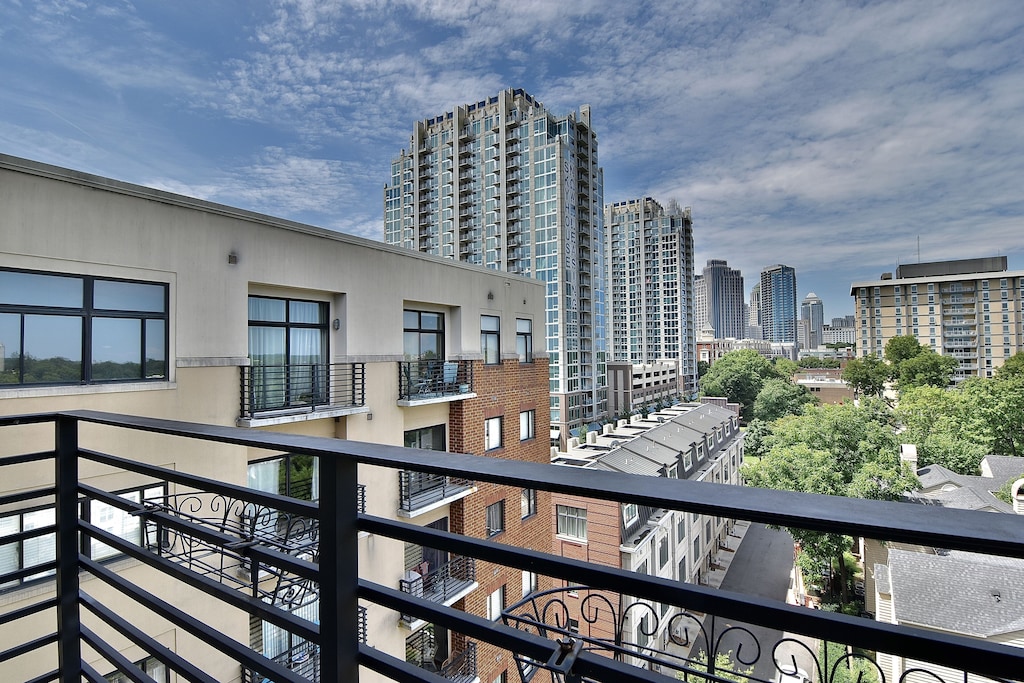 The Charlotte Center is the place to go for some gigs or events. It has also become synonymous with trips to the Anne Springs Close Greenway. So if you'd like to go mountain biking or hike near the property close to the Greenway, this vacation rental is your best bet. There is enough space to accommodate your hiking stuff in this unit, thanks to the open studio floor plan. It also comes with a fully furnished kitchen in case your idea of staying in is cooking your own dinner after a long day spent in Downtown Charlotte.
Furnished Condo in Uptown / Downtown Charlotte Fourth Ward with Balcony and View
This unit is basically right in the heart of the Southend. It has become the landmark or starting point used by guests when trying to get to the epicenter, the stadium or the Convention Center. Whether you're coming in for a business conference staged at any of those venues and need to kill time within that brief stay, you will not run out of things to do at this unit. There's WiFi, perfect for enjoying TV time when trying to Netflix and chill. Kids are fine as long you keep an eye on them as this unit is not baby-proof.
DELUXE 1BR APT STEPS TO STADIUM, ALL OF UPTOWN

Charlotte, North Carolina, United States
This is one Airbnb unit to stay if you need at least two nights to stay at Uptown Charlotte to attend a business conference or engage in leisure activities. Chances are you need that crucial spot to spend two nights when events are held either at the Discovery Place Science Hall or the Levine Museum of the New South or at the Epicentre itself. It's right at Fourth Ward. While it has one bedroom and one bathroom, it can sleep up to four, since it is spacious.
Relaxing 1BR w/ Gym + Pool in Uptown Charlotte
Spacious with two bedrooms to boot, this unit has a pool and some gym equipment to help you get rejuvenated by the time you wake up in the morning. You will not feel crammed in here. This two-bedroom unit is a good starting point for frolicking around Uptown Charlotte, proving how said units make this city a walkable destination for you. It's a good place to hang around when that business conference you attended to ended unexpectedly early. With each bedroom having a queen-size bed and a bathroom, you can bring the entire family. It's good for six folks at most, just be informed that pets are not allowed.
Neat 2BR w/ Pool + Gym in Uptown Charlotte
Located at Third Ward in Charlotte, this is the unit to stay in if you're coming over as a family. It is within driving distance from Latta Park and Marshall Park and only near the NASCAR Hall of Fame. The place itself has everything you need, from free wifi to heating to a washer with dryer, there is even a flat iron with an ironing board for you to use in case your clothes need some pressing before that major cocktail night at your intended business conference. Fitness equipment is also in the unit itself to perk you up for the day alongside your morning coffee.
UPTOWN 2BR APT - STAY IN THE CENTER OF THE ACTION!
Sometimes the unit itself becomes the leisure destination in itself. Or at least a good thing to look forward to after a long day at your first business conference. So having dinner under the stars becomes possible because you just booked yourself at a one-bedroom unit with a view of the skies. Reading your favorite paperback or playing the latest mobile game just got interesting in case you don't have a last minute companion to spend the night with in this unit. Otherwise, feel free to bring your dog. It's one of the few pet-friendly units around. So booking this early helps in getting the best place possible for a couple of nights in Charlotte.
Amazing View In The Heart Of Downtown Charlotte
Lots to do in Charlotte
Charlotte may owe much of its reputation to American football, but folks who had been there realized how there is so much to do in the area during the off-peak season like the skating rinks and the brewery tours that even recommend some fitness programs. It's a thing and it says a lot about a community that will not preach for you to curb your liquor but will recommend ways to manage your intake. Still, book as early as possible to get the best dates close to watching your own team face the Panthers. Cheer on as Charlotte cheers you up with these rentals worth your time and money.
Disclosure: Trip101 selects the listings in our articles independently. Some of the listings in this article contain affiliate links.
Get Trip101 in your inbox
Unsubscribe in one click. See our privacy policy for more information on how we use your data