Located in Central Canada, Ontario is the second-largest province of Canada. Within Ontario lies Indian Lake, a popular destination for visitors who wish to relax and unwind by the water. Indian Lake derives its name from its original inhabitants, and today it is included in Ontario's Rideau Waterway. Activities on the lake are aplenty, offering a plethora of watersports like fishing. For those who prefer to stay on land, Indian Lake is best explored through a hike or a bike ride. Watch out for the wildlife in the area. When you look for accommodations around Indian Lake, you'll be spoilt for choice. Let us help you out by listing the best Vrbo vacation rentals near Indian Lake, Ontario. We promise you'll find one suitable for you and your party.
Experience a slice of heaven with this Vrbo vacation rental that's decked with six bedrooms and sleeps ten. Perched on a hill overlooking the west bay of Sand Lake, this lakefront property was designed for entertaining guests. Staying true to the contemporary-rustic theme that flows through the living spaces, your stay includes fresh linens, comfy beds and a well-equipped kitchen. Within the immaculate grounds, guests will have full access to a tennis court, a basketball court, a six-person pontoon and a one-person kayak. Enjoy the pristine lake as you fish for bass or boat around. Soak in all that Sand Lake has to offer with a stay in this stunning Vrbo vacation rental.
Stunning, Serene Rideau Lakes Waterfront 4 Season Vacation Haven Boat, Tennis,

Accommodates: 10
Minimum Nights: 7
Refund Policy : 100% refund if you cancel at least 30 days before check-in.


Top guest reviews

the the house was fantastic with a lovely kitchen breathtaking view of the lake and comfortable rooms

i can't say enough good things about this property and it's owners

the location was wonderful secluded enough but only about 8 minutes to elgin

the location also boasts three washrooms which made the morning routines easy

Read more reviews
Nestled in the heart of Big Rideau Lake is a Vrbo vacation rental worth residing in. This is a beautiful waterfront cottage that has large bay windows that allow for sunlight to enter the property. This is a tastefully decorated three-bedroom accommodation that can sleep eight comfortably. On top of spacious living and dining areas, the cottage comes with a sauna and a minibar. The property also features an old-fashioned sunroom - the perfect place for family breakfasts. Private access to the large dock means hours of fun swimming in the water. At the end of the day, huddle around the outdoor firepit for some smores under the stars. Don't miss out on booking this amazing rental!
Sunset Waters Cottage at the Heart of Big Rideau Lake

Accommodates: 12
Minimum Nights: 2
Refund Policy : 100% refund if you cancel at least 14 days before check-in.

Grab your vacation gear and scoot over to this charming Vrbo vacation rental. Located on the shores of Sand Lake, this perfect waterfront cottage consists of three rooms and can sleep up to eight guests. The property follows an open floor plan and was designed with a large island complete with classic bar stools. Take advantage of the screened gazebo and dine al fresco. Plunge off the dock or take off on your boat as you explore Sand Lake and Rideau Waterway. Venture out to Westport for a taste of the local shopping and dining scene. Book this charming Vrbo rental for a relaxing time!
Sunset Rose Lovely Waterfront Cottage en Sand Lake, Westport

Accommodates: 8
Minimum Nights: 3
Refund Policy : 100% refund if you cancel at least 30 days before check-in.

Spend your next vacation in this quiet and serene Vrbo vacation rental right on the edge of Upper Rideau Lake. Perfect for a group trip, this natural stone cottage can house six guests in three quaint rooms. Spend hours on the large, deep-water dock getting a tan or simply plunge in for a good swim. Be one with nature as you relax by the water. On days when you prefer to stay in, simply pull out some board games or blast your favourite songs on the screened porch. Be sure to enjoy a meal overlooking the lake during your stay - you won't regret it!
Charming stone cottage on Upper Rideau Lake, Westport, ON

Accommodates: 6
Minimum Nights: 2
Refund Policy : 100% refund if you cancel at least 60 days before check-in.

Don't let the location fool you. This Vrbo vacation rental right on Devil Lake is simply divine. Set in a private and exclusive freshwater lake, this luxury cottage features four tastefully furnished rooms that can sleep eight comfortably. You'll enjoy panoramic views of the lake from every corner. Dine in the gourmet kitchen fit with a majestic 14-foot (4.2-meter) central island decked in Douglas fir countertops and equipped with Bosch induction stoves. Take advantage of the newly installed hot tub as you retire from a whole day out on the water. The two docks offer the perfect start to exploring Devil Lake via paddleboard or kayak. Vacation in luxury in this property today!
Muskoka in the Rideau Lakes - Luxury Retreat

Accommodates: 8
Minimum Nights: 3
Refund Policy :

Feel right at home in this lakefront apartment overlooking White Fish Lake. This ground-floor apartment is reserved for you and your party of six. With three bedrooms, you'll have no children quarrelling over their sleeping quarters. Meals in this accommodation will be easy to whip up with a fully equipped kitchen. Keep yourself and the children occupied with a plethora of indoor and outdoor activities that have been thoughtfully prepared by the owners. Enjoy hours on the large shared dock and take the two-person kayak to explore White Fish Lake or try your hand at fishing. You won't want to leave this fun-filled accommodation any time soon.
Spectacular Sunsets!

Accommodates: 6
Minimum Nights: 5
Refund Policy : 100% refund if you cancel at least 60 days before check-in.


Top guest reviews

bedding is very comfortable throughout

the beds were comfortable and i suffer from many environmental allergies but didn't have any problems

the decor is amazing and the shower with its multiple modern massaging heads was wonderful

the rooms were extremely clean and well appointed

the owners are just nice people and we didn't even know they were around

the owners live at the same property and are always there to help

what you get is a ground floor of a beautiful lakefront house with the owners living right above you

what a shopping extravaganza what a fantastic place highly recommend but as we told the owners

Read more reviews
A glorious, open concept cottage awaits you on Buck Lake. This Vrbo vacation rental is a newly refurbished property sitting on 10 acres (4 hectares) of land. Pets are permitted on this property, so your stay will be much sweeter with your furry buddy in tow. There's nothing quite like staying near a lake and having direct access to the water. On lazy afternoons, drive the boat out, throw your fishing line and crack open a book until your bait catches something. Retire to the firepit at the end of the day to watch the sunset while you grill some smores.
Hermosa Cabaña Nueva en el Lago Buck, a 25 Minutos al Norte de Kingston ON

Accommodates: 6
Minimum Nights: 30
Refund Policy : 100% refund if you cancel at least 30 days before check-in.


Top guest reviews

the owners were very accommodating and helpful supplying things like the boat and barbecue

super place super host great vacations

everything went well super place super host

if you're looking for a private quiet getaway this is definitely one to put on your consideration list

Read more reviews
Set up base in this Vrbo vacation rental along the magnificent Upper Rideau Lake. This private oasis houses 12 guests in 5 spacious bedrooms. The property is a private stone farmhouse sitting on 7 acres (2.8 hectares) of land. Decked with original pine floors, exposed beam ceilings and stone fireplaces, it gives off a rustic yet homey ambience. Within the house, you'll get to enjoy both a sauna and hot tub at your own time. Enjoy rounds of tennis in your private tennis court. Overlooking the lake is a large wooden deck with plenty of outdoor furniture where you can admire brilliant sunsets. Your time at this accommodation will be fun-packed from start to finish!
Beautiful Lakefront Stone Farmhouse on Upper Rideau Lake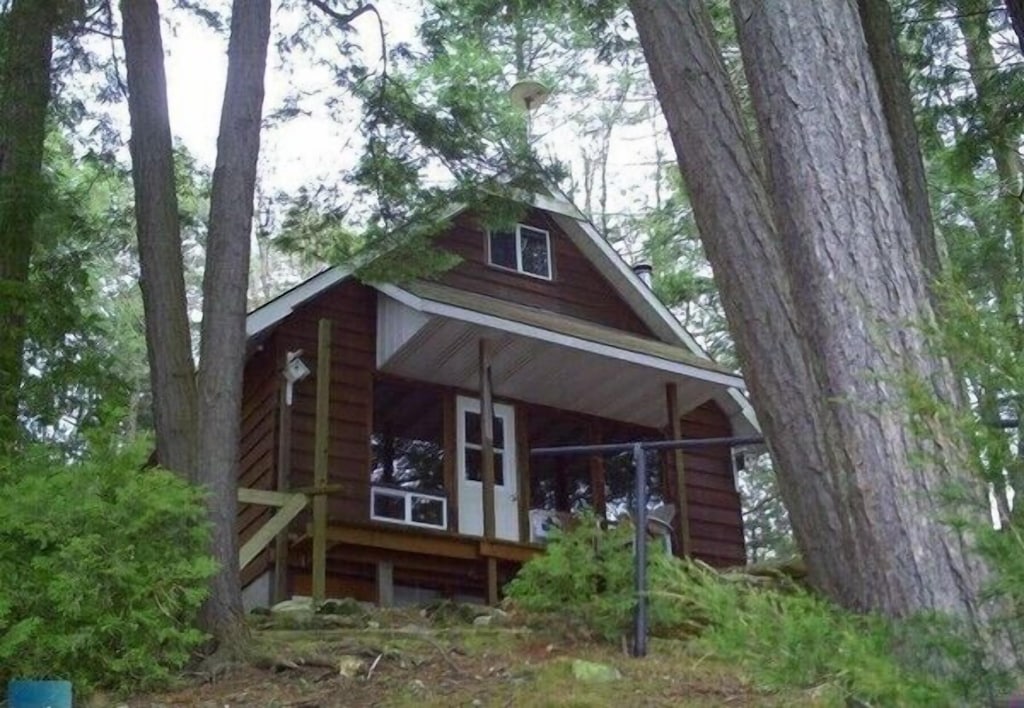 A hillside cabin overlooking Lower Beverley Lake awaits you and your friends. This accommodation houses four guests in two spacious bedrooms. Decked with natural wood ceilings and arched windows, this property gives off the cosy warmth of a log cabin. Modern amenities are aplenty except for Wifi. You'll have access to two docks; one is perfect for diving and the other is a 16-foot (4.8-meter) dock perfect for your boat or kayak. Feel free to fish right off the dock - you might catch some bass or pike! Be sure to admire the wicked sunsets that grace the area. Book a stay in this gem today. Just remember to bring your towels and bed linens.
Peaceful Waterfront Cottage On Lower Beverley Lake - Delta
Exploring with a pet in tow? Fret not, this Vrbo vacation rental is a beautiful, pet-friendly lakefront cottage with three bedrooms. With ample room for your four-legged buddy to roam around, this property offers the perfect base for you and your travelling party. Located between Ottawa and Kingston on Benson Lake, you'll have direct access to five lakes on Ontario's Rideau Waterway, including Indian Lake. Whether you're in the water exploring or on the signature blue deck grilling up some burgers, Benson Lake never disappoints with its breathtaking views.
Relax on Benson Lake, near Westport
Stay by the lake on your holiday
These Vrbo vacation rentals are simply a treat. There's nothing quite like renting an accommodation right by the water. These ones even come complete with unparalleled views so you'll be surrounded by nature. Explore these properties near Indian Lake today.
Disclosure: Trip101 selects the listings in our articles independently. Some of the listings in this article contain affiliate links.
Get Trip101 in your inbox
Unsubscribe in one click. See our privacy policy for more information on how we use your data