Famous for its medieval old town setting and Shakespeare's Romeo and Juliet dedicated monuments, the city of Verona is no doubt a place an avid traveler should visit at least once in a lifetime. Achieve your travel goals and set foot in one of the ancient cities in the world with its history stretching back to Roman times. While here savor its mouth-watering native dishes ranging from budget nibbles to luxurious dining. Whether you're a history buff, a huge fan of renaissance art or a food connoisseur, you will never go wrong with everything Verona has to offer. Explore the beauty of the 'City of Love' and enjoy your stay in one of the best Vrbo vacation rentals in Verona, Italy. So what are you waiting for? Visit Verona and discover the hidden gems of the city. Scroll below for the best Vrbo vacation rentals in Verona, Italy.
Take pleasure in an out of the ordinary holiday while staying in this completely independent apartment set on the ground floor of a two-story house. As soon as you enter the house, admire the exposed beams and the antique oak flooring that makes the atmosphere sober and refined. Stay energized by taking advantage of the well-stocked integrated kitchen where you can cook a meal for the entire crew. Enjoy staying in the house in the evening or during the daytime. Spend time in the large living room complete with a 52-inch TV, sleeper sofas, and a working fireplace or just hang out in the terrace which also features a gazebo.
Verona, house with porch and garden, in a single house, internal parking

Accommodates: 5
Minimum Nights: 2
Refund Policy : 100% refund if you cancel at least 14 days before check-in.

Make the most out of your stay by taking advantage of this modern, cozy, and centrally located apartment set in the old town of Verona and close to the main tourist attractions. Kick-start your day with a scrumptious breakfast in the dining area adjacent to the living room with a 42-inch flat-screen TV, a comfy sofa bed, and an overall peaceful interior perfect for relaxing after a day of touring the city. Cuddle up in your bed amongst the crisp sheets or simply take in the spotless and comfortable bedroom that guarantees a night of good sleep.
VERONALODGE - Brand-new designer flat in the centre of Verona

Accommodates: 4
Minimum Nights: 2
Refund Policy : 100% refund if you cancel at least 14 days before check-in.

Fall head over heels in love with this refined, cozy, and comfortable apartment located in a historic and quiet area of the city. Enjoy the entire living area that is immaculate and very tastefully decorated with relaxing love seats and an oversized window which allows natural lighting. Move at ease in the fully functional kitchen with everything you need for cooking a delicious meal and share it with the family in the dining area adorned with simple personal touches. If you need to leave the house or wish to visit cool little cafes, Ponte Pietra and the city center is only a short walk away.
LA DOLCE VITA Charming, Luxurious 2 Bedrooms 2 Bathrooms with cosy Balcony
Spend your weekend getaway in this apartment that is tastefully decorated and has a fabulous panoramic view of Verona. Admire the lovely high ceilings with original beams from the 13th century. Gather the family around the spacious and bright living area and spend some quality time while watching movies, playing board games, or simply discussing your itinerary for the coming days in Italy. Sleep in a very soft bed in the master bedroom or enjoy the firmness of the twin beds in the loft to make sure that you have the energy to discover more of Verona the following day.
Historic apartment in the heart of ancient Verona

Accommodates: 5
Minimum Nights: 3
Refund Policy : 100% refund if you cancel at least 14 days before check-in.

Stay in this romantic, simple, and elegant apartment located in the old town area where you will be spoiled for choice of places to eat. Take delight in the open-floor living room with a kitchen and a study area beautifully furnished with chic pieces of furniture. Prepare and cook a delicious dinner in the fully functional kitchen with spotless cabinetry and dishware. Enjoy your meal at the dining table that can fit four guests. Sit back and relax in the spacious living area with a comfy sofa while reading your favorite book or watch a movie before going to bed.
Refined and elegant apartment in the historic center of Verona
Surround yourself with an amiable atmosphere while enjoying your well-deserved time off in this modern villa located in the countryside. After exploring the nearby attractions, go home in an extremely clean and spacious accommodation with everything necessary to enjoy a relaxing stay including kitchenware, toiletries, and other thoughtful amenities such as table tennis and a trampoline. Beat the heat and take advantage of the swimming pool complete with deck chairs and parasols perfect for sunbathing while breathing in the fresh air from the surrounding lush greenery.
Wonderful villa on panoramic hills above Verona

Accommodates: 10
Minimum Nights: 3
Refund Policy : 100% refund if you cancel at least 30 days before check-in.

Feel at home in this rustic apartment with a preserved charm of an ancient palace highlighted by the large exposed beams. Let your kids have a good time in the loft that has plenty of toys and books while you prepare a simple breakfast in the kitchen with fully functional appliances and stainless-steel kitchen wares. Sit back and relax in the living area with leather couches or share a delicious meal in the dining area on the wooden table and steel chairs. If you need to step out of the house, you will find all kinds of shops, clubs, and restaurants within walking distance.
THE ATTIC IN THE HEART OF VERONA

Accommodates: 4
Minimum Nights: 2
Refund Policy : 100% refund if you cancel at least 14 days before check-in.


Top guest reviews

The apartment was wonderfully situated and quite cozy

Four flights of stairs became very tiring especially with luggage

The apartment is perfectly situated and terribly charming Wish

shopping and eating was wonderful

It was wonderful to hit the streets during the day & then be able to walk home in 5min to rest or eat lunch or cool off

He did so even when he discovered he event he was to attend

and he hand-delivered my medications with a smile and well-wishes

the owner & host was responsive & just superb

Easy booking Immediate response and great communication experience with the owner

Our most incredible experience was the kindness our host exhibited when I left a bottle of medication behind After notifying me by text

Had a really lovely stay in the centre of Verona

di 5 persone Claudio il proprietario gentilissimo

We had a lovely time in Verona at this artsy flat

This room should not be used and should not be advertised as a second bedroom Location good but parking a big issue Would not recommend this place to more than two people

di 50 gradini per arrivare alla soffitta

Read more reviews
Bask in the comforts of this apartment located in a wonderful residential area near monuments of important historical and artistic interest. Take delight in the simple and modern furniture that create a high degree of ease for travelers including kids. Gather around the living area with a sofa bed and watch your favorite movie or get updated with the latest episode of your much-awaited series. Prepare a delicious meal in the fully functional American kitchen with an oven to help you with your culinary endeavors and share it with the whole family in the adjacent dining area with a glass table that can accommodate up to six diners.
Verona city: Modern apartment near the historic center with garage

Accommodates: 6
Minimum Nights: 2
Refund Policy : 100% refund if you cancel at least 14 days before check-in.

Relax and recharge in a well-appointed vacation rental with a lovely outdoor patio just five minutes' walk from the bus stop that will take you to the city center. Breath in the fresh air from the surrounding greenery while playing with your kids in the expansive grassy lawn. Inside the apartment, prepare a sumptuous meal in the kitchen or have a to-go homemade wine and fantastic pizza with exotic flavors from the store down the street, to be shared in the lavish dining area. Enjoy sitting in the private balcony furnished with tables and chairs, the perfect setting for a peaceful breakfast to kickstart your day in Verona.
Villa Gloria. Luxury apartment in art nouveau villa in the city

Accommodates: 5
Minimum Nights: 2
Refund Policy : 100% refund if you cancel at least 30 days before check-in.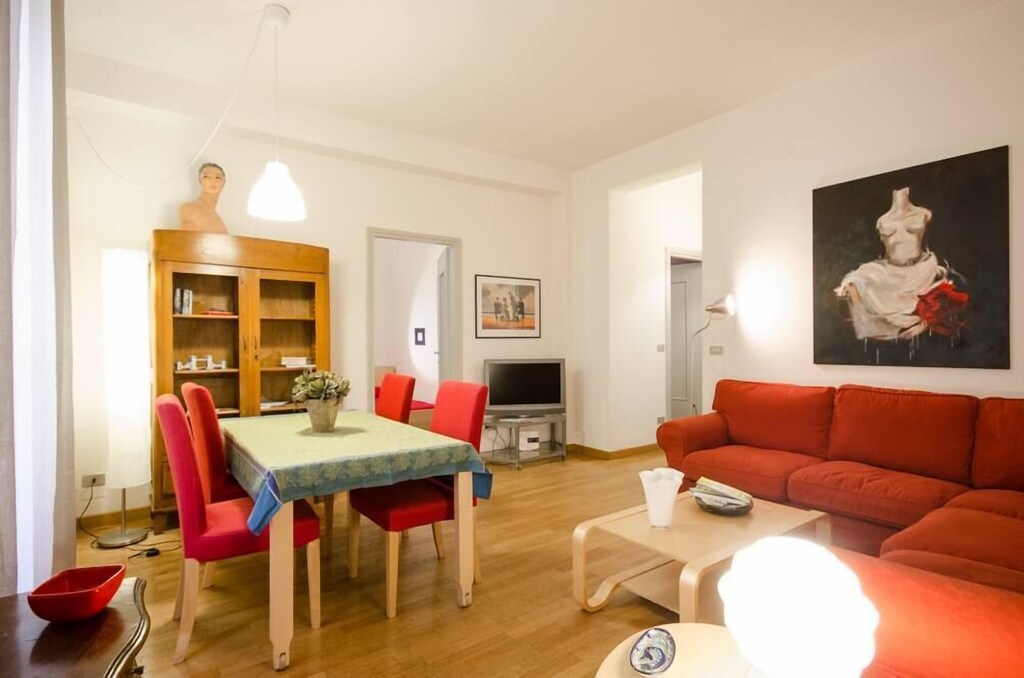 Enjoy a wonderful stay in this private accommodation situated just a few blocks away from Piazza delle Erbe which is an ideal starting point for a visit to the main historical and cultural sites of the city. Embrace its tastefully furnished interior with works of art adding elegance to each corner of the house. After visiting nearby points of interest, relax in the common room complete with a large sectional sofa and a dining table that can fit up to four guests. The food in Verona is so good and there are so many places to eat it close by but if you need to, the kitchen is definitely sufficient to whip up a meal to fill you up.
Charming apartment in the centre of Verona
Choose the best accommodation to complete your Italian escape
You are sure to have a memorable and relaxing stay in any one of these top 10 best Vrbo vacation rentals in Verona, Italy. Whether you're a solo traveler, or you are holidaying with your loved one or with the entire crew, there's always a place that can accommodate you in this city. Book your stay in advance and update your itinerary for a hassle-free trip in this part of Italy.
Disclosure: Trip101 selects the listings in our articles independently. Some of the listings in this article contain affiliate links.
Get Trip101 in your inbox
Unsubscribe in one click. See our privacy policy for more information on how we use your data