Over the years the tropical island of Bali, Indonesia has become a shoppers' paradise. If you haven't been here yet, you will be pleasantly surprised by the variety of items available, as you will be blown away by its affordability and great deals. Since the island is located on the equator it is no surprise that you will find vendors selling beach and summer clothing everywhere. But what you may not know is that Bali is an ideal place to buy handcrafted items, jewelry and super soft bedding for your home too. Bali has everything – from high-end boutique shops to the traditional marketplaces, so you are sure to find a great souvenir to remember your trip. And it's easy to find awesome accommodation close to the shopping areas - from the top luxury villas to best treehouse hotels & vacation rentals in Bali. Just make sure you have enough room in your suitcase for all the souvenirs! To help you out, check out this list of Bali souvenirs that you must buy on your vacation.
1. Dream catchers
If you're wondering what to buy in Bali, dreamcatchers are the perfect option for you. These eye-catching talismans have been around for many years and can be traced back to the 1960s when the Native Americans adopted the tradition from the Ojibwes. The visual appeal and the legend became widespread, as it is believed that hanging a dream catcher above one's bed keeps nightmares away. Typically a hoop with interwoven webs, beads, and feathers, a dream catcher is a staple souvenir that you can take home from Bali. The price will depend on the size you want to buy, and you can find them in custom shops in Legian or in souvenir stores around the island. Just note that if you're returning to Australia or other countries where Customs is strict, you'll have to declare them.
2. Egg art
Painting eggshells may not be a new concept, especially if your family regularly celebrates Easter with egg hunts, but in Bali, it's an art form that attracts tourists by the droves. The Balinese artists who take this craft seriously spend hours hunched over a fragile eggshell. Goose, swan, and duck eggs are the typical canvases for these delicate masterpieces. Wayan Sadra and his family run a well-known egg art business in Bali, in a village close to Ubud. If you want to meet the people behind the art - and maybe ask for customized work, you can visit their workshop where they also carve eggs and paint on seashells.
3. Local snacks
When traveling to foreign places, sampling local snacks is a must. If you like them well enough, you can bring some home with you so your friends and family can try them out! In Bali, two of the most popular snacks are pie susu (milk pie) and kacang disco (disco peanuts). Pie susu is a small, round pie with a creamy milk filling, and kacang disco are basically fried peanuts coated in flour dough and thoroughly seasoned. Both come in different flavors, so sample a few and pick your favorite ones. Souvenir stores typically carry them but make sure you buy them a few days before you go home since they're perishable.
If you are a coffee lover, then kopi luwak coffee should be at the top of your list of things to buy in Bali. This strong brew, with a curious aftertaste, is the most expensive coffee in the world. The unusual flavor comes from the processing method. Local coffee farmers feed the berries to civet cats, and later collect the indigestible beans after the cat eliminates it by defecating. The beans are then processed or ground, and later used to create this unique coffee brew. You can also find chocolates made from the kopi luwak beans. The best place to find kopi luwak coffee is at Kopi Bali House in Ubud.
Bali Sightseeing and Luwak Coffee Plantation Tour

Duration: 10 hours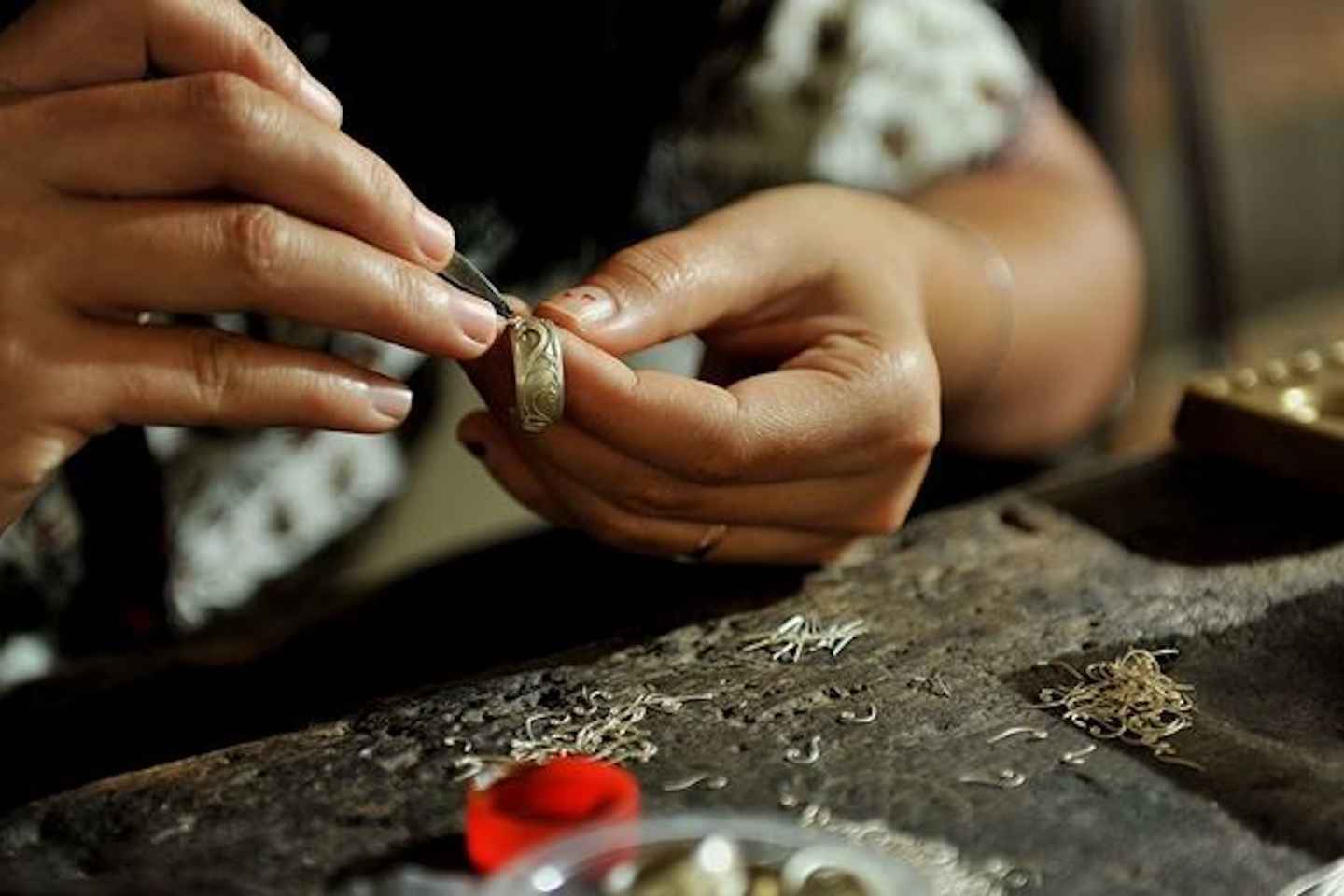 Jewelry is a popular choice in souvenirs no matter where you travel. But in Bali, you will find silversmiths who have been creating stunning pieces for generations. To find some of the best deals visit the Celuk Village, famous for the art of creating silver jewelry sets with precious and semi-precious stones. The artisans are happy to share their knowledge of the art with their customers. You will find everything from simple earrings and bracelets to more elaborate pendants, rings, and armbands. Buying a piece of Balinese silver jewelry makes a great gift for loved ones back home.
Ubud: 3-Hour Silver Jewelry Making Class

Duration: 3.0 hour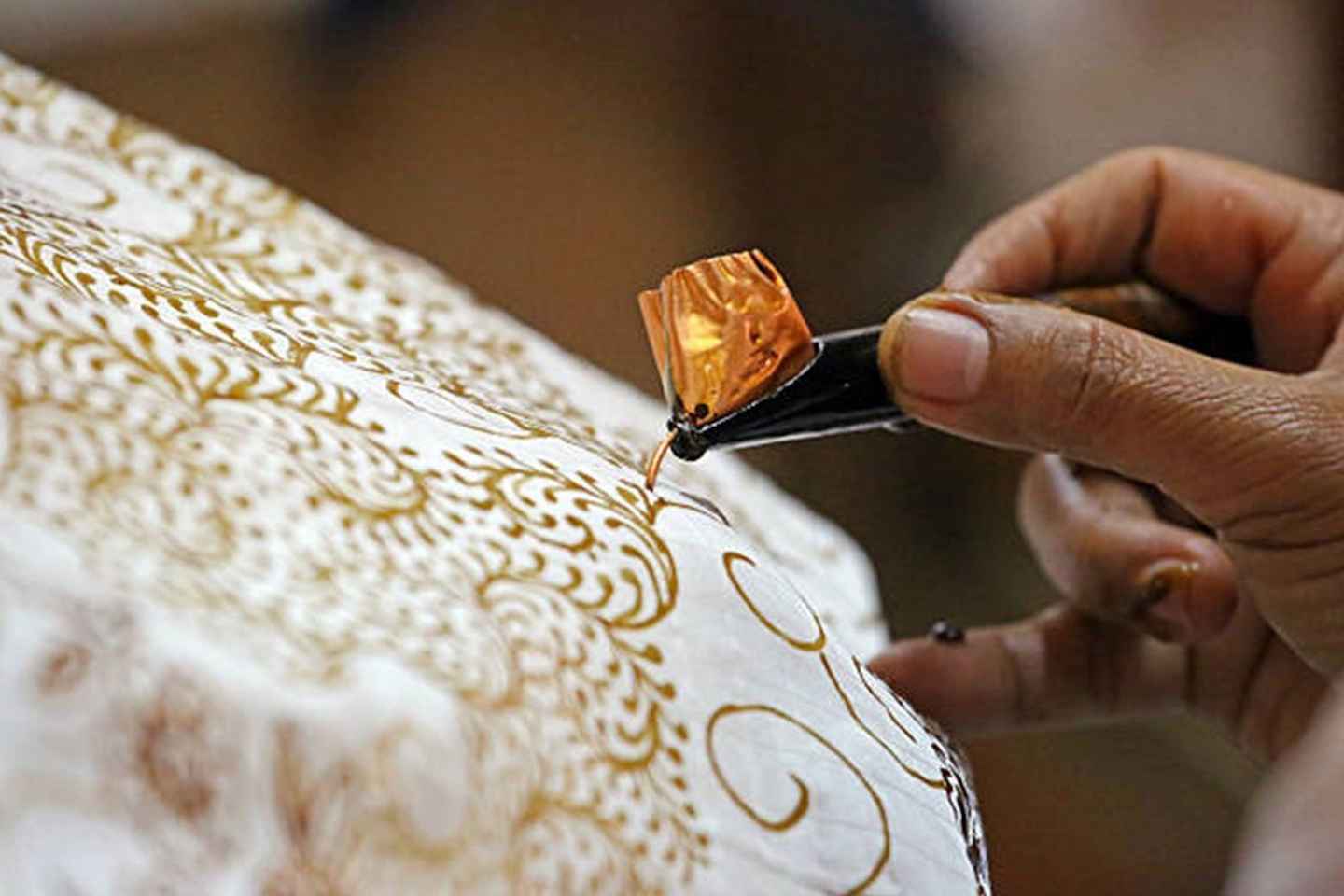 Batik fabric is used in every Indonesian culture for clothing, religious wear, and home décor. Each culture has its own unique style of batik and Bali is no different. Here you will find songket which is made using natural dyes and cotton that are woven into intricate designs. You can purchase straight fabric to take home and use to create your own clothing or find the brightly colored cloth used in a variety of items. You can find shirts, skirts, sarongs, dresses and even tablecloths and bed linen made from this versatile cloth. Finding a shop to purchase it is not difficult, it's everywhere, but you will find the best deals on Balinese songket in Ubud.
Ubud: 3-Hour Batik Making Class

Duration: 3.0 hour
7. Handmade dupa
Editor's Note: There's no photo available at the time of writing
Balinese are deeply religious people and practice different rites on a daily basis. Almost all of these include the aromatic dupa or incense. Finding these fragrant sticks is easy as they appear in most market and shops on the island. They smell great as it is but when you light them the aromatic smoke will fill the room and make the gods smile down upon you. They make a great souvenir to take back home as they are inexpensive and won't take up much room in your suitcase.
8. Bali ceramics
Photo is only for illustrative purposes
If you are looking for a souvenir to brighten your home, then you can't go wrong with Balinese ceramic pottery. And you won't have to go far to find it, there are many shops that sell everything from basic tableware to intricate incense burners to ceramic statues. The artisans use methods that have been passed down through the generations to create their pottery pieces. And to get an idea of how the products are made, you can even find pottery classes and make your own pottery to take back home, check out Sari Api Ceramics Studio in Ubud to learn the basics.
9. Gamelan ball
Photo is only for illustrative purposes
The Gamelan ball, or harmony ball, is something you will see a lot of the locals wearing. These handcrafted silver balls hold a chime inside and are used during meditation. These small, intricate balls produce soothing sound when you gently shake them and are said to reduce stress. Pregnant women wear them as it is believed that the baby can hear the sound and will remain calm inside the womb. Since these delicate silver balls are made by hand, no two balls will look or sound alike.
10. Eco-friendly bags and fabrics
Photo is only for illustrative purposes
It seems almost everyone has "gone green" and the Balinese are no exception. You will find many shops and artisans selling items made from sustainable, eco-friendly materials like bamboo, capiz shell, organic cotton, and vetiver. These materials are used to craft shopping bags and handbags, table linens and even bed sheets and pillowcases. You can also find some beautiful, soft-as-leather bags made from cork oak in shops like Ono Creations and Threads of Life; they also produce some lovely fabrics that can be used in a variety of ways.
11. Bintang shirts or shorts
Photo is only for illustrative purposes
With island sitting in the heart of the equator every day is summer in Bali. You can find some great deals on summer and beach clothing during your trip. They make and sell everything from bathing suits to brightly colored shirts, skirts, and dresses. And most shops sell items of every size from kids to adult. You will also find the popular Bintang shirts, which are soft sleeveless shirts just like tank tops, and board shorts also known as Bintang shorts in the local markets.
12. Organic beauty products
Balinese women have a reputation for glowing, radiant skin. They have looked this way since long before modern skin care products were invented. Their secret is they use only organic, beauty products made from herbs and flowers found locally. One of the key ingredients is lemongrass which is mixed with flower infused oils and lotions. You can buy body and facial scrubs, massage oils, and funny and yummy smelling soaps too. You can find some great deals on these organic beauty products. Wrapped in beautiful packages, they make great gifts from Bali for all the women in your life.
Masks have a long history in Balinese spiritual traditions. They were once only used in the temples during sacred rites and rituals. When the tourism industry began in the 1960's visitors to the island expressed an interest in these beautiful wood masks and a new industry was born. These masks are made from different types of woods (teak, hibiscus and many more) by master carvers. The most intricate masks use over 30 different tools in the carving process. To find the best deal on a barong wood mask visit the village of Mas where you will find many wood-working shops with different types of masks.
Bali, Ubud, and Kintamani Day Tour with Barong Dance and Lunch

Duration: 8 hours
Some tips to get the most out of your Bali shopping spree
For a rundown on what to buy and what not to buy in Bali, consider these shopping tips. Don't make the usual mistake that most tourists do by buying the first item you see, or only visit the shops near the hotel you are staying in. Before making that initial purchase be sure to look around shops first. You might find the same item for a better price if you take the time to look. Be sure you wear comfortable shoes when visiting the many markets and shops that you will find. And to make sure you have room in your suitcase and that you don't break your budget, it's a good idea to make a list of Bali souvenirs that you are looking for before setting out on your Bali shopping spree.
Disclosure: Trip101 selects the listings in our articles independently. Some of the listings in this article contain affiliate links.
Get Trip101 in your inbox
Unsubscribe in one click. See our privacy policy for more information on how we use your data