Marbella is a traditional Spanish city located on Andalusia's southern coast and is a tantalizing mix of old and new, with endless sandy beaches. The Old Town is a quaint and lovely place to visit, with its narrow streets and attractive homes lined with colourful flowers on the balconies and the sound of songbirds. This area also has several fascinating historic landmarks to visit. The newer city offers an upmarket shopping experience and the best party hotels, along with many excellent restaurants, tapas bars, and cafes, serving both Spanish and international cuisine. The following paragraphs detail the top fun things to do in Marbella.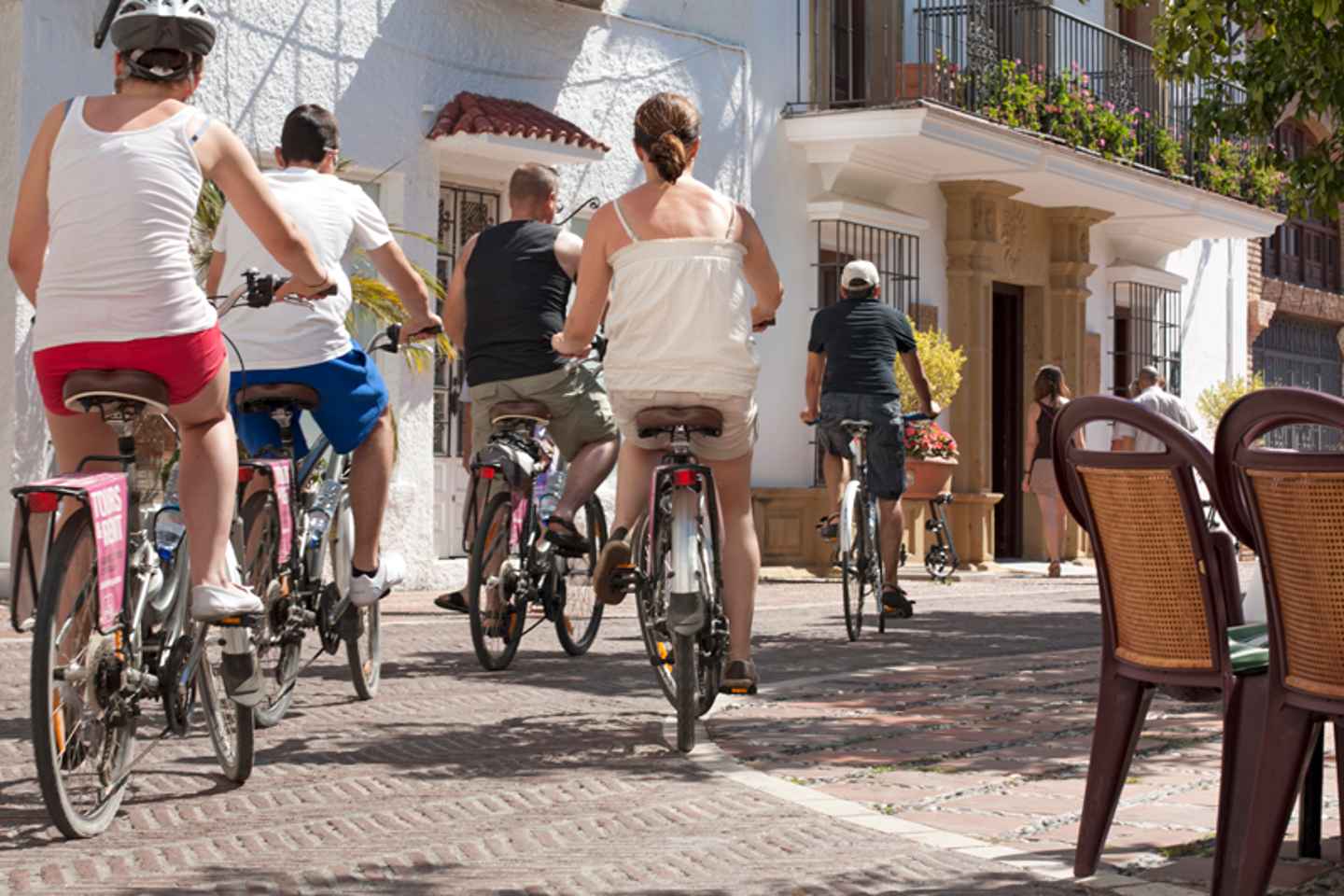 A beautiful day under the Andalusian sun will not be complete without joining this educational bike tour. As you pedal through the coastal town and its parks and boardwalk with the help of your expert guide, you will also learn about the origin of historical landmarks and fortress remains from the Moorish period. Aside from these attractions, a visit to Barrio de Los Pescadores (traditional fishing village) and yacht marina is on the itinerary too. It's a great family activity when you're in Marbella!
Bike Tour of Marbella: Old City, Harbor, Parks

Duration: 3 hour
Marbella is a popular destination among showbiz personalities and Europe's elite and royalty, so for a unique experience in the city, why not live like a celebrity for a day and get your photos taken by a professional fashion photographer? Instead of having selfies on your phone as your memorabilia, frame your Vogue-like or street style photos and proudly display them back home! This Airbnb Experience is hosted by Michael and can accommodate up to four people per three-hour session.
Photoshoot with a Fashion Photographer

Duration: 3 hours
This sailing tour hosted by yacht captain Salvador lasts four hours and is perfect for large groups. You will dock at La Bajadilla Marina, set off to the coast, and take mesmerizing photos of the vista. During the sail, you might get lucky and meet a colony of seagulls and a family of dolphins. Marbella is a luxurious town with a prominent marina lifestyle, so this is actually how most locals go about their day. It takes the saying "live like a local" on a whole other level!
Marbella Shooting & Sailing

Duration: 4 hours
Spain does have a great love for its tapas. Have a taste of these delicious snacks by joining a tapas adventure. This Airbnb Experience is hosted by Rebecca and Manuel and can entertain up to 10 people. For three mouthwatering hours, satisfy your appetite at the well-loved tapas bars and oldest tavern in the city. Your hosts have carefully picked local wines that will go well with your tapas. Besides these tasty experiences, you'll discover how Marbella became the most sought-after spot by the elite, having only started as a quiet fishing village.
⭐Original Marbella Tapas Adventure ⭐

Duration: 3 hours
With a total of 27 km (16.7 miles) of coastline, Marbella's beaches are phenomenal. Close to the major hotels in the city centre, Venus Beach offers all necessary services, including beach bars and disabled access, as well as sun beds and parasols for hire. This beach is located between Marbella's marina and the traditional fishing port. On the outskirts of the city, enjoy Los Monteros Beach, offering sand dunes and great waves, making it popular for windsurfing and other water sports, along with all the necessary services like showers and beach bars. Visit the beach at Puerto Banús with its fine, clean golden sand, located right next to the Río Verde and with a top quality range of restaurants, shops and bars.



Hotel - Apartamentos Greenlife Golf

Address: Urbanización Elviria Hills, Avda. Marco Polo s/n
Accommodates: 4


Parking Restaurant Pets allowed Meeting/banquet facilities Bar Tennis court Sauna Fitness centre
With its narrow, flower-lined streets and quaint traditional buildings, Old Town (or Casco Antiguo) in Marbella is a must-visit destination. The area is partially surrounded by the remains of the original Roman city walls and many fascinating historic sites can be visited, in a layout that dates back to the 16th century occupation. Many tapas bars, coffee bars, and chic boutique shops are dotted among the homes in the area, along with several interesting museums and historic churches to visit and restful plazas or town squares, adorned with flowers and shady trees. Of particular note among the squares in Old Town is the Plaza de los Naranjos. Strolling down Old Town is one of the memorable activities in Marbella.



Hotel San Cristóbal

Address: Avenida Ramón y Cajal , 3
Accommodates: 10


Parking Restaurant Meeting/banquet facilities Bar 24-hour front desk Golf course (within 3 km) Non-smoking rooms Airport shuttle
For those feeling a little more energetic, The Boardwalk is a reasonably recent addition to the Costa del Sol. It has gradually spread out from Marbella, winding along the often rugged coastline for just under 6 km (3.7 miles), all the way to the quaint seaside resort of La Cala de Mijas. The combination of concrete and wooden pathways takes you comfortably along the coastline, passing various local homes, with beautiful sea views and surrounding scenery. Along the way the remains of coastal defence towers, placed by the Moors during their occupation of the area, can be seen. Once in La Cala de Mijas, relax at a beachfront restaurant or café in the quaint little town before starting the hike back to Marbella, or catch a bus or taxi back to your hotel.



BlueBay Banús

Address: Carretera de Cádiz, Km 173
Accommodates: 4


Parking Restaurant Meeting/banquet facilities Bar 24-hour front desk Golf course (within 3 km) Garden Terrace
The main public square in Old Town Marbella is the Plaza de los Naranjos, which dates back to 1485. The square consists of several "terrazas" (or terraces) and, appropriately for its name, is lined with fragrant orange trees. The plaza is also surrounded by traditional and attractive Castilian Renaissance architecture, including the 16th century City Hall and the "Ermita de Santiago," the city's oldest church. In the evenings the plaza comes to life with its open-air restaurants, along with entertainment from street performers, including the local flamenco music and dancing. This area also includes the Tourist Office, offering valuable information about places to see and what to do in Marbella.



La Morada Mas Hermosa

Address: Montenebros,16 - Casco Antiguo
Accommodates: 2


Meeting/banquet facilities Non-smoking rooms Airport shuttle Internet services Safety deposit box Library Tour desk Heating
Marbella hosts a variety of fascinating museums and art galleries, all of which are reasonably priced or free to visit. The Museo del Grabado is a contemporary art gallery located in the Old Town close to the old city walls and housed in the 16th century Bazan Hospital, a building of cultural interest. The museum offers exhibitions of 20th and 21st century Spanish graphic artwork and engravings. At the time of writing, entrance fees are 3 EUR (3.17 USD) per person. For plant lovers, the Museo Bonsai Marbella (Bonsai Museum) is among the best to be found in Europe and has what is considered to be the largest collection of wild olive trees in the world, including a 300-year-old tree. Other exhibits include the Chinese hackberry, as well as other native trees from the surrounding areas, like the endangered Spanish fir trees. Entry fees are currently 4 EUR (4.23 USD) for adults, and 2 EUR (2.11 USD) per child.



Hotel Claude Marbella

Address: San Francisco, 5
Accommodates: 2


Parking Room service Meeting/banquet facilities Bar 24-hour front desk Golf course (within 3 km) Newspapers Terrace
Built back in the 1950s, Constitution Park is one of Marbella's most visited areas and is located just outside the city center. With its waving palm trees and pretty gardens, the park is a tranquil and welcoming place to visit and was originally the garden of a private home. There is an amphitheatre in the park, often used for outdoor plays and music concerts in the summer months. The same building houses the Marbella Music and Dance Conservatory (Conservatorio de Música y Danza de Marbella). Enjoy viewing the stars in a small observatory housed in the park or relax at the onsite café while the children enjoy the playground with swings and other attractions.



Senator Marbella Spa Hotel

Address: Príncipe Alfonso Hohenlohe, s/n
Accommodates: 3


Parking Restaurant Pets allowed Room service Meeting/banquet facilities Bar 24-hour front desk Terrace
Anyone with a love for the surreal — or art in general — will enjoy a stroll down the Avenida del Mar in Marbella, where 10 pieces of bronze sculpture by the Spanish artist, sculptor and photographer Salvador Dali line the street in style. Each work is signed by the artist himself in a permanent outdoor museum in one of Marbella's most scenic spots. Among the works, a series of fountains and cafes can be found as well as wonderful sea views. An art shop on the site sells various books and prints of work by both Dali and his fellow famous Spanish artist, Pablo Picasso.



Hotel Fuerte Marbella

Address: Calle El Fuerte, s/n
Accommodates: 3


Parking Restaurant Pets allowed Room service Meeting/banquet facilities Bar 24-hour front desk Tennis court
12. Water sports on offer in Marbella
Fans of jetskiing, paragliding, flyboarding, and scuba diving will have the time of their lives in Marbella. Puerto Banús and other strategic areas along the Marbella coastline offer a full range of adventure options from the excitement and daring of paragliding and parasailing through to boat and jetski rentals. For a gentler experience, enjoy a dolphin viewing sail out into the Mediterranean, hire a paddleboat to putt around with friends or family, or a relaxing day of deep sea fishing.
The main beach in Marbella is justifiably dubbed the Golden Mile. However, that "mile" actually stretches for around 5 kms (3.1 miles) from the western edge of the city (at Plaza Bocanegra) right through to the Río Verde (Green River) and the posh marina at Puerto Banús. This glorious seafront promenade takes visitors along the golden sands and past various urbanizations, full of beautiful homes, villas, and mansions, as well as many beach restaurants and bars (chiringuitos) enabling you to take a well-earned rest along the way.



Holiday home Marbella 55 Spain
Located in the Nueva Andalucía area of Marbella, at the end of the Golden Mile promenade, Puerto Banús is a luxury marina and collection of shopping malls that has become one of the largest and most popular entertainment centres along the coast. Popular with both international celebrities and members of European royalty alike, Puerto Banús has a wealth of bars and restaurants, serving all types of cuisine and entertainment. Backed by the looming La Concha mountain, the marina is also home to large luxury yachts and often high end cars, including Ferraris, Rolls Royces, and Lamborghinis can be spotted in the area.



Marbella Beach Resort at Club Playa Real

Address: Club Playa Real Avenida cuesta correa s/n
Accommodates: 8


Parking Restaurant Bar Golf course (within 3 km) Garden Terrace Non-smoking rooms Airport shuttle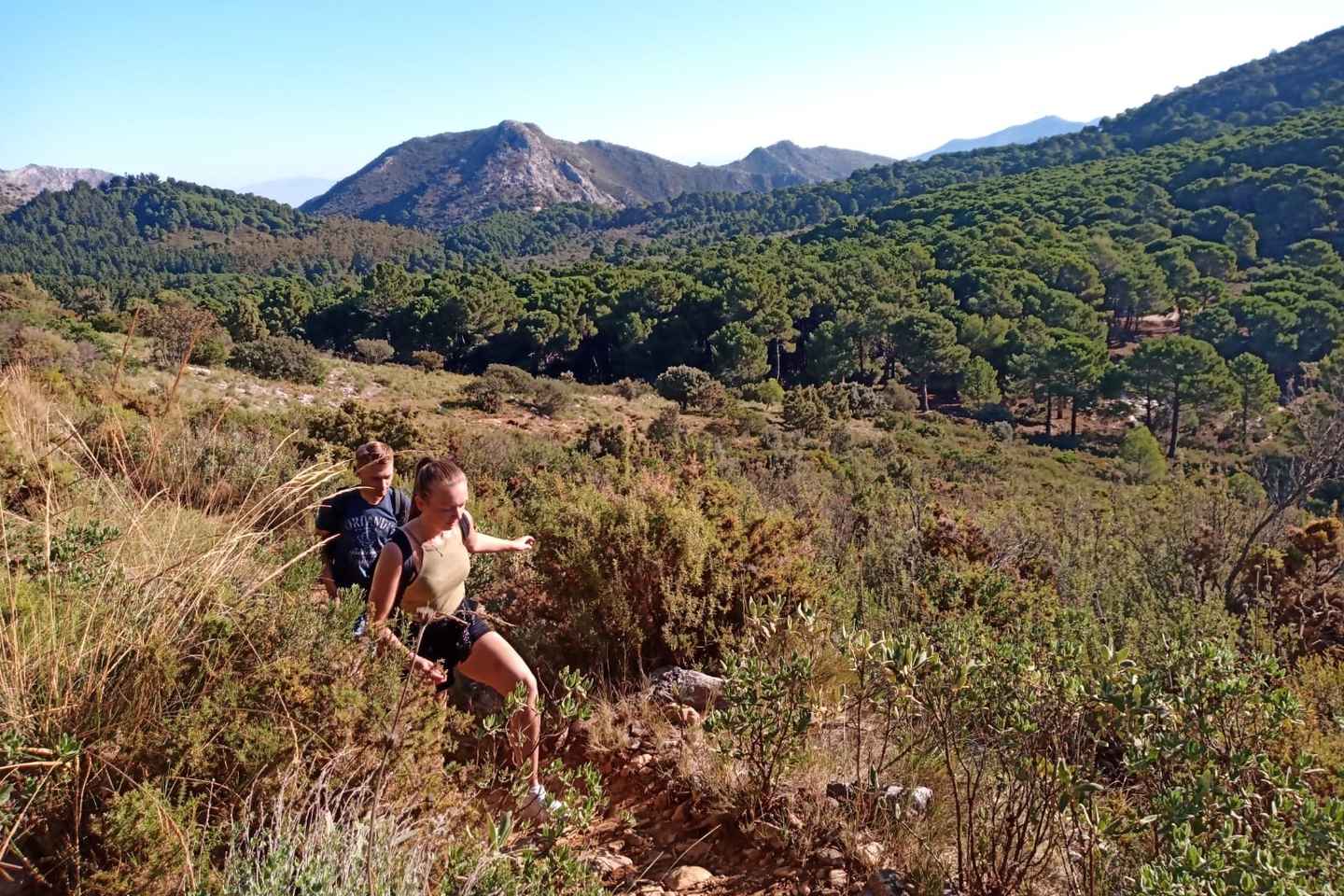 When you've had enough of the countless water activities in Marbella, why not go the other direction and hike up Andalusia's peaks? From the vantage point, you'll have an astounding perspective of the city and its twinkling marina lights, as well as Puerto Banus and the Mediterranean Sea. You don't have to be a hiking expert to join the tour. The hike is family-friendly, so if you have an active bunch with you, it's a great way to spend the beautiful day!
Hiking the Peaks of Marbella

Duration: 4 hour
Make a point of visiting Marbella
When travelling to the Costa del Sol in southern Spain, make sure you visit Marbella and experience all the wonderful attractions on offer. The city is easily accessible from Málaga International Airport, 51.1 km (31 miles) away, by rental car, bus, or taxi and offers a great range of hotels and accommodation of all kinds.
Disclosure: Trip101 selects the listings in our articles independently. Some of the listings in this article contain affiliate links.
Get Trip101 in your inbox
Unsubscribe in one click. See our privacy policy for more information on how we use your data