From fine architectural gems such as the Notre-Dame Basilica to picturesque natural charms on the summit of the Mount Royal, there is much to enjoy during a trip to Quebec's largest city. Montreal is chock-full of cultural and historical delights, with the likes of the Old Port and the city's famed Museum of Fine Arts bringing visitors flocking in their droves year after year. But while this island city on the St Lawrence River boasts enough sights to keep someone entertained for a lifetime, those of us with a little less time of our hands need not miss out. Read on for an itinerary of just some of the top attractions you can enjoy during 36 hours in Montreal.
Day 1: Afternoon - Visit Montreal Museum of Fine Arts then head to Montreal Botanical Gardens for a relaxing afternoon
Start your flying visit to this charming city with a little culture. The centrally-based Montreal Museum of Fine Arts, which is located on the city's famous Golden Square Mile, is one of Canada's most important museums and is home to around 44,000 permanent exhibits between its five pavilions and more than 140,000 sqft (13,000 sqm) of exhibition space. Little wonder then that this prominent art museum is one of the biggest sites of its type in the whole of North America. And after enjoying some of the Old Masters on exhibition and other historical artifacts, why not enjoy a little fresh air in the Montreal Botanical Gardens. Indeed, gardening and plant fans will likely be incredibly eager to explore its 75 hectares (190 acres) of themed gardens, which are home to such wide-ranging collections that they were recognized as a national historic site just over a decade ago. And, with everything from alpine and First Nations gardens, to ones featuring the blooms of China and Japan, it's easy to see why.
Montreal Museum of Fine Arts

Address: 1380 Sherbrooke St W, Montreal, QC H3G 1J5

Opening hours: 10 am to 5 pm (Tuesdays and Thursdays to Sundays); 10 am to 9 pm (Wednesdays). Closed Mondays.

Price: Varies. Free to 11 USD for ages 13 to 30; 11 to 17 USD for ages 31 and up
Day 1: Evening - Dinner at Le Coq de l'Est and then stroll in the Old Port
By now you'll likely be ready to tuck into some hearty grub, so you may want to head for Le Coq de l'Est. This popular eatery is well known in the city for its chicken dishes - a fact that's perhaps unsurprising given its name. As well as its rotisserie chicken, the restaurant also boasts a range of other dishes - including vegetable-based options for those who prefer not to tuck into the meat. And, after digesting your chosen dish at this or one of Montreal's other eateries, it's on to one of the top attractions of the city, and a big reason why Montreal exists in the first place - its Old Port. Montreal's position on the St Lawrence River has made it a key trading port for centuries - indeed its port dates back as far as 1611. Little surprise then, that even though shipping activities have since moved a little further east, the Old Port is still a key location within the city. Its mix of historic and recreational activities attracts more than six million visitors every year. And, with everything from the Montreal Ferris Wheel to the extensive cycling, walking and pleasure boating opportunities of the Lachine Canal, there's plenty to enjoy during a stroll.
Le Coq de l'Est

Address: 8803 Rue Hochelaga, Montréal, QC H1L 2N1

Opening hours: 5 pm to 10 pm (Tuesdays to Fridays); 10 am to 2 pm and 5 pm to 10 pm (weekends). Closed on Mondays.

Price: Inexpensive

Website: Le Coq de l'Est
Day 1: Night - Watch a comedy show at the Comedy Nest
Fans of a good chuckle will enjoy the next item on the itinerary. Montreal is home to a thriving comedy scene, and the Comedy Nest plays host to all manner of comics. Since its foundation in the late 1970s, the club has grown to become one of the top places for comedy in the city and has even made it to the lists of the best comedy clubs in the entire North American continent. Indeed, such is its pulling power that it regularly hosts comedians who are no strangers to national TV audiences - drawing faces who have appeared on everything from Comedy Central to The Tonight Show. What's more, there's cabaret-style seating for up to 160 people - so you can be assured of a good atmosphere during your visit. And its position in downtown Montreal, just across from the Alexis Nihon Plaza, means you won't have far to go to enjoy some shopping or food beforehand.
The Comedy Nest

Address: 2313 Saint-Catherine St 3rd Floor, Montreal, QC H3H 1N2

Opening hours: Varies. Doors typically open at 7.15 pm for 8 pm start. Check before heading out.

Price: Varies. From 3.67 USD
Day 2: Morning - Breakfast at Byblos then go for a hike up Mount Royal
Get your second day in the city off to the perfect start, with a breakfast and coffee hit that will set you up for the day. Byblos, a self-styled small cafe, offers a range of Persian-inspired dishes - some of which are vegetarian-friendly - as well as stews and popular Iranian teas. The latter of which will go down as a treat among those who enjoy a hot drink but aren't big fans of coffee. And, after you've finished your meal you'll be well set to burn off a few of those calories by taking the short walk up to the top of Mount Royal - from which the city gets its name. The slopes, which are the remains of an extinct volcano rise up to 233 meters (764 feet) above the city, offering a superb vantage point from which to enjoy the cityscape. Indeed, the hill is a popular spot not just for fans of a good view, but for those who love outdoor activities. The woods of the wider Mount Royal Park are home to a range of hiking and ski trails, while the vibrant colors of the foliage in autumn make it a great spot for a romantic stroll.
Byblos Le Petit Cafe

Address: 1499 Laurier Avenue East, Montreal, QC H2J 1H8

Opening hours: 9 am to 11 pm daily (closed on Mondays).

Price: Moderate
Day 2: Afternoon - Wander around Olympic Park and visit Montreal Biodome then have fun at La Ronde
Next on your itinerary is Montreal's Olympic Park. Cities which can lay claim to having hosted the Olympics are a rare and exclusive bunch - and Montreal is among that number, having hosted the Summer Games back in 1976. The Olympic village is still home to a host of facilities dating back to that tournament - from the Olympic Stadium to the swimming pool. Then there's the next stop on our list - the Biodome, which served as the velodrome during the games. It has since been converted to house four different ecosystems that reflect different environments in the Americas. These include recreations of the Amazon rainforest, the North American wilderness, and even the Arctic polar regions. What's more, each of the four ecosystems contains living animals that have evolved to deal with those climates - from the lynx to the macaw - so wildlife fans will be in heaven. And after the natural and educational charms of the Biodome, how about a little fun? La Ronde, which occupies nearly 150 acres (60 hectares) of Saint Helen's Island, is the second-largest amusement park in Canada and is home to nearly 10 different roller-coasters, as well as a mix of thrill rides, log flumes, and family-friendly carousels. There's even a monorail - dating back to the site's creation for the 1967 World's Fair - from which to leisurely explore the park.
La Ronde

Address: 22 Chemin Macdonald, Montréal, QC H3C 6A3

Opening hours: Vary. Season typically runs from mid-May to late October

Price: Varies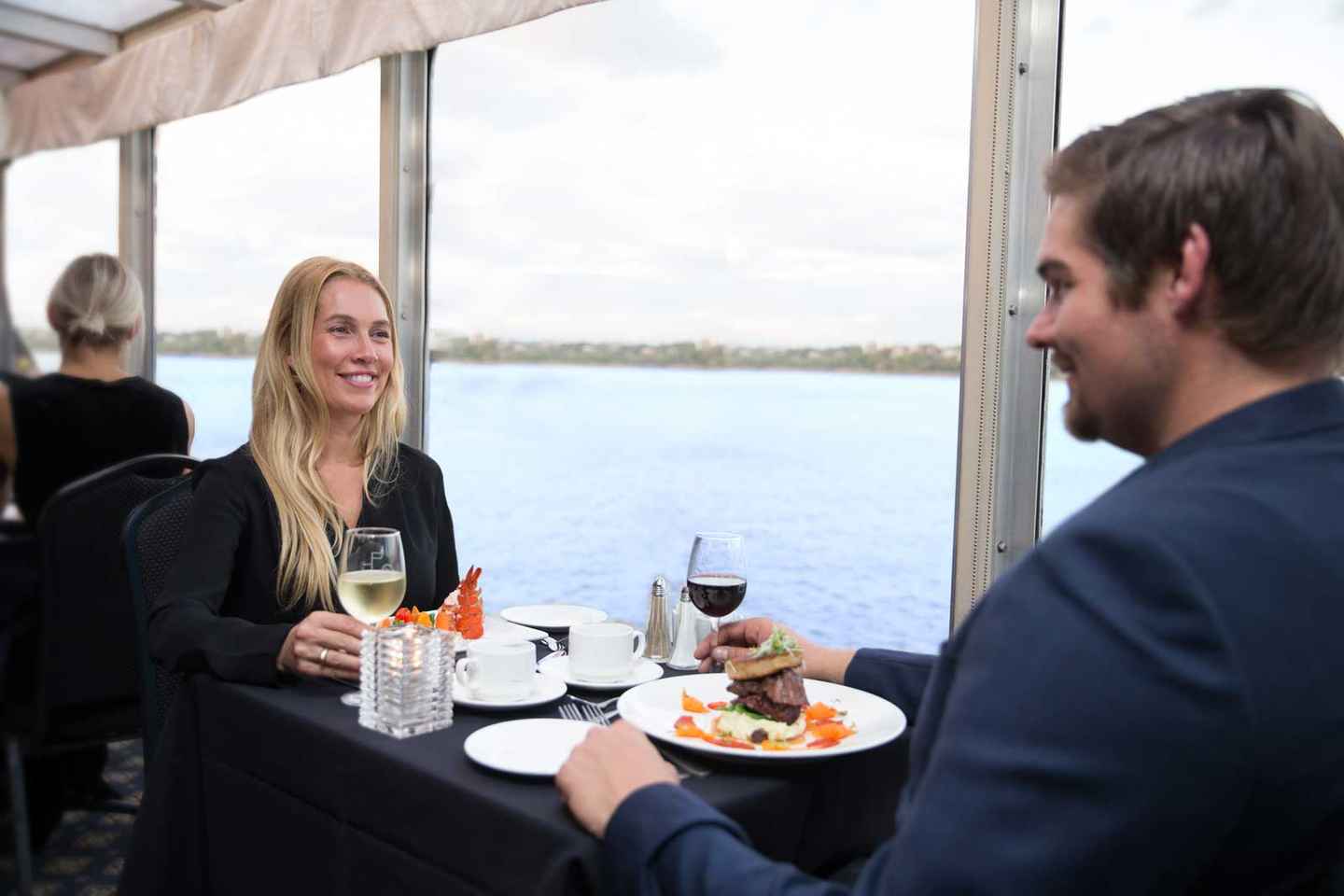 Montreal's position on the St Lawrence River means it offers plenty of opportunities for waterborne exploration. So, after a busy day at the Olympic Park and La Ronde, why not take to the river for the next leg of your journey? Even better, there are a number of river cruise options that let you wine and dine while watching the cityscape serenely pass by. One even features a five-course dining experience, that sets sail from the Old Port aboard a vessel that is capable of accommodating hundreds of guests - so you should have little problem booking spots aboard, regardless of the size of your group. There are also a number of other tours - some as short as 60 minutes long - which are also vying for your time.
Montréal: 5-Course Dinner Cruise

Duration: 3.5 hour
Day 2: Night - Drinks and dancing at local nightclubs
Although a number of the evening river cruise options feature bars, open terraces, and live music, you may want to keep the party going upon your return to dry land. If so, then Montreal's vibrant nightlife is sure to prove a popular way to close your second day in the city. Stereo After Hours is just one of the popular spots which open late and stays open even later - ensuring you'll be able to enjoy live music and beer until well into the small hours of the morning. Stereo's mix of techno and house music is particularly popular with fans of energetic dance music. But those who prefer their music more laid back will also find plenty of options - from the international DJ events of Le Salon Daomé in St Laurent Boulevard to the varied musical styles of Club Unity in St Catherine Street East and many more besides.
Stereo After Hours

Address: 858 St Catherine Street East, Montreal, QC H2L 2E3

Opening hours: Vary
Day 3: Breakfast then a stroll through Jean-Talon Market for some shopping before departure
Your flying visit to this impressive Quebec city may almost be at an end, but your final morning in Montreal still provides plenty of opportunities to enjoy a good breakfast and some last-minute souvenir shopping. Little Italy is home to a number of eateries, such as the Restaurant l'Eggs Oeufs du marché, which would be one option for an early bite to eat. Indeed, it opens as early as 6 am in the morning, and its mix of breakfast pancakes has won it hundreds of fans. It's also a handy stopping-off point for a visit to the nearby Jean-Talon Market afterward. This open-air market is open all year round and is chock-full of vendors selling their unique local wares. Indeed, during the exceptionally busy summer period as many as 300 different stall holders vie for attention, selling all manner of goods - everything from local farm produces to even household goods. What's more, the local area contains numerous other local food and drink businesses, dealing with everything from spices to fresh meats. There's also a range of restaurants as well, should you prefer to eat out here rather than grab breakfast before your market visit. What's more, the market is close to two different metro stations, so you'll have no difficulty using the market as a jumping off point to end your Montreal adventures.
Jean-Talon Market

Address: 7070 Henri Julien Ave, Montreal, QC H2S 3S3

Opening hours: 7 am to 6 pm (Mondays to Wednesdays, and Saturdays); 7 am to 8 pm (Thursdays and Fridays); 7 am to 5 pm (Sundays)
Plenty of inspiration
It may just be a flying visit, but a 36-hour taster of Montreal and its many sights will certainly whet your appetite for a return trip. What do you want to see the next time?
Disclosure: Trip101 selects the listings in our articles independently. Some of the listings in this article contain affiliate links.
Get Trip101 in your inbox
Unsubscribe in one click. See our privacy policy for more information on how we use your data