New Orleans, Louisiana, is unlike anywhere else in the United States or the world. With music and art pulsing in every facet of the culture, there is no shortage of entertainment in "The Big Easy." From visiting the French Quarter for jazz to heading to historic Uptown for the Audubon Zoo, with so much to take in, 36 hours in New Orleans may not be enough. However, this itinerary for an action-packed 36 hours will whet your appetite for the historic and cultural wonder that is New Orleans. Scroll down to sample 36 hours in New Orleans, and begin planning your trip today.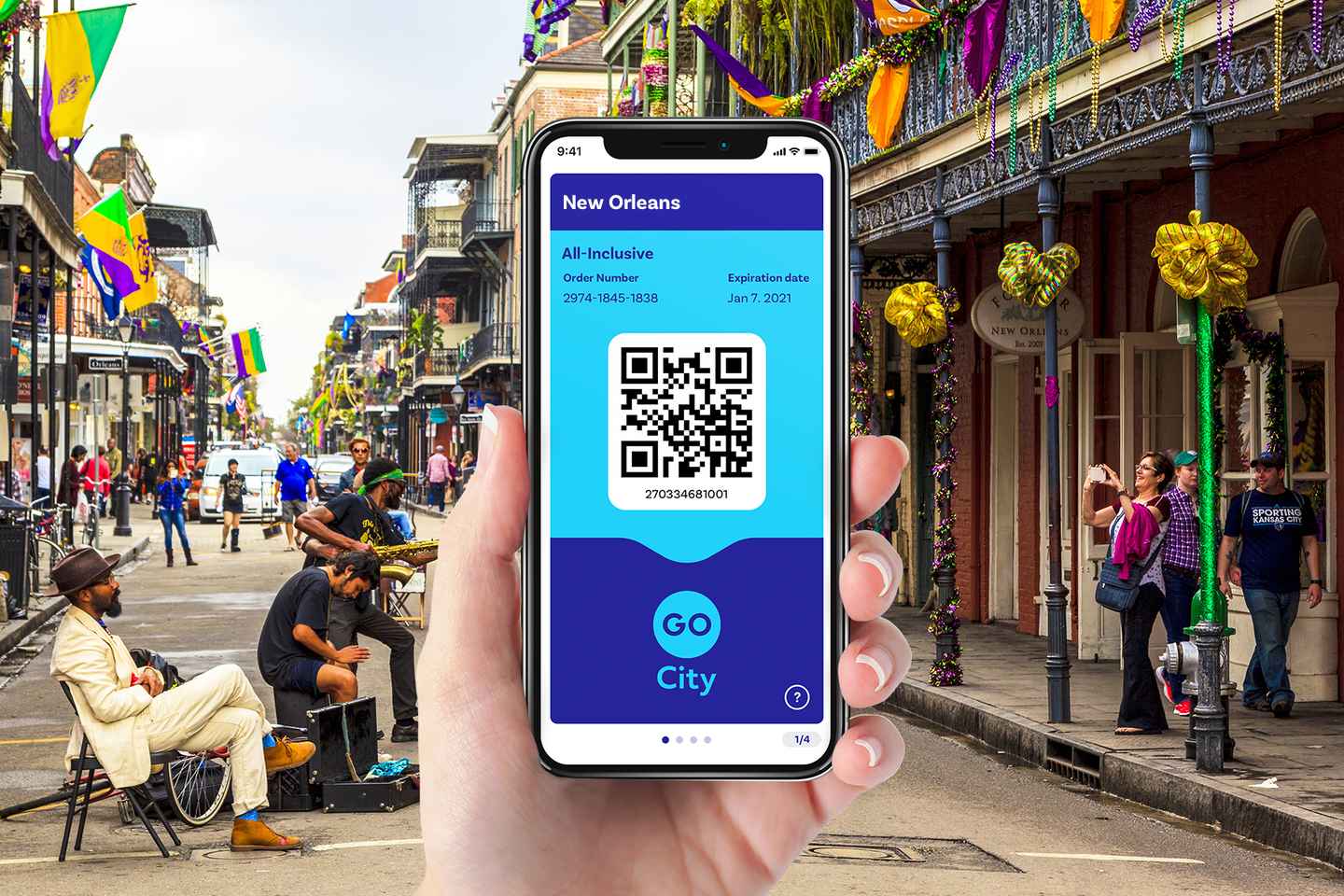 A great place to start your visit in New Orleans is in Uptown's neighborhood gem of the Audubon Zoo. Complete with a zoo, aquarium, insectarium, nature center, and golf course, there is no shortage of activity for nature lovers here. If you purchase tickets online they are 3 USD (2.63 EUR) cheaper than in person, and a package for a highlight of the attractions goes for 44.95 USD (39.65 EUR) for an adult. Proceeds go to maintaining and upgrading the Audubon Zoo's mission of, "celebrating the wonders of nature." The zoo is extensive and could take a whole day to get through. Budget a few hours, but save energy for the Butterfly Riverview Park along the Mississippi.
New Orleans: Go City All-Inclusive Pass with 25+ Attractions
Just a short walk of 0.6 mi (0.96 km) from the Audubon Zoo to the Butterfly Riverview Park, your afternoon of nature is on its way to being complete! Known as the Fly, in reference to a once-standing butterfly-shaped building on the park's premises. The Fly is an extension of the Audubon Zoo and offers a multitude of outdoor areas such as picnic tables, and soccer and football fields. Bring a ball or frisbee and enjoy the open-air of the Butterfly Riverview Park, as well as views of the great Mississippi River. The longest river in the United States, the Mississippi ends just 100 mi (160 km) south of New Orleans.
The Neighborhoods of New Orleans: 3.5-Hour Bike Tour

Duration: 3.5 hour
It's time for dinner, and New Orleans has no shortage of food! Head to Brigsten's Restaurant (https://www.brigtsens.com), serving up contemporary Creole cuisine. Chef Frank Brigtsen is part of a cohort of New Orleans chefs who are dedicated to reviving Creole and Arcadian cooking. He has received multiple national awards, such as "One of America's Top New Chef's" by Food and Wine Magazine in 1988. Try such specialties as File' gumbo with rabbit and andouille sausage for 9 USD (7.9 EUR) a bowl, or shrimp and smothered okra with andouille sausage and rice for 36 USD (31.59 EUR). Save space for a southern specialty for dessert such as pecan pie with caramel sauce for 8 USD (7 EUR). Reservations are required, so call ahead.
New Orleans: Afternoon Food History Walking Tour

Duration: 3 hour
After dinner, it is time to work off some of those calories just eaten. St. Louis Cathedral is the oldest church in North America, and it's a symbol of New Orleans. In the heart of the French Quarter, St. Louis Cathedral is beautiful day or night. Completed in 1789, this Spanish Colonial-style cathedral sits at the top of Jackson Square, as a reminder of New Orleans once being a French colony. Hours of visiting are between 8:30 am and 4 pm, but even if you don't catch that window, the exterior is still stunning. Explore Jackson Square at the steps of St. Louis Cathedral, which is home to open-air artists and shops.
New Orleans Insider 2-Hour Walking Tour

Duration: 2 hour
No trip to New Orleans would be complete without taking in some music. The House of Blues specializes in blues and jazz; both deep-seated traditions in New Orleans culture. Each night (and very often, day), The House of Blues showcases artists from around the country and world. Price of entry ranges depending on who is headlining, but it can be as affordable as USD15 an entry. Additionally, the French Quarter where The House of Blues is in nightly has music up and down the street. Even when your concert is over, there will be music late into the night at surrounding bars. New Orleans is music.
Evening in New Orleans: Live Jazz Music Discovery Tour

Duration: 2.5 hour
It's Day 2 in the beautiful New Orleans, and a day in the right direction means a good breakfast at Wakin' Bakin' in Mid City. Wakin' Bakin' is known for its bright decor and fun twists on breakfast foods such as BBQ shrimp and grits (12 USD, 10.58 EUR), and "The Chronic," a grilled ham, caramelized onion, and Brie cheese sandwich served on a croissant (9 USD, 7.93 EUR). Load up for the day, and then get ready to play at the Audubon Aquarium of the Americas.
New Orleans Hop-On Hop-Off Sightseeing Double-Decker Bus Tour

Duration: 2 hours
Visit the Audubon Aquarium of the Americas
The underwater world of the Audubon Aquarium will entrance you with its walk-through tunnel that explores a Caribbean reef, penguins swimming overhead, and gigantic sharks. A highlight of the aquarium is their seat turtle rescue program in which they rehabilitate and release rescued sea turtles. The aquarium is open Tuesday-Sunday from 10am-5pm and admission is 29.95 USD (26.41 EU) for adults.
The official WWII museum of the United States, the National WWII Museum of New Orleans is a gem in World War II history, told from an American perspective. Spanning four buildings, interactive exhibits, oral recorded histories, and a period-dinner theater makes history to come alive. Open daily from 9am-5pm, the National WWII Museum offers adult standard rates at 28 USD (24.69 EU). Be sure to include this chapter of American history in your visit.
New Orleans: The National WWII Museum Ticket
The only steamboat in New Orleans, Steamboat NATCHEZ is an experience that cannot be missed. Offering a dinner jazz cruise every evening at 7 pm, with water views of the city and a full buffet, Steamboat NATCHEZ is an iconic part of New Orleans. Departing from the Toulouse Street Wharf behind Jax Brewery, reservations are recommended. Tickets for the dinner jazz cruise start at 83 USD (73.18 EUR for adults).
New Orleans: Evening Jazz Cruise on the Steamboat Natchez

Duration: 2 hour
The French Quarter pulses with life and music, so spending your last night in New Orleans out on the town is a perfect way to round out your New Orleans experience. There is no shortage of bars that offer up such New Orleans classics as the Sazerac (rye whiskey with absinthe), but famous spots include Molly's at the Market, Lafitte's Blacksmith Shop, and Arnaud's French 75 Bar. Dance, drink, and be merry; this is the essence of New Orleans!
New Orleans: Haunted Pub Crawl

Duration: 2 hour
Hopefully, your head isn't spinning from last night's drinks. Either way, breakfast is in order, followed by wonders of wonders, Mardi Gras World. Mardi Gras World celebrates the tradition of Mardi Gras all year round (Mardi Gras happens in March), and offers a glimpse into the long-standing New Orleans traditions of Mardi Gras. Floats for the parades are built year-round in the museum, and visitors can try on costumes as well as sample the famous King Cake. Hours of operation are 9 am-5:30 pm, 7 days a week. Tickets are 22 USD (19.40 EUR) for adults.
New Orleans History, Culture and Architecture Tour

Duration: 3 hours
Royal Street is a perfect place for those who love thrift and antiquities. Just a block from Bourbon Street, come to the more refined side of New Orleans amidst art galleries and boutique stores alike. Such stores as M.S. Rau Antiques, Royal Antiques Ltd., and The French Antique shop all sell antiquities and vintage pieces. If you're not on the market for something old, a stroll on Royal Street is still worth it, lined with beautiful private homes and landmarks.
New Orleans: French Quarter Walking Tour

Duration: 2 hour
Magical times in The Big Easy
It's time to head home from your whirlwind tour of New Orleans, but surely, you will want to return after this well-rounded stay. New Orleans is a great place to visit year-round, and friendly locals make it an endearing place. With so much covered in a short time, from nature to history to music, you'll need a staycation after this vacation. Book your 36 hours in New Orleans today, and prepare for an adventure in The Big Easy.
The lush environment of New Orleans is perfect for the growth of plants and flowers. After experiencing the wildlife of New Orleans and Louisiana, head to the New Orleans Botanical Garden located in the gorgeous City Park. Twelve acres (4.8 ha) of gardens await you year round, including a unique sculpture garden. The gardens are open daily from 10 am to 5 pm, and entry for adults is 8 USD (7 EUR). City Park itself is one of the oldest and largest city parks in the United States, spanning over 1,300 acres (526 ha), and housing the world's largest stand of mature live oaks. The oldest tree on the premises is an oak which is over 800 years old!
Following your adventures in the Botanical Garden, head to The Station Coffee Shop & Bakery (https://www.thestation.coffee/), a sleek spot for a snack and caffeine boost. Choose from a French press, Chemex, Vietnamese coffee (Cafe Sua Da) or unique drinks such as rosemary lemonade or ginger limeade. This old-meets-new spot is a perfect way to rest for a second before forging on with the afternoon.
Audubon Nature Institute Museums Admission
Disclosure: Trip101 selects the listings in our articles independently. Some of the listings in this article contain affiliate links.
Get Trip101 in your inbox
Unsubscribe in one click. See our privacy policy for more information on how we use your data