Having to visit the city of Rome is truly fulfilling. But, to experience unique activities around town? For us travelers, it would be over the moon! The city is known for its tourist destinations including the Colosseum, the Vatican city, and its prominent architectural sites. Thus, making it a bustling city with never-ending visitors from different parts of the world. Luckily, we were able to scout several activities you might be interested in trying out. Scroll down below as we have gathered a list of the best Airbnb experiences in Rome, Italy you should try for your next adventure to the city!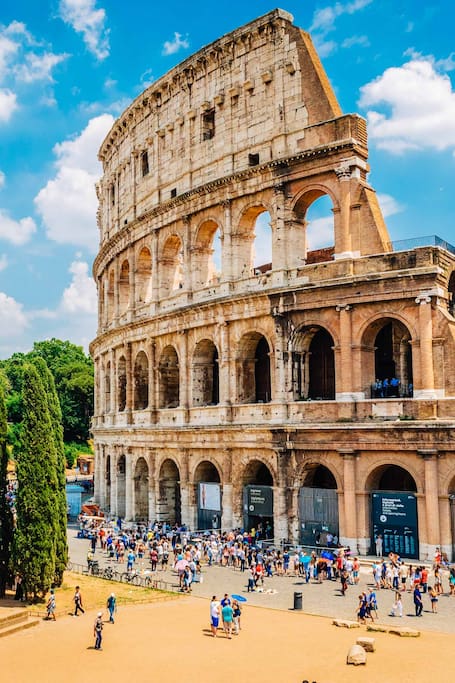 Nothing is better than knowing facts about the history of Rome from the licensed tourist guides like Eva. This tour will take you back to the 2200-year-old city that will tackle its main monuments, its issues, and stories of a bloody war. Feel like a gladiator by walking to the arena through the passages which the past combatant used in the early years. Skip the long lines at the Colosseum plus more and know the past of Ancient Rome from reputable English/Spanish speaking guides!
VIP Colosseum tour, Palatine and Forum

Duration: 3 hours
Hop on a bicycle and join this bike tour that will take you to the most notable attractions around Rome. Travelers will be guided by Glenn-John, a keen historian himself, about the best-kept secrets of these historical sites for four hours. Some of which are the Circus Maximus & Emperors Palace, the Orange Garden, the Theatre of Marcellus Capitoline Hill and more. And it's not only about learning the city of Rome's origin but also trying out their delectable food. It could be a delicious pizza and suppli in the morning or the yummy vegetarian dishes on the evening depending on the tour you select. Either way, this is surely an experience to remember!
Cycle the Labyrinth of Rome at Night

Duration: 3.5 hours
If you think you've had enough history stuck in your mind, why not try this rare Airbnb experience together with Debora and Fiamma. This tour lets you know that Rome is not only about the Colosseum and its historical attractions, but there's more to its distinct Italian cuisine. Though you won't be exploring all of it, two of their most famed dishes — Pasta Polenta and Tiramisù, will be introduced to you during this tour. Take this opportunity to remember Rome right in your palate!
Cook&eat pasta and Tiramisù

Duration: 4 hours
No one would educate you better than a wine expert like Nicoletta whose life revolved around wines. In fact, she's a sommelier and a professional wine taster who will teach you tips about discerning a good wine through sight, smell, and taste. The vineyard is managed by her family that is passed on for five generations thus making it a reliable source of quality wine and information about the winery. Just make sure not to get tipsy, so you would still remember all the info though!
Taste My Wine

Duration: 2.5 hours
You can walk or use a bike to roam around a city, but riding a horse? Now, that's something extraordinary! This Airbnb experience will take you to the Park of Veio where you'll have a nature ride you'll never forget. Here you'll be riding through the forests and valleys and cross little streams like what we see in the movies. Fill your belly with Italian snacks that include salami, local cheese, pizza, fresh drinks, and red wine to complete your quest!
Horseback riding in Rome
If you are tired of seeing the usual attractions in Rome's city center, let's have a different subject to your social media feed. This journey will take you to the ancient Roman aqueducts — constructed by the Romans as the water supply from the outside sources to bring to the cities and towns in Italy. Take this opportunity to capture outstanding landscapes and the beauty of the Mediterranean nature using your camera!
Bike in the ancient Rome

Duration: 3 hours
Vatican City is one of the most interesting places throughout the world. It is known to be the smallest country and is the face of the Roman Catholic Church where the Pope lives. This tour will enlighten you to a plethora of Roman art at the Vatican Museums and lets you explore about the deep history of each historical masterpieces. Grab this chance to also know more about the religion and the fascinating history of the Vatican through this Airbnb experience hosted by Eva!
Intimate tour for six Vatican Museums

Duration: 3 hours
Just a few minutes away from Rome's city center is where you'll find a gem called Castelgandolfo Lake. It is a perfect spot to take a break from the touristy side of Rome and savor a relaxing day while paddling your way through the water. And since Stefano and three of his friends are canoe instructors, they will teach you the techniques to ease your kayaking experience. Also, if you plan to try this during the summer season in Rome until October, you may also enjoy a diving experience in the lake guided by the host!
Amazing Kayak tour in Ancient Rome

Duration: 3 hours
Take this chance to visit attractions around Rome while also having a picture to remember them. Ditch the selfie stick and hire a professional photographer to take these for you! If you aren't comfortable with posing for pictures like a model, Olga Castelgandolfo Lake a photographer by heart and soul will give you tips to keep you more comfortable throughout the tour. By the end of this experience, a total of 70 pictures will be sent to your email to remind you of the best places you have visited and the best times you had in Rome. So you'll have around a two-month supply of pictures to post on your social media feed!
Photo shoot Discover the lights of Rome

Duration: 1.5 hours
If you want your visit to Rome to be a remarkable one, it is better to fill up your tummy first. Having to taste an extensive variety of food along with a high-quality wine, this Airbnb experience will surely leave a mark in your heart and in your stomach. Join Selene, a food and wine connoisseur, who excitingly wants to share with you her knowledge about food and wine for 3.5 hours. Just don't forget to bring an appetite with you because all that you'll do is to eat!
Twilight Local Food and Hidden Places

Duration: 3.5 hours
Roam around the city of Rome
Make sure to make the most out of your trip by trying this Airbnb experiences like no other in Rome, Italy!
Disclosure: Trip101 selects the listings in our articles independently. Some of the listings in this article contain affiliate links.
Get Trip101 in your inbox
Unsubscribe in one click. See our privacy policy for more information on how we use your data