At the centre of French Canada, the splendid city of Montreal is a place filled with things to do. From excellent street food to museums and stores, the state capital of Quebec is an ideal place for any tourist. It also features a wonderful array of boutique hotels and Airbnb vacation rentals. For a specific type of tour, namely a bachelor party, it's absolutely ideal - because whether you want the traditional eating and drinking holiday with riotous good fun, or a more sedate break to see the groom-to-be off into married life with cherished memories, Montreal has it all. Below, we have a list of the perfect ideas for bachelor parties in Montreal, Canada. Take a look at the options and we're sure you'll agree it's a city with a lot to offer for any bachelor party.
1. Enjoy dinner with friends at Le Pois Penché
Editor's Note: Photo taken from the establishment's official social account
Any revelry in the most famous city of French Canada should pay some tribute to the French side of things - and what better way to achieve that than eat in Montreal's most famous French brasserie - Le Pois Penché. The name translates as "The Crooked Pea", the menu is packed with delicious French cuisine such as the Eggs Basquaise. Make sure you leave room for dessert - their selection of patisserie specialities is more than worth waiting for.
Le Pois Penché

Address: 1230 Boulevard de Maisonneuve O, Montréal, QC H3G 1M2

Website: Le Pois Penché

Opening hours: Mon - Wed: 11:30am - 10:30pm; Thu - Fri: 11:30am - 11pm; Sat: 10am - 11pm; Sun: 10am - 10pm
2. Grab yourselves a kick-ass souvenir at Clark Street Mercantile
What is a bachelor party, if not a collection of discerning men out on the town, celebrating the bachelor and giving him the send-off he deserves? As such, a Montreal bachelor party should involve picking a souvenir or two that suits the occasion, while marking the trip to Montreal in style. Clark Street Mercantile is famous in the city for its stylish men's clothes with a rugged, woodsy slant - you may not wish to wear your souvenir to the wedding, but you'll certainly want to wear it again and again.
Clark Street Mercantile

Website: Clark Street Mercantile
3. Watch a hockey game at The Irish Embassy sports bar
The Irish Embassy - (don't worry, it's the pub name, not an actual embassy!) is a Montreal institution and one which any self-respecting group of stag partiers will want to tick off their list as part of any weekend in the city. With large screens on the walls, it's a perfect place to indulge not only in fine Irish beers and tasty bar food, but also take in a hockey game among the sports-mad locals. As you're guests in the city, you should make sure you're cheering for the Montreal Canadiens. Hockey is a religion here, and it's blasphemy to support any other team.
The Irish Embassy

Address: 1234 Bishop St, Montreal, QC H3G 2E3

Website: The Irish Embassy

Opening hours: 11am - 3am (weekdays); Sat - Sun: 10am - 3pm
4. Go karting at Vortex Racing
Okay, so the idea of motor racing might sound like a bad choice for a large group of men who may not have the best of reaction times during a weekend of toasts to the lucky gentleman. At Vortex Racing, the good news is that you won't be getting behind the wheel of an actual car; they provide Formula 1 simulators so you and your friends can race against one another with state-of-the-art technology and in total safety. Nonetheless, this is probably an attraction you'll want to put first on the itinerary - it's vital to stay sharp!
Vortex Racing

Website: Vortex Racing
5. Get a morning thrill by speed boating with Jet Boating Montreal
Don't worry, you won't be asked to control the boat! The popular jet boat rides along the river will be one of the high spots of any weekend and it is the ideal way to shake off some of the cobwebs from the night before. You'll need to dress down because we can guarantee you will get wet on these splashy boat rides, but on the other hand, it's just the thing to wake you up in the morning. The professionals at Jet Boating Montreal will provide you with plastic rain jackets, and then it's time for some fun!
Jet Boating Montreal | Saute-Moutons

Website: Jet Boating Montreal | Saute-Moutons
6. Place a bet at Montreal Casino
If you're feeling lucky - and presumably, as it's a bachelor party, at least one of you is feeling lucky - then a chance to visit Montreal's most famous casino would be up your street. The Casino de Montreal is an impressive building with even more impressive prizes to be won inside, although if gambling isn't your thing there are plenty of entertainment options including live bands and stand-up comedy on offer. You can also dine in style with bars and restaurants aplenty at your disposal.
Casino de Montréal

Website: Casino de Montréal
7. Watch nude dancers at Chez Parée Gentleman's Club
If you're doing bachelor weekends the traditional way, then there has always got to be room on the itinerary for an evening in a gentleman's club in the company of dancers whose feats of agility will surprise and astound you. With large catwalks and plenty of seating space - although you'll want a front-row place! If you're honest this is an experience that you'll want to fit into the weekend, and ideally not tell the bride about it when you get home!
Chez Parée Gentleman's Club

Website: Chez Parée Gentleman's Club
8. Dance the day away at the Beach Club
While Montreal might not be the first place that comes to mind when you think of beaches, your whole group will appreciate the chance to experience a party atmosphere on the shores of Saint-Calumet. Here in this club which specialises in Electronic Dance Music (EDM) and regularly hosts guest stars such as Daddy Yankee and Martin Garrix, you can dance, catch some rays and enjoy a few drinks. Just remember to pack your swimming costume.
Beach Club Montreal

Website: Beach Club Montreal
9. Play a game of dodgebow at DodgeBow - Archery Games
Laser tag has for some time been a popular way for men to let off steam on bachelor weekends, but let's face it, there's something a little sterile about firing invisible laser beams at people in body-suits. DodgeBow allows you to shoot your friends with a bow and arrow, which is a lot more satisfying and still completely safe (the "arrows" are made of soft material). A great test of your reactions, your dexterity and your maturity (can you resist ganging up on the bachelor and shooting him from close range?), this is an attraction you should definitely go for.
DodgeBow - Archery Games

Website: DodgeBow - Archery Games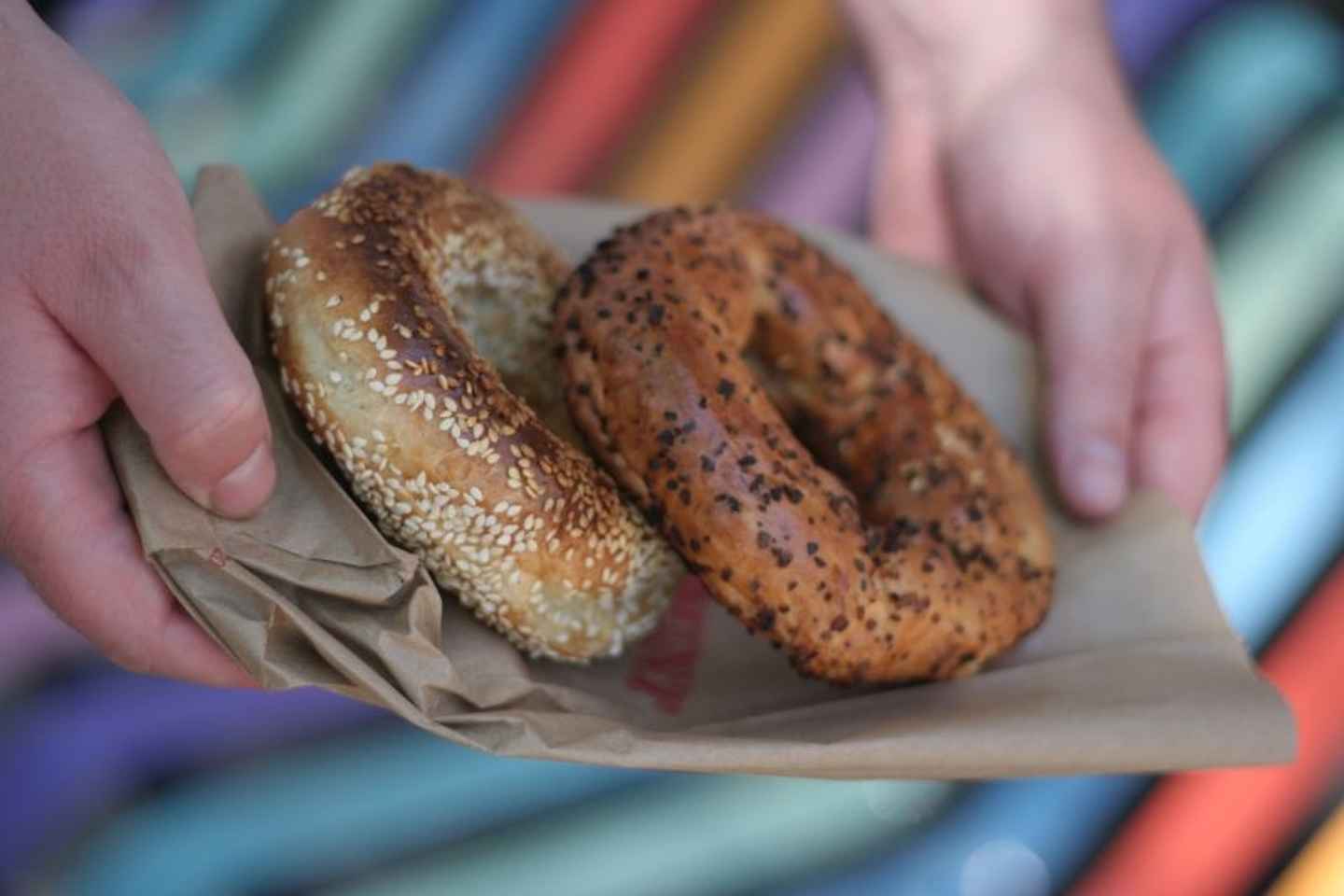 It's often said that an army marches on its stomach, and any good bachelor party must be aware that without proper nourishment, the troops will be flagging before too long. That makes the Mile End Food Tour an essential part of any pre-wedding trip to Montreal. Beginning with savoury Alsacien tarts at the Boulangerie Guillaume and ending with delicate crepes, this six-stop tour also offers delicious hand-made sausages, freshly-baked bagels, stuffed gnocchi in Little Italy and, of course, the Quebecois speciality of poutine - fries with cheese curds and gravy, topped with smoked meat and paired with a local beer.
Montreal: Historical Food Tour with 6 Tastings

Duration: 3 hour
Magic for men in Montreal - the perfect bachelor weekend
The wide range of thrills and spills available to tourists in Montreal will delight you and your crew, and there is an endless list of ways to enjoy your time in this magical Quebecois city. From fine foods to bow-and-arrow hi-jinks, there will be something here that all your party will love. There are rooftop restaurants and department stores to explore as well. Montreal truly is the perfect city for a bachelor party - so plan your itinerary and get ready for a great time.
Disclosure: Trip101 selects the listings in our articles independently. Some of the listings in this article contain affiliate links.
Get Trip101 in your inbox
Unsubscribe in one click. See our privacy policy for more information on how we use your data