Hong Kong has built a reputation for itself as the shopping destination of choice in Asia. While its great deals do make the city a haven for shopping fanatics, it also offers a lot more than that to visitors. Its rich history allows guests to see for themselves the unique intermingling of British and Chinese cultures. This combination also has had a major impact on the palate and cuisine of the residents of Hong Kong, resulting in tasty innovations that are uniquely Hong Kong's own. Get the chance to enjoy these unique flavors by joining one of the many food tours offered in the city.
If you want to taste the local cuisine but would rather avoid the crowds while doing so, this is a good tour to consider. This package allows joiners to try out food from six family-run eateries. You can try out conventional food such as roasted goose, or some snake soup if you're feeling adventurous.
Enjoy classic Chinese dishes such as various styles of savoury noodle soup topped with all sorts of fish balls, fish cakes and other wonderfully exotic garnishes. Indulge your sweet tooth with strangely delicious treats such as French toast with butter, condensed milk and coconut spread. It's a whole new world for your senses and your sensibilities!
This tour can accommodate a maximum of 12 people. It will run for approximately four hours.
Hong Kong Food Tour - Tai Po Market

Price: from 116.92 USD
If strolling around the marketplace is not enough to satisfy your tastebuds, you can have the option of going on a food trip along the business district of Hong Kong. The four-hour long walking tour will bring people to the districts' hidden jewels that locals are known to frequent, including a private tea house and an award-winning family restaurant.
You may see restaurants packed with locals at all times of the day and you may think that the food there must be that good – and you would be absolutely correct! Get up close and personal with such Sheung Wan favorites as the three sunny-side-up eggs on rice with char siu, brisket noodles and the tomato noodle soup.
Aside from providing more information about the food and the places that are part of the tour, the guide will also share information about Hong Kong's culture and traditions as you walk along the alleys of the city. A maximum of 12 people per group can be accommodated at a time.
Duration: 3 hours 30 minutes
This food tour takes you to the Kowloon neighborhood of Sham Shui Po, a place full of history that has built a reputation for itself as a foodie destination. The four-hour tour runs from breakfast to lunch, wherein guests will be brought to six known food venues, including an award-winning restaurant that serves fresh hand-pulled noodles, a Chinese pudding store prepared in the traditional way, and freshly baked goodies from a known bakery. It can accommodate a maximum of eight people per group. Children are welcome to join this tour.
Stories of Hong Kong's rich and colorful history will surely enthrall you as you chew on the hand-pulled egg noodles in your soup or sip at your glass of soya milk or nibble on one of the many baked treats from a Kowloon bakery. And if all this learning and dining on local favorites amidst the busy streets of Hong Kong does not make you feel like a local yet, there's more – your guide will point you toward where you need to go and provide you with instructions on how to take the public transport to return to your starting location!
Duration: 3 hours 30 minutes
If you would prefer to learn how to prepare Cantonese cuisine so you can cook this at home, then this is a good option for you. The three-hour activity will allow you to experience what it's like to prepare local dishes, from shopping for ingredients at the Kwun Tong Market to combining these to prepare a tasty three-dish meal.
Hong Kong Market and Cooking Tour

Price: from 73.89 USD
This is another food tour packaged with a cooking class. The tour begins with a trip to the local wet market to pick the freshest ingredients to be used for the lesson.
If you're worried about the language barrier, don't be, because the cooking lesson will be led by an English-speaking teacher, who will provide you with instructions on how to prepare two or three authentic Cantonese dishes.
Home Cooking Class with Wet Market Tour

Price: from 129 USD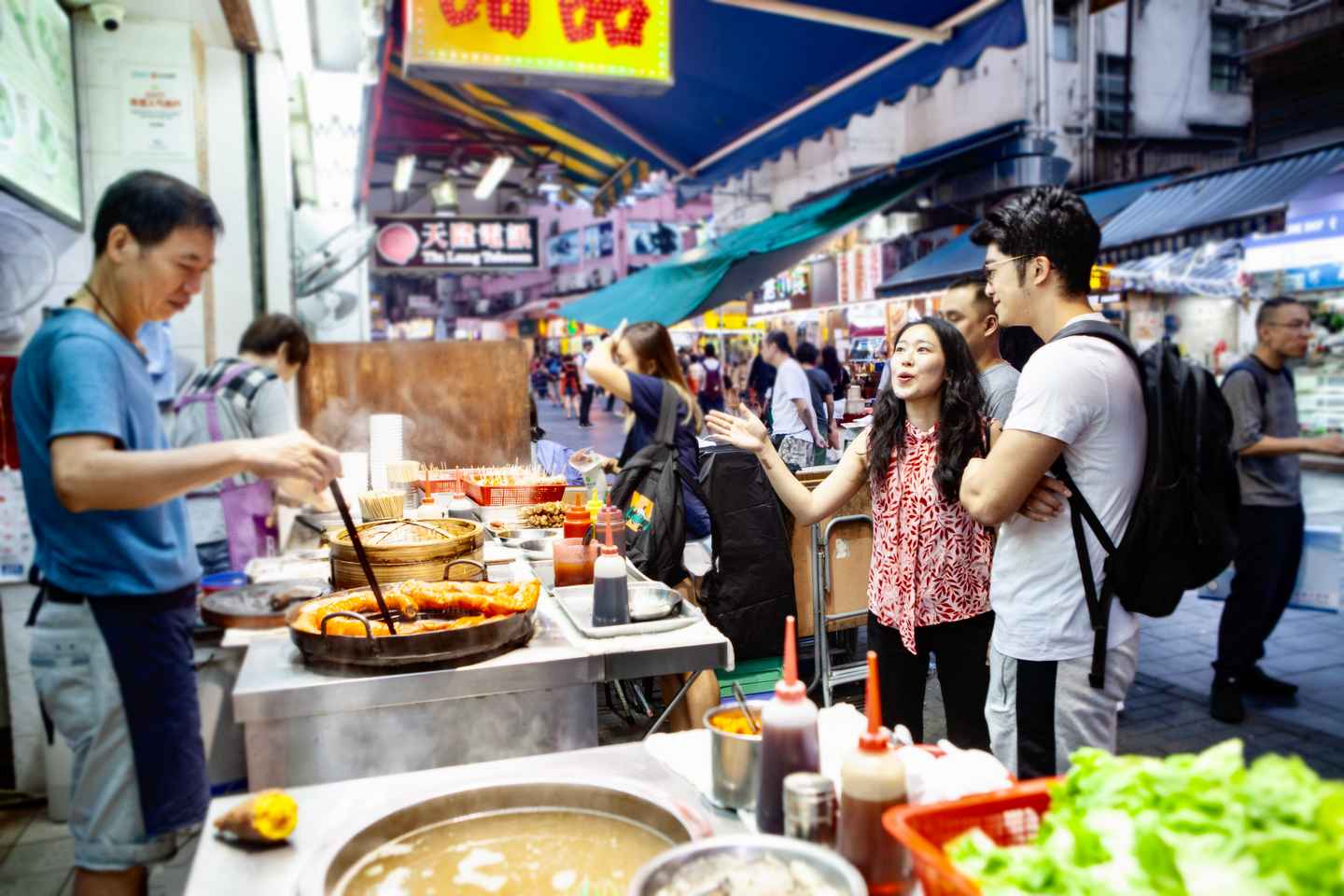 Perfect for foodies, this tour will take to you all the hidden gems and secret spots only known to locals. You will get to enjoy some of the city's most popular street foods as well as learn about its ingredients and origins. You will get to try different dishes from markets, local food stalls and eateries. You will leave the tour with a full belly and a wealth of local food culture knowledge.
Duration: 4.0 hour
Holiday seekers who want to experience the best of what Kowloon can offer will enjoy this tour. They also get a crash course in food ordering in Cantonese, so they won't find themselves hungry because of language barriers even after the tour ends.
The three-hour tour brings tourists to the Jordan district. Instead of dining in five-star restaurants, guests will dine like the locals do: in family-run eateries and food courts that serve authentic Cantonese cuisine. You can even try out some of the more exotic fare, like pigs' ears and uterus, if you are up to trying something different.
Duration: 3 hour
If you want to explore the city on foot while also literally getting a taste of their cuisine, this tour is for you. This activity, which lasts for approximately 3.5 hours, is inclusive of 5-7 dining spots around the city, a combination of major restaurants and small family-run establishments, so you can get a taste of both worlds. Along the way, you get to enjoy some of the famous landmarks and attractions of Hong Kong, including the Chinese Opera Theater.
The tour is the perfect way to get to know Hong Kong from a ground level view, and being right at the heart of this lively city lets you soak up the vibe and feel its very pulse. Then it gets even better as you get your fill of and indulge in dumplings, pork buns and other mouth-watering treats.
The guide is a Hong Kong local who can walk you through the city's food secrets. Note that the tour can accommodate a maximum of 8 people to allow the guide to easily manage the group.
Duration: 3 hours 30 minutes
The trip is one-half food tour and one-half culture, as guests can learn more about the history and culture of Hong Kong from the knowledgeable local guide. Make sure to wear comfortable shoes, because this experience will entail a lot of walking.
The four-hour tour, which covers five stops, will see guests tasting traditional Cantonese fare from the hidden gems of Hong Kong known only to locals, even if they are Michelin-rated establishments.
Duration: 4 hours
Dim sum lovers should not miss this activity. While not exactly a tour given that you only try out food from one restaurant, this two-hour foot tasting is an experience of its own. Guests will not only be able to taste the local dim sum of Hong Kong, they also get to learn the details and story of each dish, and they can even pick up basic Cantonese, including – of course – how to order their favorite dim sum from the restaurants of Hong Kong.
If you're wary about dietary restrictions, don't be, because the host will take into consideration any allergies or preferences you may have prior to ordering food for the group.
Duration: 2 hours
Hong Kong: A feast for the eyes and the stomach
From its numerous attractions to its variety of cuisine, Hong Kong has a lot to offer to guests. Feast your eyes with the sights and your stomach with a visit to the city!
Any must-sees we missed? Tell us about them in the comments section or write a post
here
to help out fellow travelers!
Disclosure: Trip101 selects the listings in our articles independently. Some of the listings in this article contain affiliate links.
Get Trip101 in your inbox
Unsubscribe in one click. See our Privacy Policy for more information on how we use your data