To experience the essence of Norway in the wintertime, visit the stunning city of Tromso, boasting a vibrant nightlife, a unique mix of outdoor activities, a myriad of restaurant options and an endless stretch of snow in which to make those snow angels. During winter, the celestial country of Norway is transformed into a winter wonderland, as much of the country is blanketed in snow. While it is usually advised to visit Norway in the summertime when the temperatures are much warmer, the wintertime is equally as beautiful, offering a ton of activities to get your blood pumping and warm your heart. Strap on your snow boots and zip up your jacket, as you enter this snow-clad paradise and find out what makes Tromso a sought-after destination for an Arctic adventure or a winter escape. Here are the top 15 things to do in the city of Tromso, Norway.
Taste the best brews of the region on this three-hour-long walking tour of the city's best bars. Gain insights into the local brewing traditions and sample up to 10 unique beers. Also, you can indulge in Arctic tapas comprising exotic local specialties such as reindeer carpaccio and smoked salmon, to name a few. Ask questions of your experienced guide as you attempt to learn more about life in Norway's far north.
Duration: 3 hours
Get a glimpse into the rich history of Tromso on this guided walking tour with a museum visit. Stroll around the local market and stop by the fisherman monument. Visit Polar Museum for a look at how explorers, polar bear hunters, and sealers lived here decades ago. Listen to fascinating anecdotes and historical events from your experienced guide. Before you wrap up your tour, stop by the city's most authentic pub that offers a variety of microbrews on tap. This tour is perfect for couples, families, and groups alike.
Duration: 2 hours 30 minutes
Set sail on Hermes II, a wooden boat, for a unique perspective of the Tromso region from the water. During this trip, you gain insights into the history of the boat as you glide along the water. Equipped with all modern facilities and technology, this charming boat takes you to locations that make for beautiful photo opportunities. Click Instagrammable photos to your heart's content during the hour-long trip. The boat is equipped with a heated lounge, a bar, and toilets.
Duration: 1 hour
4. Admire the beautiful architecture of Arctic Cathedral
The innovative design of Arctic Cathedral will leave you spellbound. Capture stunning images of this beautiful architectural structure that sits in the Tromsdalen valley. Made of concrete and metal, this soaring structure derives inspiration from Arctic nature and was built in 1965. It has a seating capacity of 600 and is the most visible landmark in the city. Its beautiful glass mosaic, splendid prism chandeliers, and impressive church organ are some of the highlights.
Let the ephemeral nature of the Northern Lights flirt with your senses, as you gaze upon the burst of beautiful hues that paint the skies of Tromso. After a long day of fun activities, join a group of locals or a tour group, as they venture off to hunt for the best spot to watch the luminescent display of colour brighten up the night sky. This natural phenomenon is best experienced during September and April, there isn't any other place on the planet to get close to the aurora.
Northern Lights Chase

Price: From 139.01 USD

Duration: 6 Hours (approx.)

Website:

Northern Lights sailing excursion

Price: From 80 USD

Duration: 4 Hours (approx.)

Website:
Looking for a more cultural way to explore the icy slopes of Tromso. Wander out to the rural farms to experience Sami culture and be welcomed by a herd of wonderful reindeer. Take a swing at reindeer sledding and experience what it's like to be Santa for a day. Using one of the oldest forms of transportation in the north, you'll get a glimpse into authentic Sami culture, as you soak in the magical scenery, pulled by the gracious reindeer.
Following your sleigh ride, settle into a "lavvu", a traditional Sami tent and enjoy a hearty meal with the indigenous people, around a campfire.
Duration: 4 hours
In search of an up-close and personal encounter with the natural beauty and icy tundra of Tromso? Then explore the Arctic on foot, with snowshoes designed to make walking through snow effortless. As you trek through the snow, the mountains form the perfect backdrop for awe-inspiring travel pictures, as the sounds of the Norwegian wildlife add to your experience.
Duration: 2 hours
8. Learn more about the city's aquatic wildlife at Polaria
Fancy a little education on the aquatic wildlife of Tromso? Visit Polaria, the worlds northernmost aquarium, where the highlight of your visit will be feeding the resident bearded seals. Polaria also offers you a look into the natural phenomenon of the Northern Lights, with a short film in the panoramic cinema. Educate the kids and enrich your mind with a walk through the museum, shedding light on the disappearing ice caps and endangered wildlife of the Arctic.
Polaria

Address: Hjalmar Johansens gate 12, 9296 Tromsø, Norway
9. Take a cable car up to Mount Storsteinen
To get the best views of the city, take a cable car up to Mount Storsteinen, which boasts stunning panoramic views of Tromso and its surroundings. From this vantage point, you will get unrivalled views of the mountains and fjords. If you are feeling more adventurous, Mount Storsteinen offers hiking trails to the top. Enjoy a cold Mack beer around a roaring fire in the café, situated at the top.
Mount Storsteinen

Address: Storsteinen, 9020 Tromsdalen, Norway
The numerous lakes and pristine water amidst the wilderness of Tromso is teeming with aquatic life, from trout to coalfish and even cod. Although the lakes of Tromso freeze over during the winter, this doesn't mean that the water below isn't alive with activity. Try your luck at catching a fish and do as the Norwegians do by engaging in this fun and enriching activity. Soak in the beauty of Tromso as you wait for your first catch. Although it is not guaranteed you will catch a fish, you will leave with the serenity of Tromso wilderness imprinted in your mind. Simply make a hole in the ice and wait for the fish to take the bait.
Duration: 3 hours 30 minutes
Kayaking on a winter climate together with Arctic camping? Sounds like a total adventure! Choose between a 2 or 3 day camp and be amazed by the landscapes that the islands north of Tromsø have to offer. It's a trip that lets you unwind and relax from the pressures of everyday life. Here you get to do kayaking and even witness the magical Northern Lights. From time to time, you may also get to see white-tailed eagles, seals, otters and even dolphins near your camp where you will rest comfortably in two yurts. Do take note that the camp has no access to roads and electricity and water will be fetched from a small stream nearby – all these provide for a raw experience that will bring you closer to nature and all that it has to offer.
Winter kayaking with Arctic camp

Price: 1292 USD per group

Duration: 2-3 days

Website:
Experience the luxuriant beauty of Tromso's fairy-tale wilderness, in a truly unforgettable and unique way. Nothing will warm your heart more than getting up close and personal with the adorable Alaskan huskies. After familiarising yourself with the furry, four-legged friends, settle into a sled and be mesmerized by the dazzling beauty of Tromso's nature. Be enthralled by the surroundings, as you zip past frozen lakes and majestic mountains and forests, catching glimpses of the local wildlife, like foxes, owls, snow geese, reindeer and moose. This is a great opportunity to experience vibrant wildlife and great family fun.
Arctic evening dog sledding excursion

Price: From 108 USD

Duration: 4 hours

Website:
Duration: 7 hours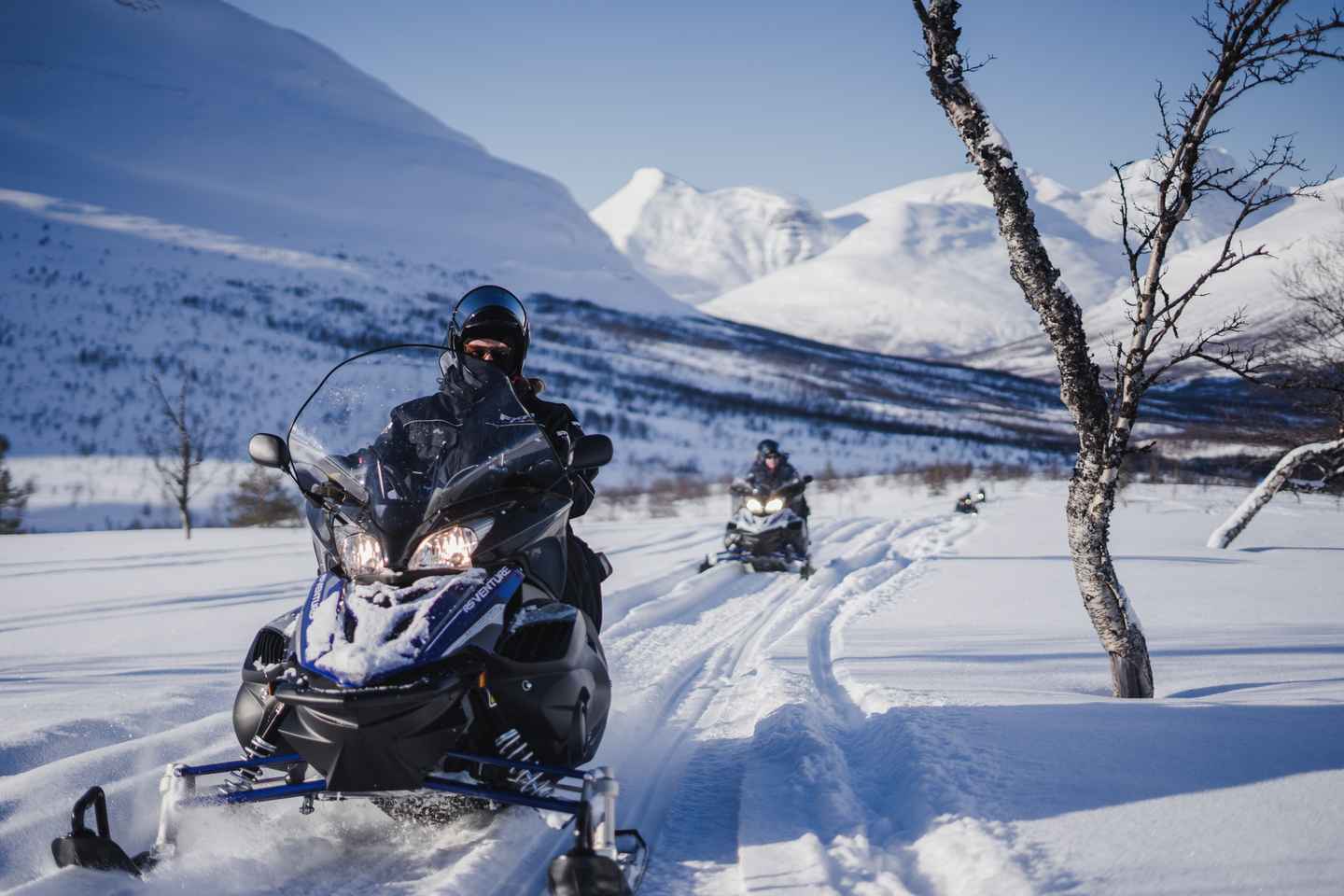 Are you an adrenaline junkie and want to feel the icy wind kiss your skin? If so, head off on a snowmobiling safari, through remote inland valleys and mountains. Snowmobiling is a modern way to explore the Arctic landscape and it offers you the opportunity to venture further into the wilderness than transportation by reindeer can offer.
Duration: 8.0 hour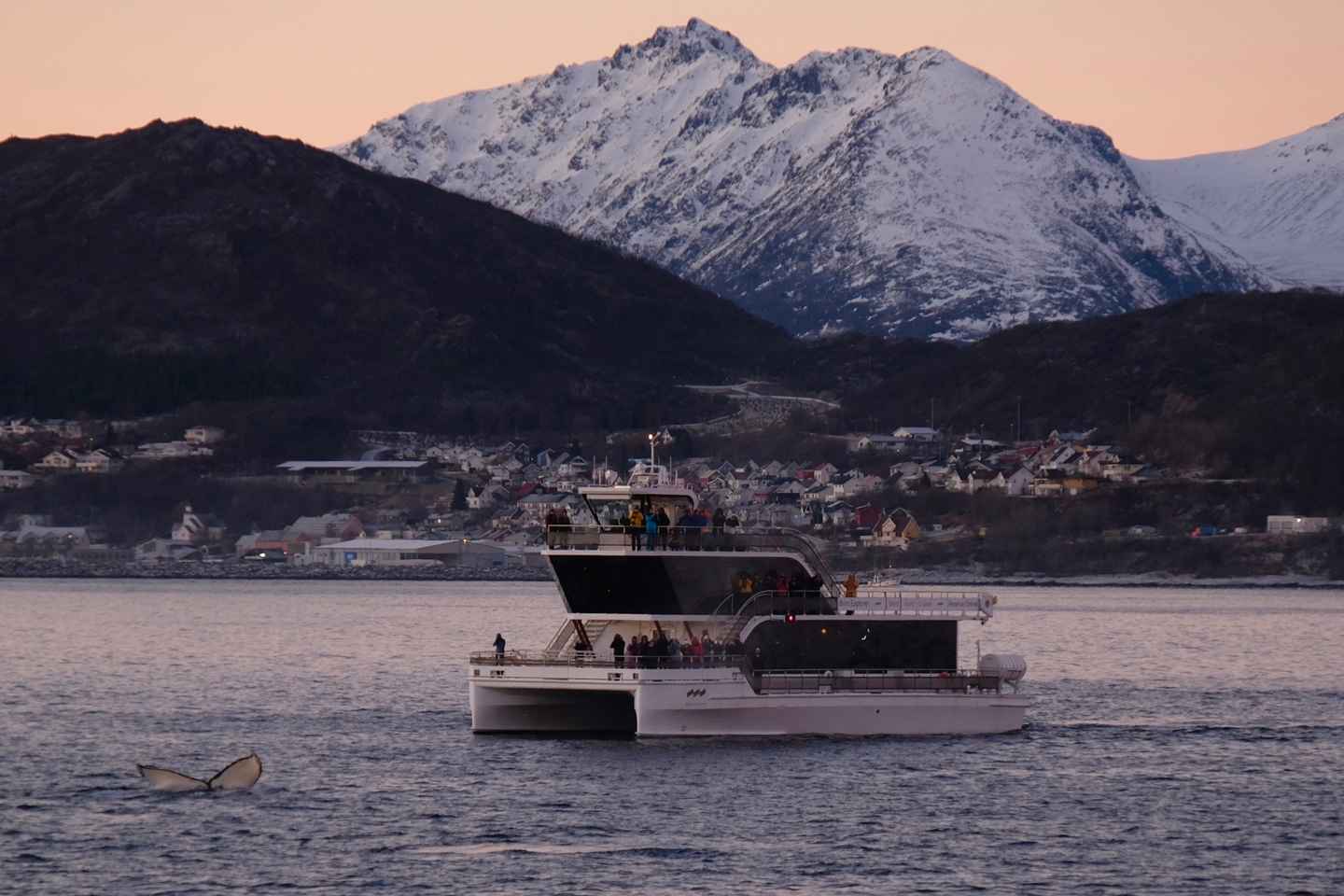 Catch a catamaran or take a whale watching tour and journey through the fjords to get a glimpse of these majestic creatures. The months of November through February signal the whale watching season in Tromso, as shoals of humpback whales, fin whales and orcas head for the waters of Norway, in search of food. What attracts these creatures to the shores during this period is the influx of herring that migrate to the cold waters of Tromso, every year. On the tour, guides offer insight into the aquatic creatures and it is fun for the whole family.
Whale safari

Price: 158.87 USD

Duration: 5 Hours 30 Minutes (approx.)

Website:

Whale watching safari cruise

Price: 89 USD

Duration: 5 Hours 30 Minutes

Website:
Duration: 8.0 hour
Enjoy the unique experience of seeing the midnight sun on this fascinating cruise. Sail around majestic fjords in a comfortable and sturdy catamaran. Sip refreshing hot drinks and munch on tasty snacks as you take in the scenic sights. You can choose to enjoy the views from the boat's deck or stay toasty inside the heated indoor saloon. Aside from the provided safety suits, guests are also offered pick-up or drop-off services.
Duration: 3 hours
Winter wonderland awaits...
Live out your ultimate "Frozen" adventure, with an unforgettable trip to the stunning winter city of Tromso, today. Although an unconventional choice as a holiday destination, Tromso will definitely satisfy and captivate the heart of all travellers. The endless outdoor and indoor activities available to visitors will warrant a second visit.
Disclosure: Trip101 selects the listings in our articles independently. Some of the listings in this article contain affiliate links.
Get Trip101 in your inbox
Unsubscribe in one click. See our Privacy Policy for more information on how we use your data