Bulgaria's Mediterranean climate and breathtaking landscape make it one of Europe's most beautiful vacation destinations. Stunning ski resorts and the Black Sea beaches add to the popularity, plus the many quaint villages, archaeological sites, and gobs of history elevate the appeal. Roman masonry is up for display across Bulgaria's buildings and so are fragments of Byzantine fortifications. Most parts of urban Bulgaria can be easily traversed via the railway network, else, there are local buses and taxis that you can hitch to discover the rural countryside. Get your planning started, but do factor the top things Bulgaria is famous for, and don't forget to try them out. Find out more below.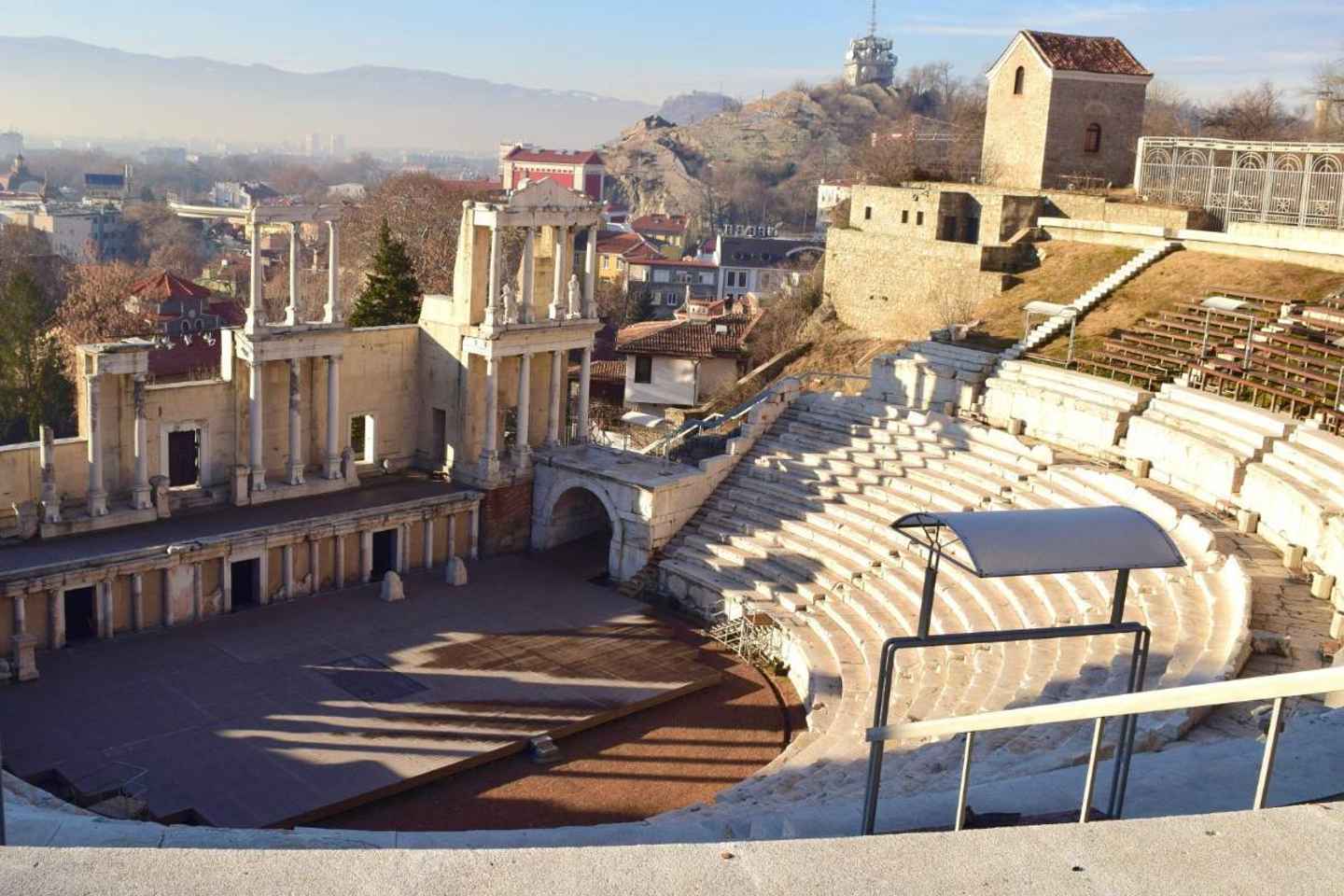 Bulgaria is possibly one of the oldest countries in the European mainland, with its origins dating as far back as the 7th century! It remained under the control of various peoples, dynasties, and empires until it gained independence in the late 19th century. The country is home to some of the most important archeological sites in the world, presenting relics from a time as far back as 4700 to 4200 BCE. The country's second-largest city, Plovdiv, is officially Europe's oldest continuously inhabited city, which can be visited by tourists. Discover the city's enchanting vibe by hitching this private walking tour offered by third-party travel website Get Your Guide.
Plovdiv Private Walking Sightseeing Tour

Duration: 3.0 hour
2. Bulgarian alphabet
The modern-day Bulgarian alphabet consists of 30 letters that stem from the Cyrillic script. It serves as the country's official spoken and written language and is one of the top three official scripts in the European Union, preceded by Latin and Greek. 24th May, each year, the country observes a national holiday to commemorate Saints Cyril and Methodius, who birthed the Bulgarian alphabets in c.10th - 11th century AD. The language gained importance as a means to propagate Bulgarian influence in the region and spread knowledge across the Slavic world, mostly via religious texts. Today, the Bulgarian alphabet is used mainly in Bulgaria, but even in parts of Serbia, Macedonia, Ukraine, and Moldova.
3. Velingrad
Set against a picturesque backdrop of the Rhodope Mountains, Velingrad is a spot to bathe yourself in a world of luxury, fun, and laid-back lifestyle. The town is calm, quiet, and strewn with lots of picture-perfect views. Aside from this, Velingrad is also home to more than 60 hot-water mineral springs that form a large part of the town's popularity. Several commercial properties here offer on-site warm pools, so you can check yourself into any and make the most of the mineral springs' advantages!
4. Buried treasure
Varna Necropolis, also known as Varna Cemetery, is almost synonymous with buried treasure in Bulgaria. It is an important prehistoric archeological site, unearthed in the Varna city in 1972. Various items such as pottery, gold artifacts, ancient tools, etc., which were excavated from here, are said to date as far back to c.4600 - 4200 BCE. Aside from these items, graves belonging to those from the Chalcolithic Varna culture from c.4569 - 4340 BCE were also found here. Some of these findings are showcased at Varna Archaeological Museum and at the National Historical Museum in Sofia, so head over and check them out.
One of Bulgaria's most important Orthodox churches and the seat of the country's patriarch, Alexander Nevsky Cathedral was conceptualized in 1879 to mark the country's liberation from the Ottoman rule, but it was officially opened in 1924 after a long delay due to political unrest in the region. The cathedral sports a gorgeous Neo-Byzantine look, with its gold-laden dome being the highlight. Aside from its landmark religious importance and impressive architecture, the cathedral's crypt serves as a museum to Bulgarian icons, with several paintings, antique religious artifacts, engravings, etc. from the 13th - 19th centuries on display.
Guided Visit to Alexander Nevsky Cathedral

Duration: 1 to 2 hours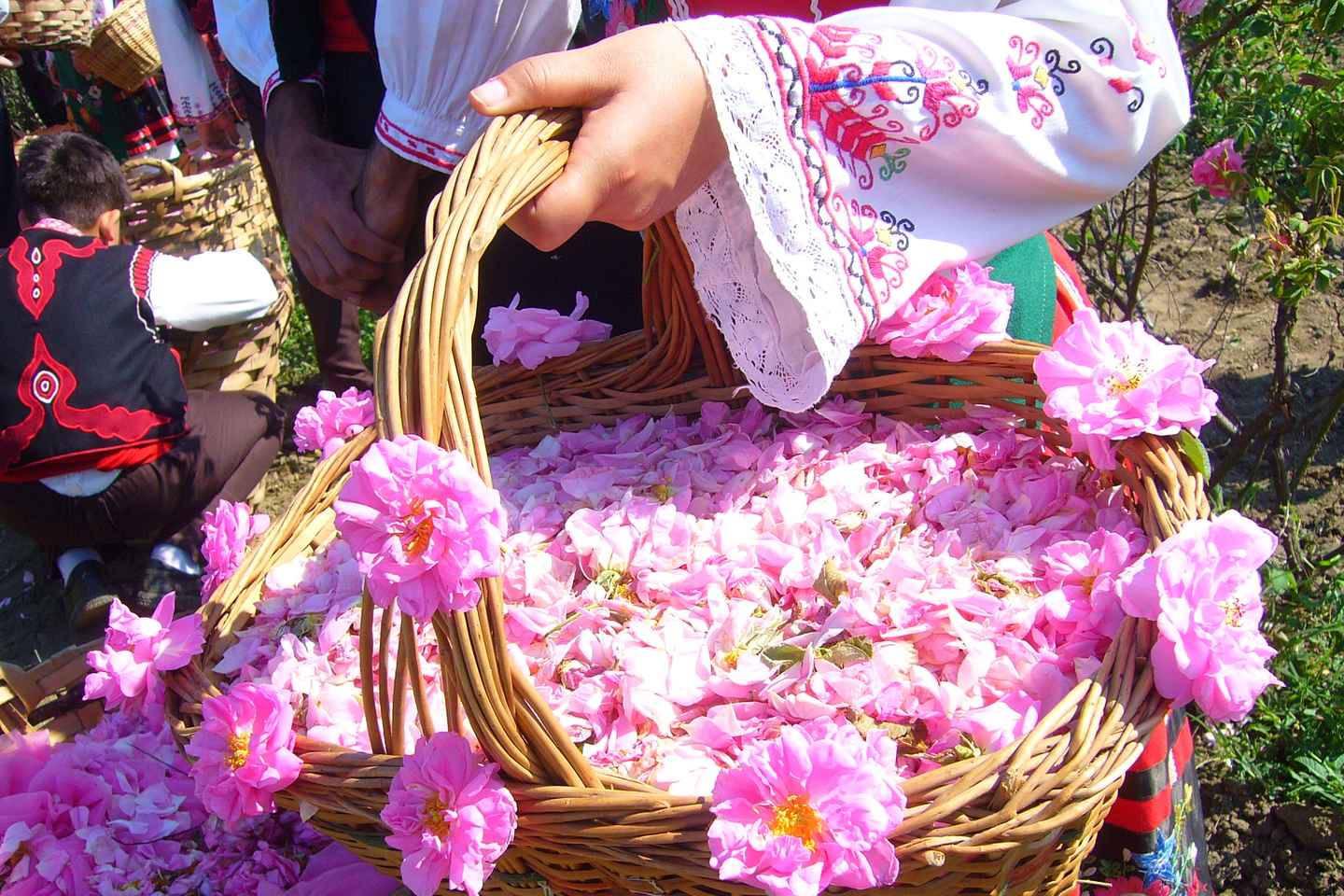 Bulgarian rose oil is extracted from the petals of Damask rose, one of the rarest species of roses harvested in the Rose Valley of Kazanlak, also known as the Bulgarian Rose Valley. It is touted to be a premium essential oil, used for perfumery as well as aromatherapy. The oil's origins date as far back as Ancient Persia, while it gained commercial importance in the 17th century. This oil is available for sale across stores, but you can also plan a trip to the Bulgarian Rose Valley and see how this precious Bulgarian oil is produced.
Rose Valley: Shuttle Group Day-Trip

Duration: 11.0 hour
7. Cuisine
Bulgaria's cuisine is just as diverse as its offerings and every bit spectacular. While you may find several dishes in Bulgarian cuisine to be a repetition of those offered in its neighboring countries (Greece, Serbia, and Turkey), trust that the Bulgarian version will have its own quintessential local flavor. Quality vegetables and dairy products, mild spices, and a whole lot of warmth are the main hallmarks of the food you'll find here, present in everything right from lavish salads to grilled meat classics. Banitsa (sweet or savory pastry), meshana sakra (mixed grilled meat), tarator (cold yogurt soup), and moussaka (minced pork and potato pie) are some of the top dishes you can trust will leave you craving for more.
8. Yogurt
The Bulgarians are proud of their yoghurt. Their kiselo mlyako is probably one of the tastiest and healthiest dairy products you'll find anywhere in the world, and it is even touted to have several curative properties. This probiotic food contains live bacteria, which gives it its creamy and luscious texture. Bulgarian yogurt is most famously enjoyed in tarator (cold yogurt soup), as ayran (Turkish yogurt drink), or by itself. While the world recognizes it as yogurt, locals refer to it as sour milk. You can pick up a pack from any store in the country, but there's nothing like trying out homemade kiselo mlyako.
9. Rakia
Bulgaria's national drink, rakia is a fruit-based alcoholic beverage that is mostly served as an apéritif. They can be distilled using any fruit, but those made from grapes, plums, and apricots are among the most popular varieties in Bulgaria. Gyulovitsa rose rakia, hailing from Bulgaria's Rose Valley region, is another pretty amazing variant that you can try. Else, the plum rakia at Troyan is equally great. Commercially produced rakias' alcohol content is touted to be about 40%, but those distilled in Bulgarian homes are not for the faint-hearted and can contain up to 60% alcohol content! Be careful while drinking rakia, it is every bit delicious but packs quite a punch.
If Bulgarian rakia leaves you eager to try other spirits, wine is another thing you ought to try. Several recognizable red wine varieties are available, but do try out some of the local flavors, such as Mavrud, Rubin, Melnik 55, and Gamza. For those who prefer white wines, try Dimyat, Red Misket, Tamianka, and Rikat. Wine production in Bulgaria dates back several centuries, with five viticultural regions – Danubian Plain, Rose Valley, Black Sea, Struma River Valley, and Thracian Lowland – across the country.
Melnik Wine Tasting tour from Sofia

Duration: 10 hours
Fun from dawn to dusk
Bulgaria has no dearth of experiences to offer. You may be a solo traveler, family vacationer, or one on a business trip, the country will not disappoint. A rich history, dramatic landscape, sandy beaches, fun cultural events, bustling nightlife, and amazing outdoor activities are only some of the many things you can experience here.
Disclosure: Trip101 selects the listings in our articles independently. Some of the listings in this article contain affiliate links.
Get Trip101 in your inbox
Unsubscribe in one click. See our Privacy Policy for more information on how we use your data