If you're trying to decide whether to visit Australia's countryside or one of its major cities, consider basing your trip down under in Perth! This bustling metropolis is the capital of West Australia, the country's largest state. Perth is both urban and contemporary and naturally beautiful at the same time. The city sits on the edges of the Indian Ocean and the Swan River, with sandy beaches all around it. Perth's natural beauty is also on display in Kings Park, one of the world's largest city parks with sweeping views of the city skyline. If it sounds like Perth is rustic, think again–the city is cosmopolitan and sophisticated, with eclectic bars and cafes and contemporary design and art. Perth's attractions aren't limited to the city limits: there are historical sights, natural wonders, and Swan Valley vineyards nearby that are worth adding to your itinerary. If you want to explore the surrounding areas but don't know where to begin, read on for the top day tours in Perth and around the city.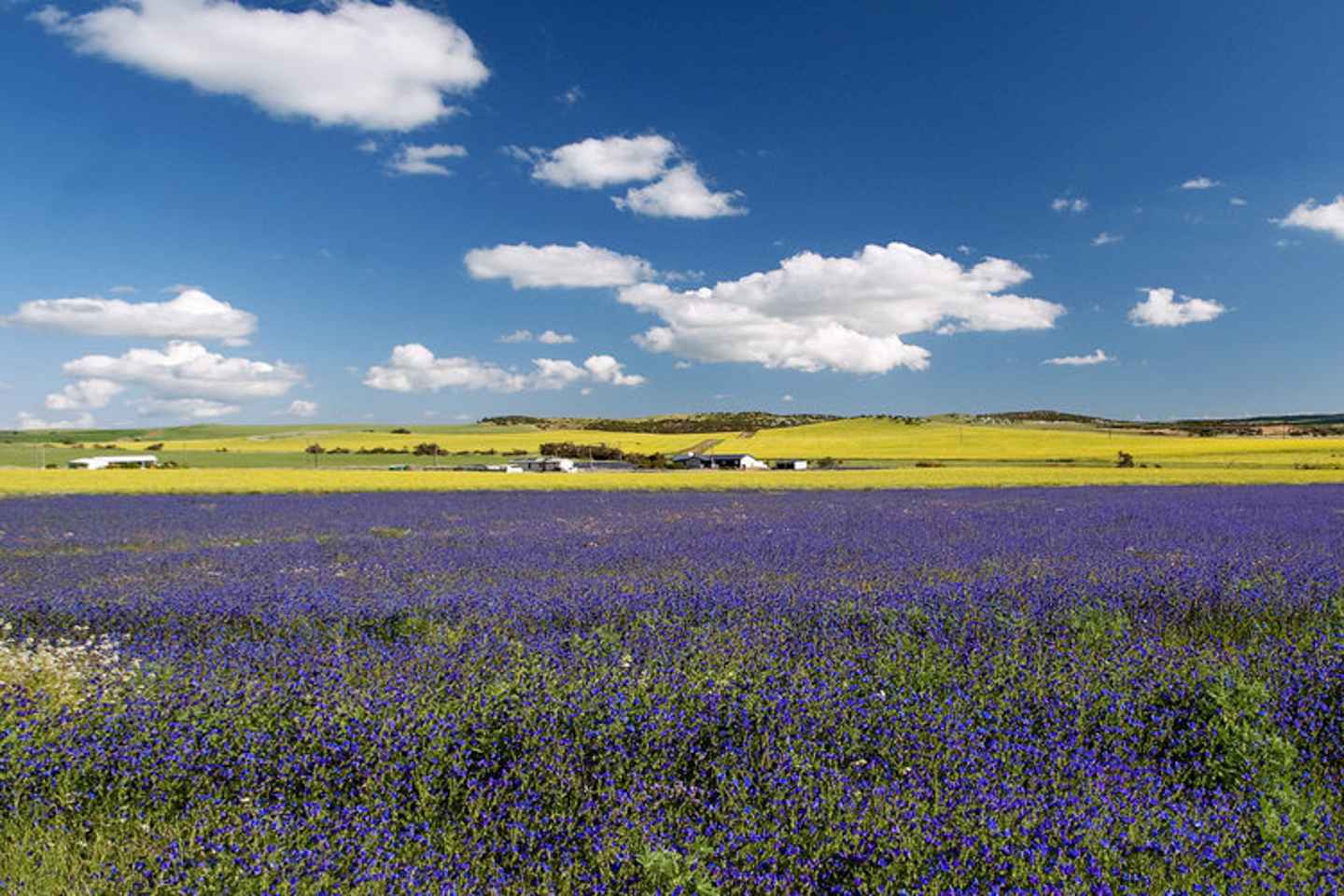 From September to early November, Australia's springtime, the fields around Perth burst with colorful wildflowers. You can drive around trying to find the best spots yourself, or you can take this guided tour with a botanical guide who will know exactly where the best blooms are. Though the tour's exact locations will depend on factors like weather, excellent wildflower viewing can often be found at Kings Park, Wireless Park, Gingin, and Toodyay. Flowers you might see include everlastings, orchids, red and green kangaroo paw, banksias, bottle brush, and the famous Christmas trees with orange flowers.
Perth's Best Wildflower Tour

Duration: 7.5 hour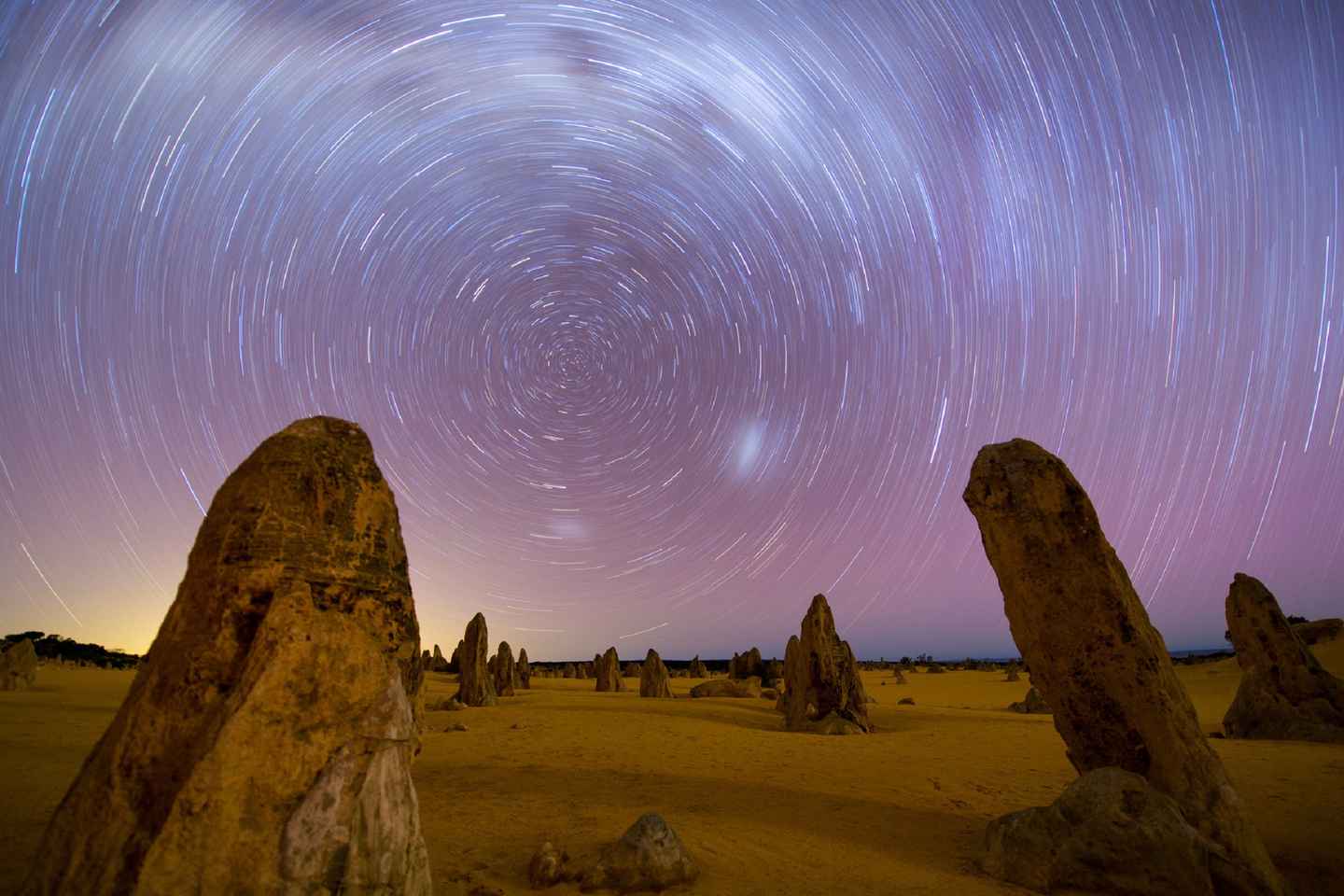 There may not be a tour that takes you to another planet, but you can get pretty close on this day trip to Pinnacle Desert! Located within Nambung National Park, the unusual landscape consists of limestone formations pointing skyward out of the sand. There are thousands of these formations stretching as far as the eye can see. Pinnacle Desert can be hot and crowded by the day, but this tour will bring you there at the best time, late afternoon for a breathtaking sunset. You'll also stay as darkness sets in and you can witness millions of stars without the interference of light pollution. The tour also stops at Yanchep National Park on the way to the desert for koala and kangaroo spotting, and at fishing town Cervantes for a meal in an authentic Australian pub.
Perth: Pinnacle Desert Sunset and Stargazing with Dinner

Duration: 8 hour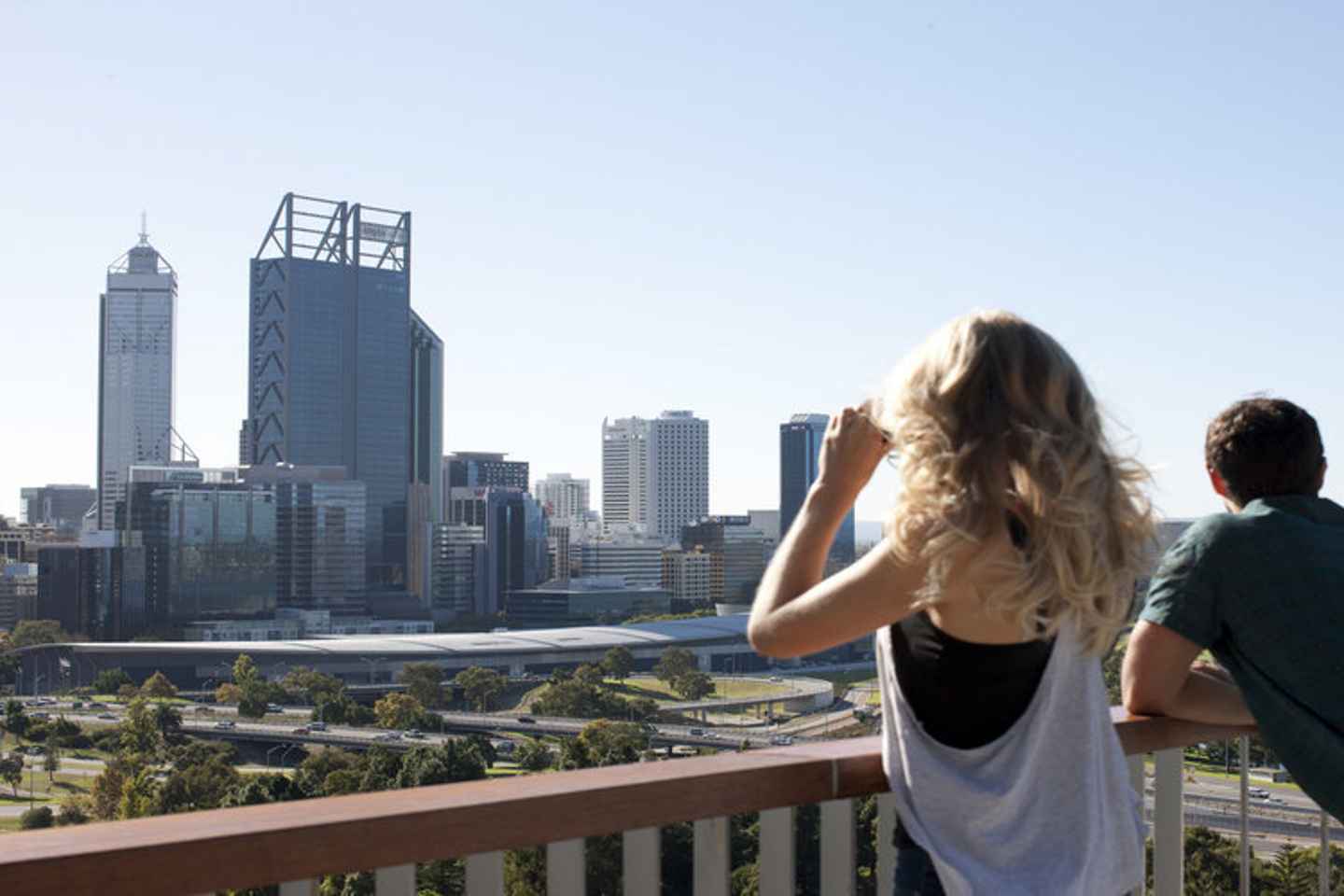 There aren't just day tour options outside of Perth. This tour will take you to all of the highlights right in the city and in Fremantle, too! The tour starts in the central business district and takes you to sights like Elizabeth Quay, Bell Tower, Perth Town Hall, and St Georges Terrace. Next, you'll head to Kings Park Botanical Gardens, where you can walk through the tree canopies at Tree Top Walkway while glimpsing the city skyline. Next stop is Fremantle, but along the way, you'll see the mansions of Millionaire Row and beautiful Cottesloe Beach. You'll have some independent time in Fremantle to get lunch and explore the city. The relaxing end of the tour as you head back into Perth is cruising on the Swan River while sampling local wines!
Grand Perth and Fremantle Tour

Duration: 9 hour
If you want to see some local animals out in the wild, this is the tour for you! The tour brings you by canoe to Penguin Island, a pristine island with sandy shores that are surrounded by clear blue water. This gorgeous island is populated by the worlds smallest penguins, appropriately named little penguins! You can get up close to the colony and watch the park rangers feed the birds throughout the day. You might also catch a glimpse of the rare Australian sea lion and dolphins out in the water. After you've had a chance to explore the island trails, the tour will return to Fremantle for coffee and chocolate to cap it all off.
Penguin Island And Fremantle - Canoe, Chocolate & Coffee

Duration: 4 to 5 hours
Swan Valley is well known for its wine, but on this tour, you can sample local beers as well! You'll depart on a scenic cruise and start the day with light snacks and samples of wine. Over the course of the afternoon, you'll get to visit two wineries as well as two local breweries. At one of the breweries, you'll eat a delicious complimentary lunch. As if all that eating weren't enough, the tour concludes at the Margaret River Chocolate Company. Here you can sample delicious chocolates and even pick up some treats as souvenirs!
Swan Valley River Cruise and Wine Tasting Day Trip from Perth

Duration: 8 hours
For the ultimate relaxing evening out, join this winery experience tour. The tour leaves Perth in the late evening and takes you through the lovely countryside to two wineries. You'll get to taste more than 18 different wines between the two vineyards, with local beers and ciders available too. You'll also get to nibble on cheese and crackers before a delicious two-course meal at the Wild Swan, an innovative restaurant where renowned chefs incorporate local and seasonal ingredients into their dishes.
Twilight Winery Experience

Duration: 6 hours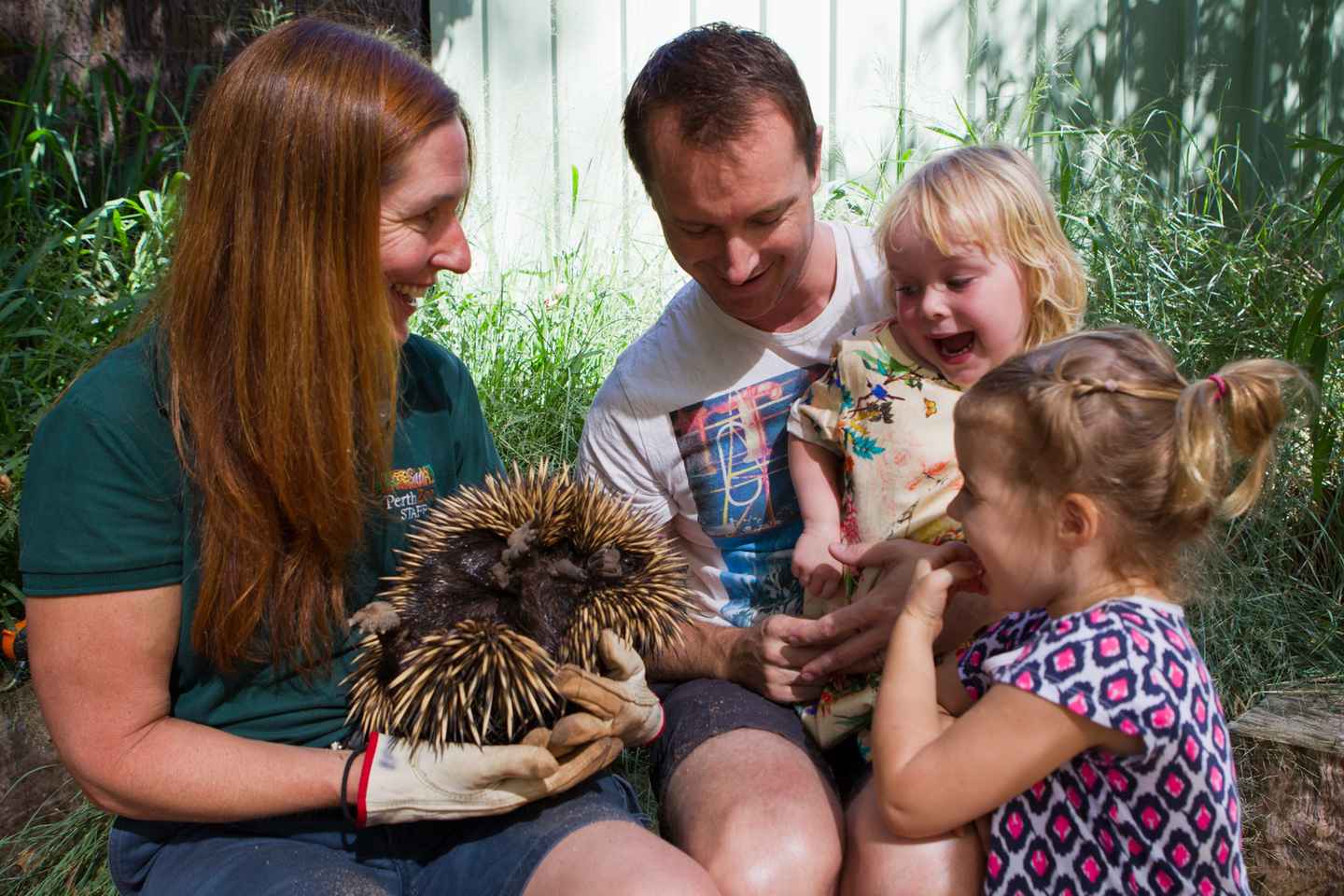 Another tour option with a cruise through Perth comes with a bonus entry to the world-famous Perth Zoo! At this zoo, you can see some of Australia's native animals like koalas, emus, and wombats. The zoo also has animals from around the globe, like the lions of the African Savannah and penguins of Antarctica. Before the zoo, you can take a guided morning cruise on the Swan River around the city and catch sight of Perth's landmark buildings, like the Swan Brewery building and Kings Park. If the cruise in the morning and zoo in the afternoon sound like too much for one day, this tour allows the flexibility to spread them out over two days.
Perth Sightseeing Cruise and Perth Zoo General Entry Ticket

Duration: 1 day
Fremantle is a city so close to Perth, you might overlook it when planning day trips. However, you should certainly include this lively and historic spot on your itinerary! This tour will bring you from Perth to all the sights there are to see in Fremantle. One of the main sights is the Fremantle Prison, which operated as a maximum security prison from 1887 to 1991. You will learn about life in prison and Fremantle's history as a penal colony. Another historical spot on the tour is the Freemantle Round House, the oldest building in West Australia. This is also the site of the oldest tunnel in West Australia, built by the Fremantle Whaling Company in 1831. Aside from its historic value, Fremantle is a creative and bohemian city, and you can experience its colorful atmosphere and pick up handcrafted items at the Fremantle markets.
Perth and Fremantle Tour Including Heritage Fremantle Prison, Markets and Dinner

Duration: 7 hours
The whole of Australia is a wine connoisseur's dream, and the area surrounding Perth is no exception! The Swan District, or Swan Valley, is West Australia's oldest wine region, dating back over 150 years. On this relaxing river cruise, you can sample some of Swan Valley's finest offerings while taking in gorgeous views along the Swan River. The informative captains will tell you all about the wetlands and the river's history, so you'll be well-informed and well-fed on the complimentary snacks. The cruise stops at the Sandalford Estate, a vineyard where you can take a tour and see how the wines are produced firsthand. This stop also includes a two-course lunch and a wine tasting of six varieties.
Perth: Swan Valley Gourmet Wine Cruise with 2-Course Lunch
Experience Australia in a whole different way on this Hummer tour! Hop into the four wheel drive vehicle for an intimate tour of the natural beauty near Perth. The tour starts along the picturesque Indian Ocean Road toward your first stop, Pinnacles Desert. Next, drive up to Lake Thetis for more natural wonder: the lake has rock-like formations called thrombolites near its shores which are built by microorganisms similar to the earliest life forms on Earth. The tour stops by more beautiful spots where you can take in stunning vistas, spot wildlife, and have a delicious complimentary lunch.
Pinnacles Hummer Day Trip, Inc. Moore River, Sand Dunes, Caversham Wildlife Park
Explore the beauty of Perth and West Australia with ease
There are enough things to do in the city of Perth to keep you occupied for your whole trip. However, if you're visiting from far away, you might never get another chance to see what lies outside of the city. These tours make it easy to explore the sights inside and outside of Perth, particularly if you aren't traveling by a car, or if you just want to sip on local wines without having to drive back to your hotel! From wildlife to landscape formations to historical sights, there is something for everyone around Perth.
Disclosure: Trip101 selects the listings in our articles independently. Some of the listings in this article contain affiliate links.
Get Trip101 in your inbox
Unsubscribe in one click. See our privacy policy for more information on how we use your data