The capital city of Louisiana, Baton Rouge, is well-known among tourists for its extensive park collection, world-class infrastructures, fascinating museums, exquisite culinary scene, stunning Mississippi River views, and elegant nightlife. This city is the ideal destination for travelers seeking a peaceful yet eventful vacation and is recognized for its highly cosmopolitan culture and historical relevance. To immerse in its significant yesteryears, opt to spend your holiday in a historic hotel. There are also quaint homes such as the luxury Airbnbs that bring you close to major local attractions. You can visit Louisiana's Old State Capitol to learn about the city's past, or you can visit nearby cities such as Denham Springs and Thibodaux for a more adventurous trip. Scroll down to see the top day trips from Baton Rouge, Louisiana.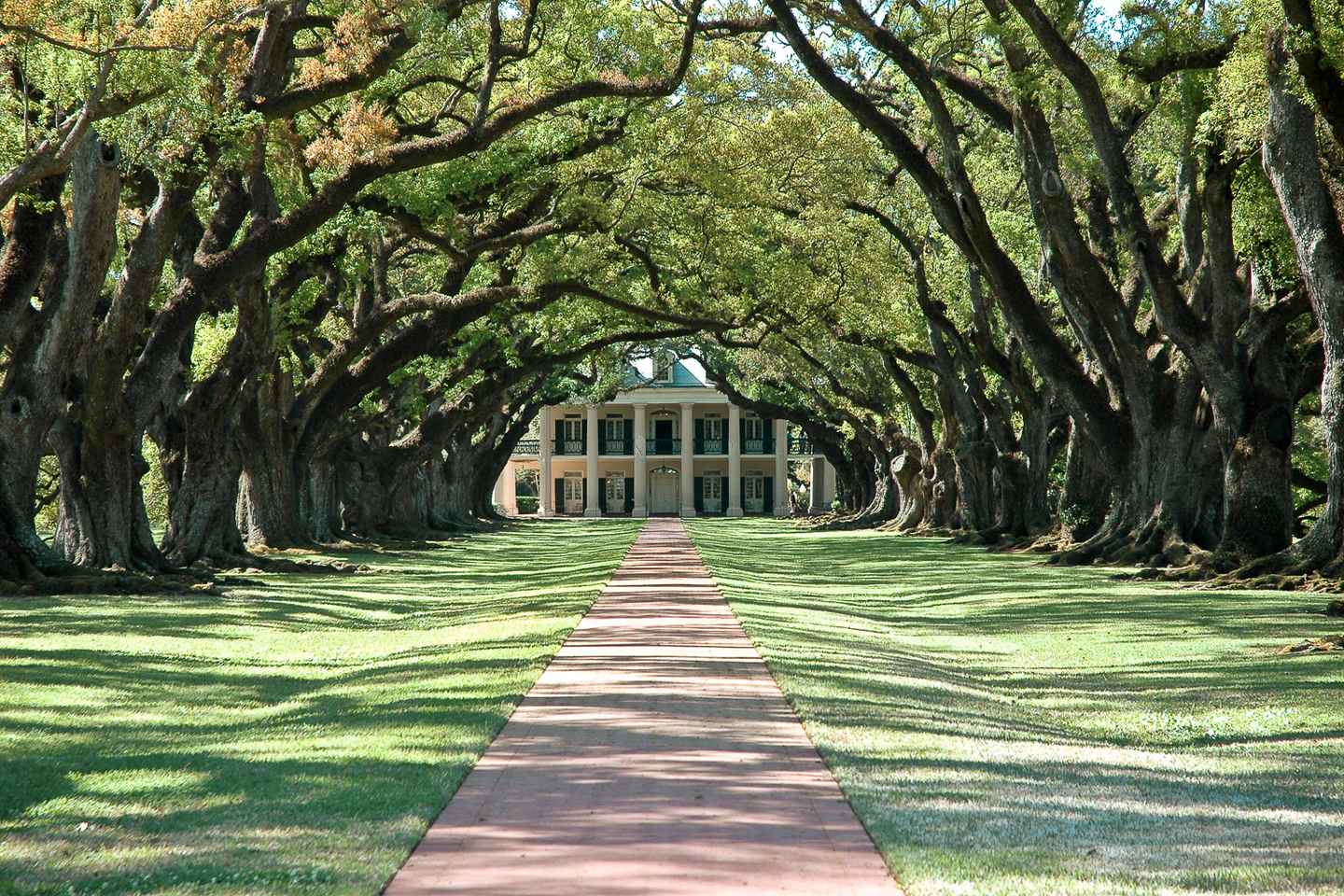 Wallace, Louisiana, welcomes you with open arms to a small-town experience steeped in Southern charm and rich cultural heritage. This hidden gem offers a delightful escape from bustling city life.
Wander through the town's picturesque streets lined with historic buildings, colorful storefronts, and local shops that showcase the essence of Southern hospitality. Immerse yourself in the vibrant music scene, where toe-tapping rhythms of jazz, blues, and Cajun melodies fill the air. Indulge in the tantalizing flavors of Louisiana cuisine, from spicy gumbo and crawfish étouffée to savory jambalaya and crispy beignets.
Duration: 5.5 hour
Honey Island Swamp is a great place to go near Baton Rouge for fun with wildlife. Located in Louisiana, this captivating destination offers a unique and immersive experience in the heart of nature. Venture into the depths of the swamp aboard a flat-bottomed boat guided by knowledgeable locals who unravel the secrets of this enchanting ecosystem. Observe majestic cypress trees draped in Spanish moss while keeping an eye out for alligators, turtles, and a diverse array of bird species.
Immerse yourself in the serenity of the swamp as you glide through calm waters, surrounded by the sounds of nature and the gentle rustling of marsh grasses. Embrace the tranquility and marvel at the untouched beauty of this natural wonder.
Duration: 2 hours
3. St. Francisville
St. Francisville is a beautiful town in Louisiana known for its historic relevance. Tourists usually visit to enjoy some quality refined music as well as to enjoy the laid-back atmosphere of the town. Here, you can head to The Myrtles Plantation to admire its historic charm. Visit the elegant Grace Church Of West Feliciana to understand its relevance during the Civil War or head to West Feliciana Historical Society Museum to discover African-American history and interesting local finds. Being 31.4 mi (50.5 km) away from Baton Rouge, it will only take about 40 minutes by car to get here.
4. Donaldsonville
Editor's Note: Photo taken from the establishment's official social account
Situated along River Road on the west bank of the Mississippi River, Donaldsonville boasts the finest collection of old buildings. Take a tour of the historical plantations located within the area, and visit the world-renowned manufacturing plant of Chef John Folse and River Road African American Museum to enjoy a truly enriching experience. You can savor authentic Louisiana cuisine at The Grapevine Cafe. Plan your day trip to the stunning town of Donaldsonville and be amazed by its delicacies and intriguing establishments. This city is 34.5 mi (55.5 km) away from Baton Rouge, so you can embark on a 40-minute journey to get here.
5. New Roads
One of the oldest communities in the Mississippi River Valley, New Roads is a beautiful city renowned for its Mardi Gras celebration. New Roads is also home to several Spanish historic estates. Nicknamed the "Little Carnival Capital" of Louisiana, it is known to offer some of the best things to do near Baton Rouge such as fishing, boating, and water skiing.
You can also visit Pointe Coupee Parish to admire its architecture and history. From Baton Rouge, this magnificent city is 32.1 mi (51.7 km) away.
6. Lafayette
Known as "The Hub City," Lafayette is the fourth-largest city in the state of Louisiana. Founded by the Acadians in the 19th century, Lafayette is the heritage of the French, Spanish, and Caribbean ancestry. The city is home to well-established museums, art centers, and national parks. Take a tour of the city's finest seafood restaurants such as Charley G's and Don's Seafood. Visit Acadiana Center for the Arts to witness some awe-inspiring performances by local artists. Being 55.5 mi (89.3 km) away from Baton rouge, you can get to the city in less than an hour.
7. Abita Springs
Abita Springs is a lovely town in St. Tammany Parish that makes for an easy road trip from Baton Rouge. It can take you about an hour and 13 minutes by car to get here. Originally a Choctaw Indian village, it became popular for its nearby medicinal springs. Visit Abita Brew Pub to enjoy good beer and delicious local food such as pecan-crusted catfish, gouda burgers, and more.
The internationally renowned Abita Beer is brewed with pure water from the artesian wells in the springs. You can also check out the amazing Abita Springs Trailhead Museum where you can explore Louisiana's art and history.
8. White Castle
Situated in Iberville Parish, White Castle is a lovely town 24.2 mi (39 km) away from Baton Rouge. The town boasts historic sugar cane mills, large plantations, and forest swamps. You can visit the local tourist destinations such as Nottoway Plantation and Madonna Chapel, known as the smallest church in the world.
9. Mandeville, LA
Mandeville is a city located on the north of Lake Pontchartrain. Coined from the French term "Magna Villa," meaning "big farm," it is known for its agriculture and fisheries. Explore the city's famous tourist destinations such as Fontainebleau State Park, which is perfect for canoeing and kayaking, Children's Museum of St. Tammany, and Seven Sisters Live Oak. You can also visit the different historic infrastructures dating back to the French colonial period, and head out to the different restaurants that feature the best of Louisiana's cuisine. Situated 74.1 mi (119.3 km) away from Baton Rouge, you can enjoy a one-hour scenic drive to get here.
10. Livingston Parish
Livingston Parish is a parish in Louisiana named after the prominent American jurist and statesman, Edward Livingston. The parish is home to one of two installations for a gravitational wave observatory, which is a facility dedicated to detecting cosmic gravitational waves. The parish is perfect for day trips and afternoon strolls. Nicknamed "Sportsman's Paradise," this parish can allow you to appreciate Southeast Louisiana's stunning landscape and rich culture. Only 35.6 mi (57.3 km) away from Baton Rouge, it will only take about 38 minutes by car to get here.
11. Natchez, Mississippi
Located in Adams County in Mississippi, Natchez is a beautiful city known for its antebellum homes. It is also the oldest city in the state. Visit Grand Village of the Natchez Indians, Stanton Hall mansion, and St. Mary Basilica to admire the unique architecture of the city. If you are coming from Baton Rouge and are up for a longer drive, this lovely city is 90.8 mi (146 km) away.
12. Jean Lafitte National Historical Park and Preserve
Enjoy a trip to Jean Lafitte National Historical Park and Preserve to witness different plant and animal species such as an American alligator, coyote, minks, and more. Named after the infamous French pirate, Jean Lafitte, the park consists of six separate sites and a park headquarter. Situated in the park is Barataria Preserve, which houses mostly reptiles and amphibians. Situated about 95.6 mi (154 km) away from the city of Baton Rouge, you can get here in about an hour and a half by car.
Jean Lafitte National Historical Park and Preserve

Address: 419 Decatur St. New Orleans

Website: Jean Lafitte National Historical Park and Preserve

Price: Free
Explore the history of Louisiana
Truly a captivating region in Louisiana, Baton Rouge boasts plenty of hidden gems that can captivate the hearts of its visitors. With genuine hospitality, rich and diverse culture, fascinating history, and amazing food, this city can ensure an eventful vacation. If you're up for an adventure, keep this list of day trips handy for a worthwhile vacation in Baton Rouge.
Frequently asked questions about the day trips from Baton Rouge, Louisiana
1. Where can nature lovers go for a day trip from Baton Rouge?
You can have a first-hand experience in the wealth of flora and fauna present around Baton Rouge by exploring these destinations: i) Honey Island Swamp, ii) Lafayette, iii) Jean Lafitte National Historical Park and Preserve, and iv) Mandeville, LA.
2. Which day trips from Baton Rouge are suitable for couples?
A getaway with your beloved in Baton Rouge is already a fete but you can make it even more interesting by embarking on a quick trip to any of these exciting nearby destinations: i) Wallace, ii) New Roads, iii) Abita Springs, and iv) Lafayette.
Any must-sees we missed? Tell us about them in the comments section or write a post
here
to help out fellow travelers!
Disclosure: Trip101 selects the listings in our articles independently. Some of the listings in this article contain affiliate links.
Get Trip101 in your inbox
Unsubscribe in one click. See our Privacy Policy for more information on how we use your data