Mykonos is one of the most sought-after Greek islands to visit. It offers a piece of paradise for every visitor with its enchanting landscapes, idyllic and calm waters, and of course, nightlife. With that being said, Mykonos is a perfect spot to enjoy life where superb parties are everywhere. If you're done partying and want to escape the noises and crowds even for a short period of time, there are plenty of day trip destinations from Mykonos that you can consider. It's now time to extend the fun in different styles. Read more in this article and discover the best day trips from Mykonos, Greece!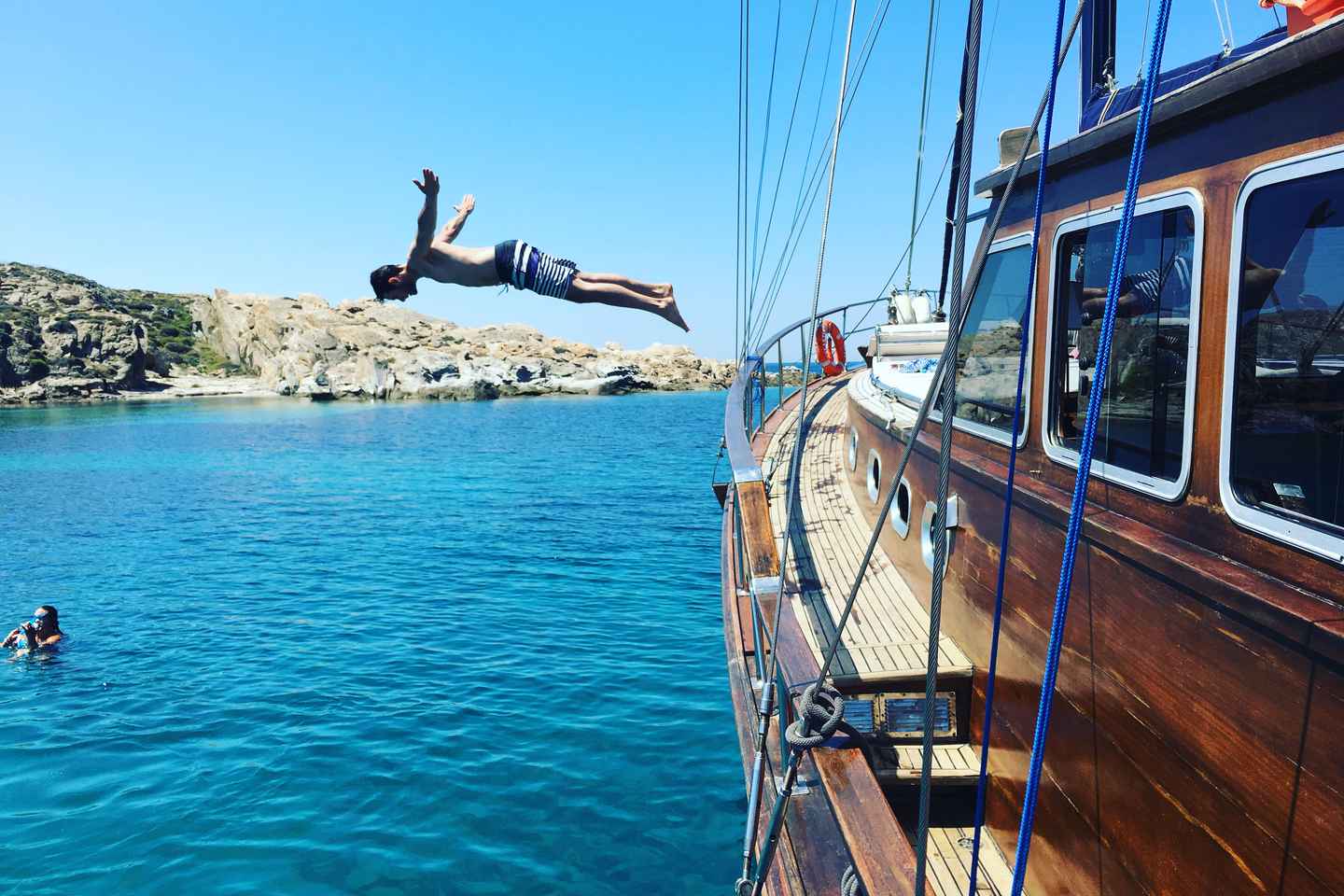 If you truly want to immerse yourself in the beauty of Greece, there's no better way than joining this six-hour Rhenia Islands boat trip from Mykonos. During the tour, you will have the chance to admire the scenic view of Mykonos, unravel the history of Delos Island (archaeological site), and experience real water escapades in Rhenia Island's deserted beaches. A traditional Greek barbecue is also included.
Mykonos: Delos & Rhenia Islands Cruise w/Meat and Veggie BBQ

Duration: 6.0 hour
2. Little Venice
Another day trip destination from Mykonos that must be included on your list is Little Venice. If you want to get there the quickest way possible, you have to ride a taxi and within just less than 15 to 20 minutes, you can explore Little Venice. The extreme west of the town that merges into the sea - that's what Little Venice is. The place is great for lovers as the ambiance is romantic. The buildings with lovely balconies are built on the sea's edge, which makes these spots perfect to sip on some cocktails while watch the sun go down with your partner.
3. Ano Mera
If you want to escape the hustle and bustle of Mykonos, Ano Mera is your refuge. It is a serene place that offers relaxation and peace of mind. The cheapest way to access Ano Mera from Mykonos is by riding a bus, and within less than 30 minutes you will be ready to enjoy Ano Mera's best. Gyzi Castle, Paleokastro Monastery, Panagia Tourliani - these are just a few popular attractions in Ano Mera that you can consider for relaxation. The area also features nice restaurants, cafes, and unique shops that you can explore.
4. Kalo Livadi
Ah, Kalo Livadi! Clear blue waters, laidback atmosphere, great facilities - all contributes to making Kalo Livadi one of the most sought-after day trip destinations from Mykonos. Located in the middle of Elia Beach and Kalafatis, Kalo Livadi is one of the longest beaches in Mykonos, and about 10 km (6.21 mi) away from the town of Mykonos. Life is celebrated here, as proof you can join the parties at every corner of the town. It features plenty of sundecks and umbrellas to make you feel comfortable. If your dream is to relax on the beach lounge chair, sipping some cocktail, and enjoying music, you know where to go.
5. Syros
Indeed, Santorini's beauty is unbeatable. It's not surprising why millions of tourists from all over the world are lured to visit the place and it's also understandable if Santorini is crowded and busy. If you dream to experience Santorini in the most peaceful way possible without too many noises and crowds, Syros is the best destination to travel to. It is an underrated day trip destination from Mykonos that offers a slice of paradise with its rich history, art and culture, lip-smacking cuisine, nightlife, astounding beaches, and festivities, to name a few.
6. Kalafatis
If you want to experience real water escapade in a peaceful setting with fewer crowds, perhaps, visiting Kalafatis is a great choice for a day trip destination from Mykonos. Situated 12 km (7.46 mi) in the southeast part of Mykonos Town, Kalafatis Beach is accessible by riding a public bus from Chora. Kalafatis makes a wonderful spot for water sports enthusiasts. There's no underestimating Kalafatis, though a less developed beach, it features tons of activities from jest ski to water ski, from windsurfing to wakeboarding and more. And yes, snorkeling is also great here.
7. Agio Sostis
Another relaxing day trip destination from Mykonos awaits you at Agio Sostis. The distance from Agio Sostis to Mykonos Town (north-east) is about 8 km (4.97 mi). Agio Sostis is a blue gem in the north of Mykonos and it is one of the most remote beaches. To get there, you'll have to ride a car, taxi, or motorbike. Agio Sostis does not have an umbrella or sunbed which gives you the feeling that you own the beach. There are tons of accommodations that offer relaxation and scenic views, should you wish to extend your trip. What else? The world-famous Kiki's Tavern is here where you can taste some wine and Greek cuisine.
8. Agios Stefanos
Agios Stefanos is famous for its plenty and great facilities that are near the beach. Situated just 3.5 km (2.17 mi) from the town of Mykonos, Agios Stefanos is a great choice for a day trip destination, especially during summer. It features umbrellas, sunbeds, and tons of water sports from mild to extreme. The beach also presents a selection of cafes and restaurants that will satisfy your cravings. The beach is accessible via private vehicle, taxi, or public bus from Mykonos.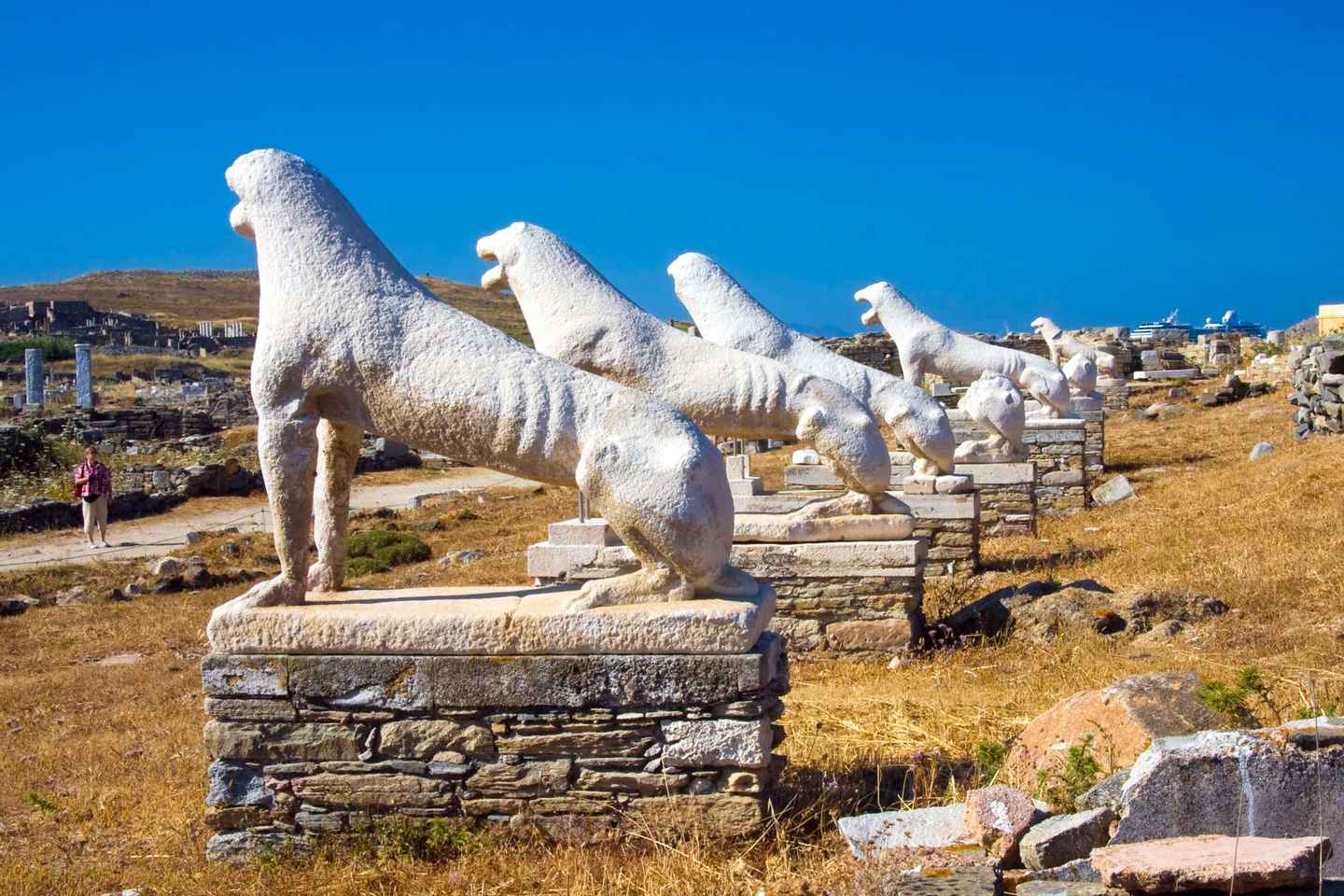 If you want to travel back in time and unravel some mysteries of ancient Greece, then join this exciting tour. The island of Delos features archaeological and ancient sites that will make you curious. Your journey will begin with a 30-minute boat ride from Mykonos. After the introduction, the tour allows you to admire the House of Dionysus and the wide range of art, from marvelous wall paintings to marble columns and superb mosaics.
From Mykonos: Delos Archaeological Site Guided Evening Tour

Duration: 3.5 hour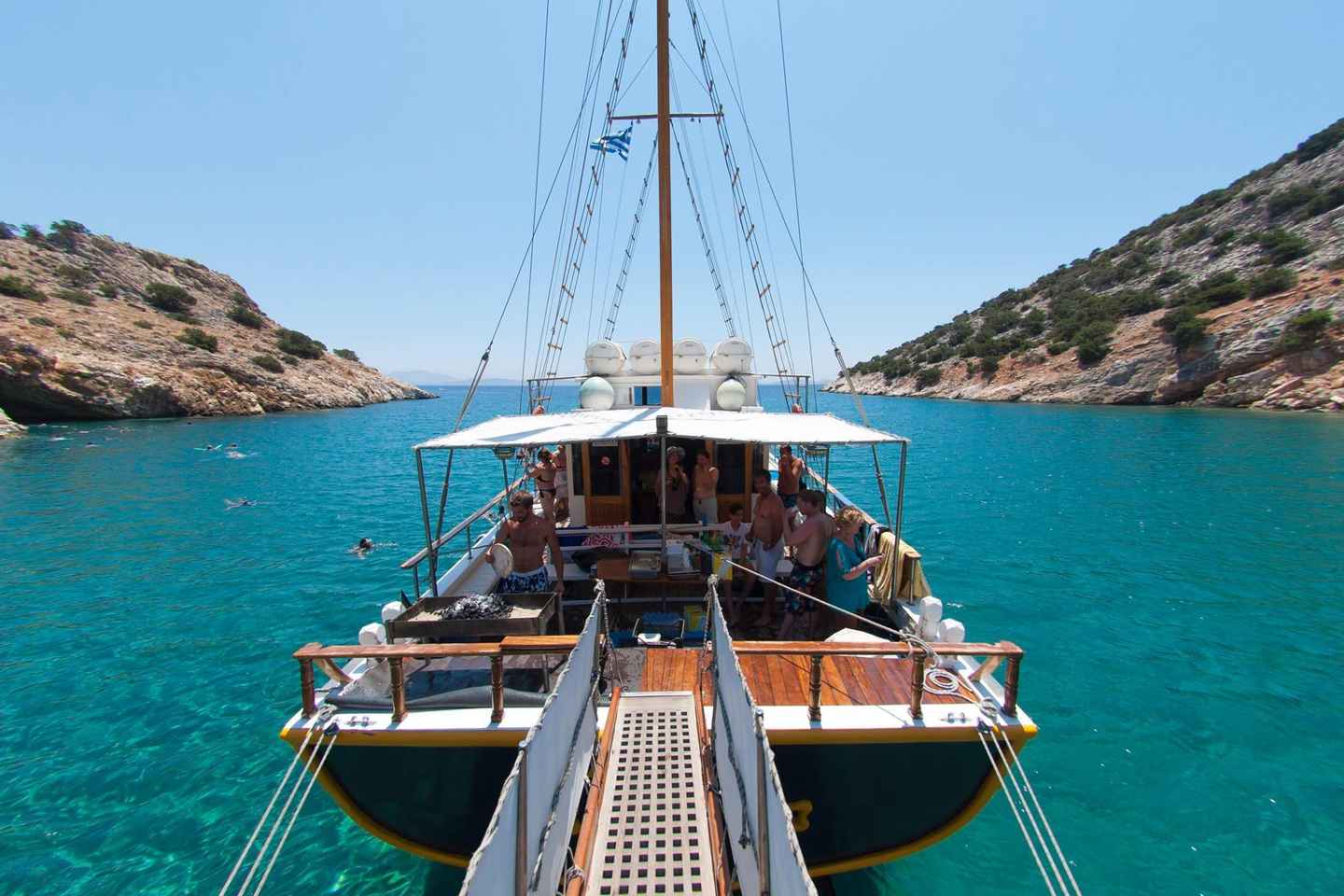 Naxos is another exciting day trip destination from Mykonos. Undertake a South Naxos full-day cruise that could easily turn into an unexpected highlight of your journey. Take aboard in a lovely traditional wooden boat and explore the hidden beauties of the south coastline of Naxos. The mesmerizing cave of Rina is great for some photo ops. Kalados Bay promises a relaxing day, while the calm waters of Pyrgaki and Aliko Beach are inviting. Of course, the tour is not complete without tasting some Greek delicacies. How about some Greek barbecue meal?
South Naxos Full–Day Cruise

Duration: 7 hour
Exciting day trips from Mykonos
Mykonos is one of the most beautiful islands in Greece. It's not a surprise that the island bursts with parties, over-enthusiastic crowd, busy streets, and noisy markets. If you are planning to see the beauty of Mykonos but do not want to fully embrace the party crowd, there are plenty of exciting day trips from Mykonos that will complete your day.
Disclosure: Trip101 selects the listings in our articles independently. Some of the listings in this article contain affiliate links.
Get Trip101 in your inbox
Unsubscribe in one click. See our privacy policy for more information on how we use your data