Mention Greece and chances are that many people would have visited or at least, heard of Santorini. Name-drop Naxos and you would likely be greeted with puzzlement. The largest of the Cyclades islands, Naxos is part of a group of Greek islands that lie in the Aegean Sea. With its stunning white beaches and abundance of ancient Byzantine ruins, the island is a great hideout from the hustle and bustle of more popular Greek islands such as Mykonos. But why limit yourself to just one island when part of the fun of holidaying in Greece is in island-hopping? Read on for an insider guide to the coolest day trips from Naxos, Greece that will satisfy the globe-trotter in you.
1. Iraklia
Iraklia is a tiny islet an hour from Naxos by ferry. Near the Agios Geórgios harbour is the popular Livadi Beach. In keeping with the Grecian love for beauty, naturism is encouraged in a certain section of the Livadi Beach. This beach boasts of sandy coastlines and crystal-clear waters that are suitable for everyone as the shallow waters are calm. While Livadi Beach does not have any amenities, many taverns are within walking distance. For those who seek a memorable Instagram moment, consider going to Alimia Beach. The key attraction is the underwater wreck of a WWII German plane, which is clearly visible from the surface of the turquoise waters. End your day by taking a ferry back to Naxos, chic suntan firmly in place.
2. Donoussa
For visitors to Donoussa in mid- to late summer, there are a number of festivals redolent with local colour to look forward to. The first is the Feast of the Assumption of the Virgin every August on the 15th. Besides traditional music and dances being performed across the island, the famous wild fennel-scented potato dish, patatato, is served during the festival. At the end of summer around September, morning mass followed by the traditional festival of Aghia Sophia will take place at the Church of Holy Cross. The venue is an awe-inspiring one with sweeping views of the sea cresting the cliffs where the church sits.
3. Syros
The first thing when approaching Syros are the magnificent villas perched on Ermoupoli Hill. Lovingly preserved, the Town Hall, the Apollo Theatre, and the Agios Nikolaos Church are the best examples of Syros's wealth and prestige. Syros has no lack of unspoilt beaches - and Kini Beach with its golden sands and warm waters is an excellent choice. Make a beeline for Allou Yialou and enjoy delicious nibbles on the restaurant's seaside patios. End the day with a traditional dinner of wild fennel pie before sailing back to Naxos.
4. Naoussa
For those who love exploring hidden nooks and crannies, the old town of Naoussa is a perfect spot. Lose yourself in the charming little streets that brim with local flavour and stop for some warm honeyed doughnuts, called loukoumades, from traditional snack stands in Naoussa's back alleys. If you still have time before your return trip, do a wine-tasting of Moraitis wine, a locally produced wine. Pro-tip: Order a cheese platter filled with local and Greek cheeses, you will not regret it! After that, take a relaxed 10-minute walk back to the port for your ferry back to Naxos, concluding your day in Naoussa.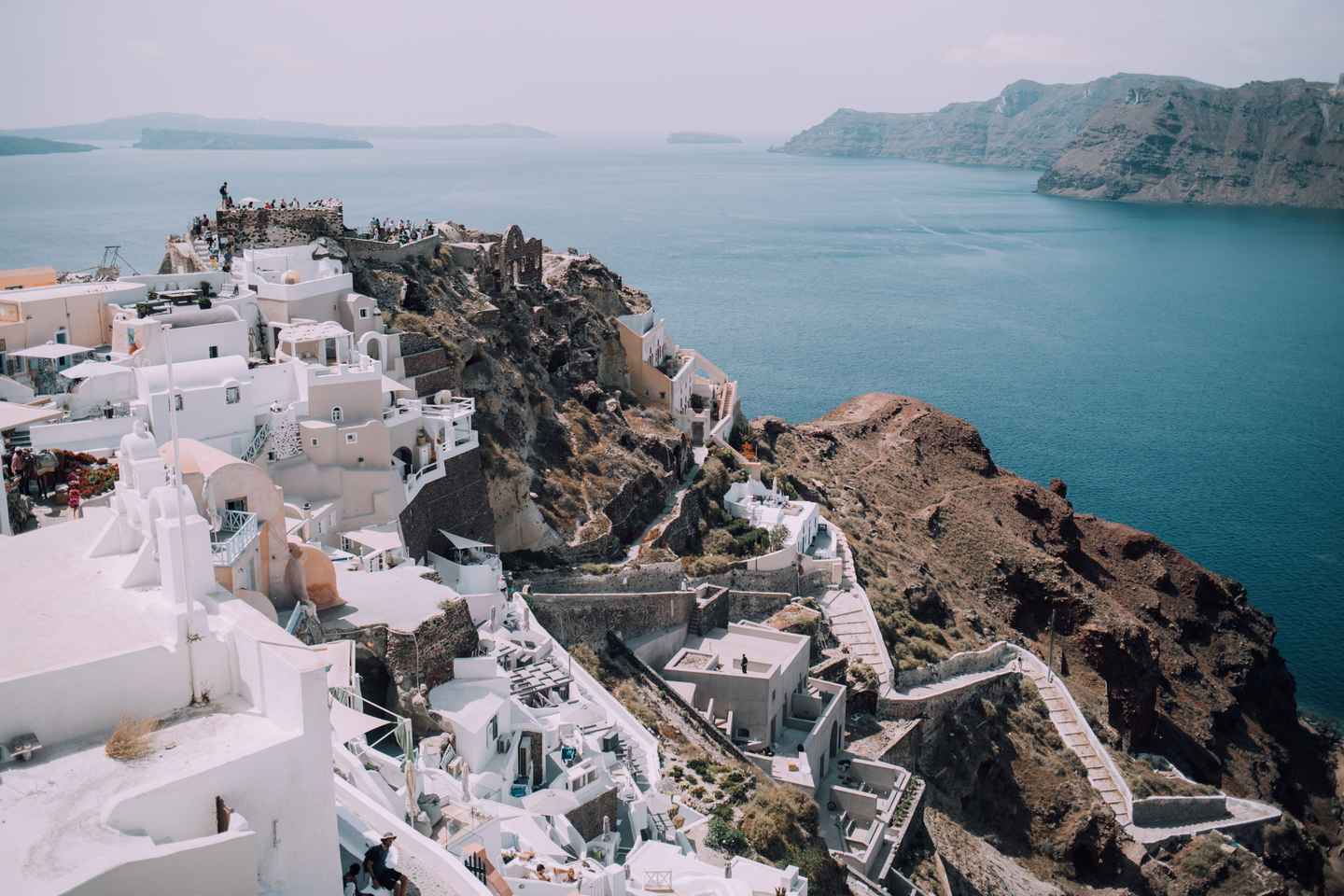 Santorini requires no introduction. With this day trip option, you will be offered the best of the island's attractions! Upon docking, be charmed by the beautiful scenery along your way to Santorini's famed Oia Village. Oia is carved directly into the cliffs overlooking the sea and boasts of spectacular sights. Take a walk through the village as there is plenty to see, from the quaint souvenir shops to sun-drenched cafes. Next, visit Fira, Santorini's capital. Here, you can choose to take a cable car ride, which will give you the best views of the volcano or spend some time haggling for bargains in the largest gold market in the country. Then from Fira, get driven back to the port in comfort for your return cruise to Naxos.
Duration: 12.0 hour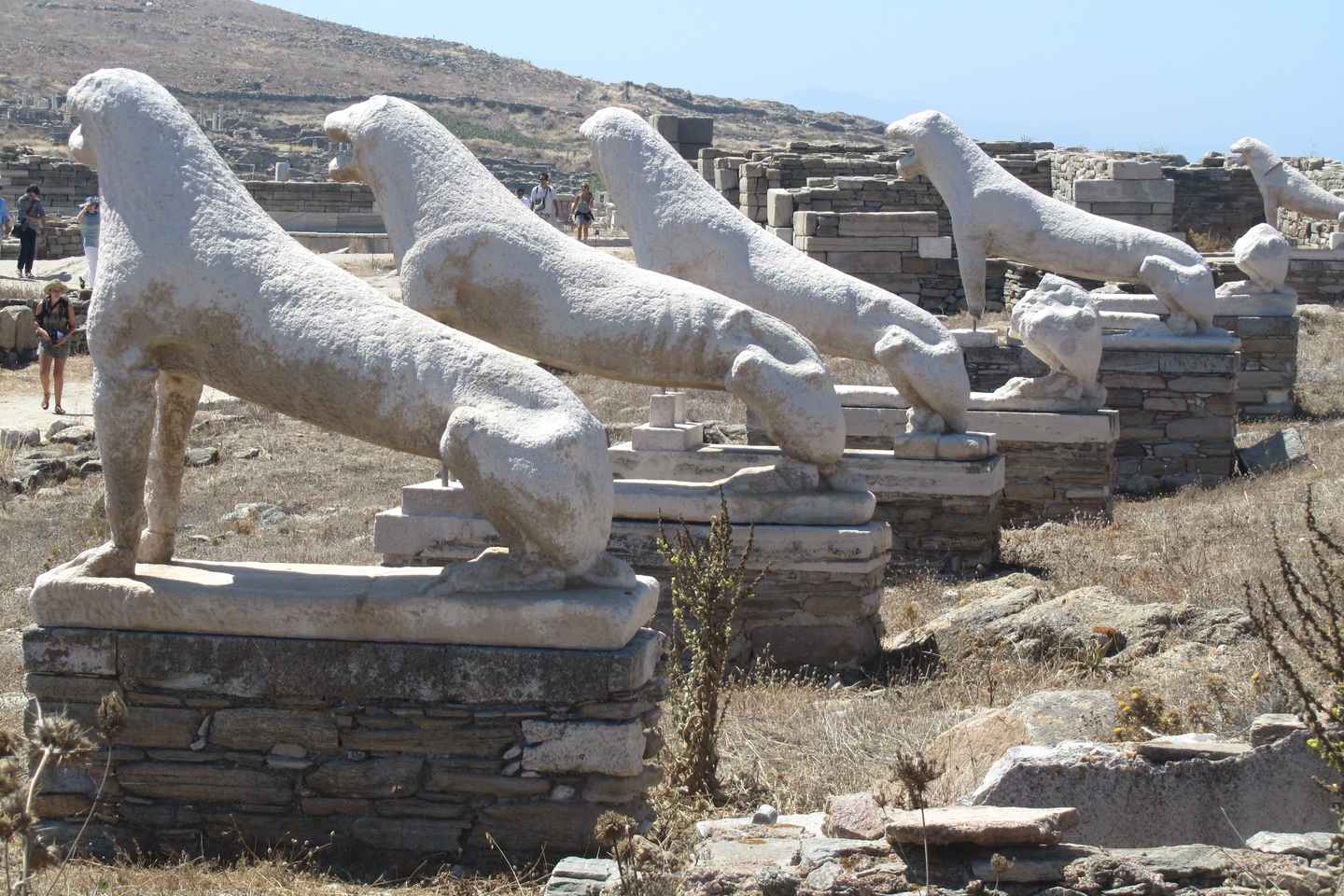 Make the most of your day with this boat trip to the mystical island of Delios and cheerful island-city of Mykonos! The boat trip will dock in Delios which has 3,000 years of history as an ancient sanctuary and legendary birthplace of Apollo, son of Zeus and one of the twelve Olympians. After that, hop abroad the Get Your Guide boat and travel to Mykonos, which is famous for fun-loving atmosphere and statuesque windmills dating from the 16th century. Spend some time in the Little Venice district of Mykonos and pick up souvenirs for your loved ones back home. With Get Your Guide, sail back to Naxos hassle-free at the end of a great day island-hopping.
Duration: 10.0 hour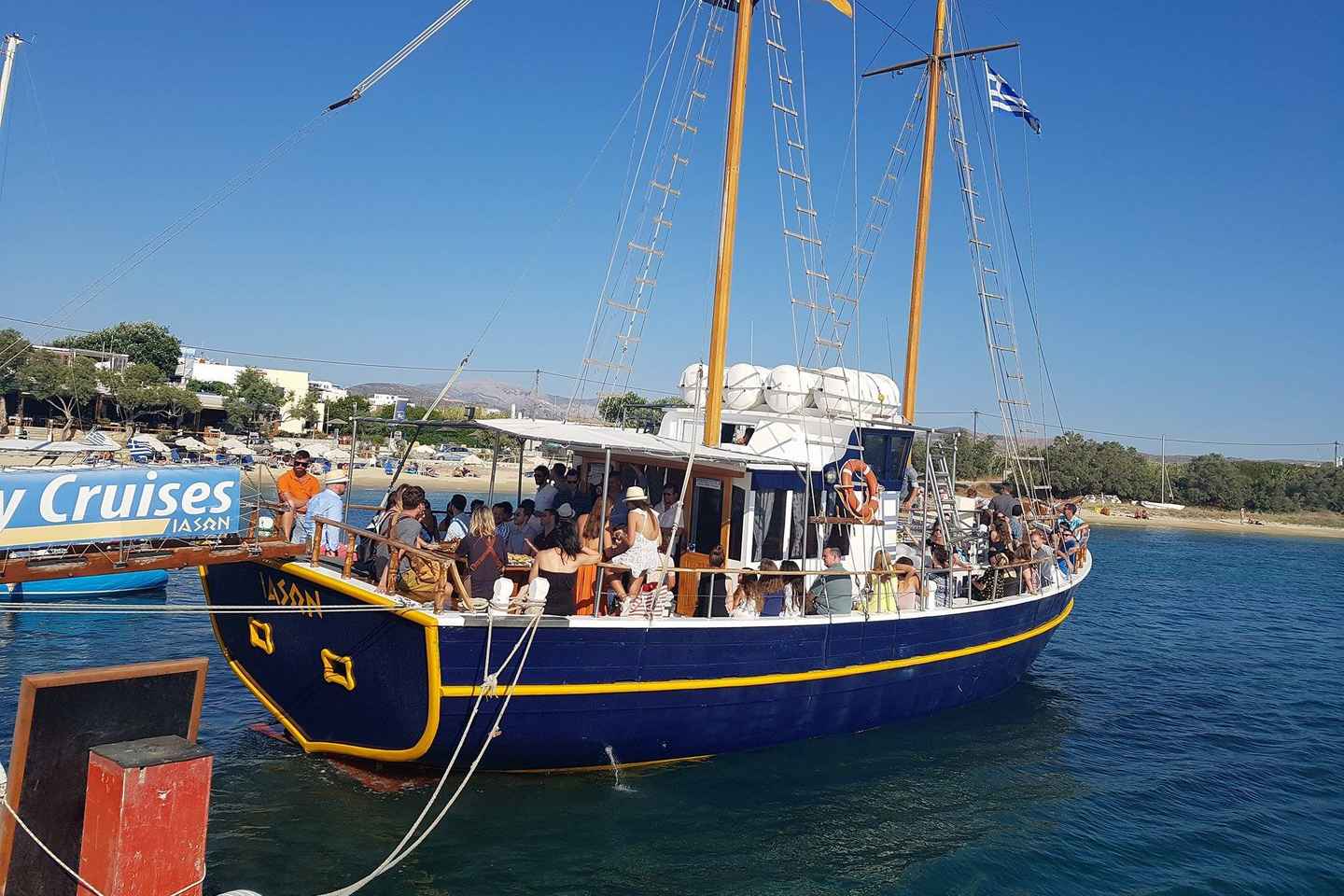 One of the most authentic ways to get to the Koufonissia region from Naxos is by sailing on a type of traditional wooden boat, known as kaiki, that has been used for over 300 years. Hop on board this cruise at Naxos and enjoy snorkelling in the clear waters off a group of uninhabited islands called Kato Koufonisi. After a hearty Greek barbecue lunch, the boat will head on to Ano Koufonisi, which is where most of the attractions in Koufonisia are. Get some respite from the bright Greek sun and slip into Galleria Spigolo, which is an art gallery and gift shop. Strike up a conversation with the knowledgeable owner-curator or resident artists and you might just find yourself in possession of a truly unique piece of Koufonissia art.
Duration: 9.5 hour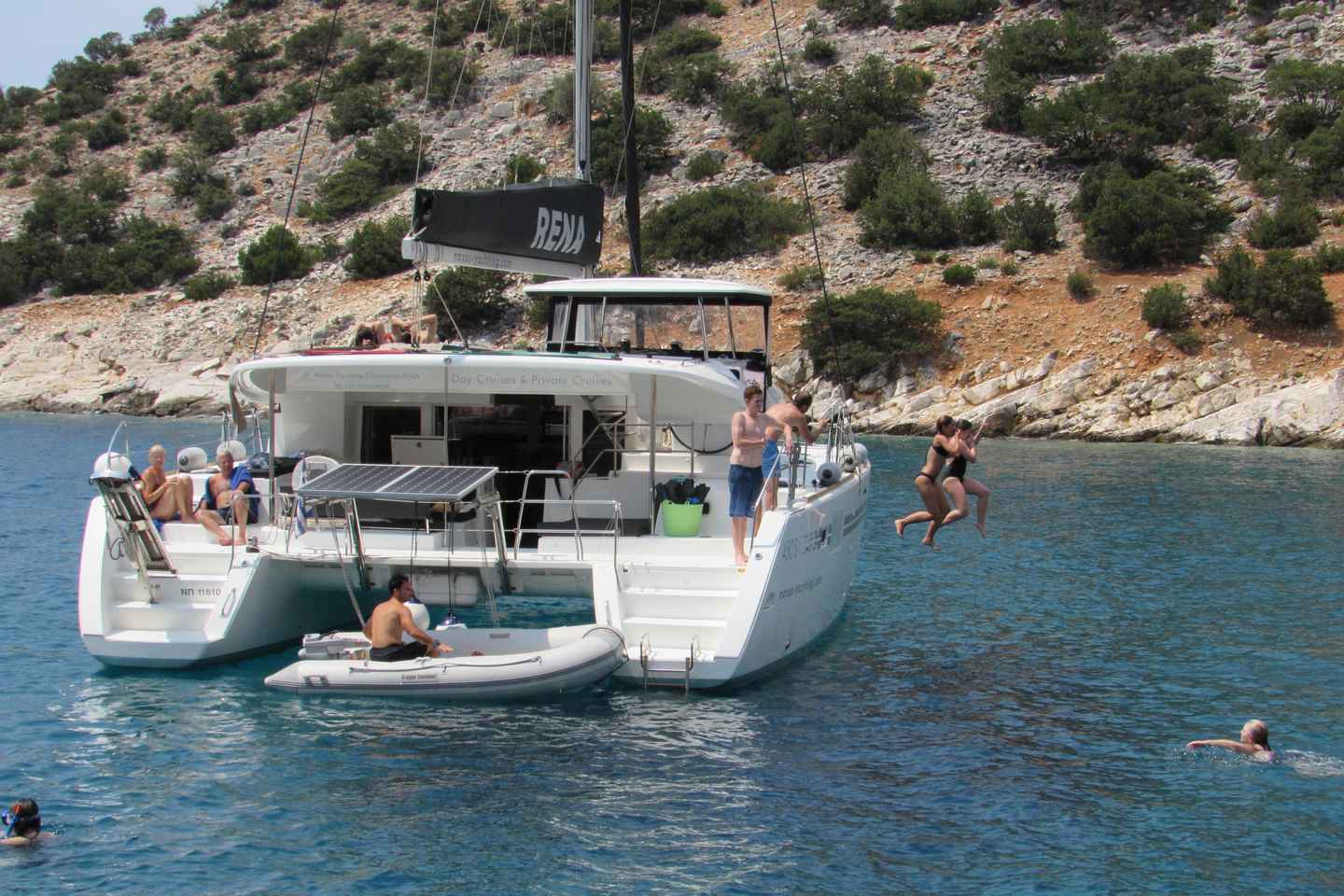 Schinoussa is the Greek island you should definitely visit for undisturbed sun, sand, and sea. It is also, unsurprisingly, a favourite of the ultra-rich who crave some privacy. This island is about two hours away from Naxos by this luxury cruise. Once you dock at Schinoussa, pick from an impressive array of beaches (18!) to dip your toes in. If you are looking to fully enjoy the island experience, snorkelling gear and floats are available from your cruise ship upon request. For those who would like to stretch their legs after a delicious local lunch served onboard the luxury vessel, you can explore Schinoussa on foot in just half a day. The island is an ideal getaway for seasoned hikers as it boasts of six scenic trails. One particularly interesting trail starts at Chora to Tsigouri and leads to an ancient archeological site where remnants of a Hellenistic-Roman settlement can still be found. Cool your weary feet in the water while having leisurely drinks at any of the waterfront tavernas before sailing back to Naxos with fond memories of Schinoussa.
Duration: 7.0 hour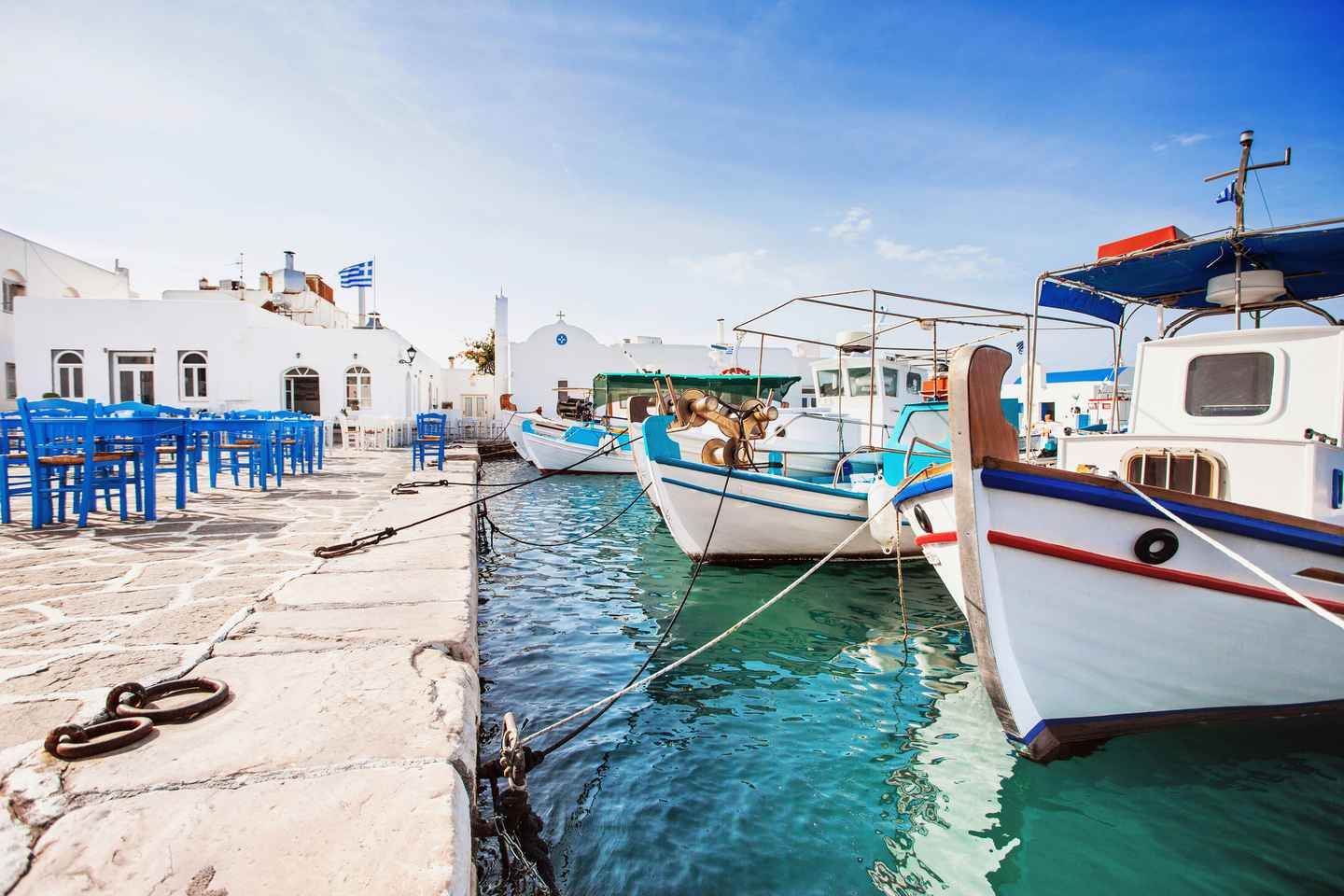 Paros can be reached from Naxos in under an hour on a cruise vessel. As transport and tourist amenities are well-developed on Paros, you can take the touring KTEL bus into Parikia once you dock. A visit to Panagia Ekatontapyliani is a must. Here, you will marvel at one of the grandest churches in the Cyclades, replete with imposing columns of highly-prized Greek marble. For lunch, drop by Trata Fish Taverna which is one of the best seafood restaurants on the island. The menu changes every day so you can rest assured knowing that everything served is of the finest quality. After wandering around the old market streets of Parikia, take the hourly bus back to the port for your return trip to Naxos.
Duration: 10 hour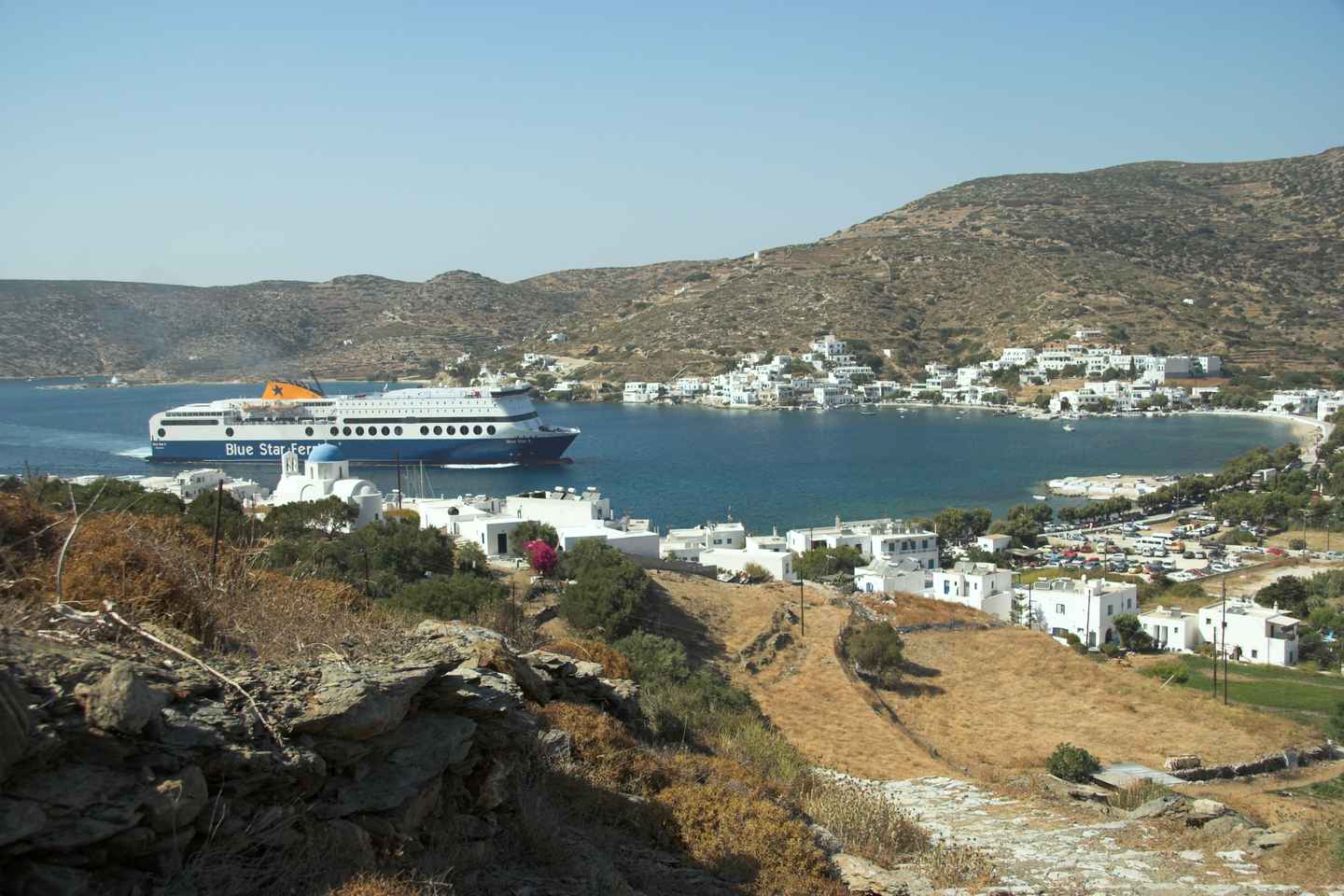 Enjoy the sea breeze in your hair on this boat trip to Amorgos. This boat ride will take around two hours. Once you dock, take a cab or rent your own transport. Rentals are available for 20 to 40 EUR (23 to 45 USD) per day. Visit Chora Village for its Venetian castle from the 13th century. Go to the historic Hozoviotissa Monastery, where the effort of navigating a steep path is well-compensated. Head back to the area around the port for fresh seafood and a glass of "rakomelo", a local liquor brewed with Greek honey. Remember to return to Katapola Port by the early evening for your boat back to Naxos!
Duration: 11 hour
Enjoy your summer in the Aegean sun
Take advantage of the readily available day trip packages and ferry services that ply the island routes in the Cyclades from Naxos. There are worlds out there waiting for your exploration so use this guide to decide which beautiful Greek island would be your next stop from Naxos, Greece. It might not be an easy decision since each island in the Cyclades has its unique attractions but there is something for everyone!
Disclosure: Trip101 selects the listings in our articles independently. Some of the listings in this article contain affiliate links.
Get Trip101 in your inbox
Unsubscribe in one click. See our Privacy Policy for more information on how we use your data