Washington is known for historic events, cultural landmarks, and many tourist attractions. Although the bigger cities like Seattle attract more visitors, Tacoma isn't far behind. Stay in Vrbo rental or a hotel and explore the city. Located South of Seattle, this destination is on the banks of Puget Sound and houses landmarks like Museum of Glass, Tacoma Art Museum, and Washington State History Museum. Once you're done visiting Tacoma's landmarks, you can take advantage of its proximity to a host of other iconic cities. Whether you are a local interested in exploring beyond Tacoma or a tourist curious about the surrounding areas, here is a list of the best day trips from Tacoma.
1. La Conner
La Conner is a town in Skagit County that's known to be wintering grounds for swans and Canadian geese. The town's center, known as "the Hill", is a historic district and is listed on the National Register of Historic Places.
In line with this, the town is home to a plethora of great museums, art galleries, wineries, historical sites, and so much more. La Conner is only 103 mi (165 km) away from Tacoma, which translates to an hour and 44-minute road trip.
2. Castle Rock
If you're after a relaxing trek through nature, then Castle Rock is the place to visit near Tacoma. Being home to The Rock Community Park, Castle Rock offers a plethora of hiking trails, picnic spots, and many other tourist attractions that showcase the wonderful sights and sounds of the native flora and fauna.

The city is also home to a number of great pubs, breweries, and wineries for those looking for a nice drink. There are a couple of malls and theaters as well if you're looking for a good show.
3. Bainbridge Island
Located close to Seattle, Washington, Bainbridge Island offers visitors the natural beauty of nature and a rustic environment surrounded by saltwater. If you're an admirer of the great outdoors, then Bainbridge Island is a great place to go. Accessible by ferry, the island offers a plethora of beaches, gardens, and forest paths just waiting to be explored.
The island's attractions are not limited to just nature as there are other great attractions to visit like the Bainbridge Island Historical Museum, Bainbridge Island Japanese-American Exclusion Memorial, The Harbour Public House, and Tillicum Village.
4. Gig Harbor
Gig Harbor is a city in Washington that is also known as "the gateway to the Olympic Peninsula". The city features a plethora of wonderful waterfront attractions and city parks that not only provide beautiful sights for visitors to enjoy but also showcase the city's rich maritime history. Needless to say, the city has a plethora of water-based attractions and boat tours.
For nature lovers, the city is home to a variety of forests, walking trails, gardens, state parks, and biking trails. For those looking for things to do at night in and around Tacoma, Gig Harbor is also home to a number of bars and breweries.
5. Vashon Island
Hop on a ferry and head over to Vashon Island, a relaxing island featuring thick woodland and rolling hills. Leave behind the bustle as you watch the city skyline disappear behind rows of trees while driving along winding roads enveloped in a soothing breeze. The island hosts rows upon rows of family farms, which provide fresh produce. There are also numerous vineyards, allowing you to pick the freshest spirits to suit your tastes. Vashon Island is known for crab fishing, allowing visitors to get a permit, head over to the waterfront, and try their luck at catching the famous Dungeness crab. Vendors along the coast will provide crab pots so you can cook a delicious meal to end your short day trip.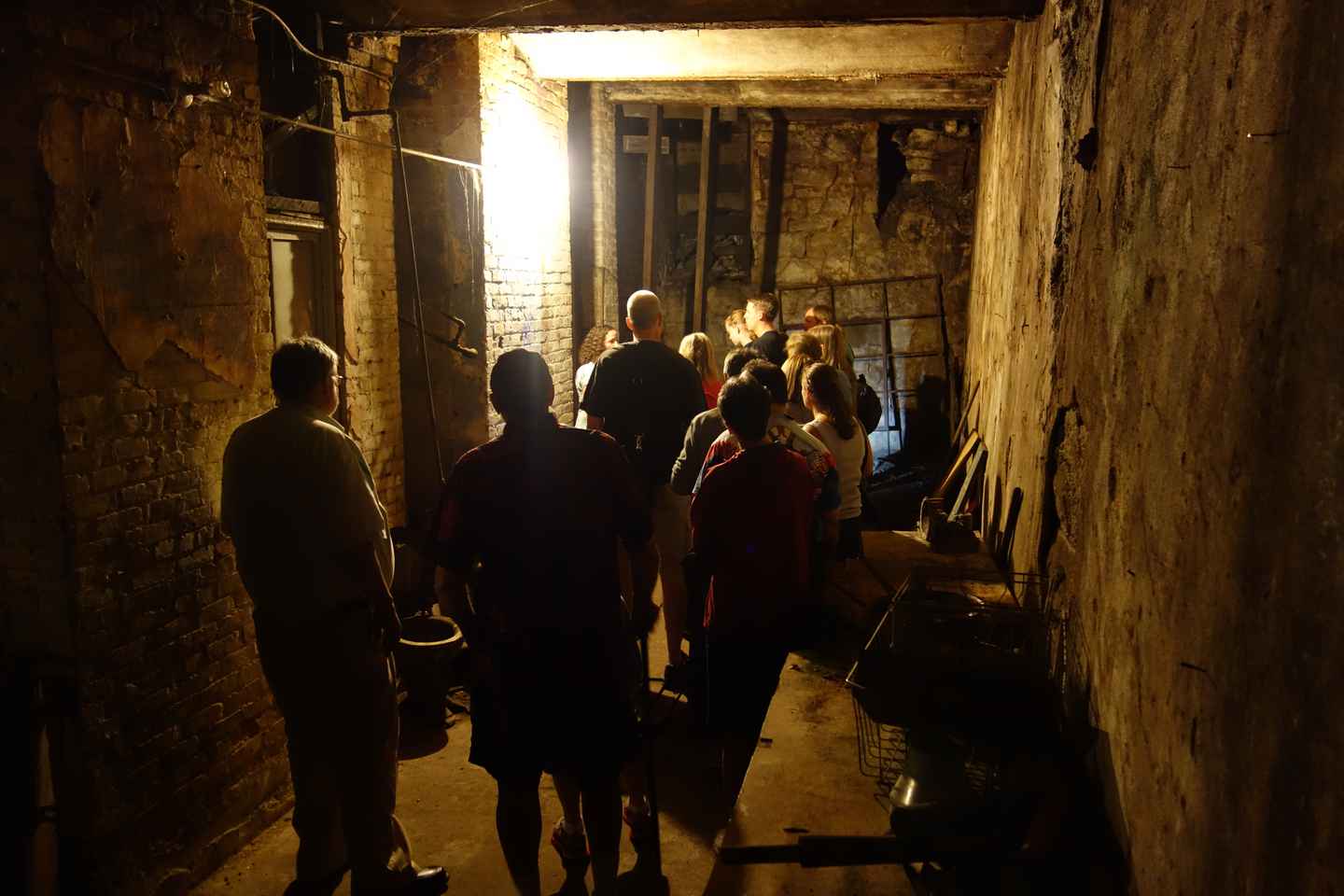 Tacoma's proximity to Seattle means most travelers can explore past the latter city's main tourist attractions like the Space Needle and Pike Place Market. Visitors can discover Seattle's comedy clubs and its many art exhibits and museums on their day trip. Olympic Sculpture Park and Park Arboretum are also great spots to check out. If an enthralling day trip to Seattle piques your interest, we recommend an underground walking tour to get a unique perspective of a bustling metropolis. Explore the city through three underground passageways, built in the 1890s in the area surrounding Pioneer Square. It helps visitors learn about Seattle's history through a well-informed guide.
Seattle: Underground Walking Tour

Duration: 1 hour
The city of Snoqualmie attracts over a million visitors. Most of these visitors come to admire the mesmerizing cascades of Snoqualmie Falls. The waterfall is open to the public for viewing from dawn to dusk but a select few can avail a small group tour on-board a private van. The tour provides a behind-the-scenes look at Snoqualmie Falls, away from the public trail. The tour also includes lunch along with trips to three local wineries. Nature lovers can walk around the acres of land surrounding the falls as well. Those who love winter activities can take advantage of the city's skiing and snowboarding offerings.
Woodinville Wine & Snoqualmie Falls: All-Inclusive Small-Group Tour from Seattle

Duration: 8 hours
8. Seqium
Sequim is the perfect place for nature enthusiasts with acres of pristine forests and terrain - perfect for hikers to traverse and bikers alike. The Olympic Discovery Trail is great for biking while the waterfronts in the area make for great fishing spots. The small city, with a population of just over 6,000 people, is also popular for its lavender and berry farms, which are mesmerizing to look at. Downtown Sequim features Olympic Theatre Arts, where patrons can indulge in a live show, several shopping centers, and restaurants. Sequim also hosts festivals throughout the year such as Sequim Lavender Weekend and Sequim Irrigation Festival. A farmer's market is also held within the city from May through October.
9. Ocean Shores
Ocean Shores is a charming seaside town with a population of over 5000. The town makes for a great vacation spot, allowing travelers to relax by the sea, various lakes and canals to forget about their worries. Visitors can lounge on the long Pacific Beach, buy and fly kites, rent bikes to ride along the beach trail, rent fishing boats and more at Ocean Shores. The town also hosts taverns for live entertainment, a full-fledged cinema, and a go-karting rink. There's also a bird-watching tour, organized by external parties, that moves through the town and surrounding areas.
10. Coupeville
Coupeville, a tiny town located on Whidbey Island, boasts several massive parks covered in lush greenery while facing the waterfront. The Ebey's Landing National Historical Reserve, which spans an area of over 19,000 acres (7689 hectares), is located close to Coupeville and hosts two state parks - Fort Ebey and Fort Casey State Parks. The reserve also hosts vast farmlands, historical buildings, lavender farms, beaches, and shorelines. Coupeville is one of the oldest towns in Washington and was incorporated in 1910. As such, visitors can visit the Admiralty Lighthouse, the Island County Historical Museum, and Coupeville Wharf.
Located in Washington's Olympic Penninsula, Forks is a small city with a population of around 3800 people. Visitors to the city can learn about the history of the region's logging industry at Forks Timber Museum. Forks is surrounded by three rivers - Calawah, Sol Duc and Bogachiel - which are home to a large number of steelhead and salmon. The national park features lush green lands topped off by glacier-covered peaks. Hoh Rain Forest, one of the largest temperate rainforests in the United States, is also within the park.
Guided fishing and hiking tours

Duration: 2 to 6 hours
12. Yakima
Yakima is Washington's 11th largest city by population. The city is situated in Yakima Valley, a region known for its apple and wine production. Yakima hosts a variety of cultural fairs and events throughout the year for visitors to enjoy. Yakima Valley Museum is among the city's tourist draws and is great for learning about the region's cultural and natural history. It is also a favorite of wine connoisseurs. The city hosts famous theatres, like Capitol Theatre and Seasons Performance Hall, Allied Arts Center, and Yakima Symphony Orchestra. Yakima is around 60 miles (100 km) southeast of the world-famous Mount Rainier, and if you take HWY-410 you will drive along the Chinook Scenic Byway which offers spectacular views of the mountain.
Leavenworth is a village located in the Cascade Mountains. The Bavarian-style town is around two hours away from Tacoma and is a great option for a day trip. Leavenworth is known for its Alpine-style buildings, a Nutcracker Museum, and multiple restaurants serving German food and beer. Nature lovers can also head over to Waterfront Park, a prime habitat for various species of eagles and ospreys, located on the Wenatchee River. Paddle down Icicle Creek and try white river rafting during summers or marvel at the Christmas-lighting ceremonies and partake in other snowy activities during the winter.
Bavarian Alpine Village of Leavenworth

Duration: 9 hours
Portland is a two-hour drive from Tacoma in the neighboring state of Oregon, making it perfect for a quick day trip. Portland, often referred to as The City of Roses, has a wide array of quirky and historic art pieces to admire and over 50 breweries to indulge in. Beer lovers will feel right at home as most bars in downtown host locally made beer. The best way to explore Portland is through a two-hour award-winning walking tour with a live tour guide, who tells travelers the story behind the 30 public art pieces, the bronze drinking fountain from 1912, the coin flip that decided the name of the city, the waterfront and the 12 bridges around the city.
Best of Portland 2-Hour Walking Tour

Duration: 2.5 hour
Day trips are perfect for exploring Tacoma's neighbouring wonders
While Tacoma is home to amazing restaurants and popular festivals, it is also located close to many wonderful towns and cities. Most of these destinations host a stunning array of natural, cultural, and historical attractions. Travelers from Tacoma can visit surrounding areas via short drives - convenient for exploring at their own pace. Visitors from all over the world can enjoy the peace in smaller cities like Forks and Ocean Shores or tread through large and diverse ones like Seattle and Portland.
Frequently asked questions about day trips from Tacoma
1.&nbspWhich parks are best for day trips from Tacoma?
Coming from Tacoma, travelers will come across a number of great parks to visit. Some of the best include The Rock Community Park in Castle Rock, the numerous state parks in Gig Harbor, the Olympic Sculpture Park in Seattle, and Fort Casey State Park in Coupeville.
2.&nbspWhich are the best places to visit for day trips from Tacoma?
With Tacoma as your starting point, there are so many great places to visit and we highly recommend you check out La Conner, Bainbridge Island, Yakima, Vashon Island, and Seqium.
Disclosure: Trip101 selects the listings in our articles independently. Some of the listings in this article contain affiliate links.
Get Trip101 in your inbox
Unsubscribe in one click. See our privacy policy for more information on how we use your data