Victoria is the capital of British Columbia in Canada and is nestled on the southern end of Vancouver Island. The city has an abundance of green areas and parks. Among the many parks is the beautiful Butchart Gardens, with its formal floral displays, quaint carousel, and several water features. Beacon Hill Park is another outdoor retreat with several ponds and well-kept gardens. History buffs will enjoy a visit to Craigdarroch Castle, a stately Victorian mansion offering tours. Royal BC Museum offers exhibits and films relating to the natural history of the area. Such attractions are paired with amazing beach house rentals and pet-friendly Airbnbs to accommodate travelers from anywhere. While the city is interesting in itself, visitors can also enjoy some of these top day trips from Victoria, Canada. Scroll below to read more.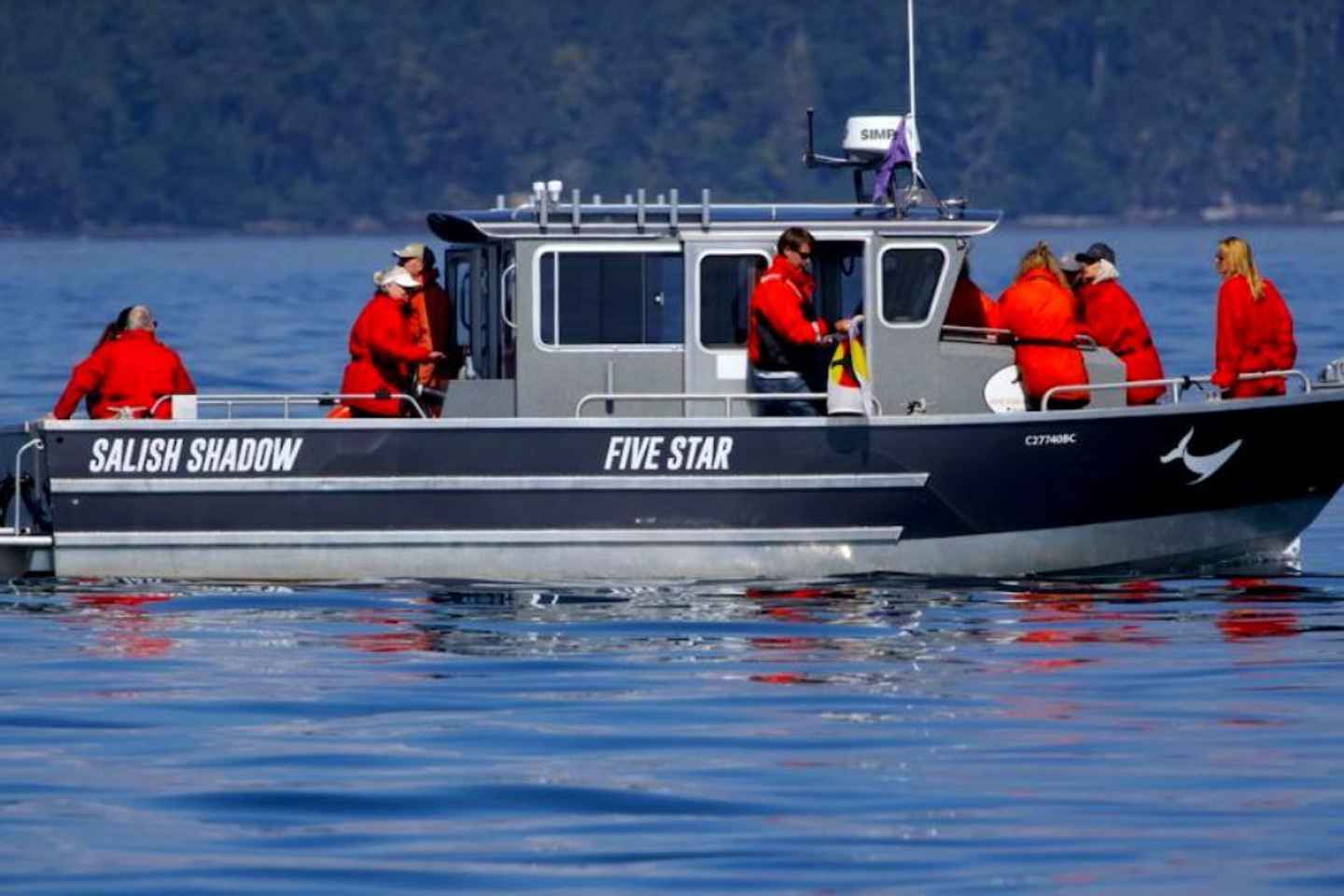 Head out from Victoria on a three-hour adventure on the Salish Sea to search for killer whales, humpback whales, harbor seals, and California sea lions, as well as more than 127 species of marine birds. Onboard the boat, marine biologists will assist in the search and explain more about marine life and how Victoria is trying to establish itself on the map as one of the best whale-watching destinations in the world.
Victoria, BC: 3-Hour Ultimate Whale & Marine Wildlife Tour

Duration: 3.0 hour
2. Cowichan Valley
Head inland from Victoria on a 58-mi (94.1-km) drive to the beautiful Cowichan Valley. This area can be seen from Cowichan River, Cowichan Lake, and Cowichan Bay. The valley is known for its warm, dry summers and mild winters, making this the ideal place to grow grapes. A number of wineries and vineyards can be found here, including Duncan Winery. Hikers can enjoy the Trans Canada Trail that heads through the valley, along with many other scenic trails. Rainforest trails, camping, and kayaking are available at Pacific Rim National Park Reserve.
Cowichan Valley

Website: Cowichan Valley
3. Salt Spring Island
Salt Spring Island lies on the Strait of Georgia, between Vancouver Island and the mainland. It is famous for its gorgeous scenery. One of the Gulf Islands, Salt Spring Island can be reached by ferry or seaplane. The island is ideal for pleasure boating, with hundreds of slips available. Dining and shopping can be enjoyed in Ganges Village. Head from Victoria to Swartz Bay Terminal to catch the ferry to Fulford Harbor on Salt Spring Island. The ferry trip takes about 35 minutes. Along the way, watch out for pilot whales, seals, sea lions, and sea otters.
4. Sidney Spit Provincial Park
Located at the north end of Sidney Island, Sidney Spit is a strip of land that stretches out to the sea. There is a pretty spot here where you can stroll or sunbathe. This protected area often sees many shorebirds who migrate here during spring and fall, making this the ideal spot for bird watching. Among the hiking trails, there is one that leads to the site of a brick and tile company, while another takes visitors to Sidney Lagoon and the Lighthouse. The spit is three miles (five kilometers) from Sidney on Vancouver Island. Sidney is a 16.6-mi (26.8-km) drive from Victoria via the Patricia Bay Highway.
5. Chemainus
Located in the Chemainus Valley on the east coast of the island, Chemainus is a community that is famous for approximately 53 beautiful outdoor murals by the Chemainus Festival of Murals Society. Other attractions include Waterwheel Park, where music concerts are held, Chemainus Valley Museum, and Chemainus Theater. The town was originally founded in 1858 as a logging town, and now it is best known for its art. This destination is a 50-mi (80.5-km) drive from Victoria on the 1E route, which takes approximately one hour and five minutes to travel. The town's name is derived from a native shaman word "tsa-meeun-is" which means "broken chest".
Chemainus

Website: Chemainus
6. Kinsol Trestle
Kinsol Trestle is a wooden bridge located north of Shawnigan Lake on Vancouver Island. Also known as Koksilah River Trestle, the bridge offers tourists a scenic way to cross Koksilah River. The trestle has recently been renovated, as it fell into disrepair and is the tallest free-standing timber rail trestle in the world. The site can be reached in about 46 minutes via the Trans-Canada Highway and Shawnigan Lake Road - a journey of around 29 mi (47.4 km) from Victoria.
Kinsol Trestle

Address: 2869 Glen Eagles Road, Shawnigan Lake, Vancouver Island, British Columbia, Canada

Website: Kinsol Trestle
7. Port Renfrew
Port Renfrew is nearly a two-hour-long drive from Victoria via Juan De Fuca Highway around the coastline. The 69-mi (111.2-km) drive is scenic and includes Botanical Beach, which is pictured here. This area is famous for having the world's largest Douglas fir tree, known as Red Creek Fir. There are a number of other natural attractions surrounding Port Renfrew, including the West Coast Trail, and Juan de Fuca Trail, both ideal areas for hiking and bird watching. The West Coast Trail used to be known as the "Shipwreck Life Saving Trail", as it was built in 1907 to make it easier to transfer shipwrecked survivors from the coast, which forms a part of what is termed the "Graveyard of the Pacific". Port Renfrew sits at the southern entrance of the beautiful Pacific Rim National Park.
Port Renfrew

Website: Port Renfrew
8. Mayne Island
Expect a scenic journey from Victoria when heading to Mayne Island. It takes around 50 minutes on the ferry from Swartz Bay and 60 minutes from Vancouver City on the mainland. The island can also be reached by seaplane. Part of the Gulf Islands chain, this small island has a population of around 1,071 residents and is known for Mount Parke, a mountain in the center of the island. This place is also home to Mayne Island Resort, an eco-friendly destination on the Gulf Islands. The town has many quaint shops, cafes, and restaurants.
9. Sooke
Sooke is 24 mi (38.6 km) from Victoria via the Sooke Road route and is a scenic place with plenty of outdoor activities to enjoy. The village has a number of quaint shops, cafes, and restaurants and hosts Sooke Region Museum and Visitor Center, where visitors can find out more about the area and the various attractions on hand. Walking and cycling trails include the Galloping Goose Trail around the lake, while Whiffin Spit Road is a pleasant, sandy trail that heads out to sea. Adventure buffs will enjoy visiting Sooke Potholes Provincial Park with its natural pools and opportunities for climbing and hiking. Kayaking and canoeing adventures are also available.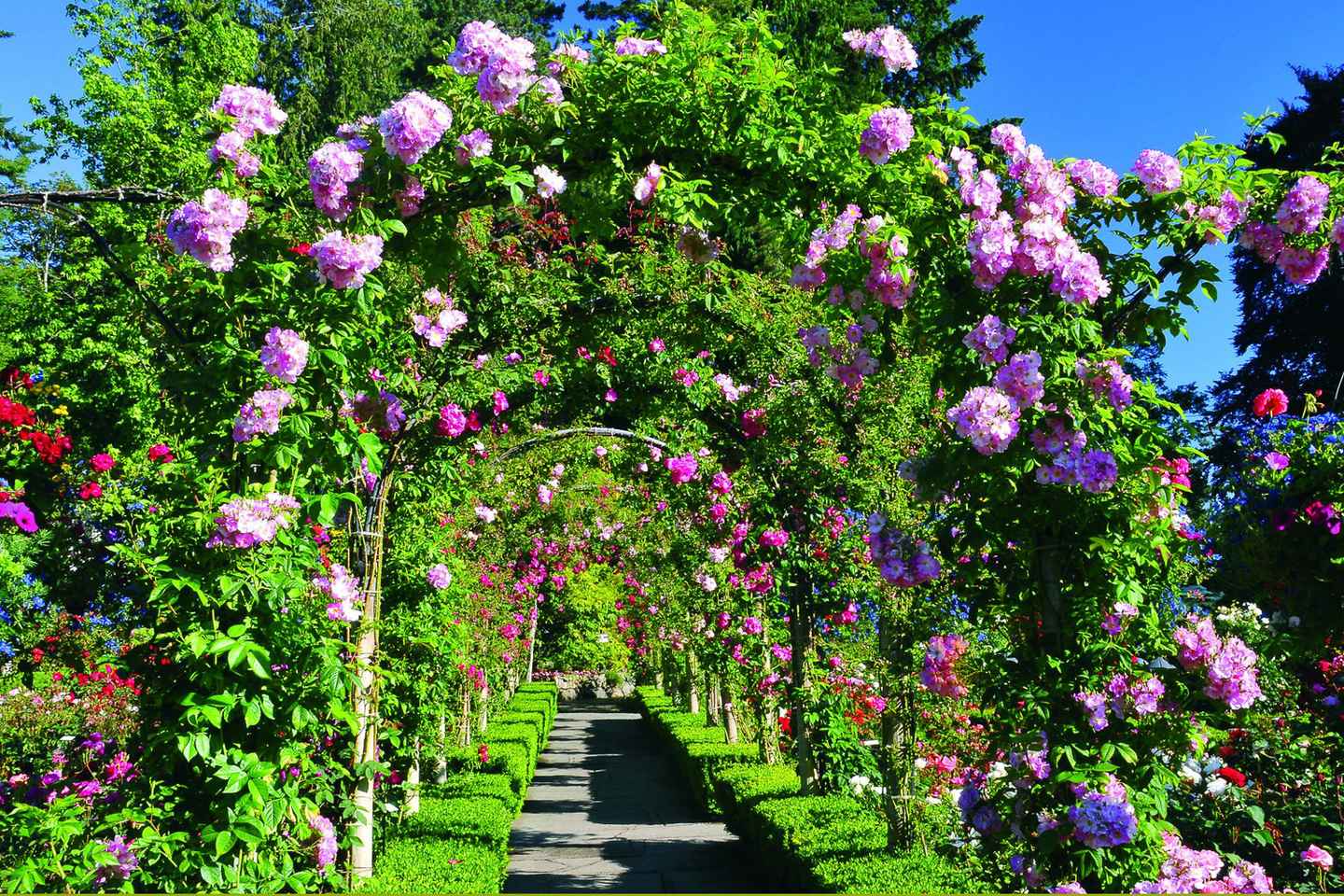 The Butchart Gardens is a stunningly beautiful destination and is just a 35-minute drive or bus ride from the center of Victoria. The gardens were established when the Butchart family decided to build a Japanese garden on a limestone quarry. Known as the Sunken Garden, it became a place of true beauty and relaxation. Other gardens on-site include the rose garden, with its rose-laden arches, and the Italian garden that has a bronze statue and a florally decorated pond. You'll also find Gelateria Benvenuto, an ice cream parlor, on the premises. The Mediterranean garden hosts exotic plants from all over the world, thriving in the temperate climate of Vancouver Island.
Victoria: The Butchart Gardens Tour

Duration: 4 hour
Get out into nature on Vancouver Island!
While enjoying everything this exciting city has to offer, including museums, golf courses, parks, art galleries, restaurants, dessert spots, and more, make sure to explore the beautiful Vancouver Island a little further by heading out on one of these top day trips from Victoria, Canada.
Disclosure: Trip101 selects the listings in our articles independently. Some of the listings in this article contain affiliate links.
Get Trip101 in your inbox
Unsubscribe in one click. See our Privacy Policy for more information on how we use your data