Amsterdam, also known as Holland, is the Netherlands' capital and one of the most sought-after destinations in Europe. This town is a combination of the intricate canal system, artistic heritage, and narrow houses with gabled facades. All of these will make you feel like you're walking in a living museum. Some of the famous museums are here, from the Van Gogh Museum to the Rijksmuseum and modern art at the Stedelijk. Of course, no Amsterdam escapade is complete without unraveling some of its 1,000 bridges and 165 canals by cycling - the key to the city's character. With all the beauty of Amsterdam, you'll need a fitting accommodation. The historic hotels are best for those looking to delve deep into culture and tradition. If eyeing an extended stay, check out the city's long-term rentals. But before that, read more of this article and discover day trips from Amsterdam, the Netherlands.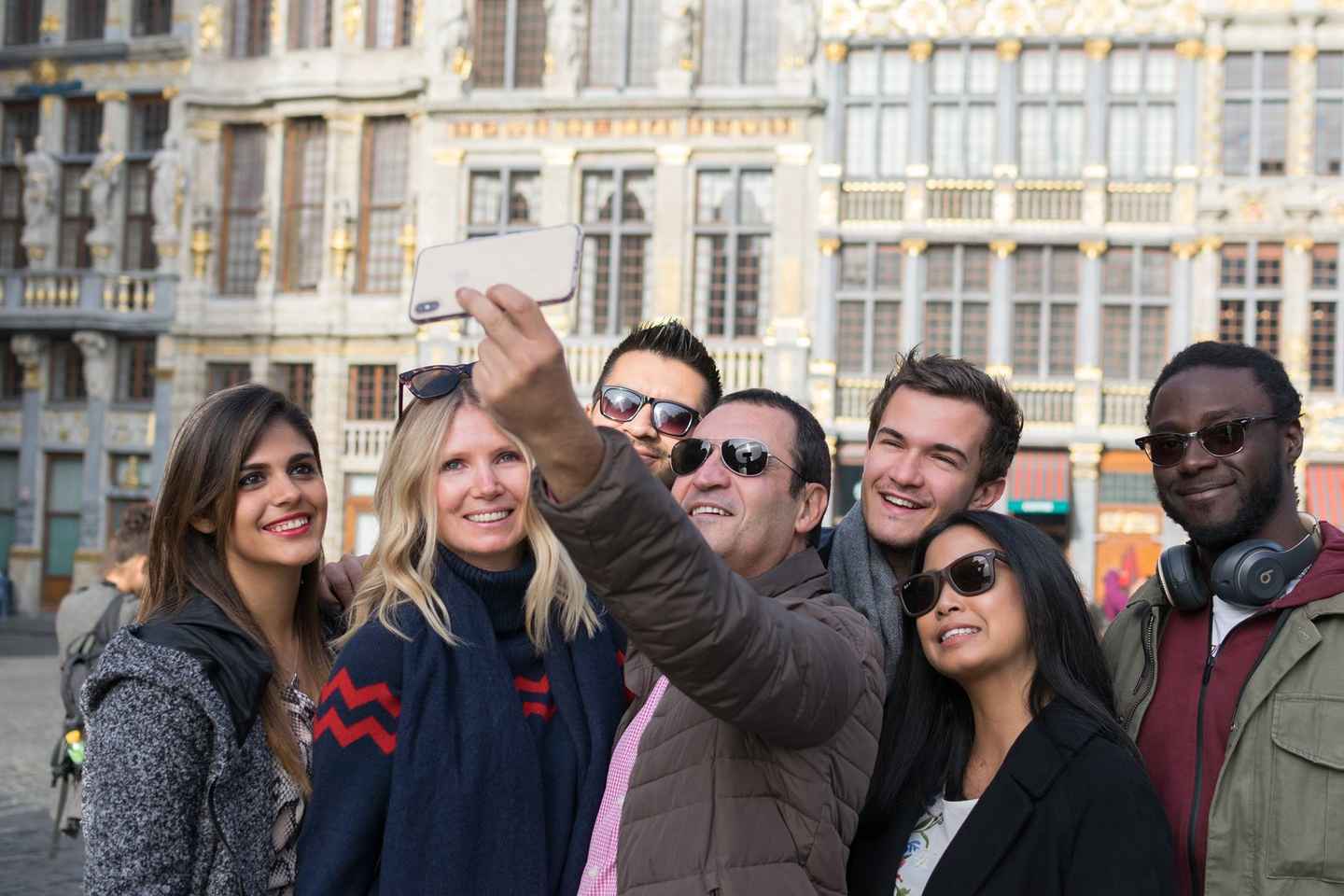 A day trip to Brussels would be filled with stunning architecture, rich history, and delicious treats. The Grand Place, a UNESCO World Heritage site, is a perfect starting point for your itinerary. Also known as Grote Markt, the site is surrounded by beautiful architecture from the 17th century, including the iconic City Hall and the King's House.
Be sure to end your trip by trying some of Belgium's world-renowned chocolate and beer. Countless chocolate shops and breweries are located throughout the city to indulge in these delightful treats.
Brussels: Guided Walking Tour

Duration: 2.5 hour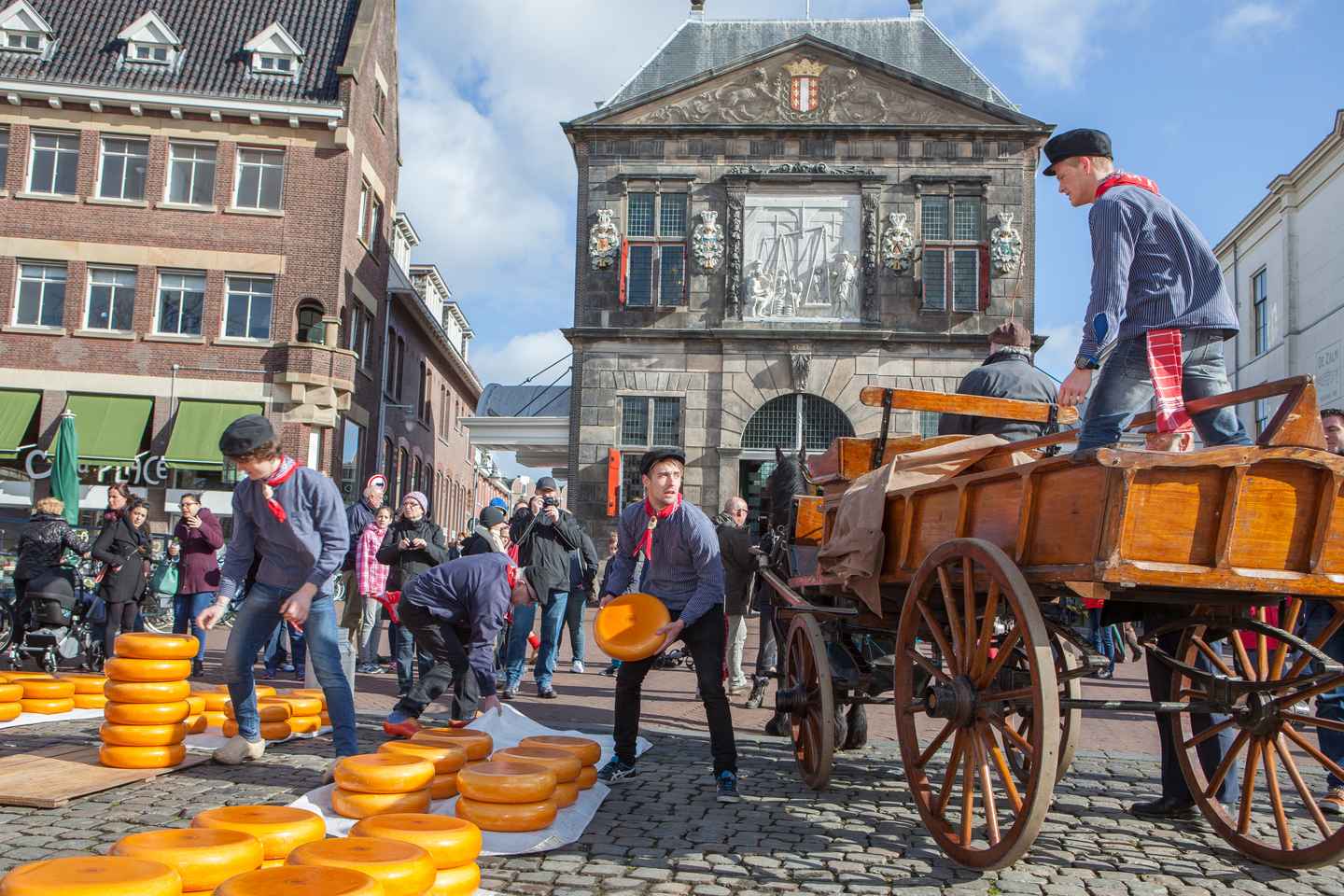 Be in awe of the fascinating history and architecture when you take a short trip from Amsterdam to Gouda. Boasting stunning architecture from the 16th and 17th centuries, Gouda is undoubtedly a treat for history lovers. A must-visit would be the Sint-Janskerk, a stunning Gothic church filled with beautiful stained glass windows.
Gouda is also famous for its namesake cheese, so visit the local cheese market to have a taste of this Dutch specialty. If you have free time in your itinerary, stroll through the quaint streets to discover unique shops, cafes, and markets.
Gouda: Audiotour of Goudsche Waag Cheese and Crafts Museum

Duration: 45.0 minute
3. Leiden
With breathtaking old architecture, gardens, museums, and plenty of astonishing canals, indeed, South Holland where Leiden is nestled is really worth a visit. This place is one of the popular destinations in the Netherlands, which is surrounded by amazing tulip fields. It is advisable to visit this place in April when you can have the opportunity to witness the beauty of Dutch flowers. Of course, the world-renowned Leiden University, the country's oldest university, is never to be missed also.
Leiden

Address: South Holland, Netherlands

Website: Leiden
4. Volendam
There are plenty of reasons why northeast of Amsterdam should never be missed, thanks to the vibrant and colorful Volendam which is a Dutch town on the Markermeer Lake. It is famous for its beautiful old fishing boats aligned with seafood vendors in its harbor while the colorful wooden houses are so admirable to ignore, which made these places a perfect spot for photography. To learn more about this town, a visit to The Volendam Museum and The Palingsound Museum are a must.
Volendam

Address: Markermeer Lake, Northeast Amsterdam

Website: Volendam
5. Utrecht
If you aim to see the iconic Domtoren which is the 14th-century bell tower with city views, then Utrecht is the place to be. With its Christian monuments, Gothic Cathedral of St. Martin and The Museum Catharijneconvent which presents religious art and artifacts, it's not surprising why this lovely city became the religious center for centuries in the central Netherlands. Not only that, but you can also admire the medieval old town and canals here.
Utrecht

Address: Center of Netherlands

Website: Utrecht
6. Delft
Let's discover the beauty of the western Netherlands where Delft is nestled. If Delftware sounds familiar, you probably know now where this hand-painted blue-and-white pottery came from - yes! Delft is famous for the manufacturing base for Delftware, which is a good choice for a souvenir. Extend your journey towards its old town, where you can visit the medieval Oude Kerk - the burial spot of Dutch Master painter Johannes Vermeer.
Delft

Address: South Holland, Western Netherlands

Website: Delft
7. The Hague
Situated in the western Netherlands on the North Sea coast, The Hague is another great city that must be included in any list of day tours from Amsterdam. Though it is not the nation's capital, its Gothic-style Binnenhof (or Inner Court) complex is home to the seat of the government of the Netherlands. Attractions like the 16th-century Noordeinde Palace and Palais Noordiende can be seen here too. If you want some water escapade, Scheveningen is here, which is a modern seaside resort with a sandy and long beach.
The Hague

Address: North Sea coast of Western Netherlands

Website: The Hague
If you are up to a relaxed day, away from the hustle and bustle of city life, perhaps a day trip to the village of Giethoorn from Amsterdam is what you need. Explore the natural beauty of this car-free village and learn more about the wetland from your friendly tour guide as you journey to the dams and polders, afterward, board a cruise vessel which gives you the chance to admire beautiful canals, Giethoorn's farmhouses, and bridges from a traditional perspective.
Giethoorn village daytrip from Amsterdam with boatride in Giethoorn

Duration: 7 to 8 hours
Rotterdam's beauty has captured many travelers around the globe, which makes this one of the most visited cities in the Netherlands. Joining this full-day trip outside Amsterdam will let you see and enjoy Rotterdam's beauty in a more personalized experience like exploring the Cube Houses and the Town Hall, relaxing at the atmospheric Old Harbor, and discovering affordable stalls at Rotterdam Market. Round-trip transport by train, a private tour guide, and a tailor-made itinerary are included in the package.
Private Full-Day Tour of Rotterdam from Amsterdam by Train

Duration: 5 to 7 hours
Stunning canals, cobbled streets, medieval buildings, and of course, Zeebrugge - with all of these, Burges is indeed one of the most incredible cities in Belgium. This 12-hour trip in the comfort of a coach bus will let you wander in the beautiful churches and unique shops on your own, indulge in the famous Belgian chocolates and enjoy plenty of time capturing the iconic windmills.
Full-day Bruges Trip from Amsterdam

Duration: 11 hours 30 minutes
This small-group day trip to the amazing riverside village from Amsterdam will let you experience Dutch country life. The half-day will be spent at tasting traditional Dutch delights of Zaanse Schans. Afterward, visiting the traditional village on the banks of the Zaan River gives you 17th and 18th centuries feel. And of course, this tour would never be completed without a trip to the clog factory and cheese farm, which gives you a chance to see the production of these classic products and look into the countryside from the balcony of a working windmill.
Zaanse Schans Day Trip from Amsterdam with Lunch

Duration: 4 hours
Amsterdam is a living museum
If you've got an appreciation for fine art, then visiting Amsterdam is a dream come true. The largest city in The Netherlands never fails to amaze travelers, especially first-timers, with its natural and man-made beauty, from artistic heritage to canals to colorful houses and everything you wish to see. While Amsterdam is a living museum, don't forget to check out its equally appealing neighboring destinations. Take your pick from these best day trips from Amsterdam for your next getaway.
Frequently asked questions about day trips from Amsterdam, the Netherlands
1. What are the best destinations for day trips from Amsterdam?
For a fun and memorable time outside the city of Amsterdam, you can hit the road and head over to some of these exciting cities nearby: i) Brussels, ii) Gouda, iii) Giethoorn, and iv) Rotterdam.
2. What are the best day trip activities from Amsterdam?
To keep your day trip from Amsterdam interesting, you can i) join a guided audiotour in Gouda, ii) fish in the harbors of Volendam, iii) enjoy a boat ride in Giethoorn, or iv) visit the medieval sites in Delft.
Disclosure: Trip101 selects the listings in our articles independently. Some of the listings in this article contain affiliate links.
Get Trip101 in your inbox
Unsubscribe in one click. See our Privacy Policy for more information on how we use your data