From the scenic plains of the Tibetan plateau to the flowing waters of the Yangzi River, China is one of the most beautiful countries in Asia with a plethora of astounding natural and artificial attractions. A ravishing country rich in traditions and heritage, China draws much of its fascinating beauty from a plethora of countless innovative building designs inspired by the country's rich history and culture. However, due to its constant experimentation, the country has also seen some of the most bizarre buildings in the world: a good example would be the Tianzi Hotel, which has been voted on different occasions as the world's ugliest building. Nonetheless, it's always an elating experience to visit China's majestic skyscrapers, monasteries, and other historical buildings erected centuries ago. Read through this article to discover an in-depth list of famous buildings in China.
If you're planning to visit soon, be sure to check out the hotels and Airbnb vacation rentals for your accommodation needs.
1. National Centre for the Performing Arts
Evoking the grandeur and stunning sophistication of modern design, National Center For The Performing Arts located on Chang'an Avenue, Beijing, makes a perfect epitome of elegance and opulence and it is a sight to marvel at for all architectural buffs and building enthusiasts around the globe. Designed by the revered French Architect, Paul Andrew, this unique masterpiece is described by many as The Giant Egg and it is one the largest theater complexes in Asia, housing a plethora of exciting venues including a lively opera house, a concert hall, an opera theatre with ethnic features and a mini-theatre.
National Centre for the Performing Arts

Address: 2 W Chang'an Ave, Xicheng, China, 100031
Arguably one of the most famous buildings in China, Forbidden City is a UNESCO World Heritage site and a fascinating gem of Imperial palace architecture in China. Tucked away in a lush 72ha (178 ac) piece of Land, this astounding building has served as the principal residence of many emperors of the Qing and Ming dynasties for centuries. Today, The Forbidden City is a baffling Palace Museum, with true reserves of captivating landscapes, architecture, furnishings, and objects of art. Boasting an eclectic collection of over one million cultural relics, the exciting Palace Museum is the place to be, especially for cultural and historic stalwarts looking to learn more about the historical significance of the Chinese people.
Beijing Palace Museum Ticket (The Forbidden City)
3. Mukden Palace
Nesting in Shenyang, the beautiful capital of Liaoning Province, the fascinating Mukden Palace was the first palace of the first three Qing emperors before moving their capital to Beijing. Emanating a royal vibe and characterized by its unique Manchurian and Tibetian styles, this adorable palace was built in 1625, and in many ways, it resembles the Forbidden City. Converted into a palace museum boasting more than 10,000 stunning relics, and included on the UNESCO world heritage list as an extension of the Imperial Palace site, Mukden Palace is undeniably one of the most famous buildings in China, with a profoundly rich history.
Mukden Palace

Address: 171 Shenyang Rd, Zhong Jie Shang Quan, Shenhe, Shenyang, Liaoning, China
4. Potala Palace
The picturesque Potala Palace in Lhasa is an important historical and cultural building in China, which is highly regarded for its beauty and administrative role in the Tibetan regime. Before it was transformed into a museum, Potala Palace also used to host Buddhist spiritual leaders, the Dalai Lamas, during winter. Today, the museum holds countless chapels, shrines, statues, scriptures, and other historical documents. It is for this reason that the palace was recognized in 1994 as a World Heritage Site, and over the years, the 13 stories atop the Marpo Ri hill remain an architectural wonder and a major tourist attraction in China.
Potala Palace

Address: 35 Beijing Middle Rd, Chengguan, Lhasa, Tibet, China, 850000

Website: Potala Palace

Opening hours: 9:30am - 2pm (daily)
5. Beijing Olympic Park
Located on the Northern end of the central axis of Beijing, 11km (6.8mi) north of the Forbidden City, Beijing Olympic Park will be where the anticipated 2022 winter Olympic Games will take place. Also known as the Olympic Green, this park features exquisite venues used during the iconic 2008 Summer Olympic and Paralympic Games including the awe-inspiring Beijing National Stadium (Bird's Nest) and the National Aquatic Center (Water Cube). The park also features a lush Olympic Forest Park that was once a leisure site for coaches and athletes, to unwind after tense competitions.
Beijing Olympic Park

Address: Chaoyang, China, 100875

Opening hours: 6:30am - 9pm (daily)
Another famous landmark in China is the Shanghai Tower, a 632 m (2073.5 ft) skyscraper ranked as the tallest in the country and second-tallest in the world. The elevators at Shanghai Tower can achieve a maximum speed of 20.5 m/s (45.9 miles/hr), making them the second-fastest in the world. You can take any of these elevators to the observatory deck on floor 118, which is a perfect spot to view other picturesque landmarks in China, including the Jin Mao Tower, Huangpu River, and Shanghai World Financial Center (SWFC) among others. Another must stop in Shanghai Tower is at the Guanfu Museum on the 37th floor to view its vast collection of fascinating relics and antiques.
Shanghai Tower 118th Floor Observation Deck Ticket
7. Pagoda of Fogong Temple
Tucked away in the pristine confines of Yingxian County, Shanxi Province, lies the picturesque Pagoda of Fogong Temple – a charming place of antiquity, and rich culture. Also known as the Sakyamuni Pagoda of Fogong Temple, this building has held the distinction of being one of the oldest wooden buildings in China, dating from 1056 A.D. during the Lio Dynasty (916- 1125). Undoubtedly one of the most iconic ancient masterpieces of Chinese timber construction, this fascinating Buddhist temple was built without the help of a single nail and it features an eye-catching octagonal shape, which adds to its allure.
Pagoda of Fogong Temple

Address: China, Shanxi, Shuozhou, Yingxian, Bei Jie, 佛宫寺内

Website: Pagoda of Fogong Temple

Opening hours: 8am - 6pm (daily)

Price: 8.65 USD (60 CNY)
8. CCTV Headquarters
Established in 2008, just in time for the Olympic games, China Central Television Headquarters is a mindblowing architectural fantasy that appears to defy gravity and has become an icon of the fascinating Beijing skyline. Best described as a 'three-dimensional cranked loop,' this opulent building is a staggering 234m (768ft) tall, and it is formed by two leaning towers, bent 90 degrees at the top and bottom to form a continuous tube. Facilitating an unprecedented degree of access to China's media powerhouse: a public loop takes visitors on a dedicated path throughout the building, revealing day-to-day studio projects and spectacular panoramic views of the city of Beijing.
CCTV Headquarters

Address: 32 E 3rd Ring Rd Middle, Guo Mao, Chaoyang, China
Admire the beautiful skyline views of Shanghai's ravishing day and night scenery and scenic surroundings of Huangpu River and the Bund from the breathtaking Oriental Pearl Tower. Located in Pudong Park in Lujiazui, Pudong New Area, this splashy building was established in 1991 and it is the world's sixth and China's second TV and radio tower after Canton Tower. Combining ancient concepts such as spherical pearls, with 21st-century technology, this tower has 11 spheres through its length, with 15 observation decks and one revolving restaurant at the top, which draws visitors from across the globe, who flock here in large numbers, not only to enjoy the delicious cuisine but also to watch the lustrous display of colors when the tower comes to life at night.
Oriental Pearl Tower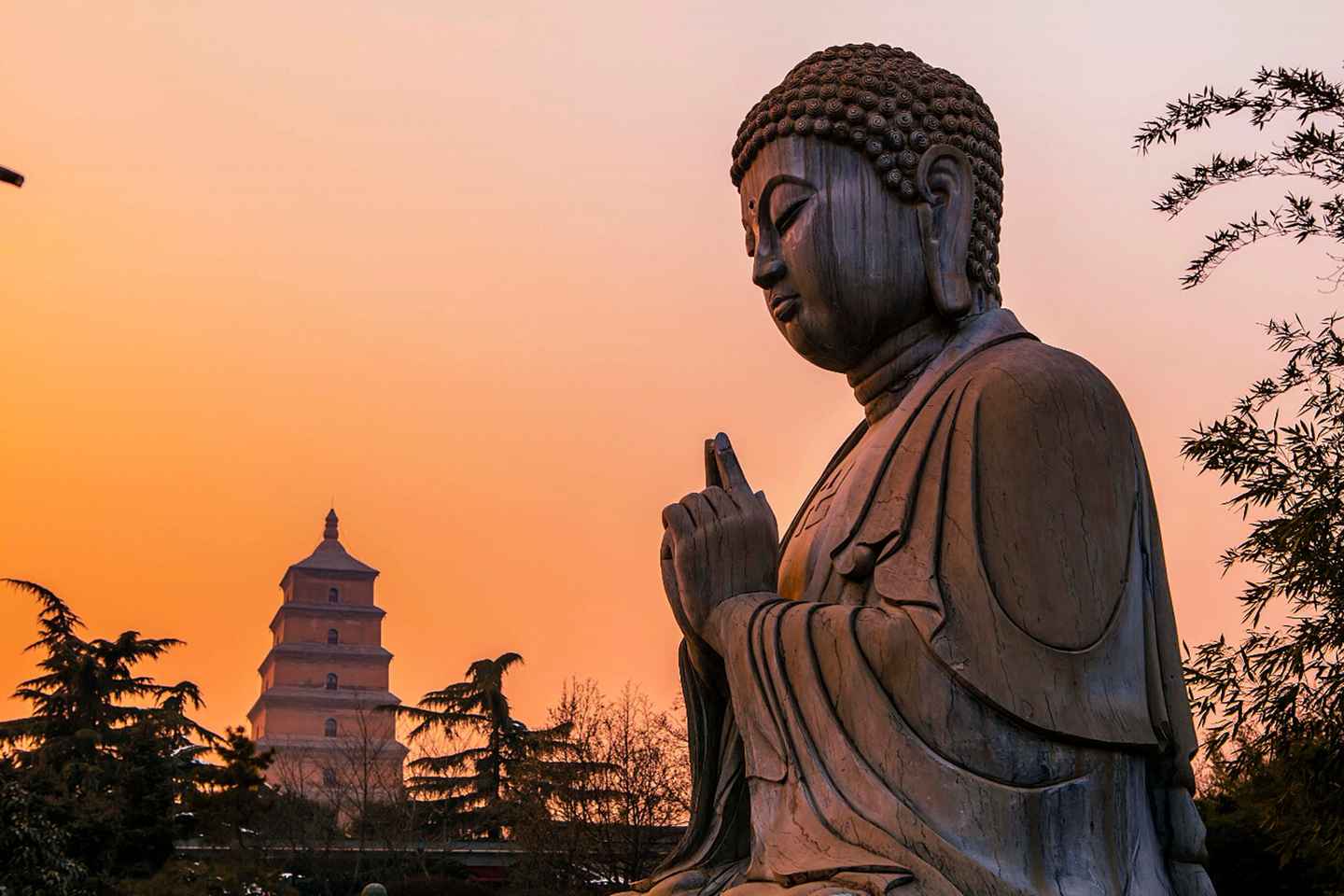 Situated in the confines of a picturesque city suburb in Southern Xi'an, Giant Wild Goose Pagoda, also touted as the Big Goose Pagoda, is another great place to visit in China, built more than 1,300 years ago. A symbol of the ancient Xi'an, this stunning architectural marvel was built in 652 during the reign of Emperor Gazong of the Tang Dynasty for the study of Buddhist scriptures and developed theories of consciousness, karma, and rebirth. Built with layers of bricks with no cement, this alluring temple attracts numerous visitors and globetrotters from all over the world for its fame in the Buddhist religion and its simple but appealing style of construction.
Big Wild Goose Pagoda: Small Group Buddhism Walking Tour

Duration: 2 hour
Explore China's magnificence
Even if you're just visiting during the summer holidays, there are still so many things to do and attractions to check out. Don't forget the popular theme parks as well! As can be seen, China is the next big thing, considering the progress it is making in its architectural journey.
Today, the country boasts buildings of international stature that continue to attract tourists with their outstanding beauty and significance in society. Plan your next trip to China and get inspired by the country's architectural competency exhibited in these top famous buildings.
Disclosure: Trip101 selects the listings in our articles independently. Some of the listings in this article contain affiliate links.
Get Trip101 in your inbox
Unsubscribe in one click. See our privacy policy for more information on how we use your data