A vibrant coastal city in the province of KwaZulu-Natal in South Africa, Durban is famous for its African-Indian influences, which you can see in its culture, local cuisine, and history. Another reason why tourists flock to the city is its many pristine beaches. One of its most-visited attractions is the Golden Mile. It is a long stretch of beaches, with a distance of approximately 3.7 mi (5.95 km), starting from uShaka Beach up to Suncoast Casino and Entertainment World in the north, and borders the central business district to its west. Learn more about the area as you read our guide to Golden Mile.
Things to do / highlights
Whether you're an active person or not you'll surely love the Golden Mile, with its wide array of activities to choose from, there is surely something for you here. So, here's our list of the best things to do in the area that might help you during your visit.
Swim and Surf
Featuring many golden beaches, including North, South, and Addington Beach, the Golden Mile is popular for people who want to swim and learn how to surf. The waves of South Beach will help you get the groove and learn the watersport in no time. Also, it is safe to swim here, even for little kids, for there are lifeguards and shark nets to keep any danger at bay.
Walk, jog, and sunbathe
Apart from the waters, the warm sand of the beach is equally irresistible. It makes a good jogging spot, in the morning and at night, with scenic views to give you the extra push you need to conquer the distance and sweat all the unwanted fats. And for people who want to get that sun-kissed-skin, sunbathing here will definitely give you that glow, just make sure you keep applying that sunblock. Another popular thing to do here that is quite romantic is walking and holding hands with your special someone while marveling at your beautiful surroundings.
Explore the promenade
Another attraction in the Golden Mile is its lively promenade that features numerous stalls selling traditional Zulu arts and crafts. You can also buy here some touristy items and souvenirs. Apart from the vendors, there is also a skate park here, in the Bay of Plenty Beach, where you can skate, rollerblades, or watch skateboarders do their tricks. Additionally, this paved walkway is also accessible for bikers.
What to eat

The Golden Mile is not only a must-visit because of its many pristine beaches, but also for its waterfront restaurants and cafes that will serve you the flavor of Durban in a plate.
Havana Grill
With a 180-degree view of the Indian Ocean, Havana Grill will make your dining experience one for the books. The restaurant features a classy atmosphere, a mouth-watering menu that includes meat and seafood dishes, and an excellent wine list. One of its highlights is its selection of cigars that are imported abroad.
Café Jiran
A reminiscent of a European Bistro, Cafe Jiran is a perfect spot for coffee lovers. Their coffee is made from 100 percent Arabic coffee beans, which is perfect for breakfast. Another great choice in the morning is their delicious and healthy fruit smoothie.
Moyo
Moyo, which means heart in English, is a gorgeous waterfront restaurant that offers delectable African dishes that will make you ask for a second serving. Also, while dining here, you'll be entertained by soulful African jazz music that will make the experience more authentic.
Things to buy

Apart from the waterfront hotels and restaurants, another thing you'll find in the Golden Mile is market vendors. It is the best spot to haggle and get your keepsakes and other items at a more affordable price.
African arts and crafts
One of the great finds here is wooden handicrafts that are made by the locals. You can have them in animal figures like hippos and giraffes, which come in many varieties here. Another must-buy is Zulu beads, which are colorful and have an intricate design that is unique in Africa. You can have it as a necklace or bracelet. Other things you can get here include woven baskets, wire toys, Indian food, and more. Also, the best time to shop here is every Sunday during the Amphitheatre Flea Market.
Travelers tips
For a more convenient holiday for you, here are our travel tips for you:
Best time to visit
Summer is the best time to visit the Golden Mile when the weather is good, and the sun is shining bright to give you that bronze glow. Summer starts in December and extends up to half of March.
Beware of pickpockets
When shopping in Golden Mile market stalls, you should be aware of your belongings and be alert and attentive to your surroundings. Aside from souvenirs, there are also plenty of pickpockets in the area, waiting for their chance to snatch away your wallet, cell phone, and other things of value.
What to pack
The weather here can be very hot so make sure to bring cotton and loose clothing as well as hats and sunscreen.
How to get there
Rent a car
If you're planning to rent a car, you can borrow your vehicle of choice through the Car Hire Durbanand google your way to Golden Mile.
Hire a taxi
Though expensive, hiring a taxi is a better option here. You can hail a taxi everywhere and just tell the driver you're going to the Golden Mile. The mile is a long stretch so make sure you tell the driver where to drop you.
Ride a rickshaw
If you want to hop from one area to another in Golden Mile, one of the best options you have here is the rickshaw. It is a colorfully decorated two-wheel cart drive by a costumed driver.
Walking
If you're staying in a waterfront hotel in Durban, chances are it is walking distance to the Golden Mile.
The Golden Mile information
The Golden Mile

Address: The Golden Mile Beach, South Africa

Official website: The Golden Mile

Department of tourism: Visit Durban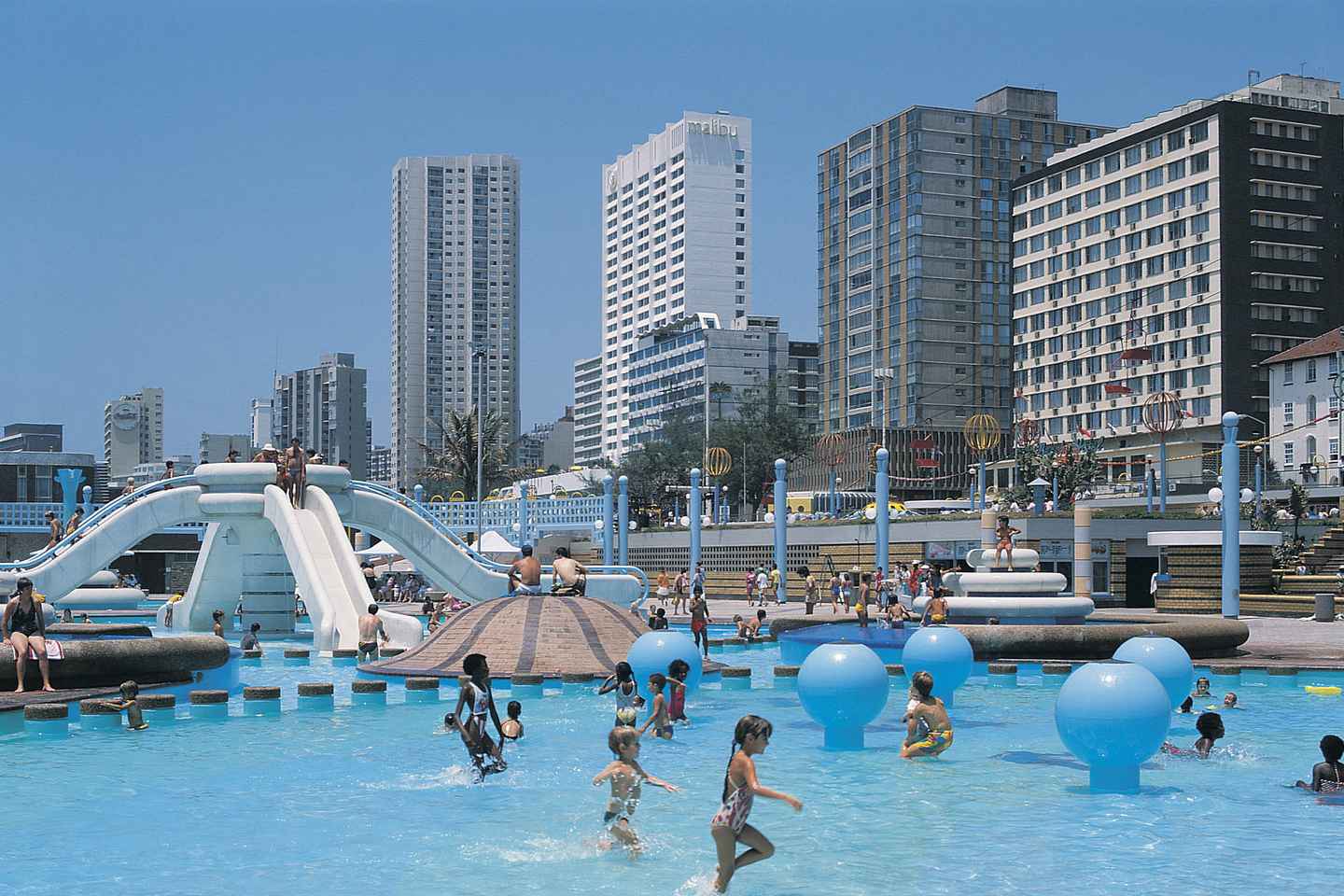 Durban Half-Day City Tour - Golden Mile, Botanical Gardens

Duration: 3.5 hour
Disclosure: Trip101 selects the listings in our articles independently. Some of the listings in this article contain affiliate links.
Get Trip101 in your inbox
Unsubscribe in one click. See our privacy policy for more information on how we use your data