Attention Halloween fanatics: it's not Halloween if you're not celebrating in Boston! This bustling city is widely known for its haunted houses, old graveyards, and spooky state-of-the-art events and shows. They even have costume contests for pets and people alike. The best part? They don't celebrate in just one night - it's a month long celebration! Get ready for some massive fun and check out these things to do for a Halloween in Boston: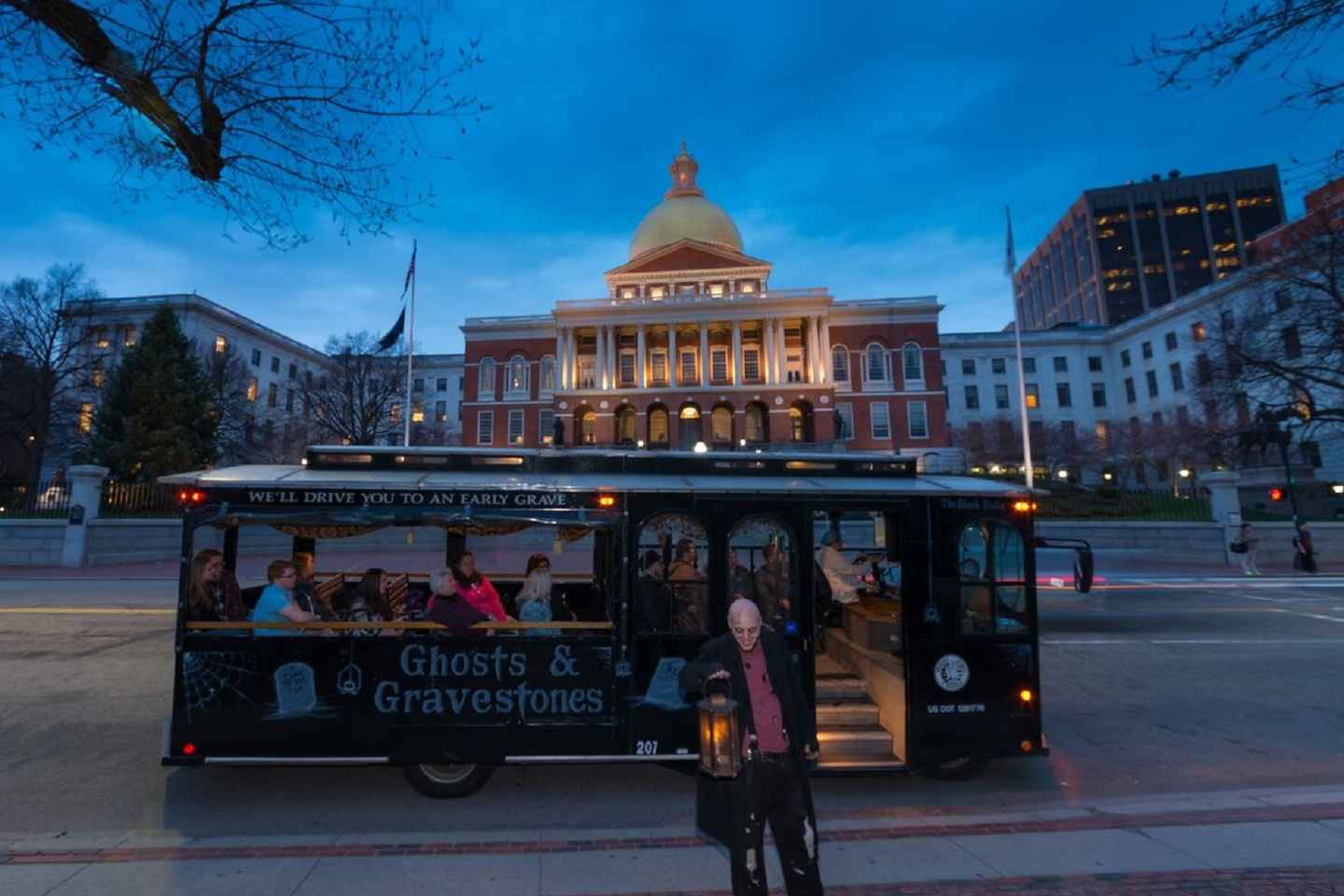 Ready for a little ghost and gravestone hunt? Catch this ghost and gravestones walking (or maybe running) tour around Boston's ghostly locations! Expect to see the darker side of the city while walking amongst the dead in the 400-year-old burial. You'll also be listening to ghost stories and local tales of all things scary like murder, ghosts, and ghouls. Step on the burying grounds of famous grave sites of John Hancock, Paul Revere, Samuel Adams, and others and be ready for a blood-curdling adventure. We warn you though, it is not for the faint of heart!
Boston: 1.5-Hour Ghosts and Gravestones Tour

Duration: 1.5 hour
2. Haunted Neighborhood at the Salem Wax Museum
Explore the famous "epicenter of Halloween" and go see the Haunted Neighborhood at the Salem Wax Museum! Located on a dead-end street across the Peabody Essex Museum and next to the Tricentennial Witch Trials Memorial and The Charter Street Old Burying point, this haunted neighborhood is as spooky as those buildings beside it. A tip - go during the night time for that extra scare!
Halloween in Salem, starts at The Haunted Neighborhood!

Address: 288 Derby Street, Salem, MA 01970
To all the history lovers, we're not leaving you behind! Spend Halloween in Boston by exploring Boston's Freedom Trail complete with an informative and friendly professional tour guide! Walk among the cobblestone streets and appreciate the architecture and past of this stunning destination. The walking tour will also include stops in the Faneuil Hall, King's Chapel, and Boston Commons. If time permits, you can also visit the Old South Meeting House, Old Granary Cemetery, Old City Hall, the First Schoolhouse, and Old Corner Bookstore where famous authors like Ralph Waldo Emerson and Charles Dickens once gathered - what a perfect way to see the city!
Guided Walking Tour of the Downtown Freedom Trail in Boston

Duration: 1 hour 10 minutes
4. Halloween Crypt Tours at King's Chapel
Another one for the history lovers is this Halloween Crypt Tour at the King's Chapel. Learn about King's Chapel history, the 18th-century crypt and even go and see the tower holding the largest bell Paul Revere. Their tailored visitor program is sure to provide an educational experience on old Boston, theology, and architecture of the church. Although they provide daily tours the whole year-round, better book tickets fast since they are usually sold out months before!
Halloween Crypt Tour

Address: King's Chapel

Website: Halloween Crypt Tour
5. Official Halloween Bar Crawl
Photo is only for illustrative purposes
For this year, be sure to end your Halloween holiday with the 2018 Official Halloween Bar Crawl (Boos & Brews!). Come in your best costume and party the whole night in this event everyone has been waiting for. This Bar Crawl will showcase the best venues in Boston and of course, live performances by Lectro Raiders and other famous DJs. The party starts at 12 PM but they highly encourage ELITE ticket holders to come early as they have a special surprise waiting! If this doesn't convince you, I don't know what will!
2018 Official Halloween Bar Crawl | Boston, MA

Address: Boston, MA

Website: 2018 Official Halloween Bar Crawl
6. Titanic Masquerade - Pier Pressure Boston Halloween Party
Remember the ball in the movie Titanic? Well, you can experience something like that but only Halloween themed! Imagine the boat that sank hundreds of years ago and relive those old days. Join the Pier Pressure Boston Halloween Party in a luxurious yacht sailing in Boston Harbor. You're definitely going to feel the "The Spirit of Boston" while partying to the performances of Boston's famous DJs. Come in a costume and mask and prepare for the ultimate Halloween party cruise of the year.
Titanic Masquerade - Pier Pressure Boston Halloween Party

Address: Spirit of Boston Yacht, 200 Seaport Blvd., Boston, MA 02210, United States

Website: Titanic Masquerade - Pier Pressure Boston Halloween Party
If you're up for it, why not take an evening ghost tour for a change! This is sure to spook you and your friends this Halloween. You'll be walking amongst the haunted part of Boston in the downtown area while your guide brings you to the famous (or infamous) spots of the city. Expect to hear more death and ghost stories like the story of the Boston Strangler and Boston Massacre. Keep your eyes open as you might even see or take a photo of paranormal activities in person. The tour starts at 8 PM but this tour is guaranteed to keep you up, alert, and awake!
Evening Ghost Tour of Boston

Duration: 1 hour 30 minutes
When you're in Boston, be sure to take a tour in Salem and Marblehead! These historic cities are known for the Witch Trials of 1600s and the birthplace of the American Navy. It's not as spooky as you hoped it would be, but this is something definitely worth a look at. The place definitely has an ancient and unique vibe to it. Be sure to catch the famous original 7'' x 10'' oil painting titled "The Spirit of '76" and check out interesting places related to the Witch Trials.
From Boston: The Witch City Tour of Salem & Marblehead

Duration: 8 hour
What is a 3-course dinner without a little murder mystery? Boston's original Murder Mystery Dinner Theater can give you just that. Enjoy an interactive performance from the comfort of your own table. You can even enjoy your 3-course meal while solving the crime! You are definitely going to enjoy the next 2.5 hours just by watching and helping the cast and crew solve the murder mystery. Prepare your thinking skills as well as your tummy for one great time!
Boston Murder Mystery Dinner Theater with 3-Course Meal

Duration: 2 hours 30 minutes
What better way to spend your holiday by being chased by relentless zombies? This Zombie Scavengers Game will let you circle in the city while scavenging for food, supplies, weapons, and shelter. Take note that you'll be using your smartphone for this interactive game so expect to be asked to do some challenges or answer trivia questions for rewards. Yes, rewards include holding off the zombies! The more things and challenges you get right, the more you are likely to survive.
Zombie Scavengers Game - Boston, MA

Duration: 2 hours
Come alive this Halloween in Boston
Witness how Boston transforms into one spooky city this Halloween 2018! There's plenty to do whether you're in for partying, ghost hunting, or historical walking tours. Immerse yourself in witch culture and solve mysteries and scavenger hunts like your life depended on it (it might) and be sure to book one or two activities from our list for an unforgettable Halloween in Boston!
Disclosure: Trip101 selects the listings in our articles independently. Some of the listings in this article contain affiliate links.
Get Trip101 in your inbox
Unsubscribe in one click. See our privacy policy for more information on how we use your data