Bangkok is the capital of Thailand and is the large city known for its cultural heritage and vibrant street life. The Chao Phraya River flows through the city and feeds a network of canals. You'll see many boats lining the river and canals, and can even take a water taxi to get around. Popular tourist destinations include the many temples around the city, inducing the Grand Palace and Wat Pho Temple. The city is also known for its markets and street food stalls. This top tourist destination offers plenty to photograph during your stay. We've created a list of the top Instagrammable tours in Bangkok, so read on to check out the options.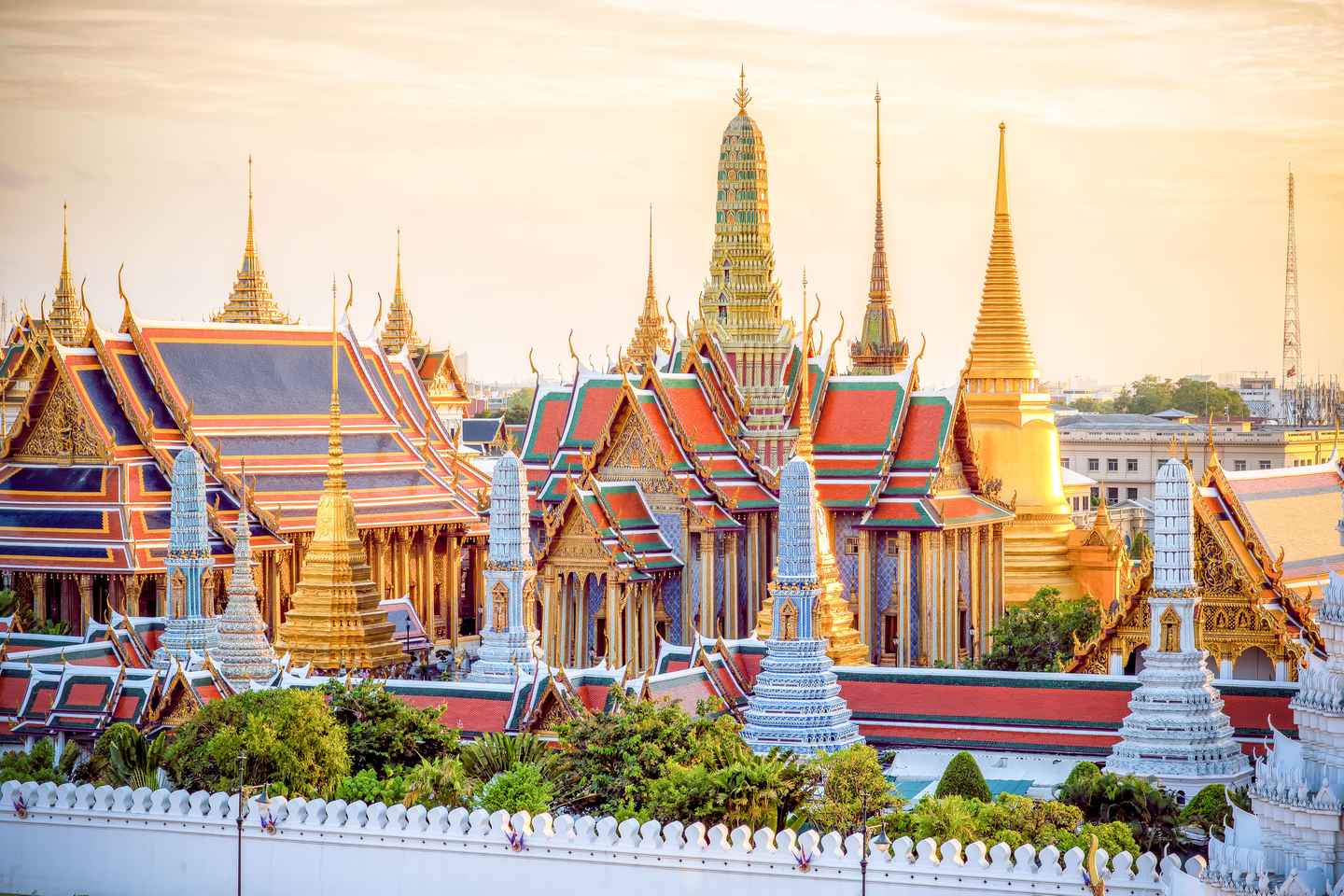 We'll start our list off with some of the top cultural heritage spots in Bangkok. This walking tour will bring you to at least four temples in Bangkok, so prepare to capture the temples' golden spires, bright colours, and tall towers.
You'll start out at the Emerald Buddha Tower. It's considered the most sacred Buddhist temple in Thailand and is brightly coloured with glimmering mosaics. Next, head to the Grand Palace, formerly the home of the Kings of Thailand. Wat Pho is also on the list and is the oldest and largest temple in Bangkok. Finish this tour off with a trip to Wat Arun. It sits alongside the Chao Phraya River and has a temple made of small pieces of coloured glass. These opulent towers are sure to provide plenty of photo opportunities!
Flexi Walking Temple Tour: Grand Palace, Wat Pho, Wat Arun

Duration: 2 hour
Number five on our list brings us a full day of market tours. Your day will start with a trip to the floating markets of Tha Kha. Mix with the locals selling and buying their fresh produce from wooden boats. You'll also visit the Amphawa floating market. This market offers plenty of fresh fish, local food, and souvenirs. Your last market of the day will be one which sits on working railway tracks. Eight times a day a train comes through, and you'll watch the vendors move their stalls off the tracks and back on again.
There will be plenty of opportunities to snap photographs of local life in Thailand, to photograph the colourful foods on offer, and of course catch market-goers navigating the market when a train rolls through! In addition to visiting the markets, the tour will take you through canals lined with coconut trees and dotted with traditional wooden boats. You'll also visit a palm sugar farm and a temple.
Floating Markets Amphawa & Thaka: Private Weekend Tour

Duration: 10 hour
This next tour will bring you to all the best food stalls at Chatuchak Market. Your tour guide will lead you through the winding stalls, stopping so you can taste some of the best foods on offer here. You'll start with breakfast, a grilled honey pork with sticky rice. Then, you'll walk through a variety of stalls, checking out the clothes and souvenirs on offer. Once you've built up an appetite again, you'll get to try one of the most famous noodle places in Bangkok: Must-Wait Chicken Noodle Restaurant, where people regularly queue up to get a taste. The next stop will be for a salad dish, and then you'll stop for a refreshing milk tea.
There will be plenty of opportunities to stop for other snacks along the way and plenty of shopping opportunities. There will be plenty of selfies with food to take, so make sure your phone is charged up before you head out!
Bangkok Food at Chatuchak Market

Duration: 4 hours
Coming in at number eight is a tour which will have you exploring Bangkok like a local! You'll travel to less-explored areas of the city and learn about the city from a knowledgeable guide.
You'll start the day off with a boat trip along the Klong Saen Saeb canal. The boat will bring you to Pom Phra Satru Pai, a district of the old city. There, you'll visit the Silver Pagoda, a shrine built in the mid-1800s which feature 37 metal spires. Once you've photographed this shrine, you'll head on foot to Bamrung Muang, the city's first shopping street. The market caters to temple supplies, and you'll find items such as incense sticks and Buddha statues. You'll visit other temples, and will take a tuk-tuk to Wat Pho. The day will end with a 30-minute Thai foot massage and a boat ride along the Chao Phraya River. Between the shrines, the markets, and experiencing local life, you'll find plenty to photograph.
Bangkok's Hidden Treasures Walking Tour

Duration: 5 hours
This tour is sure to provide you with stunning colourful photo opportunities! The tour last four hours, and will bring you to a variety of Buddhist shrines dotted around the city.
Your guide will share information about Hindu deities and will tell you about Thai religious practices as you walk around the city. You'll have the opportunity to purchase offerings from local vendors at each shrine, and you can light your own candle and make a wish. This tour is an excellent way to learn more about Thai culture!
Half-Day Bangkok Shrines Walking Tour

Duration: 4 hours
Let's finish off our list with a nighttime tour that will allow you to capture photos under the moonlight and neon glow of market signs. You'll travel by tuk-tuk to temples, markets, and enjoy a secret dessert.
You'll hop into a tuk-tuk and make your way towards Wat Pho. The temple is illuminated at night, providing excellent photo opportunities. You'll then head to a 24-hour flower market. There will be plenty of blooming flowers to post on Instagram! You'll get to taste a variety of Thai foods for dinner, and your evening will end at a secret dessert spot where you'll enjoy a sweet treat.
Bangkok Food, Market, Temple Evening Tour by Tuk Tuk

Duration: 4 hours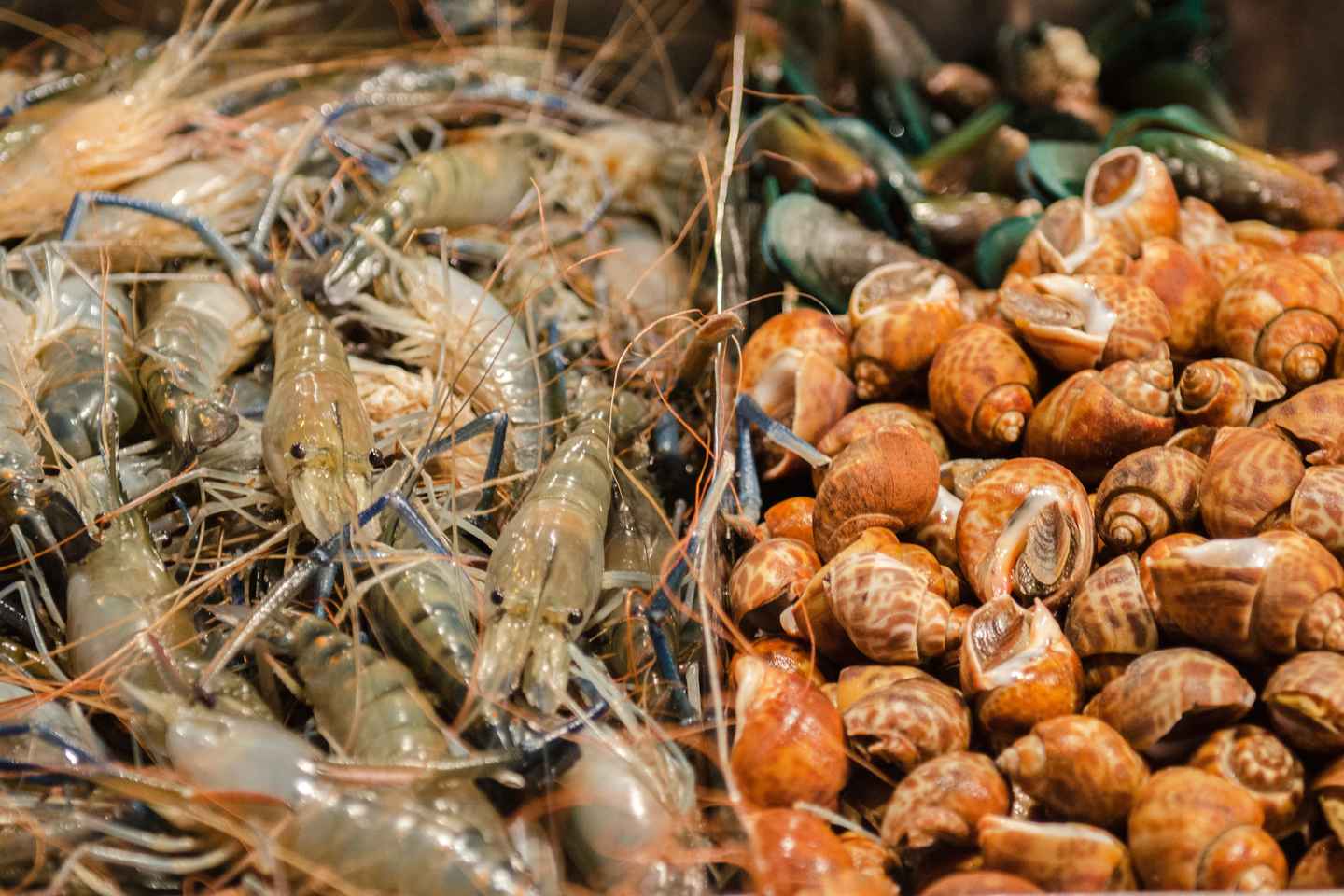 Next up we've got a night time walking food tour through Bangkok's Chinatown. You'll visit seven spots along the way, from street food vendors to fine restaurants. Enjoy some Dim Sum or a traditional Chinese bun (salapoa). Wash that down with ginger tea, and for dessert, you can enjoy lychee ice cream.
As you walk around and enjoy the food, there will be plenty of opportunities to take some great shots for your Instagram feed. You can snap some shots of the wide range of food on offer, and stop to chat with the local vendors. You'll also be able to explore vibrant Chinatown and visit cultural landmarks along the way.
Bangkok Chinatown 3.5-Hour Night Food Tour

Duration: 3.5 hour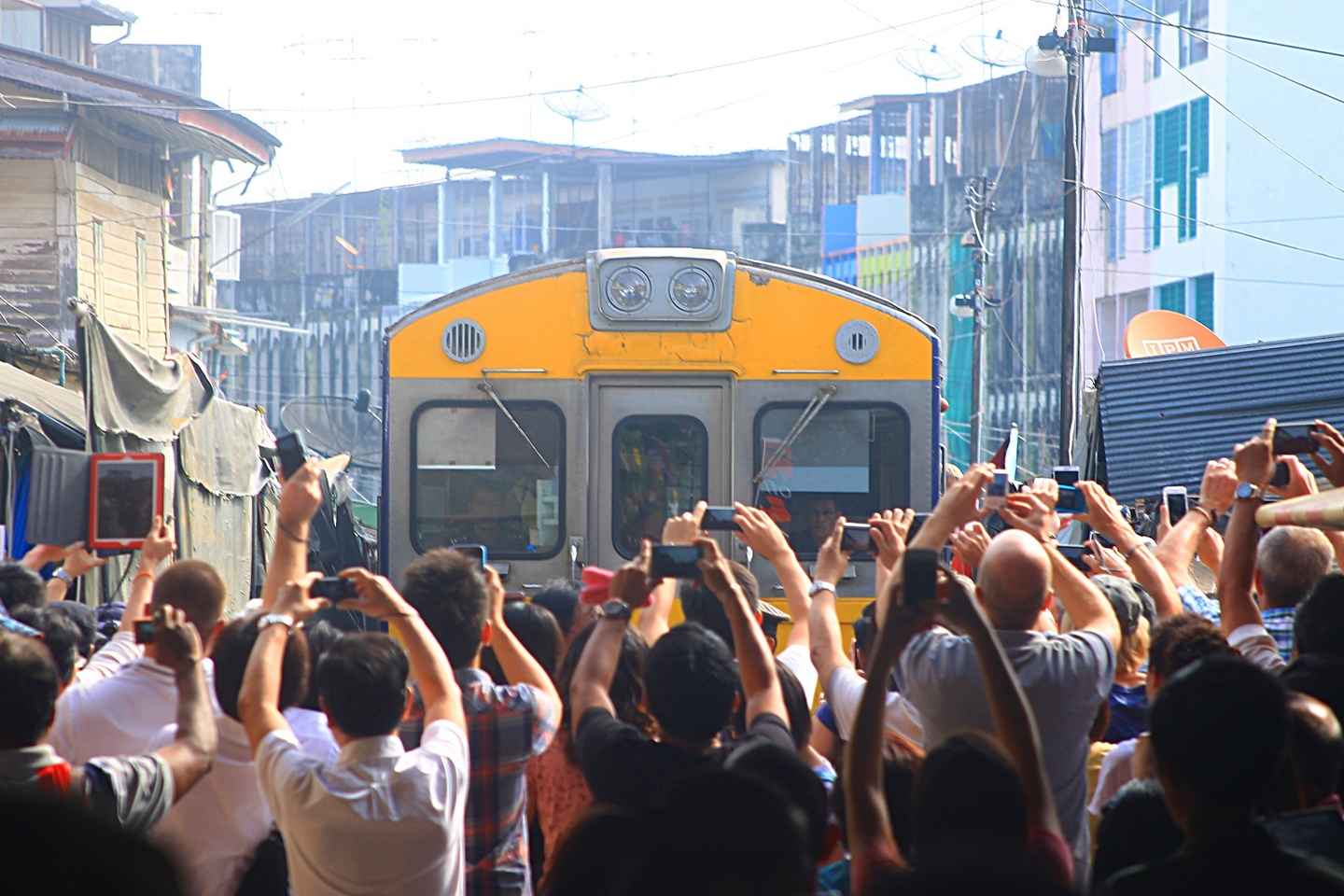 Here we have a train tour which will take you to two markets: the Maeklong Railway Market and the Damnoen Saduak Floating Market. You'll start the day off with a train journey to the Maeklong Railway Market, one of the largest seafood markets in the country. This unique market is centred on the train tracks, and whenever a train comes along, vendors move their stalls away from the tracks and back again when the train has gone. You're sure to catch some excellent shots of the movement in action!
Then, you'll head to the famous Damnoen Saduak Floating Market. This floating market is one of the most famous and is filled with vendors selling their wares on boats. The market has even been featured on films, including the James Bond film, The Man with the Golden Gun. We recommend trying some food at the market, such as the Pad Thai and mango sticky rice for dessert!
Damnoen Saduak Floating Market & Maeklong Train Market Tour

Duration: 6 hour
This next option will provide endless photo opportunities! Art in Paradise Bangkok is a unique, interactive museum. The museum is composed of many different rooms, each one featuring 3-D paintings and illusions. Try to stay dry beneath a waterfall, run with the bulls, and enjoy Victorian London!
The museum is a great way to spend an afternoon, and you're sure to make lasting memories and have a selection of entertaining photos by the end. The only trick will be deciding which ones to post to Instagram!
Art in Paradise Bangkok Ticket

Duration: 3 hours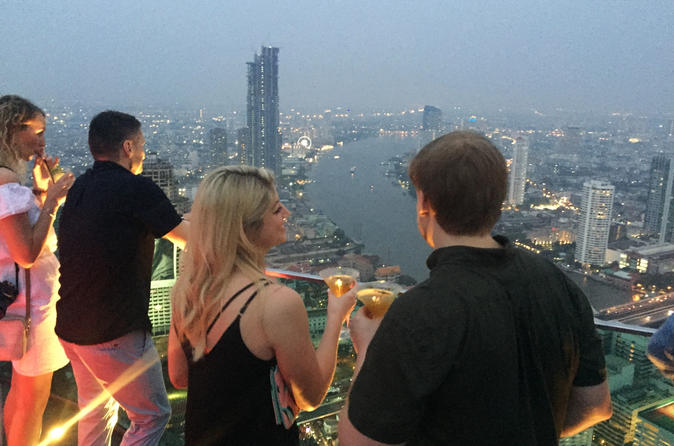 Calling all foodies and nightlife lovers! This tour is for you! You'll get to experience Thai food and explore various Bangkok neighbourhoods by night. Your evening will start off at the Village of Love neighbourhood. You'll enjoy a traditional Thai dessert and sip and Chinese herbal drink before heading to the famous Sky Bar. At the bar, relax with a drink called the "Hangovertini". It's the perfect opportunity to photograph the city from this iconic rooftop bar.
You'll then have the opportunity to explore the neighbourhood and enjoy some more food before heading off to your next destination. Take a tuk-tuk to Chinatown where you can enjoy some of Bangkok's most famous street food. Between the food, the city at night, and the view over Bangkok, there's plenty to photograph on this tour.
Bangkok Skybar and Street food tour

Duration: 4 hours
Vibrant Bangkok
Bangkok, Thailand is a vibrant city, teeming with tuk-tuks, bustling markets, and glittering temples. It's a destination that has something for everyone: from food to nightlife and cultural heritage to markets. There's plenty to photograph for those who like to keep their Instagram feeds up to date! So charge your phone and book one of the above tours now.
Disclosure: Trip101 selects the listings in our articles independently. Some of the listings in this article contain affiliate links.
Get Trip101 in your inbox
Unsubscribe in one click. See our privacy policy for more information on how we use your data